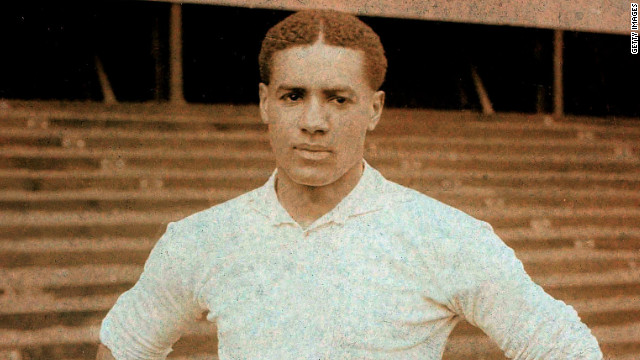 Walter Tull became the first black outfield player to play in the English top flight when he signed for Tottenham Hotspur in 1909. Tull was the subject of racist abuse, with one particular match against Bristol City leading to Tottenham selling him to Northampton Town.
Tull had joined Spurs -- he is pictured here with his Spurs teammates sitting in the front row to the very right -- after helping Clapton F.C. win the Amateur Cup, London Senior Cup and London County Amateur Cup. He made his debut for Spurs at the age of 21.
The First World War broke out in 1914, with Tull signing up to the 17th Service Battalion of the Middlesex Regiment, otherwise known as The Football Battalion. He became the first black officer to lead troops into battle, although he was never officially recognized. Tull was fatally wounded by machine gun fire in the French town of Favreuil in 1918.
A play telling Tull's story is set for a run at Bolton's Octagon theatre, beginning on February 21. Nathan Ives-Moiba (left) will play Tull and he is pictured here with the Octagon's artistic director David Thacker (right). The pair are pictured alongside former footballer Fabrice Muamba, who suffered a cardiac arrest on the pitch while playing for Bolton Wanderers earlier this year.
Parallels have been drawn between Tull's plight and that of Danny Rose, who claimed he was subjected to racist abuse during an England Under-21 match in Serbia last week. European football's governing body UEFA are investigating the matter.
Rose claims he was subjected to monkey chants before, during and after the match against Serbia and had stones thrown at him by the crowd in Krusevac. Fans also ran on to the pitch and scuffles broke out after a 1-0 win secured England qualification for Euro 2013.
Last weekend Reading's Grenadian striker Jason Roberts, who has played in England for the last 15 years, was one of a number of black players who refused to wear the Kick It Out T-shirt in protest at what he perceives to be the campaign group's lack of action in combating racism in football.
Rio Ferdinand was another player who opted not to wear the Kick It Out T-shirt. The Manchester United defender is reportedly involved in talks to set up a separate black footballers' association.
Andrew Watson is another pioneering black footballer. In 1881 he became the first black international player when he represented Scotland in a match with England.
Walter Tull
Tottenham's Tull
Fatally wounded at Favreuil
Center stage
Rose's outrage
Serbia scuffle
Roberts' refusal
Black footballers' association
The first black international
STORY HIGHLIGHTS
Walter Tull was the first professional black outfield player in the English top division
Tull signed for Tottenham Hotspur after glittering amateur season with Clapton
Joined the Footballer's Batallion at outbreak of World War One and was made an officer
Was gunned down just a month before his 30th birthday during fierce fighting in France
(CNN) -- A young black man runs with the ball at his feet, living out his dream of playing on the world stage.
Around him, amidst an intimidating, vicious atmosphere, the noises begin.
First, the boos, then the monkey noises.
The incessant chanting, the vitriolic abuse, the gestures and then, the indignity of receiving punishment for having the temerity to stand your ground.
Welcome to Serbia 2012, or should that be Bristol 1909?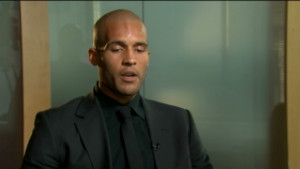 PFA chairman: Serbia should be banned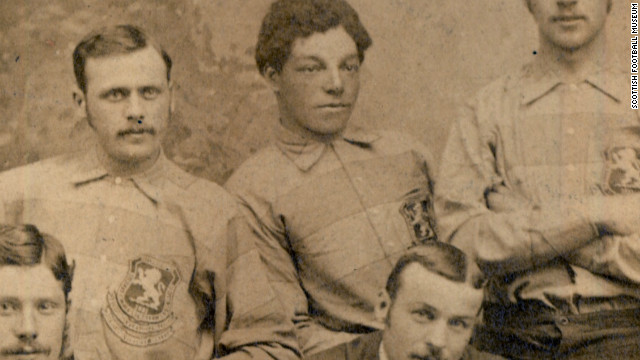 Andrew Watson pictured with his Scotland teammates in 1881. Watson made his international debut the same year, captaining Scotland to a 6-1 victory over England at London's Oval stadium. The defeat remains the heaviest England have suffered on home soil.
Watson is pictured here alongside his international teammates in 1882. He was a key part of the Scotland team which pioneered a short passing style of football.
Football historian Richard McBrearty believes Watson paved the way for future stars such as Brazilian legend Pele.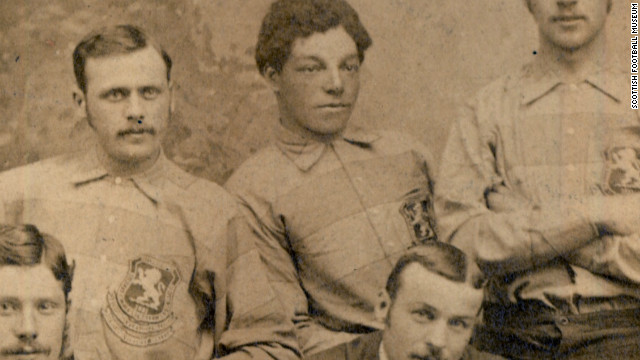 Andrew Watson: Football's first black international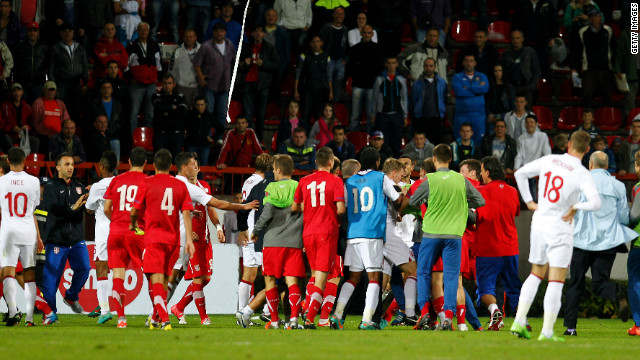 England midfielder Danny Rose claims he was subjected to monkey chants before, during and after the second-leg of their Under-21 Euro 2013 playoff match against Serbia on Tuesday, and had stones thrown at him by the crowd in Krusevac. Fans also ran on to the pitch and scuffles broke out after a 1-0 win secured England qualification for Euro 2013.
The Macedonia FA were fined $26,000 after fans racially abused England trio Ashley Cole, Sol Campbell and Emile Heskey during a qualifying game for Euro 2004.
In September 2011, Bulgaria were fined $55,000 after a small number of fans directed monkey chants at England's Ashley Young, Cole and Theo Walcott during a Euro 2012 qualifier in Sofia.
Russia was hit with a $38,000 punishment after supporters made monkey noises towards Czech Republic defender Theodor Gebre Selassie during Euro 2012
The Croatian FA were ordered to pay a $16,000 fine after their fans were found guilty of "displaying a racist banner and showing racist conduct during the Euro 2008 quarter-final tie against Turkey.
Russia were again in the news for the wrong reasons at Euro 2012 and were fined $39,00 for "the setting off and throwing of fireworks by Russia spectators, displaying of illicit banners and the invasion of the pitch by a supporter," during the Euro 2012 tie against Poland. Russia was also fined $155,000 after clashes between supporters and police during and after their game against the Czech Republic.
Denmark's Nicklas Bendtner was given a one-match ban and a $126,000 fine after he lifted his shirt to reveal a betting company's logo on his underwear while celebrating a goal against Portugal in a Euro 2012 group game.
Porto were hit by a $27,000 fine after their fans were found guilty of subjecting Manchester City forward Mario Balotelli to monkey chants during a Europa League game in February 2012. It took UEFA six weeks to finally hand out a punishment. But questions were raised after UEFA also fined City $40,000 after the club were found guilty of coming back out on to the field of play late after the halftime interval.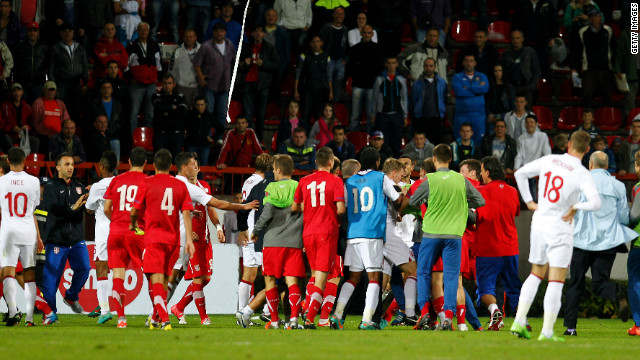 Soccer racism in Eastern Europe
Racism row shines light on Serbian football
At first glance, Walter Tull, an officer in the British Army during the First World War and England Under-21 footballer Danny Rose appear to have little in common.
Rose is a successful Premier League footballer, at the start of a promising career, which he hopes will see him become a full international.
Before he was killed in the Great War, Tull was a pioneering black footballer, who blazed a trail for black stars of the future such as Brendan Batson, Laurie Cunningham, Viv Anderson and Cyril Regis.
One man is on our television screen with pictures being sent around the world, the other has no grave, only an inscription on the memorial wall at the Fauborg-Amiens war cemetery and memorial at Arras.
Black pioneer
But Tull's story, recorded some 93 years ago, could not be more apt given what Rose was forced to endure in Krusevac.
While most were left stunned by Rose being sent off for his reaction to being targeted by racist chanting, the tale is all too familiar for those who know their history.
Tull became the first black outfield player to to compete in the top-flight of the English league after signing for Tottenham Hotspur in 1909.
Like Rose, he too suffered racial abuse from the stands with his career almost disappearing from history and public consciousness.
That it didn't is largely thanks to two men, writer and producer Phil Vasili and director David Thacker, who are taking Tull's story to the stage and eventually the big screen.
While the film surrounding Tull's life is scheduled to coincide with 2014's 100th anniversary of the Great War, the play will open in February in Bolton.
"I think the play will be very topical," said Vasili, author of the biography Walter Tull, 1888-1918: Officer, Footballer.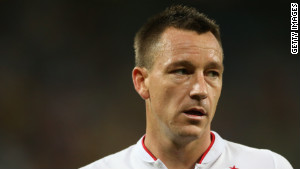 Collymore on John Terry quitting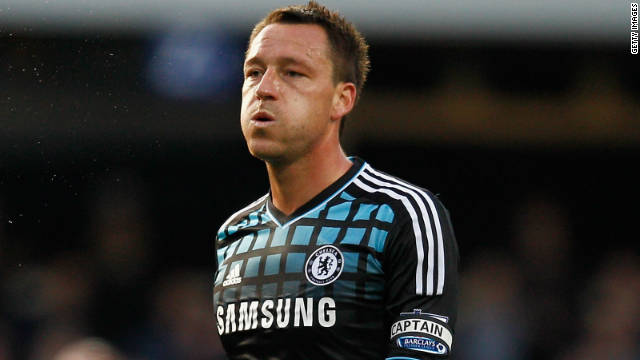 It is now nearly a year since Chelsea lost to QPR 1-0 in an English Premier League game at Loftus Road. During the game it was alleged QPR defender Anton Ferdinand swore at John Terry and made reference to the Chelsea captain's reported affair with the ex-partner of former team-mate Wayne Bridge. Terry is then said to have described Ferdinand as a "f***ing black c***".
In July, Terry was cleared in a London court, where the criminal burden of proof is "beyond all reasonable doubt". But the English Football Association then investigated the case, and using the test of "on the balance of probabilities", came to the conclusion that Terry's defence against claims he racially abused Ferdinand was "improbable, implausible, contrived".
Back in September, Ferdinand had declined Terry's offer of a handshake when QPR met Chelsea at Loftus Road as the feud between the two players rumbled on.
After the FA delivered the independent commission's report on the Terry case, the Chelsea captain's teammate Ashley Cole tweeted: "Hahahahaa, well done #fa I lied did I, #BUNCHOFT***S". The Chelsea and England left-back quickly issued a "unreserved apology" for his tweet through his solicitor.
In 2011 the FA had to deal with another racism case, this time handing Liverpool striker Luis Suarez an eight-match ban and a $63,000 fine after finding the Uruguayan guilty of racially abusing Manchester United defender Patrice Evra.
Suarez and Evra failed to shake hands before the start of an English Premier League game at Old Trafford last season after the Uruguayan had served his ban. However, when United beat Liverpool 2-1 at Anfield in September, the pair did shake hands.
Questions have been raised about UEFA's sanctioning policy. Denmark striker Nicklas Bendtner was fined $126,000 and banned from playing in his side's next competitive game for flashing his sponsored waistband promoting a bookmaker as he celebrated a goal against Portugal in Euro 2012. But that fine eclipsed the $52,000 fine that UEFA handed to the Bulgarian Football Union for its fans' racist abuse of England players during a Euro 2012 qualifier in Sofia in September 2011.
In November 2011, FIFA president Sepp Blatter told CNN that football did not have a problem with racism on the field and any incidents should be settled by a handshake.
The FA's Independent Regulatory Commission heard 473 cases between December 2010 and December 2011, but only two of them ended in "not guilty" verdicts.
Stoke City boss Tony Pulis wants the Football Association to punish Liverpool's Luis Suarez for diving. "It's an embarrassment," said the Stoke manager after a 0-0 draw at Anfield. "The FA should be looking at this."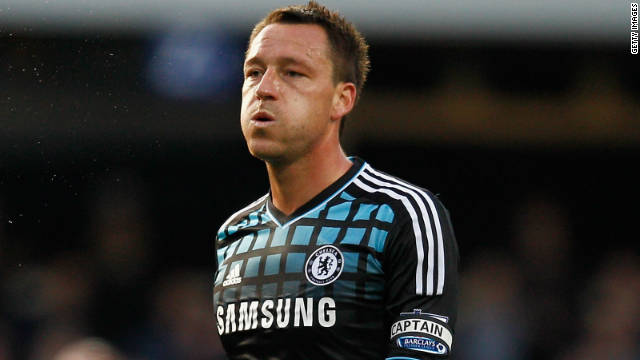 Crime and Punishment in sport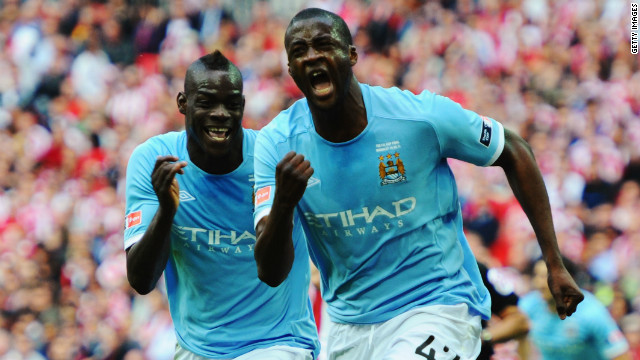 Porto's fine after its fans made monkey chants at Manchester City's Mario Balotelli and Yaya Toure was less than the English club's punishment for being late on the field in another match.
European football's ruling body UEFA has run a "Unite Against Racism" campaign in recent years.
Three-time world player of the year Lionel Messi with a mascot wearing an anti-racism shirt ahead of Barcelona's UEFA Champions League match against Czech team Viktoria Plzen in October 2011.
Manchester City took part in the campaign in 2009 when its players and mascots wore Unite Against Racism t-shirts for a home match against Polish club Lech Poznan.
UEFA has worked closely with the group Football Against Racism in Europe since 2001. FARE members will be patrolling matches at the Euro 2012 finals looking for evidence of racist behavior.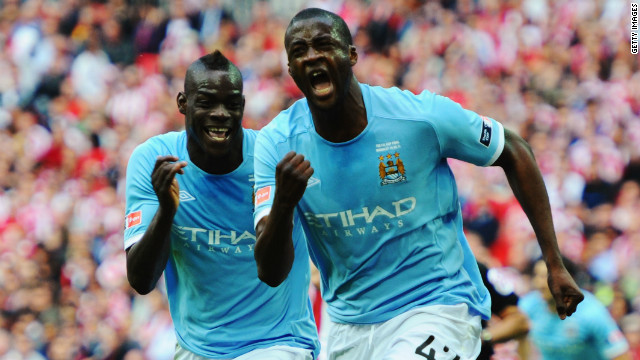 UEFA's fight against racism
"It's quite poignant that the play should start so soon given what happened to Rose in Serbia.
"What happened to Rose, happened to Walter around 93 years previously and both were victimized twice.
"Rose was racially abused and then sent off, Walter was also abused before being dropped by Tottenham and eventually sold.
"Both men were punished twice. It's funny how something which happened nearly a century ago could be so relevant."
Terry decides against appealing FA racism verdict
If it wasn't for Vasili's work the story of the man who changed the face of football for black Britons could have been confined to the scrapheap of history.
Although Arthur Wharton, a goalkeeper from Ghana, was the first professional black player to have competed at the top level in England, it is Tull who is credited with being a pioneer as he was the first black outfield player.
Giant strides
Initially Vasili's attempts to get publishers or media outlets interested in Tull's story appeared to hit a dead end.
"I first came across him in 1993 and there was nothing contemporary about him, he had almost become forgotten," Vasili recalled.
"In the first years, I couldn't get anyone interested in it. Over time, the interest has grown and he's now got publicity.
"With the play and the film, we're hoping to show people that whatever obstacles you face, you can achieve the things you strive for.
"On a political level, things are never simplistic. Britain may have been a different place for black people at that time and there was prejudice.
"But at the same time, there were a number of progressive institutions and people who helped the black community and Walter on their way.
Cameron hosts talks on football racism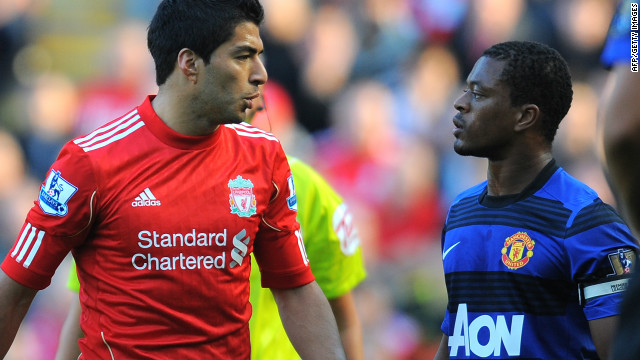 Liverpool striker Luis Suarez was handed an eight-match ban by the English Football Association for racially abusing Manchester United's Patrice Evra in a match in October 2011. Suarez refused to shake Evra's hand during the customary pre-match ritual ahead of the teams' clash on February 12 this year. The Uruguayan has since apologized for his snub of the France defender.
Chelsea captain John Terry will face trial in July for alleged racist abuse of Queens Park Rangers defender Anton Ferdinand during a Premier League match on October 23. Terry, who was stripped of the England captaincy, denies the charges.
A fan was banned from attending all football matches for three years after directing racist abuse at Liverpool defender Glen Johnson during a match on January 3. Andrew Dale, 36, was also fined £400 ($628).
Police are investigating alleged racist abuse by a fan of third division Oldham Athletic's Tom Adeyemi during a FA Cup tie with Liverpool on January 6.
In January, a university law student was reported to police after former Liverpool player Stan Collymore, now a pundit, complained of being racially abused on the micro-blogging site Twitter.
Manchester City defender Micah Richards closed his Twitter account in February after receiving sustained abuse from other users. "I did enjoy Twitter and the banter with the fans, but I didn't like the abuse you get on it," he said. "I thought it was just for the best for myself because it can affect your confidence if people are saying things about you. I just thought it was best to come off and concentrate fully on football."
Manchester City lodged an official complaint with European football's governing body UEFA last week after Italy striker Mario Balotelli complained of racist chanting during a Europa League match against Porto.
Bugaria's football association was fined €40,000 ($53,000) in November 2011 after England complained about racist abuse of winger Ashley Young during an international match in Sofia.
Brazilian World Cup winner Roberto Carlos walked off the pitch while playing for Russian team Anzhi Makhachkala against Krylya Sovetov in June 2011, after having a banana thrown towards him in the closing stages of the match.
Samuel Eto'o, one of Africa's greatest players, tried to walk off the pitch in protest after being racially abused while playing for Barcelona against Real Zaragoza in Spain in 2006. His teammates and the referee persuaded him to stay on.
The Malaysian FA apologized to Chelsea in Julyn 2011, when Israeli midfielder Yossi Benayoun was subject to racial slurs during a pre-season game in the country.
In 2008, German midfielder Torsten Ziegner was banned five matches for racially abusing Nigerian opponent Kingsley Onuegbu during a lower league match.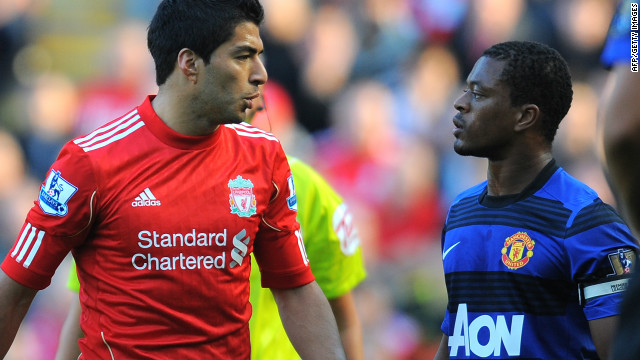 Racism incidents in football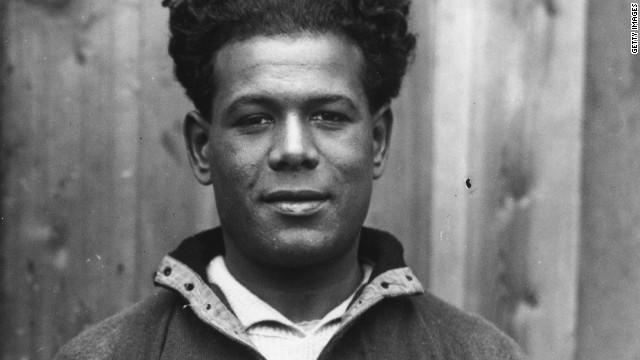 In the 1920s, Jack Leslie was denied the chance to represent England, the country of his birth, due to his Jamaican parentage. A forward at Plymouth Argyle, he was the only black player in England at the time.
Bermuda-born Clyde Best, pictured here in 1972, became the first black player to establish himself in the English top flight with London club West Ham United.
Best is seen here alongside West Ham legend Bobby Moore (center right) in the 1970s. Moore captained his country to World Cup glory when the competition was held in England in 1966.
Laurie Cunningham achieved fame as one of the "Three Degrees" at West Bromwich Albion, being part of a trio of black players also including Brendon Batson and Cyrille Regis. Cunningham became the first black player to represent England at any level when he played for the under-21 team in a friendly against Scotland in 1977. His talent earned him a big-money move to Spanish giants Real Madrid in 1979.
Viv Anderson won the English First Division and played a part in Nottingham Forest's two European Cup triumphs durng a glittering playing career. He is arguably most famous for becoming the first black player to represent the senior England team against Czechoslovakia at Wembley in 1978.
Anderson was one of just two black players in England's 1986 World Cup squad, alongside Jamaica-born winger John Barnes. In contrast, the 23-man England squad which traveled to the 2010 World Cup in South Africa contained eight black players.
Cunningham and Anderson were brought into the England fold by Best's former West Ham boss Ron Greenwood, who managed the national team between 1977 and 1982. Cunningham tragically died in a car crash in Madrid at the age of 33, while Anderson ended his playing career in 1995.
After spending seven years at West Bromwich Albion, England international Regis played for several other clubs in the midlands area of England. In 1984, he joined Coventry City before spending two years with Aston Villa. The powerful striker had a season with Wolverhampton Wanderers and eventually retired in 1996.
After spells at Arsenal and Cambridge United, Batson spent the majority of his career at West Brom. The Grenada-born defender was there between 1978 and 1982 before injury cut short his career. He later became an administrator with England's Professional Footballers' Association.
Midfielder Paul Ince built on the legacy of players like Cunningham and Anderson in 1993, when he became the first black player to captain England in a 2-0 friendly defeat against the U.S. In a career where he played for Manchester United, Liverpool and Inter Milan, he collected two league titles and a European Cup Winners' Cup medal.
The battle for black players to gain international recognition in England may have been a long one, but further north in Scotland a black footballer was paving the way over 100 years ago. Andrew Watson became the first black international footballer when he made his debut for Scotland in 1881, captaining his country to a thumping 6-1 victory against England.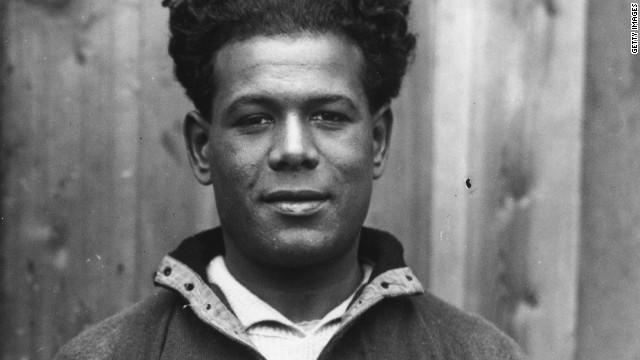 Black football pioneers in England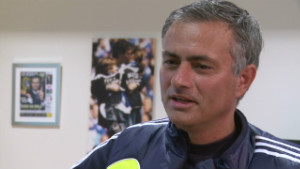 Mourinho on the enigma of Balotelli
"Symbolically, Britain has been a multicultural place for a long time. Tull had a black father and a white mother and if you look at the number of mixed-race footballers, he led the way for them."
But what would Tull have made of the recent events in Serbia? And what would he have though of the John Terry racism saga that has proved so divisive for English footall over the last year?
"I think he would have been very sad," said Vasili. "Britain is a different place today than it was when Walter was alive and there have been giant strides.
"He was the only black outfield player in the top division at one time and now that isn't the case. He was a great role model and led the way for those that play today."
Football pioneer: Andrew Watson - the first black international
Tull, who was born in Folkestone, Kent, on April 28, 1888, endured a difficult childhood with illness, death and poverty plaguing the family.
The grandson of slaves in Barbados, his father arrived in England in 1876 following abolition some 43 years earlier. Walter's mother, Alice, died when he was just seven before his father passed away two years later.
With all six children surviving their parents' death, the demands on their stepmother, Clara, were too much to bear and Tull along with his brother Edward were taken to live in a Methodist orphanage in Bethnal Green, east London.
When Edward was adopted two years later by a couple from Glasgow and went on to become the first black dentist in the city, Walter turned to football to help with his solitude.
It was here, while training to be a printer, Walter caught the eye with his football skills and soon won a trial with amateur side Clapton F.C.
Vitriolic racism
His success, which helped the club win the Amateur Cup, London Senior Cup and London County Amateur Cup in the 1908-1909 season, secured him a dream move to Tottenham Hotspur.
The transfer made Walter just the second black professional player in the English top division and the first outfield player.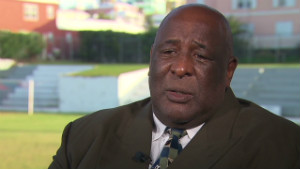 Football pioneer on racist abuse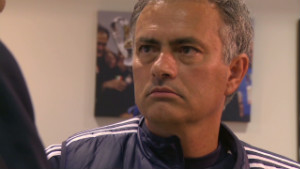 Mourinho: John Terry is not a racist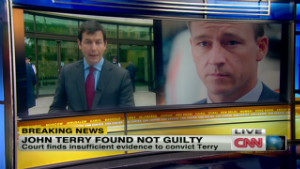 John Terry cleared of racial abuse
After making his debut at the age of 21, Walter enjoyed success at Tottenham until a vitriolic episode of racism at Bristol City in October 1909.
Crime and punishment in sport: Laying down the law?
"The game at Bristol was the first time I came across racism being mentioned in a match report," said Vasili.
"In previous reports, writers would use coded language such as 'Tull took unwarranted abuse' but there was no hiding it in this Bristol game."
The Football Star described the Bristol City fans racist chants as "lower than Billingsgate", while another newspaper labeled it as "a cowardly attack".
One reporter vented his fury by writing, "Let me tell those Bristol hooligans that Tull is so clean in his mind and method as to be a model for all white men who play football."
The episode appeared to embarrass Tottenham, which promptly dropped Tull from the team and sold him to Northampton Town.
Under Herbert Chapman, the future manager of Arsenal, Walter enjoyed great success, making 110 appearances and attracting the interest of Scottish giants Glasgow Rangers.
The First World War broke out in 1914, with Tull signing up to the 17th Service Battalion of the Middlesex Regiment, which was nicknamed, "The Diehards".
Cole apologizes for outburst over Terry racism case
He was involved in combat at the end of the Battle of the Somme between October and November 1916, before being sent back to England suffering from trench foot and shell shock.
After making a full recovery, Walter was ordered to go up to Scotland to the Officer Training Corps, despite military regulations forbidding those who were not of "pure European descent" from becoming officers.
What happened to Rose, happened to Walter around 93 years previously ... It's funny how something which happened nearly a century ago could be so relevant
Phil Vasili
Military bravery
In May 1917, he was appointed an officer, despite it being technically illegal.
"I guess he never received the medal because the rules at the time prohibited it," added Vasili. "Perhaps those on the ground didn't realize and some civil servant or bureaucrat must have pointed it out.
"They couldn't have given an award to a black soldier and not a white soldier at the time."
Walter's military success continued as he became the first black officer in the British Army to lead troops into battle.
In Italy, he led his men at the Battle of Piave and was commended for his outstanding leadership abilities by his peers.
Walter's efforts did not go unnoticed and he was recommended for the Military Cross, but never received it.
Chelsea defender Cole charged with misconduct after abusive tweet
After finishing in Italy, Walter was transferred to the Somme Valley in France. It was on March 25, 1918 while trying to escape a German advance at Favreuil, that he was fatally injured by machine gun fire.
"Such was Walter's bond with his men that even with the machine guns firing, his men still tried to recover his body," said Vasili.
"They risked their lives to try and bring him back because he was a person who they all looked up to and respected. He was a very humble character, who wanted to be judged by his actions and deeds.
"I think that his Methodist background gave him a code to live by and helped guide him through life."
Tull, the play, is at the Octagon Theatre in Bolton from February 21 and March 16.