STORY HIGHLIGHTS
Plane carrying Malala's parents lands in Birmingham, England
"It is essential that I be with my daughter during her recovery," says her father
Malala asked that her school books be brought to her, Interior Minister Malik says
On October 9, the Taliban shot the teen activist who had demanded education for girls
London (CNN) -- The parents of Pakistani teen activist Malala Yousafzai arrived Thursday in Britain to reunite with their daughter, who has become an international symbol of courage after being shot by the Taliban for demanding education for girls.
The 15-year-old, who at times has been unconscious, is being treated in a Birmingham hospital for a gunshot wound to the head.
Her father, Ziauddin Yousafzai, has been a central influence for Malala. He ran a school in Pakistan's conservative Swat Valley that kept its doors open to girls -- in defiance of the Taliban.
Her parents' arrival on Thursday came 10 days after Malala was flown to Britain.
Arrests made in shooting of Pakistani schoolgirl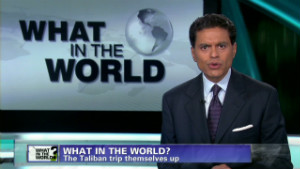 Malala's story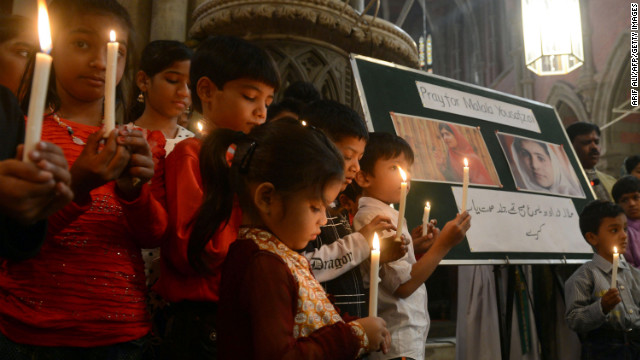 Pakistani Christians attend a prayer service for the recovery of teen activist Malala Yousufzai in Lahore on Sunday, November 11, 2012. Pakistan celebrated Malala Day on Saturday as part of a global day of support for the teenager shot by the Taliban.
Pakistani Christians attend a prayer service in Lahore on Sunday. Malala, 15, went from an intensive care unit in Pakistan, showing no signs of consciousness, to walking, writing, reading and smiling in a hospital in the UK.
Pakistani supporters hold photographs of Malala as they stand alongside burning candles during a ceremony to mark Malala Day in Karachi on Saturday, November 10, 2012. The teen activist was shot in the head by the Taliban as she rode home from school in a van last month. She had defied the militant group by insisting on the right of girls to go to school. The attack has stirred outrage in Pakistan and around the world.
Pakistani students shout slogans near photographs of Malala in Karachi on Saturday.
A Pakistani girl carries a photograph of Malala in Karachi to mark Malala Day.
Pakistani students attend a Malala Day ceremony in Lahore on Saturday.
A Pakistani student in Lahore writes a message on a placard on Saturday.
Indian teachers add finishing touches to a "Malala Rangoli" at a high school in Ahmedabad on Saturday.
Malala sits up in her hospital bed with her father, Ziauddin, and her two younger brothers, Atal Khan, right, and Khushal Khan on Friday, October 26, 2012, at the Queen Elizabeth Hospital Birmingham in Birmingham, England.
Pakistani human rights activists light candles during a Sunday, October 21, 2012, vigil for Malala Yousufzai in Lahore.
Students at the Sacred Heart Cathedral School in Lahore attend special prayers on Friday, October 19, 2012, for Malala's recovery.
Campaigners gather Friday for a vigil for Malala in Birmingham, England.
An activist with the Association for the Advancement of Feminism lights candles during a vigil in Hong Kong on Friday.
Activists light candles during Friday's vigil in Hong Kong.
Indian sand artist Sudarsan Pattnaik puts final touches on a sand sculpture in honor of Malala at Puri Beach, India, on Tuesday, October 16.
Pakistani demonstrators chant slogans during a protest against the assassination attempt by the Taliban on Tuesday in Islamabad, Pakistan.
Pakistani activists of the Islamic Sunni Tehreek party carry flags at a rally in Islamabad on Sunday, October 14, 2012.
Veiled Pakistani women participate in Sunday's rally.
Supporters of a Pakistani political party, Muttahida Quami Movement, gather during a protest procession for Malala in Karachi, Pakistan.
Pakistani leaders of the movement sit in front of a poster of Malala at a procession in Karachi.
A Pakistani youth places an oil lamp next to a photograph of teen activist Malala Yousufzai on Friday, October 12, 2012, in Karachi, Pakistan.
Pakistani school girls pray for the recovery of teen activist Malala Yousufzai at their school in Peshawar.
Pakistani hospital workers carry Malala on a stretcher at a hospital following the attack on Tuesday, October 9, 2012. Malala was shot in the head while riding home in a school van in the Taliban-heavy Swat Valley, officials said.
Supporters hold portraits of Malala as they pray for her well-being in Karachi, Pakistan in 2012. Malala gained fame for blogging about how girls should have rights in Pakistan, including the right to learn.
A Pakistani Muslim prays for Malala during Friday prayers in Karachi. Malala, whose writing earned her Pakistan's first National Peace Prize, also encouraged young people to take a stand against the Taliban -- and to not hide in their bedrooms.
Supporters place candles to pay tribute to Malala in Islamabad on Wednesday.
A Pakistani female activist holds a photograph of Malala and prays for her recovery in Islamabad on Saturday.
Pakistani students pray for Malala at a school in Mingora on Thursday.
Pakistani Muslims bow their heads and pray for Malala during Friday prayers in Karachi.
Pakistani school girls pray for the Malala's recovery. Over the weekend, the teen moved her limbs after doctors "reduced sedation to make a clinical assessment," military spokesman Maj. Gen. Asim Bajwa said.
A Pakistani female covers her face during prayers in Karachi.
Pakistani civil society activists carry banners in Islamabad on Wednesday as they shout ant-Taliban slogans during a protest against the assassination attempt.
Children of Pakistani journalists and civil society activists light candles in Islamabad.
Pakistani Christians attend a mass prayer for the recovery of Malala at Fatima Church in Islamabad.
Pakistani Christians attend a mass praying for the recovery of Malala at a church in Lahore.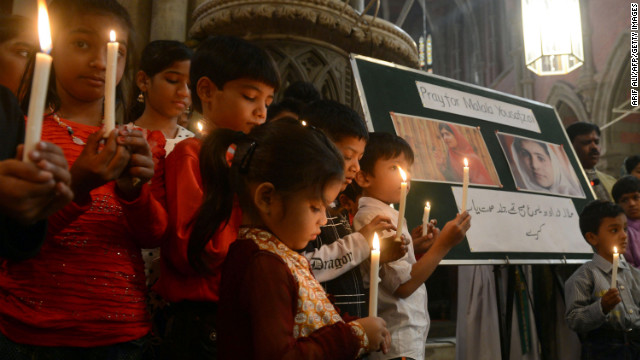 Photos: Supporters rally behind Malala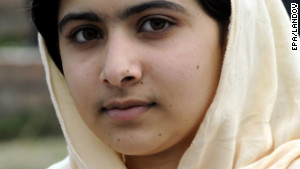 Brown: Malala a symbol for girls' rights
Malala has been unable to speak because a tube has been inserted into her trachea to protect her airway, which was swollen after her injury.
"I am leaving this country with a heavy heart and in extraordinary circumstances because the whole country knows that it is essential that I be with my daughter during her recovery," her father told Pakistani network PTV before leaving Islamabad, in his first public remarks since the October 9 shooting.
"With the nation's prayers she survived the attack and she will surely recover and her health will progress. And, God willing, as soon as she is recovered, I will be back in Pakistan."
Khushal Khan, Malala's younger brother, called for the nation to rally behind his sister. "I want to tell all my friends to pray for Malala," he said.
Opinion: Why Malala should not be turned into modern Joan of Arc
Malala has been thinking about school even while she lies in her hospital bed, Interior Minister Rehman Malik told reporters after meeting with her family -- she asked her father to take her school books with him.
"The mission she has taken forward and the education awareness that has spread across Pakistan is all Malala's doing," he said, according to PTV. "So I think that our entire nation should be proud of her love for the soil of her country."
After Malala recovers and returns to Pakistan, he said, "we will provide her with complete security, despite anyone's refusal, to ensure that something like this never happens again. The attack on Malala was a mindset of people who don't want to see this country progress."
Pakistan President Asif Ali Zardari has spoken with the girl's father, asking him to stay in Britain as long as necessary while his daughter recovers, Rehman Malik said.
Malala has been communicating with medical staff by writing notes, the hospital has said.
What's your message for Malala?
As of Thursday, Malala "continued to respond well to treatment," the hospital's website said.
She is expected to need "a significant period of rest and recuperation" before undergoing reconstructive surgery, Dr. Dave Rosser, medical director of University Hospitals Birmingham, said last week. That surgery could involve reinserting a piece of her own skull or fitting her with a titanium plate.
Malala was fighting an infection, but was able to move her extremities and has stood with help from nurses, the hospital said.
Although the bullet grazed her brain as it passed from above her eye into her shoulder, she understands where she is and seems to be functioning well intellectually, it added.
Malala sent a message of thanks to the thousands of people in Pakistan and elsewhere who have attended rallies and vigils honoring her courage and praying for her recovery.
The Taliban have claimed responsibility for the shooting, but don't appear to have anticipated the level of condemnation it would provoke.
Malala initially gained international attention in 2009, as the Taliban gained a foothold in her home region of Swat, a Taliban redoubt in northwest Pakistan, near Afghanistan.
Girl shot alongside Malala haunted by attack
On her blog, Malala wrote about her life in the region, a center of militant activity where girls schools were shuttered and strict Islamist rules imposed. In her writings, which earned her Pakistan's first National Peace Prize, she encouraged young people to oppose the Taliban.
Pakistani police said Wednesday that six men have been arrested in Swat in connection with Malala's shooting, but the primary suspect remained at large.
Police have identified Atta Ullah Khan, a 23-year-old man from the district where she was attacked, as the primary suspect. Police said they were searching for Khan, who was studying for a master's degree in chemistry.
CNN's Jonathan Wald and Shaan Khan contributed to this report.