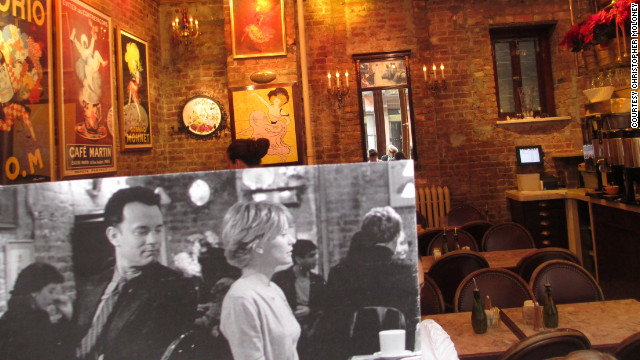 Tom Hanks and Meg Ryan meet at Cafe Lalo. The popular New York City cafe -- located at 83rd Street and Amsterdam Avenue -- also appears in the Bollywood film Anjaana Anjaani.
Kevin McCallister (Macaulay Culkin) visits Radio City Music Hall during his tour of Manhattan. Radio City also appears in a bunch of movies, including "Quiz Show," "The Godfather" and "Private Parts."
Captain America and Iron Man meet at Bethesda Terrace in Central Park. The terrace (and fountain) is arguably the most popular film location in New York City, having appeared in "Ransom," "Home Alone 2," "Friends with Benefits" and, recently, an episode of "Doctor Who."
The exterior of Grand Central Terminal also gets a lot of cinematic love. In this photo, you can see "The Avengers" gathered on the Park Avenue viaduct, just behind the terminal, during their epic battle.
This summer, CNN writer Christopher Moloney (of "Erin Burnett OutFront") noticed that he had the same commute to work as the Stay Puft Marshmallow Man. Inspired, he printed off a black and white screen grab of the scene from "Ghostbusters" and snapped a photo. He posted it online, his friends and family loved it, and his blog FILMography was born.
Matt Damon and Emily Blunt race past The Warwick Hotel at 54th Street and 6th Avenue in Manhattan. Film fans will recognize the hotel from the Jack Lemmon film "How to Murder Your Wife." In the background you can see the Hilton Hotel featured in "Michael Clayton" and "Malcolm X."
Rep. Raymond Shaw (Liev Schreiber) waves to supporters as he seeks the vice presidency. Fans of psychological thrillers will recognize the corner he's standing on -- Broadway and 43rd Street -- as the corner Tom Cruise runs past in the movie "Vanilla Sky."
Will they run the marathon, or won't they? That was the question facing Mayor Michael Bloomberg and the organizers of the NYC Marathon after Superstorm Sandy. In the end, they didn't. But Dustin Hoffman did run -- a lot -- in "Marathon Man." In this scene ,Thomas Babington "Babe" Levy (Hoffman) checks his time outside his apartment on 47th Street between 8th and 9th Avenues.
In 2008's "Baby Mama," Tina Fey's character, Kate Holbrook, lives at 210 Riverside Drive (near 93rd Street). It's a neighborhood Fey knows well, as the "Baby Mama" building is just a few blocks up from 160 Riverside Drive, the location of Liz Lemon's apartment building on "30 Rock."
We couldn't resist including this shot of a giant George Peppard at the Naumburg Bandshell. Constructed in 1862, it's located in Central Park, just south of the Bethesda Terrace near 72nd Street.
John McClane (Bruce Willis) and Zeus Carter (Samuel L. Jackson) stop to take a call from Simon Gruber (Jeremy Irons) at the 72nd Street subway station (at Broadway).
Bounty hunter Jack Walsh (Robert DeNiro) leads Jonathan "The Duke" Mardukas (Charles Grodin) through Grand Central Terminal. The terminal also makes appearances in dozens of films including "Hackers," "Eternal Sunshine of the Spotless Mind," "Revolutionary Road" and "Armageddon" (when it's destroyed).
In "Ghost," the recently deceased Sam Wheat (Patrick Swayze) and his psychic friend Oda Mae Brown (Whoopi Goldberg) make their way along Wall Street on the way to the bank. En route, they pass Federal Hall, a New York movie staple, which has appeared in "On the Town" and "The 10th Victim" and as the backdrop of the battle scene in "The Dark Knight Rises."
Gabe (Josh Hutcherson) and Rosemary (Charlie Ray) enter Septuagesimo Uno Park, a parkette on 71st Street between Broadway and West End Avenue.
The corner where Buddy (Will Ferrell) first learns "the yellow ones don't stop" is at 31st Street and Fifth Avenue. Make your way up to 34th Street, and you'll hit the Empire State Building, the location of the publishing company where Buddy's biological father (James Caan) works.
Parry (Robin Williams) and Jack Lucas (Jeff Bridges) spy on Lydia, the object of Parry's affection, in "The Fisher King." Her office is in Eleven Madison (formerly the Metropolitan Life North Building), which has quietly become one of the most popular filming locations in New York.
'You've Got Mail' (2009)
'Home Alone 2: Lost in New York' (1992)
'The Avengers' (2012)
'The Avengers' (2012)
'Ghostbusters' (1984)
'The Adjustment Bureau' (2011)
'The Manchurian Candidate' (2004)
'Marathon Man' (1976)
'Baby Mama' (2008)
'Breakfast at Tiffany's' (1961)
'Die Hard: With a Vengeance' (1995)
'Midnight Run' (1998)
'Ghost' (1990)
'Little Manhattan' (2005)
'Elf' (2003)
'The Fisher King' (1991)