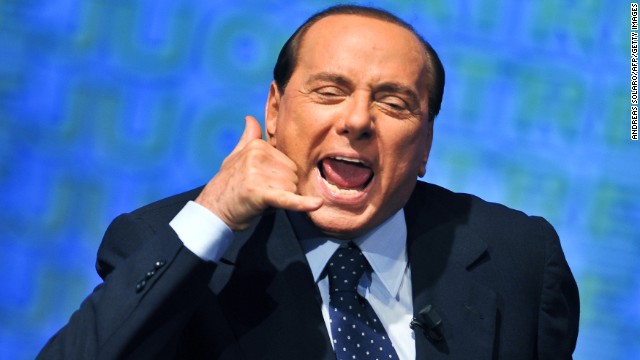 Silvio Berlusconi gestures as he takes part at a People of Freedom meeting in Rome on September 9, 2009. In November last year,
the Italian Senate voted to expel Italy's three-time former prime minister
from parliament after his conviction for tax fraud.
Former President George W. Bush and Berlusconi share a moment during a South Lawn arrival ceremony at the White House on October 13, 2008.
The late Moammar Gadhafi attends a meeting with Berlusconi in Rome on June 10, 2009.
President Barack Obama and first lady Michelle Obama welcome Berlusconi to the G20 dinner in Pittsburgh, Pennsylvania, on September 24, 2009.
Berlusconi waves to journalists as he leaves San Raffaele hospital in Milan on December 17, 2009. Berlusconi suffered severe facial wounds in a violent attack.
Russian Prime Minister Vladimir Putin and Berlusconi attend a press conference in Lesmo, Italy, on April 26, 2010.
Berlusconi listens during a debate at the Senate on December 13, 2010, in Rome, Italy.
Berlusconi reacts during the presentation of politician Antonio Razzi's book "Le mie mani pulite" (My clean hands) at the Italian parliament in Rome on February 1, 2012.
An official visit to Villa Madama on January 18, 2011.
Berlusconi arrives at the Chancellery to meet with German Chancellor Angela Merkel on January 12, 2011 in Berlin, Germany.
Berlusconi passes by Carabinieri guards prior a meeting with Russia's President at Villa Madama palace in Rome on February 16, 2011.
AC Milan players and AC Milan chairman Berlusconi celebrate after winning the Luigi Berlusconi Trophy at Giuseppe Meazza Stadium on August 21, 2011, in Milan, Italy.
Berlusconi closes his eyes as he listens to a man speak in his ear at the dedication of the George W. Bush Presidential Library in Dallas on April 25.
Berlusconi rubs his eyes after delivering a speech at the Senate in Rome on October 2.
'Il Cavaliere' Silvio Berlusconi
'Il Cavaliere' Silvio Berlusconi
'Il Cavaliere' Silvio Berlusconi
'Il Cavaliere' Silvio Berlusconi
'Il Cavaliere' Silvio Berlusconi
'Il Cavaliere' Silvio Berlusconi
'Il Cavaliere' Silvio Berlusconi
'Il Cavaliere' Silvio Berlusconi
'Il Cavaliere' Silvio Berlusconi
'Il Cavaliere' Silvio Berlusconi
'Il Cavaliere' Silvio Berlusconi
'Il Cavaliere' Silvio Berlusconi
'Il Cavaliere' Silvio Berlusconi
'Il Cavaliere' Silvio Berlusconi