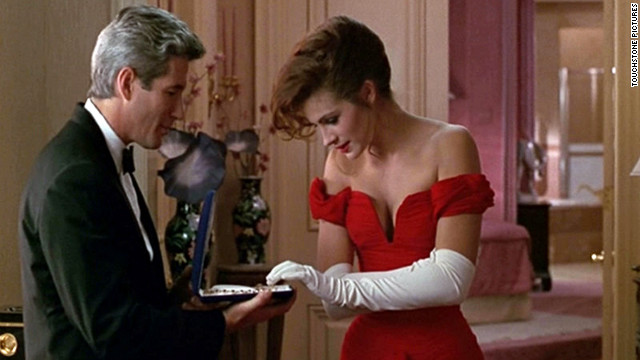 Julia Roberts went from Hollywood Boulevard to Rodeo Drive playing a prostitute named Vivian in "Pretty Woman." Richard Gere's Edward sweeps Vivian off her feet in the modern-day "Cinderella" story, also starring Jason Alexander. If you haven't yet seen the classic '90s flick, which earned Roberts an Oscar nomination for best actress, you're making a
"big mistake. Big. Huge."
In 1997's "My Best Friend's Wedding," Roberts' Julianne becomes jealous when her best friend gets engaged. To make matters worse, the bride asks her to be the maid of honor. Julianne sets out to stop the wedding, but Cameron Diaz's Kimberly isn't giving up Michael, played by Dermot Mulroney, without a fight.
Roberts stars opposite Susan Sarandon in 1998's "Stepmom." In the touching dramedy, Sarandon's Jackie isn't a huge fan of her ex-husband's new girlfriend Isabel, played by Roberts.
"Notting Hill" wasn't too far of a departure for Roberts, who plays a Hollywood actress in the 1999 film. She stars alongside Hugh Grant, who plays a bookshop owner, in the romantic comedy.
"Erin Brockovich" earned Roberts an Academy Award for best actress. In the 2000 film, based on a true story, Roberts plays a single mother who takes a job as a legal clerk and ends up stumbling upon a huge case.
Roberts appears alongside George Clooney and Brad Pitt in 2001's "Ocean's Eleven." The remake of the 1960 film of the same name went on to gross more than $450 million at the worldwide box office.
In 2004's "Closer," which earned Natalie Portman and Clive Owen Oscar nominations, Roberts plays Anna, a two-timing photographer.
Based on Elizabeth Gilbert's memoir, Roberts stars alongside Javier Bardem in 2010's "Eat Pray Love." The romantic drama follows Roberts' character as she travels to Italy, India and Bali.
'Pretty Woman' (1990)
'My Best Friend's Wedding' (1997)
'Stepmom' (1998)
'Notting Hill' (1999)
'Erin Brockovich' (2000)
'Ocean's Eleven' (2001)
'Closer' (2004)
'Eat Pray Love' (2010)