STORY HIGHLIGHTS
Pakistan's interior minister says teen activist's assailants were "two young boys"
"Obviously, they had done their homework," Malik says
Malala Yousufzai is recovering from a head wound in a British hospital
Malik calls her "the pride of Pakistan"
London (CNN) -- Pakistani police are searching for two youths suspected of shooting a teenage activist for girls' education and the man they believe drove them to the scene, the country's interior minister said Sunday.
"The guys who actually made this assassination attempt, they were two young boys," Rehman Malik said. But he said they were brought to Malala Yousufzai's hometown of Swat by Atta Ullah Khan, a 23-year-old man identified by police as their primary suspect.
Malik said one of the youths distracted the driver of the car that carried Malala, while the other asked a bystander to identify her.
"Obviously they had done their homework," Malik told CNN in London. "They had seen the vehicle of Malala going up and down, and accordingly they acted on that."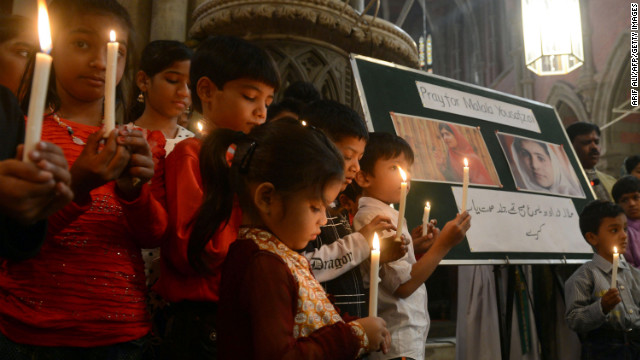 Pakistani Christians attend a prayer service for the recovery of teen activist Malala Yousufzai in Lahore on Sunday, November 11, 2012. Pakistan celebrated Malala Day on Saturday as part of a global day of support for the teenager shot by the Taliban.
Pakistani Christians attend a prayer service in Lahore on Sunday. Malala, 15, went from an intensive care unit in Pakistan, showing no signs of consciousness, to walking, writing, reading and smiling in a hospital in the UK.
Pakistani supporters hold photographs of Malala as they stand alongside burning candles during a ceremony to mark Malala Day in Karachi on Saturday, November 10, 2012. The teen activist was shot in the head by the Taliban as she rode home from school in a van last month. She had defied the militant group by insisting on the right of girls to go to school. The attack has stirred outrage in Pakistan and around the world.
Pakistani students shout slogans near photographs of Malala in Karachi on Saturday.
A Pakistani girl carries a photograph of Malala in Karachi to mark Malala Day.
Pakistani students attend a Malala Day ceremony in Lahore on Saturday.
A Pakistani student in Lahore writes a message on a placard on Saturday.
Indian teachers add finishing touches to a "Malala Rangoli" at a high school in Ahmedabad on Saturday.
Malala sits up in her hospital bed with her father, Ziauddin, and her two younger brothers, Atal Khan, right, and Khushal Khan on Friday, October 26, 2012, at the Queen Elizabeth Hospital Birmingham in Birmingham, England.
Pakistani human rights activists light candles during a Sunday, October 21, 2012, vigil for Malala Yousufzai in Lahore.
Students at the Sacred Heart Cathedral School in Lahore attend special prayers on Friday, October 19, 2012, for Malala's recovery.
Campaigners gather Friday for a vigil for Malala in Birmingham, England.
An activist with the Association for the Advancement of Feminism lights candles during a vigil in Hong Kong on Friday.
Activists light candles during Friday's vigil in Hong Kong.
Indian sand artist Sudarsan Pattnaik puts final touches on a sand sculpture in honor of Malala at Puri Beach, India, on Tuesday, October 16.
Pakistani demonstrators chant slogans during a protest against the assassination attempt by the Taliban on Tuesday in Islamabad, Pakistan.
Pakistani activists of the Islamic Sunni Tehreek party carry flags at a rally in Islamabad on Sunday, October 14, 2012.
Veiled Pakistani women participate in Sunday's rally.
Supporters of a Pakistani political party, Muttahida Quami Movement, gather during a protest procession for Malala in Karachi, Pakistan.
Pakistani leaders of the movement sit in front of a poster of Malala at a procession in Karachi.
A Pakistani youth places an oil lamp next to a photograph of teen activist Malala Yousufzai on Friday, October 12, 2012, in Karachi, Pakistan.
Pakistani school girls pray for the recovery of teen activist Malala Yousufzai at their school in Peshawar.
Pakistani hospital workers carry Malala on a stretcher at a hospital following the attack on Tuesday, October 9, 2012. Malala was shot in the head while riding home in a school van in the Taliban-heavy Swat Valley, officials said.
Supporters hold portraits of Malala as they pray for her well-being in Karachi, Pakistan in 2012. Malala gained fame for blogging about how girls should have rights in Pakistan, including the right to learn.
A Pakistani Muslim prays for Malala during Friday prayers in Karachi. Malala, whose writing earned her Pakistan's first National Peace Prize, also encouraged young people to take a stand against the Taliban -- and to not hide in their bedrooms.
Supporters place candles to pay tribute to Malala in Islamabad on Wednesday.
A Pakistani female activist holds a photograph of Malala and prays for her recovery in Islamabad on Saturday.
Pakistani students pray for Malala at a school in Mingora on Thursday.
Pakistani Muslims bow their heads and pray for Malala during Friday prayers in Karachi.
Pakistani school girls pray for the Malala's recovery. Over the weekend, the teen moved her limbs after doctors "reduced sedation to make a clinical assessment," military spokesman Maj. Gen. Asim Bajwa said.
A Pakistani female covers her face during prayers in Karachi.
Pakistani civil society activists carry banners in Islamabad on Wednesday as they shout ant-Taliban slogans during a protest against the assassination attempt.
Children of Pakistani journalists and civil society activists light candles in Islamabad.
Pakistani Christians attend a mass prayer for the recovery of Malala at Fatima Church in Islamabad.
Pakistani Christians attend a mass praying for the recovery of Malala at a church in Lahore.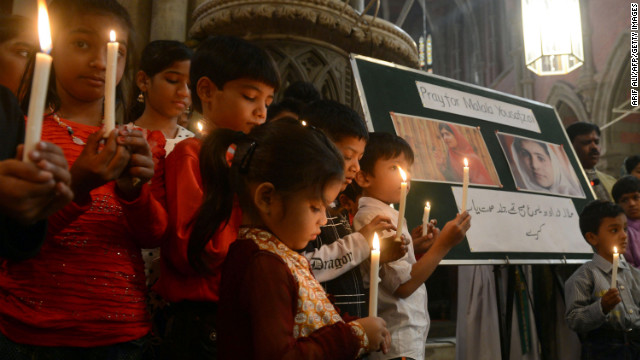 Photos: Supporters rally behind Malala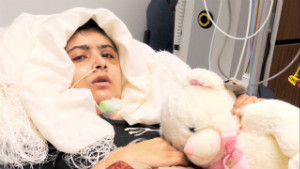 Malala and her parents reunite in UK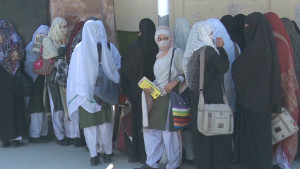 Pakistan college renamed for Malala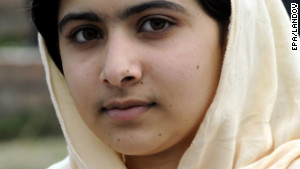 Brown: Malala a symbol for girls' rights
Police said last week that they had arrested six men in connection with the shooting, but were still searching for Khan, who was studying for a master's degree in chemistry.
Malik defended the investigation into the shooting, telling CNN, "Within 24 hours we were in a position to identify almost everybody." And he rejected calls from some in Pakistan to bring the country's military to bear on the attackers, saying "A military solution is not the solution."
The 15-year-old Malala initially gained international attention in 2009, writing a blog about her life as the Taliban gained a foothold in her home region, in northwest Pakistan near the border with Afghanistan. Taliban leaders claimed responsibility for the shooting, but they don't appear to have anticipated the level of condemnation it would provoke.
Read: College named for Malala
Thousands of people in Pakistan and elsewhere have attended rallies and vigils honoring her courage and praying for her recovery. Malik called her "the pride of Pakistan" and said "we would love her to come back."
He said police had offered to protect Malala three times before the incident, but her father had refused. He said her entire family would be under guard when they return to Pakistan after her treatment, for which the government will pay.
He said that will require two cordons of police -- female officers to surround Malala, with male officers surrounding the female contingent. But he added, "I assure to the world community that when she goes back, we do have the ability to protect her."
Malik is scheduled to visit Malala on Monday in her hospital in Birmingham, England, where she is recovering from her head wound. He'll also meet with the foreign ministers of Britain and the United Arab Emirates, which provided the air ambulance that flew Malala to the United Kingdom.
Read: Malala reunited with her family
Malala was shot at point-blank range while on her way home from school on October 9. She was flown to Britain six days later. Her father, Ziauddin Yousufzai, visited her in Birmingham last week and described her survival as a "miracle for us."
Malik said she and her parents can stay in the UK as long as needed, "until she is fully rehabilitated." He said she had asked for her school books so she can study for exams, which he said will be given to her when she returns.
CNN's Alex Felton contributed to this report.