McIlroy beats Woods in chaotic 'Duel of Jinsha Lake'
October 29, 2012 -- Updated 1824 GMT (0224 HKT)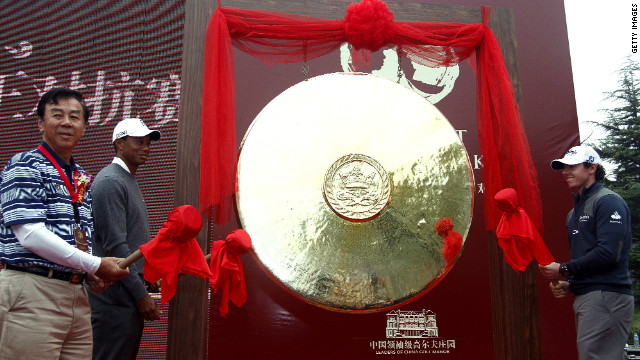 Rory McIlroy and Tiger Woods look on in amusement before banging a ceremonial gong to mark the start of their "Duel at Jinsha Lake."
Both McIlroy and Woods, pictured above, had their handprints immortalized in clay as a lavish ceremony featuring drum majorettes and fireworks preceded their clash in the Chinese city Zhengzhou.
World No. 1 McIlroy cannot keep a straight face as the players pose at the first green, ahead of a clash reported to be paying the pair a combined total of $2 million.
wrote Sports Illustrated's Alan Shipnuck
. "Some 3,000 fans streamed across the fairways, with soldiers locking arms in a human fence to keep the throngs off the greens."
"The scene was barely-controlled chaos,"
A course marshall practices kung fu as she awaits the golfers' arrival.
"On the tee boxes there were so many camera clicks it sounded like machine gun fire," Shipnuck wrote.
Local golf fans talk with one of the models who inhabited the greens in their evening wear in scenes seldom seen on any golf course.
Woods tries to maintain focus as a luxury boat passes by, with the clubhouse car park also boasting a collection of Rolls-Royces, Ferraris, Aston Martins and Maseratis.
Young fans show their support for McIlroy and Woods in a country that is seen as the next great market for golf to conquer.
McIlroy never trailed Woods after starting with a birdie, going on to card a five-under-par 67 -- one less than the world No. 2.
McIlroy awaits his trophy on a day that coincided with the launch of the multi-million-dollar "Golf Villas" to be built around the Jinsha Lake course.
Golden Gong
Tiger Paw
Number One
"Barely-controlled chaos"
High Jinks
Firing Line
Model Display
Water Hazard
Next Generation?
On the Charge
Job Done
STORY HIGHLIGHTS
World No. 1 Rory McIlroy beats Tiger Woods in exhibition match in China
"Duel at Jinsha Lake" takes place in front of chaotic scenes in Zhengzhou
Fans throng the course, models decorate the tees while a luxury yacht cruises the lake
Event coincides with launch of property project around the golf course in Henan province
Editor's note: CNN's Living Golf will have an exclusive joint interview with Tiger Woods and Rory McIlroy which debuts in full on November 8 at 1030 and 1730 GMT.
(CNN) -- It was a much-hyped meeting between two of golf's biggest names -- and the chaotically enthusiastic crowd in China were not let down by Rory McIlroy and Tiger Woods in a surreal showdown worth a reported $2 million.
Billed as the "Duel at Jinsha Lake," Monday's clash coincided with the launch of a multi-million-dollar housing project which is being built around the course in Zhengzhou, the capital of Henan province.
Fans turned out in their thousands to witness the world's top two golfers -- one of them, Woods, the man largely responsible for the game's increased worldwide popularity, and the other, the 23-year-old McIlroy, its big hope for the future.
After banging a ceremonial Chinese gong and immortalizing their hand prints in clay, Woods and McIlroy took to a golf course where models dressed in evening wear inhabited the tees, a luxury yacht sailed across a lake and helicopters parked next to putting greens.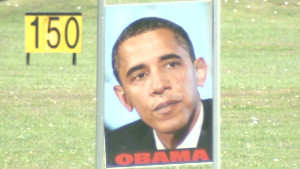 Golfers aim at Obama, Romney targets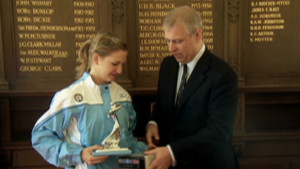 Duke supports young golfers
"Had a great time with @TigerWoods at Jinsha Lake in China today!" tweeted McIlroy, who carded a five under par 67, one fewer than his rival, to claim bragging rights.
"We both played well and hopefully the fans enjoyed it too!"
The pair used all their experience to play some impressive golf, despite the fact that many tee shots were accompanied by the endless clicking of dozens of cameras while security men struggled to hold back the fans on the fairways.
"This is certainly not like most Mondays," said Woods afterwards, smiling. "It's been a different one, hasn't it?"
"I wouldn't say it was crazy out there. The word I would use is 'enthusiastic'," said McIlroy. "It's good to see so many people out there. So many people that follow golf and want to watch us play. I hope that continues."
Many observers see China as the next market for golf to conquer, with an expanding, aspirational middle class taking up the game in significant numbers.
McIlroy came to Zhengzhou, a city of 10 million people, straight after finishing second at the European Tour's $7 million BMW Masters in Shanghai, a tournament he won last year.
Woods, who has won 14 major titles to his rival's two, traveled to China after finishing tied for fourth at the CIMB Classic in Malaysia on Sunday.

Today's five most popular stories
October 13, 2014 -- Updated 1449 GMT (2249 HKT)

There have been many dark days for Oliver Wilson, but golf's unluckiest loser is finally riding an upward swing of his career roller coaster.
October 7, 2014 -- Updated 1648 GMT (0048 HKT)

They dress like it's the 1930s and they swing antique equipment that eschews cutting-edge technology -- this is hickory golf.
September 15, 2014 -- Updated 1609 GMT (0009 HKT)

CNN's Living Golf focuses on women's golf, charting the growth of the sport from royal pastime to multi-million dollar machine.
October 1, 2014 -- Updated 0846 GMT (1646 HKT)

"I don't know how to paint happy," says golf's poster girl Michelle Wie. "I think it releases a lot of the darker feelings in me."
September 29, 2014 -- Updated 1213 GMT (2013 HKT)

If you're a U.S. golf fan, or Tom Watson, look away now.
September 25, 2014 -- Updated 2318 GMT (0718 HKT)

A ban on uploading social media pictures from the course at Gleneagles was dropped for the Ryder Cup.
September 24, 2014 -- Updated 1052 GMT (1852 HKT)

A spot of shopping, the odd spa day and some serious flag waving. Welcome to the life of a Ryder Cup WAG.
September 23, 2014 -- Updated 1301 GMT (2101 HKT)

Tom Watson has learned plenty in the 21 years since he was last U.S. Ryder Cup captain, but social media is proving to be problematic.
September 22, 2014 -- Updated 1243 GMT (2043 HKT)

Patriotism will reach fever pitch when the USA and Europe collide in golf's Ryder Cup ... and it looks like Rickie Fowler has let it go to his head.
September 22, 2014 -- Updated 1342 GMT (2142 HKT)

Pressure is inescapable in the cauldron of Ryder Cup competition -- pressure and ping pong.
September 23, 2014 -- Updated 1150 GMT (1950 HKT)

Millions of golf fans were watching on television with great anticipation. All Martin Kaymer could think about was getting his phone out.