Steve Jobs' yacht revealed, christened 'Venus'
STORY HIGHLIGHTS
Steve Jobs' yacht was unveiled in a Dutch shipyard on Sunday and christened "Venus"
Boat designed by Jobs and designed by Jobs and minimalist designer Philippe Starck
Jobs family attended ceremony, gave builders customized iPod Shuffles
(CNN) -- Steve Jobs' yacht was unveiled in a Dutch shipyard on Sunday, where the unusual boat designed by Jobs and famed minimalist designer Philippe Starck was christened "Venus," after the Roman goddess of love, beauty, sex, fertility, prosperity and victory.
According to Dutch website OneMoreThing, the finished ship was launched at shipbuilder Koninklijke De Vries in Aalsmeer, The Netherlands. Jobs' widow Laurene and three of their children, Reed, Erin and Eve, were at the ceremony.
The Jobs family gave each of the members of the shipbuilding staff an elegant thank-you note, along with a token gift of their appreciation — an iPod Shuffle with the name of the ship inscribed on the back.
The yacht appears to be as it was described in the Steve Jobs biography by Walter Isaacson. In the book, Isaacson wrote about Jobs showing him models and architectural drawings of the yacht, which Isaacson described as "sleek and minimalist."
10 great quotes from Steve Jobs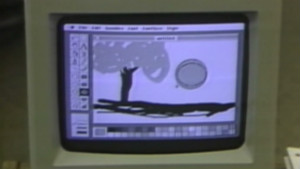 1984: Jobs introduces the first Mac
According to the report, the enormous yacht is between 230 and 260 feet long, and appears to be as it was described in the Jobs biography — it's an extraordinary vessel with teak decks and large panes of ceiling-to-floor glass throughout. The boat is said to have seven 27-inch iMacs on board, and a photo showed six of them lined up on a single counter (see gallery below — by the way, you can see 7 iMacs on the bridge in exterior photos of the ship).
Did Apple's fanboy fever peak with Steve Jobs?
The late Apple CEO was aware he might not live to see the boat launched, but continued to tinker with its design. Now, at its christening more than a year after his death, his quotes about the yacht become even more poignant. In the Isaacson book, Jobs said, "I know that it's possible I will die and leave Laurene with a half-built boat. But I have to keep going on it. If I don't, it's an admission that I'm about to die."
Update: Here are pics of the yacht, courtesy OneMoreThing, used with permission.
How Steve Jobs' legacy has changed
© 2013 MASHABLE.com. All rights reserved.

Today's five most popular stories
Part of complete coverage on
CNN recommends
November 5, 2012 -- Updated 1317 GMT (2117 HKT)

A mother learns that her newborn is part of a hospital evacuation. Facebook posts from a member of the HMS Bounty turn ominous. A man worries about the wind and rain, but another force of nature hits home.
November 8, 2012 -- Updated 0919 GMT (1719 HKT)

President Barack Obama faces a lengthy and familiar set of challenges after riding a wave of support from moderates, women and minorities to a re-election victory.
November 7, 2012 -- Updated 1924 GMT (0324 HKT)

In a historic turnaround, the ballot box is showing America's shifting attitudes about same-sex marriage. The rights passed in at least two states.
November 6, 2012 -- Updated 0242 GMT (1042 HKT)

How far are consumers willing to go in their quest for homegrown goods? The answer might surprise you.
November 6, 2012 -- Updated 1803 GMT (0203 HKT)

For all of its expected action and drama, the new "Halo 4" boils down to an essential question: Are its central characters humans, machines or something in between?
November 6, 2012 -- Updated 2037 GMT (0437 HKT)

Lakota warrior Crazy Horse has long been a controversial figure, so perhaps it's only appropriate that his memorial follow suit.
November 11, 2012 -- Updated 1918 GMT (0318 HKT)

It may be one of the most-quoted lines in American literature -- and if you dare to quote it, you might have to pay.
November 7, 2012 -- Updated 1502 GMT (2302 HKT)

While the U.S. presidential election dominated coverage, news from across the world certainly hasn't stopped.
September 20, 2012 -- Updated 1705 GMT (0105 HKT)

For their extraordinary efforts to help change the world and better the lives of others, 10 everyday people will receive $50,000 to continue their work.