STORY HIGHLIGHTS
Arsenal stage stunning rally as they come from 4-0 down to beat Reading 7-5 in League Cup
Milan trail 2-0 at Palermo before drawing 2-2 as coach Allegri continues to feel pressure
Stephan El Shaarawy's late strike takes him to top of Serie A scoring charts with 7 goals
Barcelona and Dortmund win opening matches of their Spanish and German Cup defenses
(CNN) -- Two of Europe's biggest clubs staged dramatic comebacks on Tuesday as Arsenal rallied from 4-0 down to beat Reading 7-5 in the English League Cup while struggling Italian heavyweights AC Milan drew 2-2 at Palermo in Serie A.
The results will have different impacts for both coaches, with manager Arsene Wenger's position seemingly safe at Arsenal while Milan boss Massimiliano Allegri will continue to face pressure as his side's indifferent form goes on.
In Tuesday's only top-flight league game in Italy, Palermo led 2-0 shortly after halftime whereupon the under-fire Allegri changed his tactical plan to good effect, switching from his favored 3-5-2 to a 4-2-3-1 while also introducing Bojan Krkic as a substitute.
The former Barcelona player had an instant impact, teeing up a goal for Riccardo Montolivo before Stephan El Shaarawy leveled the game 10 minutes from time, with the 20-year-old's seventh league goal of the season taking him to the top of the scoring charts.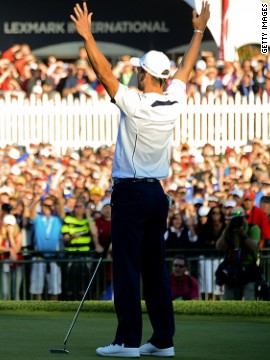 German Martin Kaymer milks the moment as his putt on the 18th green ensures Europe will retain the Ryder Cup. His defeat of Steve Stricker capped an improbable comeback, as the Europeans triumphed 14½-13½ despite trailing 10-4 at one stage on Saturday.
Justin Rose punches the air as he caps an unlikely comeback of his own, defeating Phil Mickelson on the 18th green after being one down with two to play. The American described his loss as one of the turning points of the 2012 Ryder Cup.
Europe's victory echoed the 1999 Ryder Cup, where the U.S. also came from 10-6 down to win 14½ - 13½. The 'Battle of Brookline' was bathed in controversy as U.S. players stormed the 17th green in celebration at s crucial Justin Leonard putt. Golfing etiquette had been broken as Leonard's opponent, Jose Maria Olazabal, could still have squared their match.
Jean Van de Velde (middle) looks bewildered as he reflects on his defeat in the 1999 British Open. The Frenchman blew a three-shot lead on the final hole, so forcing a play-off with Justin Leonard (right) and Scotland's Paul Lawrie (left) which the latter won to seal his first major, despite trailing Van de Velde by an enormous 10 strokes before the final round took place.
Liverpool players celebrate with goalkeeper Jerzy Dudek (in black) after the English side completed their remarkable comeback against Italians AC Milan in the 2005 European Champions League final. Trailing 3-0 at half time, Liverpool scored three goals in six second half minutes in Istanbul to force extra time and a penalty shoot-out, which they won 3-2.
Players and fans of Manchester City celebrate after winning their first English title since 1968. City trailed Queens Park Rangers 2-1 but scored two stoppage time goals to win 3-2 - and so deny city rivals Manchester United the title. The success echoed United's 1999 Champions League triumph in Barcelona, where they beat Bayern Munich 2-1 despite trailing after 90 minutes.
Having won the last four gold medals, the Soviet Union were hot favourites to win ice hockey gold at the 1980 Winter Olympics. Few expected Team USA - made up of amateur and college players - to stop them but they defied the odds to beat the Soviets 4-3 in a semifinal which became known as 'The Miracle on Ice.' They went on to win gold against Finland in the final.
Despite being two sets and 5-1 down in his semifinal, Frenchman Henri Cochet managed to win the 1927 Wimbledon title. He stunned the world No. 1, American Bill TiIden, in the semis before repeating his escapology act in the final, trailing by two sets once more and surviving six match points before rallying to win in five sets for a third successive game.
It is the one-day cricket international that may never be equalled. Set a world record score of 435 to win in their allotted 50 overs, Graeme Smith's South Africa beat Australia in Johannesburg after racking up 438 runs, with just one wicket and one ball to spare.
It is baseball's greatest fairytale comeback. In August 2001, the Seattle Mariners were on their way to equalling the major league record of 116 victories in a season. They led the lowly Cleveland Indians 14-2 at the halfway stage and though the Indians rallied they still needed five full runs with only one out remaining - and got them to win 15-14 in the 11th innings, with Kenny Lofton grabbing the crucial score.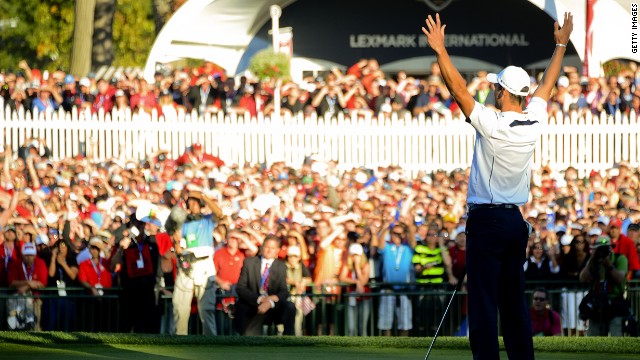 The greatest sporting comebacks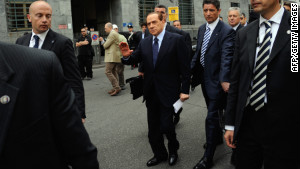 Berlusconi sentenced, blames politics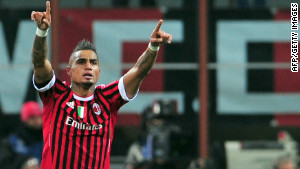 Can AC Milan rebuild this season?
The point bought Allegri a little more breathing space as the seven-time European champions moved into the top half of the table, yet they still trail league leaders and old rivals Juventus by 14 points with just a quarter of the season gone.
With Allegri's position under constant scrutiny and club president -- and former Italian Prime Minister -- Silvio Berlusconi having been sentenced to four years in prison for tax evasion, the start to Milan's season has been anything but easy.
Wenger has also been criticized after mixed recent results, and his team -- featuring 11 changes from Saturday's hard-fought win over lowly Queens Park Rangers -- went 4-0 down after just 37 minutes against another team stuck in the Premier League's relegation zone.
Seconds before halftime, Theo Walcott scored the first goal of a special hat-trick, with his second coming six minutes into stoppage time to force extra-time.
The England international's his 120th-minute goal gave Arsenal a 6-5 lead, which was later extended by Morocco striker Marouane Chamakh's second of the match.
"The first set is for us, it was a tennis game today," joked Wenger afterwards. "There were so many turning points. The goal to make it 4-1 just before halftime was important, as was the miracle goal in the (90th) minute."
Wenger was forced to face disgruntled supporters at a stormy annual general meeting last week, where many fans were unhappy to hear him place qualification for the UEFA Champions League above winning a trophy.
The Gunners have failed to pick up any silverware since 2005 but they have now made it into the quarterfinals of the League Cup, on a night when fellow Premier League sides Sunderland, Wigan and Southampton all exited the competition.
Meanwhile, Reading became the first team to score five goals in a non-qualifying round of either the League Cup or FA Cup and lose a game.
Meanwhile, Spanish league leaders Barcelona began the defense of their Copa del Rey title with a 3-0 victory at third division team Deportivo Alaves.
Regular first-teamers David Villa, Andres Iniesta and Cesc Fabregas scored in the first-leg tie, while fellow La Liga side Valencia won 2-0 at Llagostera.
German Cup holders Borussia Dortmund reached the third round with a 4-1 win at second division Aalen, while fellow Bundesliga sides Schalke, Freiburg and Mainz also went through.