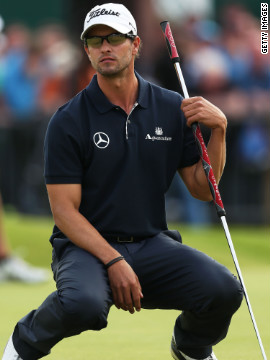 Adam Scott looked set for a first major win at this year's British Open, but four bogeys on the last four holes of the final round let South Africa's Ernie Els swoop in and steal the Australian's crown. Scott missed a putt on the 18th green that would've forced a playoff.
I.K. Kim has also endured major heartbreak in 2012. The 24-year-old missed a one-foot putt on the final hole of the Kraft Nabisco Championship that would've earned her first major, and then lost a playoff to fellow South Korean Yoo Sun-Young. But Scott and Kim aren't the only golfers to have choked on the big stage...
Rory McIlroy may now be the world's top-ranked golfer, but there was a time when he was looking for a first major win. Surely it would come at the 2011 Masters? The Northern Irishman had torn up the famous Augusta course, entering the final day with a four-stroke lead. McIlroy shot the worst round ever recorded by someone leading after three rounds of the Masters. He watched on heartbroken as Charl Schwartzel took the title, but bounced back with a record-breaking U.S. Open win to clinch his first major.
If McIlroy is still haunted by his Augusta nightmare, then one can only imagine the demons which must dwell in the mind of Jean van de Velde. The Frenchman was on course to become a shock winner of the 1999 British Open, requiring just a double bogey on the 18th hole to claim the Claret Jug. What followed has made Van de Velde one sport's most infamous chokers, with a series of wayward shots leaving him in the water. Van de Velde found a greenside bunker with his fifth shot before he eventually holed his seventh for a triple bogey, forcing a playoff. Scotland's Paul Lawrie emerged from the three-way decider as the champion.
Great chokes are not confined to the golf course. There wasn't a dry eye on Centre Court as Czech tennis star Jana Novotna sobbed uncontrollably on the shoulder of the Duchess of Kent after losing the 1993 Wimbledon women's singles final to Steffi Graf. Novotna led 6-7 6-1 4-1 before collapsing and allowing Graf to take the title. Novotna did eventually win a grand slam, beating Venus Williams in the 1998 Wimbledon final.
Brazil hosted the football World Cup for the first time in 1950, with an expectant home crowd demanding the team claim the title. Everything looked to be going to plan, with a freescoring Brazil team needing just a draw against Uruguay to seal a first World Cup triumph. Despite taking the lead, Brazil ended up losing 2-1 lead -- and a country was devastated. Since then "A Selecao" have won the World Cup five times, more than any other nation.
But even Brazil's collapse cannot match AC Milan's "achievement" in the 2005 European Champions League final against Liverpool. Carlo Ancelotti's Milan blew their English opponents out of the water in the first half, racing into a 3-0 lead. But, in six incredible second-half minutes, Rafeal Benitez's Liverpool launched one of the greatest comebacks in the history of sport, scoring three times to level the match. Liverpool held on grimly to force a penalty shootout, with Jerzy Dudek's save from Andriy Shevchenko handing Liverpool a most unlikely success.
U.S. sport is not immune to chokes. Buffalo Bills kicker Scott Norwood has the unfortunate honor of being arguably America's most famous choker. At Super Bowl XXV against the New York Giants, Norwood missed a 47-yard field goal that would've won the Vince Lombardi trophy for the Bills. It marked the first of four consecutive Super Bowl defeats for Buffalo and a the start of a rapid descent out of the NFL for Norwood.
Adam's agony
Kim's crisis
McIlroy's Masters meltdown
Troubled waters
Wimbledon waterworks
Hosts humbled
Milan's misery
Norwood's nightmare
STORY HIGHLIGHTS
Adam Scott and I.K. Kim both narrowly missed out on maiden major titles in 2012
British Open runner-up Scott says he has learned to be dignified in defeat
Kim has help from a mental coach to cope with her recent run of near misses
Both Scott and Kim are still looking for their first titles of the year
(CNN) -- "Nice guys finish last" is a mantra often preached in sport and business. Where golf is concerned, it would seem "nice guys" finish second. And they even manage to smile.
Adam Scott and In-Kyung Kim both won plenty of admirers for their sportsmanship and grace during two of the sport's blue riband major tournaments this year.
The only drawback was, all that praise came after agonizing defeats.
For Scott, an Australian ranked sixth in the men's game who has long been tipped for major success, July's British Open tested his ability to swallow the bitter pills so often served up on golf's greens and fairways.
He held a four-shot lead going into the final round, but bogeyed the last four holes and handed the title to veteran South African Ernie Els.
His capitulation followed in the tradition of his compatriot Greg Norman, one of the greatest golfers of the 1980s and early '90s -- but a player who famously "choked" on several big occasions.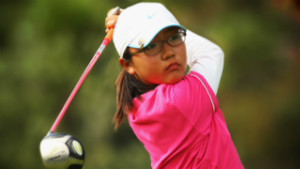 LPGA winner reveals Olympic ambitions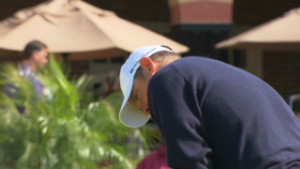 Greatest sporting drama of all time?
"I think the emotions shown in golf are different to other sports," the 32-year-old Scott told CNN when asked about how he was able to remain dignified in the face of abject disappointment at Royal Lytham and St. Annes. He congratulated Els with a brave if rueful smile and carried out his duties to face the seemingly endless stream of media requests.
"It has always been referred to as a gentleman's game, but I think it has got more to do with how you're brought up and your influences," Scott said.
"I certainly feel like my parents have brought me up well, but also I had good role models that I looked up to as a kid.
"Certainly Greg Norman, I saw him win hundreds of tournaments and lose some big ones, but I think he handled himself well in those situations too, so like you do when you're a kid you always try to mimic those you look up to."
Norman won his first major in 1986, a decade after turning professional. However, that year he led all four majors going into the final round, but came away with just a British Open victory -- his first of two Claret Jugs.
The "Great White Shark" was runner-up at no less than seven major tournaments.
Scott, who tied for second at last year's Masters, collapsed over his putter at Royal Lytham after blowing his biggest chance yet of a breakthrough win.
"I think I was a little numb from shock that I might have lost," he explained. "I felt like I played like a winner the whole week and even with a couple of mistakes coming in it didn't feel horrendous out on the course.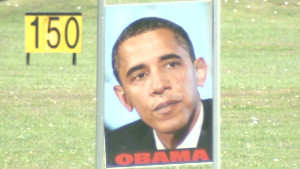 Golfers aim at Obama, Romney targets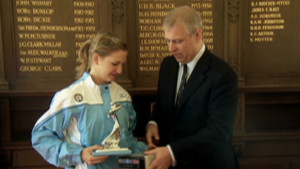 Duke supports young golfers
"There is only one shot I was really, really disappointed with and that was the shot into the 17th green. I wasn't really in that much trouble on the last few holes other than the 17th where I was in the long grass.
"That ends up putting me in quite an awkward position to close the tournament. That is probably the one shot I would like to take over again. But other than that I don't think I would do anything different."
Kim, known as "I.K.," is one of a troop of promising female golfing talents emerging from Asia. The South Korean looked set to announce her arrival on the world stage when she was stood over a one-foot putt at the 18th to win her first major at the Kraft Nabisco Championship in April.
The ball rolled around the lip of the cup but refused to sink, coming to a stop outside of the hole. Somehow Kim had missed and, in a cruel coincidence, she was forced into a playoff with compatriot Yoo Sun-Young which she duly lost.
"I was disappointed right after it happened," the 24-year-old told CNN.
"I get this question a lot ... I am competitive, but from my point of view you can't really attach your emotion to a result. It is something you can't control."
Separating her emotions from her golf is something Kim has worked on throughout her career, using a mental coach to help her hone her craft.
"All we can control is the process and how hard we work, which we do every day," the world No. 18 explained. "I feel like I worked really hard through that tournament and I stayed with my process and everything was good. I moved on."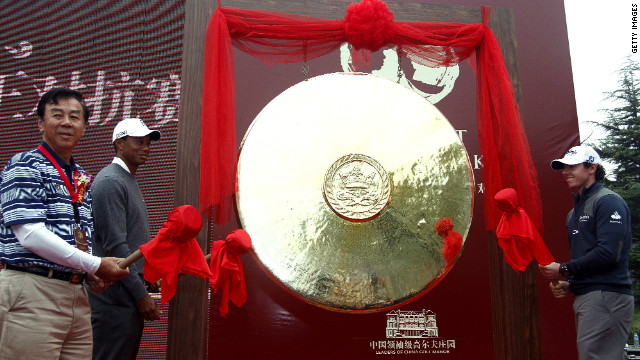 Rory McIlroy and Tiger Woods look on in amusement before banging a ceremonial gong to mark the start of their "Duel at Jinsha Lake."
Both McIlroy and Woods, pictured above, had their handprints immortalized in clay as a lavish ceremony featuring drum majorettes and fireworks preceded their clash in the Chinese city Zhengzhou.
World No. 1 McIlroy cannot keep a straight face as the players pose at the first green, ahead of a clash reported to be paying the pair a combined total of $2 million.
"The scene was barely-controlled chaos," wrote Sports Illustrated's Alan Shipnuck. "Some 3,000 fans streamed across the fairways, with soldiers locking arms in a human fence to keep the throngs off the greens."
A course marshall practices kung fu as she awaits the golfers' arrival.
"On the tee boxes there were so many camera clicks it sounded like machine gun fire," Shipnuck wrote.
Local golf fans talk with one of the models who inhabited the greens in their evening wear in scenes seldom seen on any golf course.
Woods tries to maintain focus as a luxury boat passes by, with the clubhouse car park also boasting a collection of Rolls-Royces, Ferraris, Aston Martins and Maseratis.
Young fans show their support for McIlroy and Woods in a country that is seen as the next great market for golf to conquer.
McIlroy never trailed Woods after starting with a birdie, going on to card a five-under-par 67 -- one less than the world No. 2.
McIlroy awaits his trophy on a day that coincided with the launch of the multi-million-dollar "Golf Villas" to be built around the Jinsha Lake course.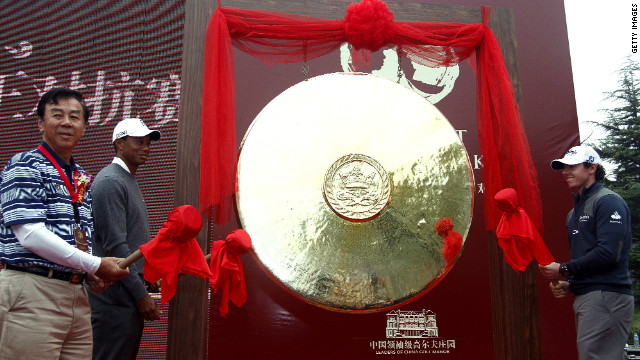 Duel at Jinsha Lake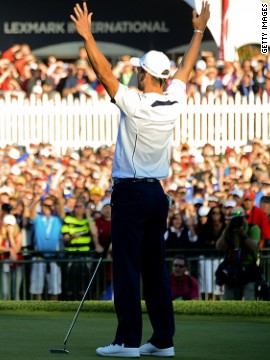 German Martin Kaymer milks the moment as his putt on the 18th green ensures Europe will retain the Ryder Cup. His defeat of Steve Stricker capped an improbable comeback, as the Europeans triumphed 14½-13½ despite trailing 10-4 at one stage on Saturday.
Justin Rose punches the air as he caps an unlikely comeback of his own, defeating Phil Mickelson on the 18th green after being one down with two to play. The American described his loss as one of the turning points of the 2012 Ryder Cup.
Europe's victory echoed the 1999 Ryder Cup, where the U.S. also came from 10-6 down to win 14½ - 13½. The 'Battle of Brookline' was bathed in controversy as U.S. players stormed the 17th green in celebration at s crucial Justin Leonard putt. Golfing etiquette had been broken as Leonard's opponent, Jose Maria Olazabal, could still have squared their match.
Jean Van de Velde (middle) looks bewildered as he reflects on his defeat in the 1999 British Open. The Frenchman blew a three-shot lead on the final hole, so forcing a play-off with Justin Leonard (right) and Scotland's Paul Lawrie (left) which the latter won to seal his first major, despite trailing Van de Velde by an enormous 10 strokes before the final round took place.
Liverpool players celebrate with goalkeeper Jerzy Dudek (in black) after the English side completed their remarkable comeback against Italians AC Milan in the 2005 European Champions League final. Trailing 3-0 at half time, Liverpool scored three goals in six second half minutes in Istanbul to force extra time and a penalty shoot-out, which they won 3-2.
Players and fans of Manchester City celebrate after winning their first English title since 1968. City trailed Queens Park Rangers 2-1 but scored two stoppage time goals to win 3-2 - and so deny city rivals Manchester United the title. The success echoed United's 1999 Champions League triumph in Barcelona, where they beat Bayern Munich 2-1 despite trailing after 90 minutes.
Having won the last four gold medals, the Soviet Union were hot favourites to win ice hockey gold at the 1980 Winter Olympics. Few expected Team USA - made up of amateur and college players - to stop them but they defied the odds to beat the Soviets 4-3 in a semifinal which became known as 'The Miracle on Ice.' They went on to win gold against Finland in the final.
Despite being two sets and 5-1 down in his semifinal, Frenchman Henri Cochet managed to win the 1927 Wimbledon title. He stunned the world No. 1, American Bill TiIden, in the semis before repeating his escapology act in the final, trailing by two sets once more and surviving six match points before rallying to win in five sets for a third successive game.
It is the one-day cricket international that may never be equalled. Set a world record score of 435 to win in their allotted 50 overs, Graeme Smith's South Africa beat Australia in Johannesburg after racking up 438 runs, with just one wicket and one ball to spare.
It is baseball's greatest fairytale comeback. In August 2001, the Seattle Mariners were on their way to equalling the major league record of 116 victories in a season. They led the lowly Cleveland Indians 14-2 at the halfway stage and though the Indians rallied they still needed five full runs with only one out remaining - and got them to win 15-14 in the 11th innings, with Kenny Lofton grabbing the crucial score.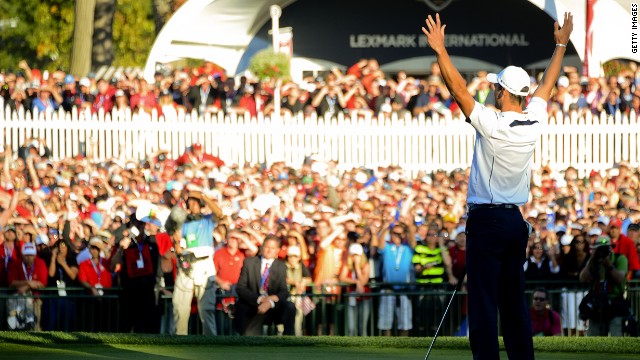 The greatest sporting comebacks
These techniques involve learning to appreciate the good and the bad.
"To smile more often, to enjoy," Kim said. "I sometimes forget what I can control and what I can't -- they remind me."
Kim's ability to perform in golf's most pressurized situations has been called into question. The playoff at the Kraft Nabisco Championship was the third of her career, and her third defeat.
"I've always been really bummed out after the 18th hole and gone into the playoff without preparing," Kim said. "That is something I have been working on, to control emotion after whatever happened.
"After you have finished it is tough to go and do a playoff, there is nothing you can think about before. That is something I have to work on."
It has been two and a half years since Kim last won an event, the Lorena Ochoa Invitational in November 2010.
Kim picked up a cool $220,000 for winning the tournament in Guadalajara, and she chose to donate all of it to charity.
"I like competition, but it is just a different feeling helping someone," said Kim, who has earned more than $5 million since turning pro in 2007. "I feel like I can help by playing golf.
"Without a lot of good people around me I wouldn't be able to do it, so I'm fortunate and I wanted to share the win. I always dreamed about helping other people and I had an opportunity."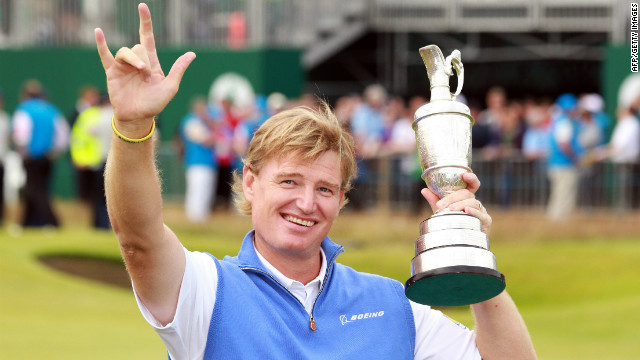 Ernie Els ended a 10-year wait for his fourth major title after winning the British Open for the second time following Adam Scott's final-round collapse at Royal Lytham and St. Annes.
It topped a big week for South Africans, whose former president Nelson Mandela turned 94 on July 18. He is seen here with former U.S. leader Bill Clinton at his home in Qunu the day before his birthday.
While Els thanked "Madiba" after his victory, other sporting figures also paid tribute to South Africa's anti-apartheid hero. Here top riders at the Tour de France wait behind a poster of Mandela.
Els was the first South African golfer to win a major title after Mandela came to power in 1994. They are seen here before the final round of the 1996 South African PGA Championship.
Els received a congratulatory telephone call from Mandela after winning the 1999 South African PGA Championship in Johannesburg.
Els, inspired by his son Ben, has raised millions of dollars through his autism charity with events such as his "Els for Autism" Pro-am at The PGA National Golf Club in West Palm Beach, Florida.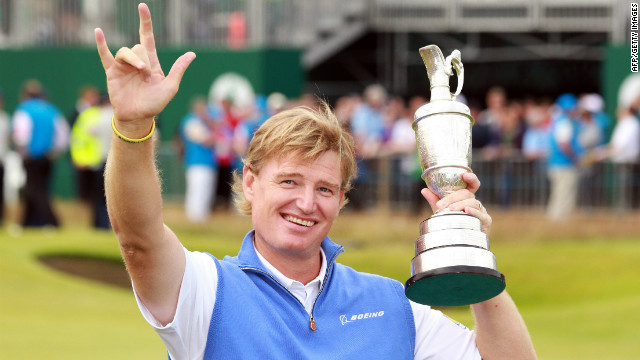 Els ends long wait for major title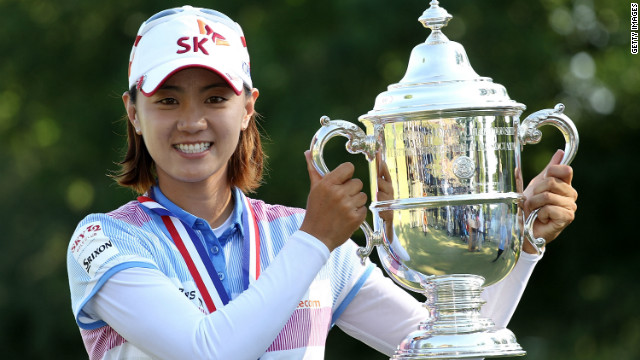 Na Yeon Choi celebrates after clinching her first major victory at the 2012 U.S. Women's Open.
The South Korean was sprayed with champagne after her four-stroke win at Blackwolf Run.
She was congratulated by compatriot Se Ri Pak, left, who inspired a new generation of Korean golfers when she won the same tournament at the same venue in 1998.
Korea-born New Zealander Lydia Ko was the leading amateur as she tied for 39th, at the age of 15.
Paula Creamer, the 2010 champion, was the highest-placed American as she tied for seventh.
U.S. 17-year-old Lexi Thompson failed in her bid to become the youngest winner of a major golf tournament as she faded from third equal after 54 holes to a tie for 14th. She would have been 10 days younger than Young Tom Morris when he won the British Open in 1868.
Hawaii-born Michelle Wie, whose parents emigrated from South Korea, is still waiting for her first major win after a final-round 80 left her tied for 35th.
World No. 1 Yani Tseng of Taiwan finished tied for 50th after successive rounds of 78 in the only one of the four major tournaments she has yet to win.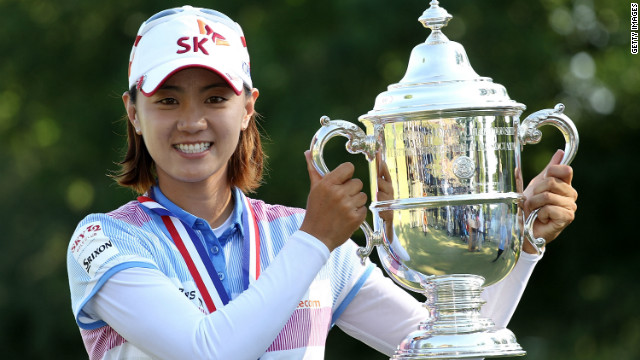 2012 U.S. Women's Open
Like Kim, Scott is also without a win in 2012. The Adelaide native still has the chance to address that -- this week he lines up at the $7 million WGC-HSBC Champions event in China, then goes to Singapore before returning home for two of Australia's biggest tournaments.
"Playing at home is a big deal for me, I certainly want to perform," said Scott, who has earned more than $28 million on the U.S. PGA Tour.
"I'm also quite motivated because I feel like I've played a lot of good golf this year to not have a win and I'd really like to finish the year off by winning one, or two or more of these tournaments.
"I still view (the British Open) as the highlight of my year. To play so well, that's what I've been trying so long to do in majors, and finally it has happened.
"I didn't come out as a champion, but if I can repeat that kind of preparation and play then I'm sure if give myself another chance I'm going to win a major or two."
Kim has won three times on the LPGA Tour, and once on the European Ladies' circuit, but is cautious about her chances of ending her title drought.
"Golf is a mystery," she said ahead of this week's Mizuno Classic in Japan. "Nobody knows how to play this game perfectly and I don't think anyone has ever done it. You play four rounds every week and it is very hard to keep that momentum going.
"You have to do a lot of work, it might come out this weekend, you never know. I'll do my best, there are things I need to improve but there are things I'm doing well.
"You want to win, but it's difficult, being reminded it has been two years since you won! It's not easy, but for me I work really hard. I'm very happy with everything, so hopefully I can win more tournaments by the end of this year."