STORY HIGHLIGHTS
Rory McIlroy and Tiger Woods will both skip this week's HSBC Champions event
World No. 1 McIlroy and Woods talk exclusively with CNN in joint interview
Woods has risen to No. 2 in the world rankings after slipping out of top 50 last year
McIlroy tops the European Tour money list and won his second major title in 2012
Editor's note: CNN's Living Golf will have an exclusive joint interview with Tiger Woods and Rory McIlroy which debuts in full on November 8 at 1030 and 1730 GMT.
(CNN) -- World No. 1 Rory McIlroy and 14-time major winner Tiger Woods are both accustomed to life on the road, but even the planet's two top-ranked golfers are not immune to the stresses and strains of the professional golf circuit.
In an exclusive joint interview with CNN, McIlroy and Tiger Woods explained how the grueling calendar has forced them both to skip this week's lucrative $7 million HSBC Champions tournament in China -- which starts just three days after their "Duel at Jinsha Lake" exhibition match.
McIlroy won that clash a day after finishing second at a tournament in Shanghai on Sunday, while Woods came straight from playing in Malaysia.
"For me, I'm fried," said the 36-year-old Woods. "I've played a lot of golf towards the end of the year ... I have one more tournament for the year and then I'm done until next year."
A resurgent Woods has recovered from a loss of form and fitness which dates back to November 2009 and the scandal that ended his marriage.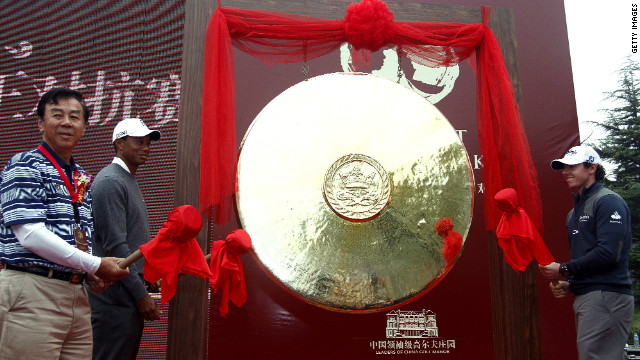 Rory McIlroy and Tiger Woods look on in amusement before banging a ceremonial gong to mark the start of their "Duel at Jinsha Lake."
Both McIlroy and Woods, pictured above, had their handprints immortalized in clay as a lavish ceremony featuring drum majorettes and fireworks preceded their clash in the Chinese city Zhengzhou.
World No. 1 McIlroy cannot keep a straight face as the players pose at the first green, ahead of a clash reported to be paying the pair a combined total of $2 million.
"The scene was barely-controlled chaos," wrote Sports Illustrated's Alan Shipnuck. "Some 3,000 fans streamed across the fairways, with soldiers locking arms in a human fence to keep the throngs off the greens."
A course marshall practices kung fu as she awaits the golfers' arrival.
"On the tee boxes there were so many camera clicks it sounded like machine gun fire," Shipnuck wrote.
Local golf fans talk with one of the models who inhabited the greens in their evening wear in scenes seldom seen on any golf course.
Woods tries to maintain focus as a luxury boat passes by, with the clubhouse car park also boasting a collection of Rolls-Royces, Ferraris, Aston Martins and Maseratis.
Young fans show their support for McIlroy and Woods in a country that is seen as the next great market for golf to conquer.
McIlroy never trailed Woods after starting with a birdie, going on to card a five-under-par 67 -- one less than the world No. 2.
McIlroy awaits his trophy on a day that coincided with the launch of the multi-million-dollar "Golf Villas" to be built around the Jinsha Lake course.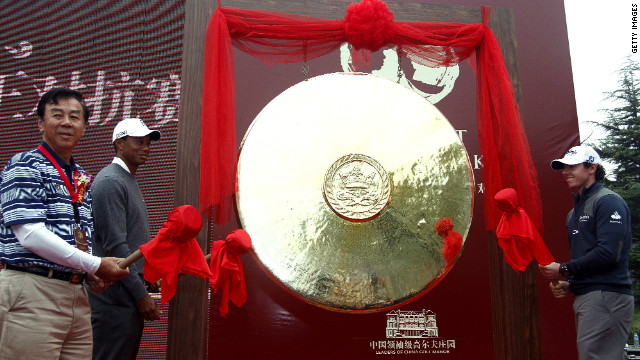 Duel at Jinsha Lake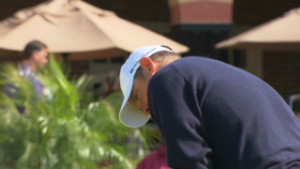 Greatest sporting drama of all time?
After dropping out of the top 50 of the world rankings in October 2011, Woods has bounced back in 2012 by winning three PGA Tour events and he is second on the U.S.-based circuit's money list behind its winner McIlroy.
Woods, who has spent a record 623 weeks at the top of the world rankings since turning pro in 1996, will finish the season by playing at the World Challenge event that he hosts later this month.
"I looked at it, I wanted a break," Woods explained. "I wanted a long extended break from competing and get back into training."
It has been a stellar year for McIlroy. He won the second major title of his career at August's PGA Championship, adding to his 2011 U.S. Open triumph, as well as helping Europe retain the Ryder Cup in Illinois thanks to a stunning comeback victory against a U.S. team including Woods.
But McIlroy, who also leads the European Tour's "Race to Dubai" money list, is feeling the effects of a long season and is wary of playing too much.
"Someone needs a week off somewhere," the 23-year-old said. "If I played HSBC, I would be playing five events in a row to finish the season.
"After such a busy summer, a Ryder Cup and everything which has gone on, there has got to be an event somewhere which has to be left out and this year unfortunately it was HSBC, for the reason that I wasn't a fan of the golf course and I needed a week off."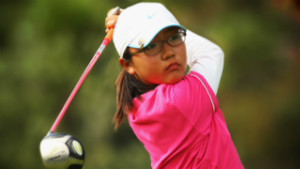 LPGA winner reveals Olympic ambitions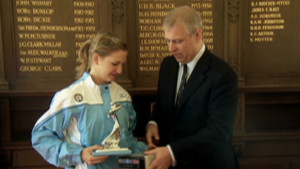 Duke supports young golfers
McIlroy is one half of sport's most high-profile love match with Danish tennis ace Caroline Wozniacki. But despite having a sporting girlfriend -- the couple have been dubbed "Wozzilroy" -- McIlroy admitted life on the tour can get lonely.
"You want to have guys you can go out for dinner with and have a laugh with in the locker room," he added. "You're out there for 25 weeks a year, so you might as well make it fun."
The growing rivalry between McIlroy and Woods is proving to be a big drawcard for golf, as witnessed by the chaotically enthusiastic scenes in Monday's one-off clash between the pair.
The confident McIlroy has not been shy in pointing out Woods' fall from his previous apparent invincibility, and the American compared their relationship to that of previous adversaries Jack Nicklaus and Arnold Palmer.
"I talked to Jack about it and Jack and Arnie didn't like each other at the very get go," Woods said.
"They just didn't see eye-to-eye. But now they are best of friends, so that does happen -- mutual respect, or mutual respect over time and getting to know someone."
One Ryder Cup player who will be lining up at Mission Hills in Shenzen for Thursday's opening round is Woods' U.S. teammate and great rival Phil Mickelson.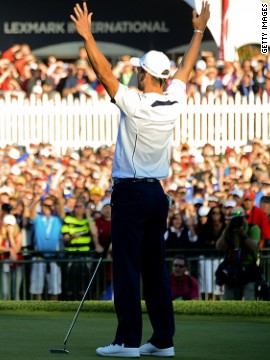 German Martin Kaymer milks the moment as his putt on the 18th green ensures Europe will retain the Ryder Cup. His defeat of Steve Stricker capped an improbable comeback, as the Europeans triumphed 14½-13½ despite trailing 10-4 at one stage on Saturday.
Justin Rose punches the air as he caps an unlikely comeback of his own, defeating Phil Mickelson on the 18th green after being one down with two to play. The American described his loss as one of the turning points of the 2012 Ryder Cup.
Europe's victory echoed the 1999 Ryder Cup, where the U.S. also came from 10-6 down to win 14½ - 13½. The 'Battle of Brookline' was bathed in controversy as U.S. players stormed the 17th green in celebration at s crucial Justin Leonard putt. Golfing etiquette had been broken as Leonard's opponent, Jose Maria Olazabal, could still have squared their match.
Jean Van de Velde (middle) looks bewildered as he reflects on his defeat in the 1999 British Open. The Frenchman blew a three-shot lead on the final hole, so forcing a play-off with Justin Leonard (right) and Scotland's Paul Lawrie (left) which the latter won to seal his first major, despite trailing Van de Velde by an enormous 10 strokes before the final round took place.
Liverpool players celebrate with goalkeeper Jerzy Dudek (in black) after the English side completed their remarkable comeback against Italians AC Milan in the 2005 European Champions League final. Trailing 3-0 at half time, Liverpool scored three goals in six second half minutes in Istanbul to force extra time and a penalty shoot-out, which they won 3-2.
Players and fans of Manchester City celebrate after winning their first English title since 1968. City trailed Queens Park Rangers 2-1 but scored two stoppage time goals to win 3-2 - and so deny city rivals Manchester United the title. The success echoed United's 1999 Champions League triumph in Barcelona, where they beat Bayern Munich 2-1 despite trailing after 90 minutes.
Having won the last four gold medals, the Soviet Union were hot favourites to win ice hockey gold at the 1980 Winter Olympics. Few expected Team USA - made up of amateur and college players - to stop them but they defied the odds to beat the Soviets 4-3 in a semifinal which became known as 'The Miracle on Ice.' They went on to win gold against Finland in the final.
Despite being two sets and 5-1 down in his semifinal, Frenchman Henri Cochet managed to win the 1927 Wimbledon title. He stunned the world No. 1, American Bill TiIden, in the semis before repeating his escapology act in the final, trailing by two sets once more and surviving six match points before rallying to win in five sets for a third successive game.
It is the one-day cricket international that may never be equalled. Set a world record score of 435 to win in their allotted 50 overs, Graeme Smith's South Africa beat Australia in Johannesburg after racking up 438 runs, with just one wicket and one ball to spare.
It is baseball's greatest fairytale comeback. In August 2001, the Seattle Mariners were on their way to equalling the major league record of 116 victories in a season. They led the lowly Cleveland Indians 14-2 at the halfway stage and though the Indians rallied they still needed five full runs with only one out remaining - and got them to win 15-14 in the 11th innings, with Kenny Lofton grabbing the crucial score.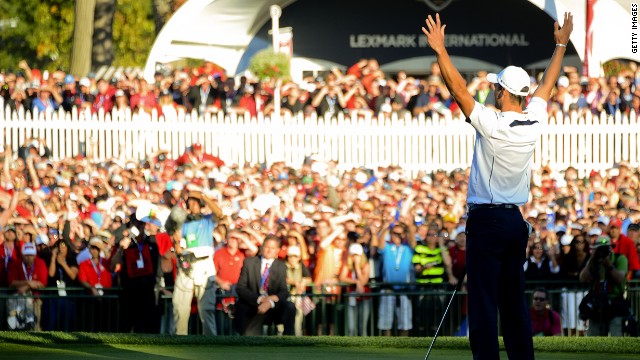 The greatest sporting comebacks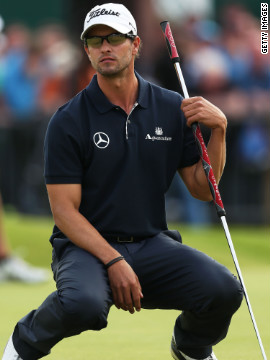 Adam Scott looked set for a first major win at this year's British Open, but four bogeys on the last four holes of the final round let South Africa's Ernie Els swoop in and steal the Australian's crown. Scott missed a putt on the 18th green that would've forced a playoff.
I.K. Kim has also endured major heartbreak in 2012. The 24-year-old missed a one-foot putt on the final hole of the Kraft Nabisco Championship that would've earned her first major, and then lost a playoff to fellow South Korean Yoo Sun-Young. But Scott and Kim aren't the only golfers to have choked on the big stage...
Rory McIlroy may now be the world's top-ranked golfer, but there was a time when he was looking for a first major win. Surely it would come at the 2011 Masters? The Northern Irishman had torn up the famous Augusta course, entering the final day with a four-stroke lead. McIlroy shot the worst round ever recorded by someone leading after three rounds of the Masters. He watched on heartbroken as Charl Schwartzel took the title, but bounced back with a record-breaking U.S. Open win to clinch his first major.
If McIlroy is still haunted by his Augusta nightmare, then one can only imagine the demons which must dwell in the mind of Jean van de Velde. The Frenchman was on course to become a shock winner of the 1999 British Open, requiring just a double bogey on the 18th hole to claim the Claret Jug. What followed has made Van de Velde one sport's most infamous chokers, with a series of wayward shots leaving him in the water. Van de Velde found a greenside bunker with his fifth shot before he eventually holed his seventh for a triple bogey, forcing a playoff. Scotland's Paul Lawrie emerged from the three-way decider as the champion.
Great chokes are not confined to the golf course. There wasn't a dry eye on Centre Court as Czech tennis star Jana Novotna sobbed uncontrollably on the shoulder of the Duchess of Kent after losing the 1993 Wimbledon women's singles final to Steffi Graf. Novotna led 6-7 6-1 4-1 before collapsing and allowing Graf to take the title. Novotna did eventually win a grand slam, beating Venus Williams in the 1998 Wimbledon final.
Brazil hosted the football World Cup for the first time in 1950, with an expectant home crowd demanding the team claim the title. Everything looked to be going to plan, with a freescoring Brazil team needing just a draw against Uruguay to seal a first World Cup triumph. Despite taking the lead, Brazil ended up losing 2-1 lead -- and a country was devastated. Since then "A Selecao" have won the World Cup five times, more than any other nation.
But even Brazil's collapse cannot match AC Milan's "achievement" in the 2005 European Champions League final against Liverpool. Carlo Ancelotti's Milan blew their English opponents out of the water in the first half, racing into a 3-0 lead. But, in six incredible second-half minutes, Rafeal Benitez's Liverpool launched one of the greatest comebacks in the history of sport, scoring three times to level the match. Liverpool held on grimly to force a penalty shootout, with Jerzy Dudek's save from Andriy Shevchenko handing Liverpool a most unlikely success.
U.S. sport is not immune to chokes. Buffalo Bills kicker Scott Norwood has the unfortunate honor of being arguably America's most famous choker. At Super Bowl XXV against the New York Giants, Norwood missed a 47-yard field goal that would've won the Vince Lombardi trophy for the Bills. It marked the first of four consecutive Super Bowl defeats for Buffalo and a the start of a rapid descent out of the NFL for Norwood.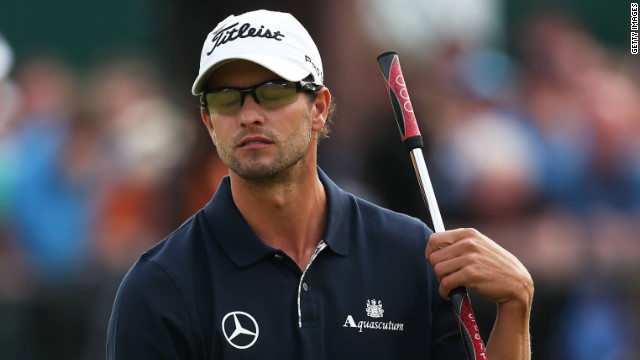 Sport's greatest chokes
The veteran formed a formidable partnership with Ryder Cup rookie Keegan Bradley as the Americans built up a 10-6 lead over Europe heading into the final day at the Medinah Country Club.
But Europe, captained by Jose Maria Olazabal, launched a stirring comeback to win 8½ points on the final day and retain the trophy.
Four-time major winner Mickelson admits bouncing back from the defeat has been one of the toughest tests of his career, but he is ready to roar into action in China.
"I think the first two weeks following the Ryder Cup was a really tough low, one of the biggest lows of my career," the 42-year-old told the European Tour's website.
"It was a very emotional time because we really thought we were going to win. We expected to win; we were playing well and we thought that we were going to do it on Sunday.
"I think that the disappointment will last a lot longer than a month. I feel that over the next two years, we'll still have the same disappointment from not winning this year's Ryder Cup."
Mickelson has won this event on two previous occasions when it was held in Shanghai, and he is confident of more success at its new home.
"I enjoyed our first time in Shanghai, but I think this golf course is wonderful, too," he said.
"The fact that the golf tournament is moving is nothing different than what we have amongst all of the big major championships in golf. This is a great site with a great golf course to host it.
"I played the course for the first time this morning; Keegan and I played a practice round and I really enjoyed it. I thought it was fun to play. (There is a) great mixture of holes and challenges, the greens are very fair and I think it's going to be a fun course."