STORY HIGHLIGHTS
Sandy has killed at least 40 people in the United States
Motorists line up at service stations for blocks in New Jersey town
President Obama to tour damage in New Jersey
Have you been affected by Superstorm Sandy? If so share your images and footage with CNN iReport, but please stay safe. For minute-by-minute updates, go to our live blog on This Just In.
(CNN) -- Sandy is winding down, having spent much of its fury in the past two days crashing into homes and trees, cutting power and wrecking coastal cities.
It has claimed at least 40 lives in the United States.
The system still reaches from the Appalachians to the Great Lakes and beyond to Canada, and it is triggering winter storm warnings from the mountains of Pennsylvania to those of Eastern Tennessee and North Carolina.
A running CNN tally reflects a steady restoration of power to affected areas, but early Wednesday, nearly 6.2 million customers were still without power in 15 states and Washington.
Here's a look at how Sandy has affected the United States and Canada.
Sandy changes lives forever -- here are three of their stories
CONNECTICUT
-- The death toll stands at two, according to Lt. J. Paul Vance, a state police spokesman. The victims -- one of them a firefighter in Easton -- were killed by falling trees.
-- About 477,000 customers were without power, according to utilities.
DELAWARE
-- Power is out for 7,853 customers, authorities said. Delmarva Power said it plans to have power restored by 6 p.m. Friday.
-- Gov. Jack Markell removed driving restrictions Tuesday evening.
DISTRICT OF COLUMBIA
-- Power has nearly been completely restored -- 1,461 customers were without it, according to CNN's latest tally.
-- Metro transportation bus and rail service were expected to be back to normal for Wednesday morning's commute.
Will you be able to vote on Election Day?
MAINE
-- The National Weather Service issued a flood watch for much of the state Wednesday morning as heavy rainfall is expected to move through as Sandy heads toward Canada.
-- More than 80% of power outages have been remedied, according to Central Power Maine. About 16,000 customers were without electricity, according to a CNN tally.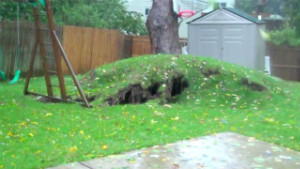 Watch Sandy uproot huge tree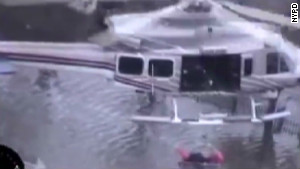 Rooftop rescues in Staten Island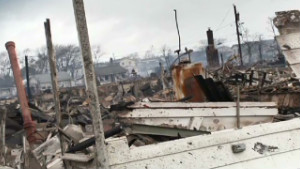 Sandy victim loses home of 35 years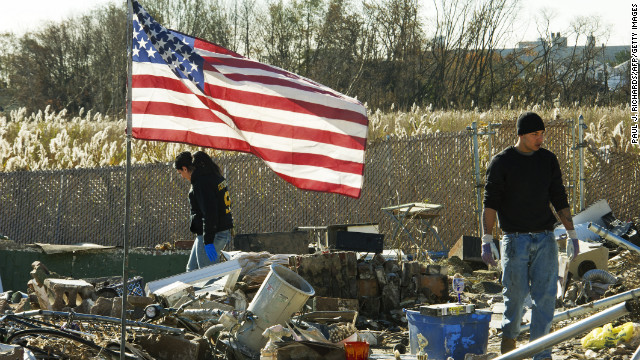 Friends and members of the Puglia family sift through the remains of their missing home for valuables on November 6, 2012, after Hurricane Sandy hit Staten Island, New York. View photos of New York preparing for Sandy.
A part of a house that floated off its foundation during the storm now sits in the middle of a coastal estuary in the Oakwood Beach area of Staten Island.
New York City police officers and a resident warm up in front of a fire in a blacked-out area of Oakwood Beach on Staten Island.
A woman looks through a sand covered parking lot used as a donation center on November 5 in the Rockaway neighborhood of the Queens borough of New York City.
Volunteers who call themselves the Broad Channel Police Department help clean a neighbor's damaged house.
People wait in line for food at a distribution center at Coney Island.
A dump truck empties trash collected from homes damaged by Superstorm Sandy on Saturday, November 3, in the Midland Beach neighborhood of Staten Island, New York. New York is trying to clean up and resume normal activities days after the storm hit.
A volunteer places donated clothing in plastic bags to protect it from potential rain at a relief center on Saturday in Midland Beach.
A damaged chair sits on the beach in low-lying Coney Island on Saturday.
A man salvages a set of drums at Rockaway Beach in Queens, New York, on Saturday. Most of the Rockaway Peninsula remains without power.
People gather among debris from Superstorm Sandy and boxes of donated goods on Saturday in Rockaway Beach.
Boats that were swept aground during Sandy sit against homes near a marina on Staten Island on Friday, November 2.
Eddie Liu uses a broom to clean up mud and water from a flooded coin laundry in Coney Island on Friday.
Michelle Dumas hugs her daughter Olivia to warm her up as they wait in an hours-long line for gas at a station Friday on Staten Island.
Men try to clean up the destruction in a flooded deli in Brooklyn, New York, on Friday.
Members of the Traina family on Friday sort through photographs and other personal items from their Staten Island home that was destroyed by Superstorm Sandy.
In the aftermath of Superstorm Sandy, replacement power utility poles are transported along Old Country Road on Friday in Plainview, New York.
Abandoned and flooded cars are piled up on Friday, November 2, in the heavily damaged Rockaway neighborhood, in Queens, where a large section of a landmark boardwalk was washed away.
Food trucks and men selling bread and cheeses line Broadway at Union Square on Friday in New York as the city recovers from the effects of Superstorm Sandy.
Debris piles up near the foundations of the iconic boardwalk, which was washed away in the Rockaway neighborhood in Queens.
A man rides his bike through the heavily damaged Rockaway neighborhood.
Matthew Mark Meyer, left, and Annie Barwick, center, sit in a darkened Randolf Beer Restaurant which is using generator power to reopen on Friday in New York City.
People walk through the heavily damaged Rockaway neighborhood.
Commuters pack into a train on Thursday in New York City. Limited public transit has returned to the city, where 14 of 23 subway lines are running.
Commuters ride the subway. Public transit is operating in New York City, but travel times are long, up to five hours in some cases.
A police officer directs passengers waiting on Thursday to board city buses into Manhattan at the Barclays Center in Brooklyn. About 4,000 buses are replacing the subway lines still closed by Superstorm Sandy damage.
Thousands of people wait to board city buses into Manhattan, and some subway lines remain underwater. Getting water out of the tunnels is "one of the main orders of business right now," Gov. Andrew Cuomo said Thursday.
A police officer directs traffic entering the Brooklyn Queens Expressway into Manhattan.
A police officer checks cars entering the Brooklyn Queens Expressway to confirm that they have three occupants before allowing them to cross into Manhattan on Thursday. Limited public transit has returned to New York, and most major bridges have reopened. However, vehicles must have three occupants to pass.
Parts of lower Manhattan are still without electricity on Thursday. Superstorm Sandy, which made landfall along the New Jersey shore on Monday, October 29, left much of the Eastern Seaboard without power, including much of Manhattan south of 34th Street.
Residents of New York City's East Village enjoy a bonfire on Wednesday, October 31.
East Village residents charge their phones with power from a generator on Wednesday.
Traffic snarls in New York City on Wednesday. Residents and businesses across the Eastern Seaboard are attempting to return to their daily lives in the aftermath of Superstorm Sandy.
A Caring Foundation worker hands out food to residents of the heavily damaged Rockaway section of Queens on Wednesday.
Water floods streets in the Rockaway section of Queens on Wednesday.
Traders stand outside of the New York Stock Exchange in New York on Wednesday. Stocks advanced as U.S. equity markets resumed trading for the first time this week after the storm.
A man surveys damage on Wednesday, October 31, in the Rockaway neighborhood of Queens, New York, where the historic boardwalk was washed away during Superstorm Sandy.
Residents walk with their belongings through the Rockaway section of Queens on Wednesday.
The remains of homes burned down in Rockaway are seen Wednesday, a day after an inferno spread across the flooded neighborhood.
Firefighters continued to survey the damage in Rockaway on Wednesday. At least 80 homes were destroyed.
People wait for buses on Sixth Avenue in New York on Wednesday as New Yorkers cope with the aftermath of Hurricane Sandy.
People attempt to squish into a crowded bus on First Avenue in New York on Wednesday.
Con Edison crew members work on a steam pipe on First Avenue on Wednesday.
The foundations to the historic Rockaway boardwalk in Brooklyn are all that remain after it was washed away Wednesday during Hurricane Sandy.
People walk to work Wednesday on a normally busy street near the New York Stock Exchange.
Traders work on the floor of the New York Stock Exchange on Wednesday after it had been closed for two days.
Commuters arrive in Manhattan by ferry from Jersey City, New Jersey, on its first day back in business after Sandy.
CNN iReporter Jordan Shapiro captured this view of the Williamsburg Bridge in New York at 11 p.m. on Tuesday, October 30. Half of the bridge and Brooklyn is lit, while the Manhattan side and the surrounding part of the island remain shrouded in darkness.
A subway station and escalator sit underwater in New York on Tuesday.
Much of the New York City skyline sits in darkness Tuesday evening after damage from Superstorm Sandy knocked out power. About 6.9 million customers are without power in 15 states and the District of Columbia, according to figures compiled by CNN from power companies.
New York City Mayor Michael Bloomberg, center, views the damage Tuesday in the Breezy Point neighborhood of Queens, where a fire broke out during Superstorm Sandy and destroyed at least 80 homes.
A resident looks through the debris of his destroyed home in Breezy Point, Queens, on Tuesday.
Burned-out vehicles and destroyed homes line a street in Breezy Point, located on the western end of the Rockaway peninsula in New York.
A fire continues to burn Tuesday in the remains of a structure that was destroyed by the Breezy Point blaze.
A New York City man hands a dog to first responders while being evacuated on Tuesday.
A bartender at the International Bar in the East Village neighborhood of New York City makes drinks in the dark on Tuesday as electricity remains out for many in the city.
Water floods the Plaza Shops in New York, in the wake of Superstorm Sandy, on Tuesday, October 30.
Con Edison employees monitor the drainage of water being pumped out of Seven World Trade Center in the Financial District of New York on Tuesday.
Onlookers watch a construction crane dangling from a $1.5 billion luxury high-rise after collapsing in high winds.
The construction crane dangles from a high-rise in midtown Manhattan.
Ramiro Arcos clears debris from a storm drain in the Financial District of New York after Sandy swept through the city.
A couple walks in the rain Tuesday, with the East River and the Lower Manhattan skyline as a backdrop.
The Manhattan skyline remains dark after much of the city lost electricity in the storm.
Cars float in a flooded below-street-level parking area in the Financial District on Tuesday.
People take a Tuesday morning walk on the Brooklyn Bridge, which remains closed to traffic after the city awakened to the storm damage.
A car sits crushed by a tree in the Financial District on Tuesday. Photos: New York braces for Sandy.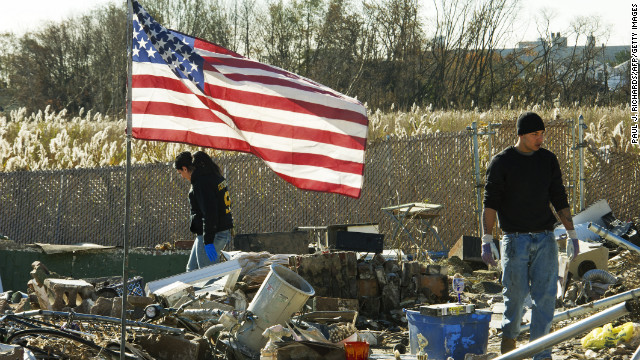 Photos: New York recovers from Sandy
MARYLAND
-- The death toll is at two.
-- After a raw sewage leak Tuesday, power has been restored to a processing plant. Howard County said that drinking water was not affected.
-- Utilities said 122,000 customers were without power.
Transit systems struggling to restart
MASSACHUSETTS
-- "Wave goodbye to Sandy!" the National Weather Service office in Boston posted to Twitter early Wednesday. "The effects from this storm gradually come to an end today."
-- Utilities said 108,000 customers were without power.
-- Utilities paired tree removal and power restoration crews, rather than having them work separately, so that work can be done more efficiently.
NEW HAMPSHIRE
-- A flood warning is in effect for the Saco River until Wednesday afternoon.
-- New Hampshire's power suppliers reported 81,000 customers without electricity.
NEW JERSEY
-- Motorists lined up in front of service stations for blocks to purchase gas in the town of Hazlet. Others, on foot, stood in long lines, holding red canisters, waiting their turns to fill them up.
-- A fire broke out Wednesday morning in Mantoloking, according to police.
-- President Barack Obama is set to travel Wednesday to New Jersey to join Gov. Chris Christie in viewing widespread damage, the White House said.
New Jersey coastal town turned to "devastation"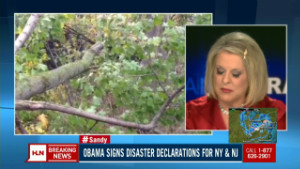 Survivor: Houses here are 'shattered'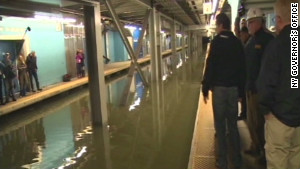 Tour New York's flooded subways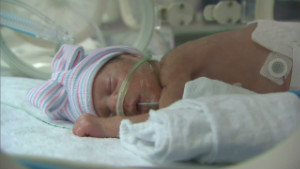 Baby Emma moved during storm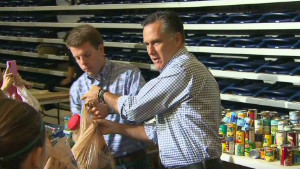 Romney's new focus: Storm relief
-- Sandy has killed at least six people in the Garden State, according to Christie.
-- It will take weeks for rail service to resume on the coastline, according to New Jersey Transit Rail. Downed trees covered the tracks in many areas, ripping down power lines with them, while other sections of track are washed out. Service on the Northeast Corridor Line also remains suspended.
-- Amtrak service is to resume Wednesday between Newark and points south; between Harrisburg, Pennsylvania, and Philadelphia; and between Boston and Portland, Maine.
PATH train service -- which typically ferries 245,000 people under the Hudson River to New York City each weekday -- will take six to nine days to restore, Christie said. New Jersey Transit train, bus and light rail service remain suspended, he said.
Newark Liberty International Airport will open Wednesday, but Teterboro Airport remains closed.
-- The state was hit the hardest by power outages, and more than 2 million customers remain without electricity, according to CNN's tally.
New Jersey floods leave rail cars floating, homes in road
NEW YORK
-- Police on Wednesday reported a higher number of fatalities for New York City, placing the toll at 22.
-- The police department released videos Wednesday to YouTube of helicopter rescues on Staten Island. Rescuers brought six people to safety Tuesday after floodwater trapped them in their homes.
-- Mayor Michael Bloomberg posted to Twitter on Tuesday that financial markets will resume Wednesday.
-- Amtrak said flooding in its tunnels under the Hudson and East rivers made it impossible to predict when service would be restored to Penn Station.
-- A CNN crew at the Breezy Point section of Queens reported smelling gas and seeing an electric line mast catch fire Wednesday. More than 80 houses were lost in a large blaze there after Sandy pushed a storm surge ashore.
80 homes destroyed by New York fire amid superstorm
-- John F. Kennedy International Airport was to reopen at 7 a.m. Wednesday with limited service, the Port Authority of New York and New Jersey said. LaGuardia remained closed.
-- About 1.9 million are still without power, suppliers said.
-- New York City's Office of Emergency Management on Twitter called on residents to report imposters posing as power company employees, reminding them to look for identification cards.
-- Bus service will run on regular routes Wednesday, the Metropolitan Transit Authority announced, though there may be detours and "substantial waits." But subway tunnels remain flooded with no estimated time for repair.
-- A crane atop a luxury Manhattan skyscraper under construction is dangling over West 57th Street.
NORTH CAROLINA
-- The death toll stands at two, including a crew member of the HMS Bounty that went down over open sea.
-- The captain of the Bounty remains missing.
-- Power has been restored to the vast majority of customers.
-- The state of emergency for 24 counties in the western part of the state remains in effect because of snow.
OHIO
-- The state has dispatched nearly 400 crews to clear storm debris.
-- Suppliers said 151,000 homes and businesses were without power.
Superstorm Sandy: By the numbers
PENNSYLVANIA
-- The death toll in the state remains at three, including an 8-year-old boy who was struck by a tree limb.
-- Utilities said 896,000 homes and businesses were without power.
RHODE ISLAND
-- The union's smallest state, with slightly more than 1 million residents, reported 64,000 customers without electricity.
-- The state has closed most of its emergency shelters.
Superstorm Sandy breaks records
VIRGINIA
-- Virginia's death toll remains at two, both traffic fatalities.
-- The number of customers without power stood at 55,000.
-- The state has seen heavy snowfall.
WEST VIRGINIA
-- Parts of West Virginia have seen at least 2 feet of snowfall from Sandy, and a winter storm warning is in effect there, with more snow expected in the Appalachians.
-- One fatality has been attributed to the storm.
-- Utilities said 239,000 customers had lost power.
CANADA
-- Superstorm Sandy is drifting to the north toward Canada, sending gale-force gusts across the Great Lakes.
-- Power has been restored to 113,000 customers in Ontario, with 37,000 still without electricity, the provincial energy minister said.
-- Sandy's effects will be felt for a few days in Ontario, according to its government website. Rains have caused flooding and road closures.
-- Authorities blamed flying debris for the death of a Toronto woman.
CNN's Marina Carver contributed to this report.