Memes inspire creative Halloween costumes
Join the conversation
CNN iReport
October 31, 2012 -- Updated 1313 GMT (2113 HKT)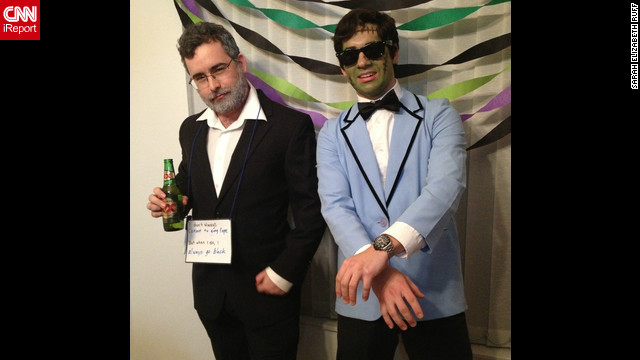 Sarah Elizabeth Ruff
photographed her two friends dressed as Internet memes. On the left is the
Most Interesting Man in the World
meme, which was inspired by a Dos Equis beer commerical. On the right is a zombie version of PSY, the Korean singer from the
viral music video Gangam Style
.
Scott Lynch
attended the fourth annual HallowMEME costume party in Brooklyn, New York. He shot this picture of a man carrying a
binder full of women
. The phrase "binders full of women" went viral after Gov. Mitt Romney mentioned it during one of the presidential debates.
Rachel Cabrera of Chicago, Illinois, decided to dress as "
McKayla Maroney is not impressed
." "Since the Olympics were this year and the Women's U.S. Gymnastics team did so well, I considered being a member of the Fierce Five," she said. "I really loved the idea of being McKayla over any other gymnast because I could easily play the part. The 'McKayla is not impressed' meme was my
favorite way
to approach being McKayla."
dressed as Internet memes
. The girl on the right is dressed as the Internet meme
Dogshaming
, which is a blog that posts images of dogs next to written signs of transgressions. The girl on the left is dressed as the
Ermahgerd
girl.
The two women above are both
Alice Feigel
, dressed as Frida Kahlo on the left, is standing next to Internet meme
Botched Ecce Homo Painting
. The meme when viral online after the
failed restoration
of a century-old fresco of Jesus Christ.
HallowMEME
costume party. The
Double Rainbow
became an Internet sensation after the video "Yosemitebear Mountain Giant Double Rainbow 1-8-10" went viral online.
The man on the right is sporting the Double Rainbow meme at the
HallowMEME
costume party, this man dressed as the
Stingray Photobomb
. This meme became popular after a stingray popped into a photo of three young women in the Cayman Islands.
Also spotted at New York's
The man above
is dressed as the Internet meme
Duck Face
. This phenomenon went viral over the Internet after teenage girls posted photographs of themselves pressing their lips together to form what looks like a duck's bill.
Hallow-memes, anyone?
Hallow-memes, anyone?
Hallow-memes, anyone?
Hallow-memes, anyone?
Hallow-memes, anyone?
Hallow-memes, anyone?
Hallow-memes, anyone?
Hallow-memes, anyone?
STORY HIGHLIGHTS
Internet memes are becoming increasingly popular as Halloween costumes
Among the most popular meme costumes this year was "binders full of women"
Click through the gallery above to see clever and creative meme costumes
CNN iReport: Dressing as a meme this Halloween? Share a photo
(CNN) -- Planning to dress as a plain old witch or scarecrow this Halloween? Sorry, that's not going to cut it anymore.
In the age of Internet memes, creative and punny costumes are becoming the norm. Dressed as Mitt Romney? Boring. Dressed as "binders full of women?" Now that's more like it!
At CNN iReport, we asked for your best photos of Internet-inspired costumes. From "The Most Interesting Man in the World" to "dog shaming," you didn't disappoint. Click through the gallery above to see the cleverest costumes we received.
CNN's Jareen Imam and Rachel Rodriguez contributed to this story.

Today's five most popular stories
Part of complete coverage on
CNN recommends
November 5, 2012 -- Updated 1317 GMT (2117 HKT)

A mother learns that her newborn is part of a hospital evacuation. Facebook posts from a member of the HMS Bounty turn ominous. A man worries about the wind and rain, but another force of nature hits home.
November 8, 2012 -- Updated 0919 GMT (1719 HKT)

President Barack Obama faces a lengthy and familiar set of challenges after riding a wave of support from moderates, women and minorities to a re-election victory.
November 7, 2012 -- Updated 1924 GMT (0324 HKT)

In a historic turnaround, the ballot box is showing America's shifting attitudes about same-sex marriage. The rights passed in at least two states.
November 6, 2012 -- Updated 0242 GMT (1042 HKT)

How far are consumers willing to go in their quest for homegrown goods? The answer might surprise you.
November 6, 2012 -- Updated 1803 GMT (0203 HKT)

For all of its expected action and drama, the new "Halo 4" boils down to an essential question: Are its central characters humans, machines or something in between?
November 6, 2012 -- Updated 2037 GMT (0437 HKT)

Lakota warrior Crazy Horse has long been a controversial figure, so perhaps it's only appropriate that his memorial follow suit.
November 11, 2012 -- Updated 1918 GMT (0318 HKT)

It may be one of the most-quoted lines in American literature -- and if you dare to quote it, you might have to pay.
November 7, 2012 -- Updated 1502 GMT (2302 HKT)

While the U.S. presidential election dominated coverage, news from across the world certainly hasn't stopped.
September 20, 2012 -- Updated 1705 GMT (0105 HKT)

For their extraordinary efforts to help change the world and better the lives of others, 10 everyday people will receive $50,000 to continue their work.