Axl Rose on Guns 'N Roses, then and now
October 31, 2012 -- Updated 2249 GMT (0649 HKT)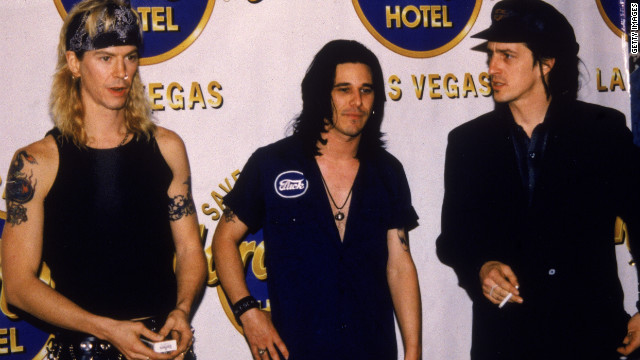 Duff McKagan, left to right, Gilby Clarke, and Izzy Stradlin of Guns N' Roses pose in front of a Hard Rock Cafe banner in Las Vegas, Nevada, in 1992.
Slash performs onstage at the 1995 MTV Video Music Awards in Los Angeles, California.
Axl Rose and Guns N' Roses perform at the 2002 MTV Video Music Awards in New York City.
Rose signs autographs in West Hollywood in 2003.
Rose presents an award at the 2006 MTV Video Music Awards in New York City.
Slash performs in New York City in 2008.
Rose puts on a show in New York City in 2010.
Rose performs for a crowd at the Hollywood Palladium in March.
Matt Sorum, left to right, Duff McKagan, Slash and Steven Adler perform onstage during the 27th Rock And Roll Hall of Fame Induction Ceremony in Cleveland, Ohio, in April.
Guns N' Roses through the years
Guns N' Roses through the years
Guns N' Roses through the years
Guns N' Roses through the years
Guns N' Roses through the years
Guns N' Roses through the years
Guns N' Roses through the years
Guns N' Roses through the years
Guns N' Roses through the years
(CNN) -- As the current Guns N' Roses lineup prepares to launch a set of 12 shows at the The Joint in the Hard Rock Hotel & Casino in Las Vegas tonight, it seems frontman Axl Rose is feeling reflective.
While he's preparing to perform with GNR's current lineup, he recounted in an interview with USA Today that there's at least one thing he misses about the original group.
"Here's what I miss about the old Guns the most -- and this is really before we got 'Appetite (for Destruction)' out. In the very beginning, you had three people (Rose, Slash and guitarist Izzy Stradlin) who were on the same page for a short period looking out for the best interest of that band and its goals," he told USA Today.
In that time period, Rose had "two other guys I could rely on," he continued. "I don't necessarily have that now because it is more my thing, but I do ask everyone's opinion about everything."
We're curious if "everything" also includes his songwriting, as Rose said that the opinions of Slash, bassist Duff McKagan and his ex, model Stephanie Seymour, left him tapped out creatively.
"To those three, it was all crap. It beat me down so much," he said. "At the time of the ('Use Your Illusion') tours, Slash and Duff said, 'You're an idiot, you're a loser.' I didn't write for years. I felt I was hindered for a very long time. I was also trying to figure out what I wanted to say, when it's right to be venting and when you're digging a bigger hole."
The arrival of the 2008 album took its time, and Rose said that the music wasn't holding up the record as much as industry hurdles were.
"I'm not trying to be bitter or cynical, but it's an ugly business," Rose said of the music business. "People want you to care about them or their lives, their kids, but in the end, you're just a commodity. I don't feel that way about this Guns lineup. I'm not trying to use them. I have to treat it like a business, but I don't want to make decisions that are detrimental to anyone's welfare."
The next album, he told USA Today, "will come out sooner."
And as for whether fans are disgruntled with the new form of GNR, Rose isn't concerned.
"They can think whatever they want," he said. "I'm not interested in their opinions."

Today's five most popular stories
Part of complete coverage on
CNN recommends
November 5, 2012 -- Updated 1317 GMT (2117 HKT)

A mother learns that her newborn is part of a hospital evacuation. Facebook posts from a member of the HMS Bounty turn ominous. A man worries about the wind and rain, but another force of nature hits home.
November 8, 2012 -- Updated 0919 GMT (1719 HKT)

President Barack Obama faces a lengthy and familiar set of challenges after riding a wave of support from moderates, women and minorities to a re-election victory.
November 7, 2012 -- Updated 1924 GMT (0324 HKT)

In a historic turnaround, the ballot box is showing America's shifting attitudes about same-sex marriage. The rights passed in at least two states.
November 6, 2012 -- Updated 0242 GMT (1042 HKT)

How far are consumers willing to go in their quest for homegrown goods? The answer might surprise you.
November 6, 2012 -- Updated 1803 GMT (0203 HKT)

For all of its expected action and drama, the new "Halo 4" boils down to an essential question: Are its central characters humans, machines or something in between?
November 6, 2012 -- Updated 2037 GMT (0437 HKT)

Lakota warrior Crazy Horse has long been a controversial figure, so perhaps it's only appropriate that his memorial follow suit.
November 11, 2012 -- Updated 1918 GMT (0318 HKT)

It may be one of the most-quoted lines in American literature -- and if you dare to quote it, you might have to pay.
November 7, 2012 -- Updated 1502 GMT (2302 HKT)

While the U.S. presidential election dominated coverage, news from across the world certainly hasn't stopped.
September 20, 2012 -- Updated 1705 GMT (0105 HKT)

For their extraordinary efforts to help change the world and better the lives of others, 10 everyday people will receive $50,000 to continue their work.