STORY HIGHLIGHTS
Paul Pogba scores 92nd minute winner as Juventus defeats Bologna 2-1
Juventus has now won nine out of it's ten league games
Napoli drop to third after suffering 1-0 defeat at Atalanta
Real Madrid eases to Copa del Rey victory at Alcoyano
(CNN) -- Paul Pogba was the man Manchester United never wanted to lose -- now he's beginning to show why as he fired Juventus four points clear at the top of Serie A.
Pogba struck a 92nd minute winner to see off lowly Bologna and help Juve claim a 2-1 win to make it nine victories from ten league games.
The 19-year-old caused shockwaves after rejecting the chance to remain at Old Trafford and instead sign a four-year deal with the Italian club.
The horror of Heysel: Football's forgotten tragedy?
Fabio Quagliarella had given the home side a 54th minute lead only for Bologna to hit back through Saphir Taidi.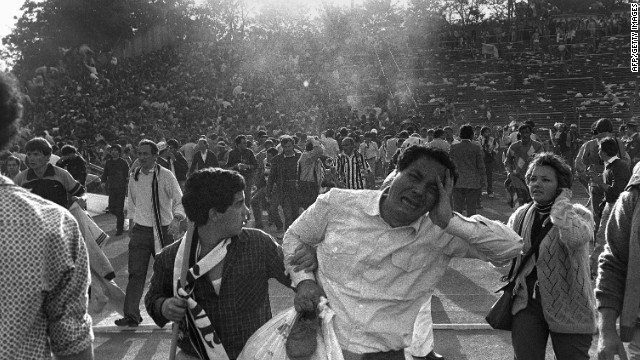 In the space of four years in the 1980s, a total of 191 people died in three stadium disasters at Bradford, Heysel and Hillsborough.
Thirty-nine fans -- 32 from Italy, four from Belgium, two from France, one from Northern Ireland, the youngest just 11 years old -- were killed in a stampede before the European Cup final between Liverpool and Juventus at the Heysel Stadium in May 1985.
In the decade before Heysel there had been a history of trouble surrounding English supporters at European matches on the continent, notably Tottenham Hotspur in Rotterdam in 1974 and 1983, Leeds United in Paris in 1975 and Manchester United in Saint-Etienne in 1977. Violence had also ominously flared between English and Italian supporters when Liverpool played Roma in the 1984 European Cup final in Italy's capital. Liverpool won the game on penalties.
Sixty-five years after its construction in 1920, Heysel was crumbling. The outer wall was made of cinder block, and fans who didn't have tickets were seen kicking holes in it to get in. Heysel's Sector Z terrace had grass poking through the crumbling concrete while flimsy wire-netting separated the Liverpool and Juve fans.
Michel Platini, who is now UEFA president, scored Juve's winning goal in a 1-0 victory, though he was criticized at the time for celebrating. "On that far away spring day I was a player who had not yet turned 30, happy go lucky, like many supporters who on that day made it to Brussels for the love of Juve and who unfortunately never returned, having been ripped away from their loved ones that cursed night," the Frenchman said in 2010.
"For me that cup will always be covered in death," wrote Juve defender Antonio Cabrini in his autobiography. "The cup of death."
Heysel is a story of "incompetence, violence, cover-up, shame and lies," writes British historian John Foot -- the author of the authoritative history of Italian football "Calcio."
"I'm happy that sometimes there is someone who remembers the tragedy," Rosalina Vannini Gonnelli told CNN. "Many years have passed. People had forgotten soon after it happened, so now there's no way. The 39 angels will always be in the memories of their loved ones."
"Whenever I think of Heysel, the first image that springs to mind is the expression on Joe Fagan's face as the terrifying scenes of crowd violence escalated to the point where the game that had been his whole life no longer meant anything. At the end, he looked a broken man," wrote former Liverpool defender Alan Hansen of the club's manager in his autobiography "A Matter of Opinion."
Liverpool met Juventus in a competitive match for the first time since that fateful day in 2005's Champions League quarterfinal tie. Liverpool won 2-1 on aggregate and went on to to win the European Cup after beating AC MIlan on penalties in Istanbul.
Striker Ian Rush, right, spent one season at Juve in 1987-88 between two spells at Liverpool. Before the first leg of the 2005 quarterfinal at Anfield, Liverpool supporters held up a mosaic to form the word "Amicizia" (friendship). Some of the visiting Juve fans applauded, but many turned their backs in disgust. There is also a Heysel memorial plaque at Liverpool's Anfield Stadium.
Juventus officials insist the Serie A club has never forgotten the victims of the Heysel disaster. "The families of the victims are always welcome at the club, the museum and the stadium -- for free," said a Juve spokeswoman.
Former Juve defender Fabio Cannavaro attended a memorial ceremony for the victims of the Heysel stadium disaster prior to a friendly international between Italy and Mexico in Brussels on June 3, 2010 -- the 25th anniversary of the tragedy.
A decade after the Heysel disaster the ground was rebuilt and renamed the King Baudouin Stadium.The new ground had a plaque dedicated to the disaster, though it had no names of the victims, before, in 2005, a monument that did include the 39 victims' names was unveiled.
Former Juve striker Alessandro del Piero this year told Italian newspaper Gazzetta Dello Sport that Liverpool made an approach to him while he was in discussions with Sydney FC but he "thought about what happened at Heysel" before opting for a move to Australia. "Liverpool have worked hard to mend their relationship, but for a lot of people it's something that can never be forgotten," added Del Piero.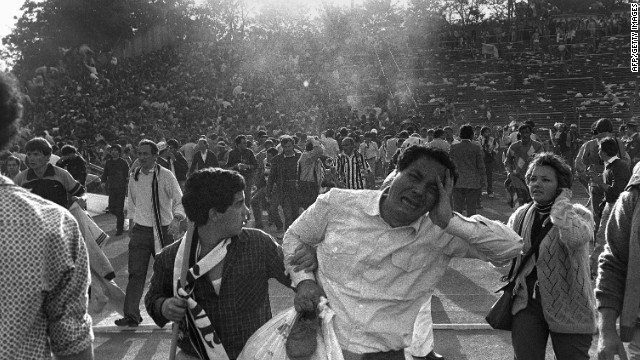 The Heysel stadium disaster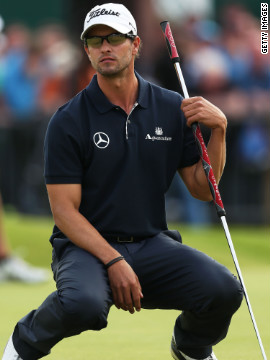 Adam Scott looked set for a first major win at this year's British Open, but four bogeys on the last four holes of the final round let South Africa's Ernie Els swoop in and steal the Australian's crown. Scott missed a putt on the 18th green that would've forced a playoff.
I.K. Kim has also endured major heartbreak in 2012. The 24-year-old missed a one-foot putt on the final hole of the Kraft Nabisco Championship that would've earned her first major, and then lost a playoff to fellow South Korean Yoo Sun-Young. But Scott and Kim aren't the only golfers to have choked on the big stage...
Rory McIlroy may now be the world's top-ranked golfer, but there was a time when he was looking for a first major win. Surely it would come at the 2011 Masters? The Northern Irishman had torn up the famous Augusta course, entering the final day with a four-stroke lead. McIlroy shot the worst round ever recorded by someone leading after three rounds of the Masters. He watched on heartbroken as Charl Schwartzel took the title, but bounced back with a record-breaking U.S. Open win to clinch his first major.
If McIlroy is still haunted by his Augusta nightmare, then one can only imagine the demons which must dwell in the mind of Jean van de Velde. The Frenchman was on course to become a shock winner of the 1999 British Open, requiring just a double bogey on the 18th hole to claim the Claret Jug. What followed has made Van de Velde one sport's most infamous chokers, with a series of wayward shots leaving him in the water. Van de Velde found a greenside bunker with his fifth shot before he eventually holed his seventh for a triple bogey, forcing a playoff. Scotland's Paul Lawrie emerged from the three-way decider as the champion.
Great chokes are not confined to the golf course. There wasn't a dry eye on Centre Court as Czech tennis star Jana Novotna sobbed uncontrollably on the shoulder of the Duchess of Kent after losing the 1993 Wimbledon women's singles final to Steffi Graf. Novotna led 6-7 6-1 4-1 before collapsing and allowing Graf to take the title. Novotna did eventually win a grand slam, beating Venus Williams in the 1998 Wimbledon final.
Brazil hosted the football World Cup for the first time in 1950, with an expectant home crowd demanding the team claim the title. Everything looked to be going to plan, with a freescoring Brazil team needing just a draw against Uruguay to seal a first World Cup triumph. Despite taking the lead, Brazil ended up losing 2-1 lead -- and a country was devastated. Since then "A Selecao" have won the World Cup five times, more than any other nation.
But even Brazil's collapse cannot match AC Milan's "achievement" in the 2005 European Champions League final against Liverpool. Carlo Ancelotti's Milan blew their English opponents out of the water in the first half, racing into a 3-0 lead. But, in six incredible second-half minutes, Rafeal Benitez's Liverpool launched one of the greatest comebacks in the history of sport, scoring three times to level the match. Liverpool held on grimly to force a penalty shootout, with Jerzy Dudek's save from Andriy Shevchenko handing Liverpool a most unlikely success.
U.S. sport is not immune to chokes. Buffalo Bills kicker Scott Norwood has the unfortunate honor of being arguably America's most famous choker. At Super Bowl XXV against the New York Giants, Norwood missed a 47-yard field goal that would've won the Vince Lombardi trophy for the Bills. It marked the first of four consecutive Super Bowl defeats for Buffalo and a the start of a rapid descent out of the NFL for Norwood.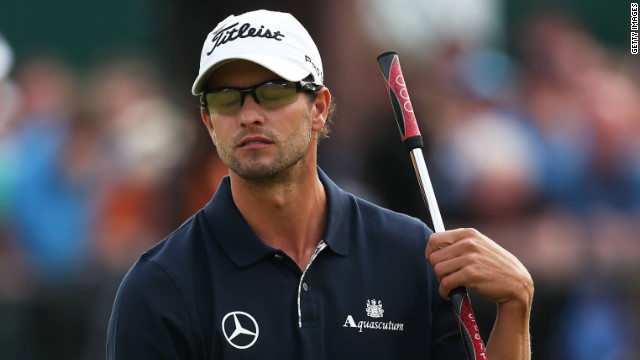 Sport's greatest chokes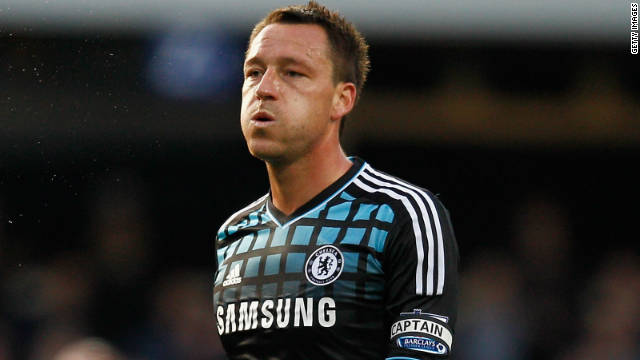 It is now nearly a year since Chelsea lost to QPR 1-0 in an English Premier League game at Loftus Road. During the game it was alleged QPR defender Anton Ferdinand swore at John Terry and made reference to the Chelsea captain's reported affair with the ex-partner of former team-mate Wayne Bridge. Terry is then said to have described Ferdinand as a "f***ing black c***".
In July, Terry was cleared in a London court, where the criminal burden of proof is "beyond all reasonable doubt". But the English Football Association then investigated the case, and using the test of "on the balance of probabilities", came to the conclusion that Terry's defence against claims he racially abused Ferdinand was "improbable, implausible, contrived".
Back in September, Ferdinand had declined Terry's offer of a handshake when QPR met Chelsea at Loftus Road as the feud between the two players rumbled on.
After the FA delivered the independent commission's report on the Terry case, the Chelsea captain's teammate Ashley Cole tweeted: "Hahahahaa, well done #fa I lied did I, #BUNCHOFT***S". The Chelsea and England left-back quickly issued a "unreserved apology" for his tweet through his solicitor.
In 2011 the FA had to deal with another racism case, this time handing Liverpool striker Luis Suarez an eight-match ban and a $63,000 fine after finding the Uruguayan guilty of racially abusing Manchester United defender Patrice Evra.
Suarez and Evra failed to shake hands before the start of an English Premier League game at Old Trafford last season after the Uruguayan had served his ban. However, when United beat Liverpool 2-1 at Anfield in September, the pair did shake hands.
Questions have been raised about UEFA's sanctioning policy. Denmark striker Nicklas Bendtner was fined $126,000 and banned from playing in his side's next competitive game for flashing his sponsored waistband promoting a bookmaker as he celebrated a goal against Portugal in Euro 2012. But that fine eclipsed the $52,000 fine that UEFA handed to the Bulgarian Football Union for its fans' racist abuse of England players during a Euro 2012 qualifier in Sofia in September 2011.
In November 2011, FIFA president Sepp Blatter told CNN that football did not have a problem with racism on the field and any incidents should be settled by a handshake.
The FA's Independent Regulatory Commission heard 473 cases between December 2010 and December 2011, but only two of them ended in "not guilty" verdicts.
Stoke City boss Tony Pulis wants the Football Association to punish Liverpool's Luis Suarez for diving. "It's an embarrassment," said the Stoke manager after a 0-0 draw at Anfield. "The FA should be looking at this."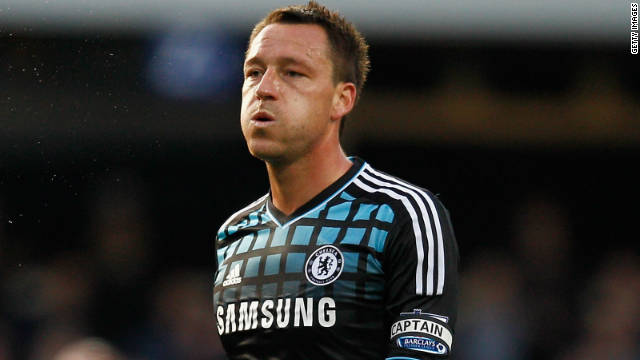 Crime and Punishment in sport
But Pogba fired home in stoppage-time to give his side all three points and help take advantage of Napoli's surprise defeat.
Napoli, who began the night in second, went down 1-0 at Atalanta, courtesy of Carlos Carmona's first-half strike.
That result allowed Inter Milan to move into third place after it came from behind to see off Sampdoria 3-2.
Gianni Munari had given Sampdoria a 20th minute lead but Diego Milito grabbed his 200th career goal to bring his side level.
Rodrigo Palacio and Freddy Guarin then put Inter in the driving seat and despite Eder grabbing a late consolation, the hosts held on to take the points.
Lazio was held to a 1-1 draw by Torino as it slipped to fourth but it sits four points clear of fifth place Fiorentina.
Parma moved up to sixth position following a 3-2 victory over Roma.
Ishak Belfodil scored and was sent off as the hosts came from behind to see off a Roma side, which had taken an early lead through Erik Lamela.
Belfodil equalised before Marco Parolo and Cristian Zaccardo put Parma 3-1 ahead with Francesco Totti's strike failing to bring Roma a reward.
Elsewhere, Cagliari overcame Siena 4-2, Chievo defeated Pescara 2-0 and Udinese was held to a 2-2 draw by Catania.
In Spain's Copa del Rey, Real Madrid carved out a 4-1 win away at Alcoyano.
Karim Benzema scored twice, while Kaka and Jose Rodriguez were also on target for the Spanish champions.
Champions League contenders Malaga was given a tough test by minnow Cacereño as it sneaked a 4-3 win.
Malaga's malady: When foreign ownership goes wrong
The Primera Liga giant had led 2-0 before the home side rallied to level before half-time.
Roque Santa Cruz's second of the night and a Duda strike appeared to have killed off Cacereño, which had Pablo Vargas sent off.
But the Segunda B side refused to give in and Carlos Esteve's 87th minute strike reduced the deficit to just a single goal going into the second leg.
There was no such problem for Atletico Madrid as it cruised to a 3-0 victory at ten-man Real Jaen.
Diego Costa, Adrian and Raul Garcia were on target for the visitors, while Dani Torres was sent off after just 26 minutes for Real.
Elsewhere, Las Palmas edged out Rayo Vallecano 1-0, while Real Zaragoza triumphed over Granada by the same scoreline.
Almeria recorded a two-goal advantage in its first leg after defeating Celta Vigo 2-0.
Bayern unbeaten run in Bundesliga halted by Bayer Leverkusen
In Germany's DFB Pokal, Bayern Munich cruised to a 4-0 win over Kaiserslautern thanks to two goals each from Claudio Pizarro and Arjen Robben.