STORY HIGHLIGHTS
Developers say inflatable plugs might have saved some subway tunnels from flooding
They are under development as a tool to protect tunnels in a terrorist attack
Manufacturer: "We've proved that these plugs can hold back water"
Homeland Security: Plug has promise but not ready for use yet
Washington (CNN) -- Huge inflatable plugs -- now being developed by the federal government to protect subway tunnels from terrorist attacks -- likely could have saved some of New York's subway tunnels from storm-related flooding, according to plug developers, some of whom are wistful that development wasn't completed in time for Hurricane Sandy.
The Department of Homeland Security successfully tested a plug in January, using the 16-foot diameter prototype to hold back pressurized water at a test tunnel in Morgantown, West Virginia. Another test to demonstrate the plug's reliability is scheduled for next week.
But project managers said only one current-generation plug has been manufactured, and they say they are two years away from marketing them to the nation's transit and highway authorities.
Get the latest updates on Sandy on CNN.com's live blog
"If we would have had these things installed in the right places (in New York), they could have made a terrific difference," said Greg Holter of the Pacific Northwest National Laboratory. "The problem is we don't have a stock of things that we could put in place. It's not like we have a bunch of these sitting in a warehouse," Holter said. "It's a little frustrating really that we weren't at a better stage at this thing."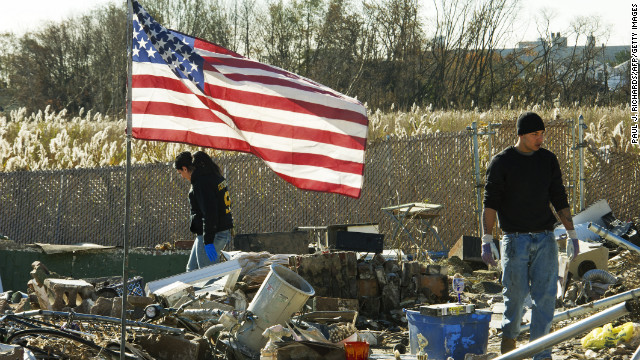 Friends and members of the Puglia family sift through the remains of their missing home for valuables on November 6, 2012, after Hurricane Sandy hit Staten Island, New York. View photos of New York preparing for Sandy.
A part of a house that floated off its foundation during the storm now sits in the middle of a coastal estuary in the Oakwood Beach area of Staten Island.
New York City police officers and a resident warm up in front of a fire in a blacked-out area of Oakwood Beach on Staten Island.
A woman looks through a sand covered parking lot used as a donation center on November 5 in the Rockaway neighborhood of the Queens borough of New York City.
Volunteers who call themselves the Broad Channel Police Department help clean a neighbor's damaged house.
People wait in line for food at a distribution center at Coney Island.
A dump truck empties trash collected from homes damaged by Superstorm Sandy on Saturday, November 3, in the Midland Beach neighborhood of Staten Island, New York. New York is trying to clean up and resume normal activities days after the storm hit.
A volunteer places donated clothing in plastic bags to protect it from potential rain at a relief center on Saturday in Midland Beach.
A damaged chair sits on the beach in low-lying Coney Island on Saturday.
A man salvages a set of drums at Rockaway Beach in Queens, New York, on Saturday. Most of the Rockaway Peninsula remains without power.
People gather among debris from Superstorm Sandy and boxes of donated goods on Saturday in Rockaway Beach.
Boats that were swept aground during Sandy sit against homes near a marina on Staten Island on Friday, November 2.
Eddie Liu uses a broom to clean up mud and water from a flooded coin laundry in Coney Island on Friday.
Michelle Dumas hugs her daughter Olivia to warm her up as they wait in an hours-long line for gas at a station Friday on Staten Island.
Men try to clean up the destruction in a flooded deli in Brooklyn, New York, on Friday.
Members of the Traina family on Friday sort through photographs and other personal items from their Staten Island home that was destroyed by Superstorm Sandy.
In the aftermath of Superstorm Sandy, replacement power utility poles are transported along Old Country Road on Friday in Plainview, New York.
Abandoned and flooded cars are piled up on Friday, November 2, in the heavily damaged Rockaway neighborhood, in Queens, where a large section of a landmark boardwalk was washed away.
Food trucks and men selling bread and cheeses line Broadway at Union Square on Friday in New York as the city recovers from the effects of Superstorm Sandy.
Debris piles up near the foundations of the iconic boardwalk, which was washed away in the Rockaway neighborhood in Queens.
A man rides his bike through the heavily damaged Rockaway neighborhood.
Matthew Mark Meyer, left, and Annie Barwick, center, sit in a darkened Randolf Beer Restaurant which is using generator power to reopen on Friday in New York City.
People walk through the heavily damaged Rockaway neighborhood.
Commuters pack into a train on Thursday in New York City. Limited public transit has returned to the city, where 14 of 23 subway lines are running.
Commuters ride the subway. Public transit is operating in New York City, but travel times are long, up to five hours in some cases.
A police officer directs passengers waiting on Thursday to board city buses into Manhattan at the Barclays Center in Brooklyn. About 4,000 buses are replacing the subway lines still closed by Superstorm Sandy damage.
Thousands of people wait to board city buses into Manhattan, and some subway lines remain underwater. Getting water out of the tunnels is "one of the main orders of business right now," Gov. Andrew Cuomo said Thursday.
A police officer directs traffic entering the Brooklyn Queens Expressway into Manhattan.
A police officer checks cars entering the Brooklyn Queens Expressway to confirm that they have three occupants before allowing them to cross into Manhattan on Thursday. Limited public transit has returned to New York, and most major bridges have reopened. However, vehicles must have three occupants to pass.
Parts of lower Manhattan are still without electricity on Thursday. Superstorm Sandy, which made landfall along the New Jersey shore on Monday, October 29, left much of the Eastern Seaboard without power, including much of Manhattan south of 34th Street.
Residents of New York City's East Village enjoy a bonfire on Wednesday, October 31.
East Village residents charge their phones with power from a generator on Wednesday.
Traffic snarls in New York City on Wednesday. Residents and businesses across the Eastern Seaboard are attempting to return to their daily lives in the aftermath of Superstorm Sandy.
A Caring Foundation worker hands out food to residents of the heavily damaged Rockaway section of Queens on Wednesday.
Water floods streets in the Rockaway section of Queens on Wednesday.
Traders stand outside of the New York Stock Exchange in New York on Wednesday. Stocks advanced as U.S. equity markets resumed trading for the first time this week after the storm.
A man surveys damage on Wednesday, October 31, in the Rockaway neighborhood of Queens, New York, where the historic boardwalk was washed away during Superstorm Sandy.
Residents walk with their belongings through the Rockaway section of Queens on Wednesday.
The remains of homes burned down in Rockaway are seen Wednesday, a day after an inferno spread across the flooded neighborhood.
Firefighters continued to survey the damage in Rockaway on Wednesday. At least 80 homes were destroyed.
People wait for buses on Sixth Avenue in New York on Wednesday as New Yorkers cope with the aftermath of Hurricane Sandy.
People attempt to squish into a crowded bus on First Avenue in New York on Wednesday.
Con Edison crew members work on a steam pipe on First Avenue on Wednesday.
The foundations to the historic Rockaway boardwalk in Brooklyn are all that remain after it was washed away Wednesday during Hurricane Sandy.
People walk to work Wednesday on a normally busy street near the New York Stock Exchange.
Traders work on the floor of the New York Stock Exchange on Wednesday after it had been closed for two days.
Commuters arrive in Manhattan by ferry from Jersey City, New Jersey, on its first day back in business after Sandy.
CNN iReporter Jordan Shapiro captured this view of the Williamsburg Bridge in New York at 11 p.m. on Tuesday, October 30. Half of the bridge and Brooklyn is lit, while the Manhattan side and the surrounding part of the island remain shrouded in darkness.
A subway station and escalator sit underwater in New York on Tuesday.
Much of the New York City skyline sits in darkness Tuesday evening after damage from Superstorm Sandy knocked out power. About 6.9 million customers are without power in 15 states and the District of Columbia, according to figures compiled by CNN from power companies.
New York City Mayor Michael Bloomberg, center, views the damage Tuesday in the Breezy Point neighborhood of Queens, where a fire broke out during Superstorm Sandy and destroyed at least 80 homes.
A resident looks through the debris of his destroyed home in Breezy Point, Queens, on Tuesday.
Burned-out vehicles and destroyed homes line a street in Breezy Point, located on the western end of the Rockaway peninsula in New York.
A fire continues to burn Tuesday in the remains of a structure that was destroyed by the Breezy Point blaze.
A New York City man hands a dog to first responders while being evacuated on Tuesday.
A bartender at the International Bar in the East Village neighborhood of New York City makes drinks in the dark on Tuesday as electricity remains out for many in the city.
Water floods the Plaza Shops in New York, in the wake of Superstorm Sandy, on Tuesday, October 30.
Con Edison employees monitor the drainage of water being pumped out of Seven World Trade Center in the Financial District of New York on Tuesday.
Onlookers watch a construction crane dangling from a $1.5 billion luxury high-rise after collapsing in high winds.
The construction crane dangles from a high-rise in midtown Manhattan.
Ramiro Arcos clears debris from a storm drain in the Financial District of New York after Sandy swept through the city.
A couple walks in the rain Tuesday, with the East River and the Lower Manhattan skyline as a backdrop.
The Manhattan skyline remains dark after much of the city lost electricity in the storm.
Cars float in a flooded below-street-level parking area in the Financial District on Tuesday.
People take a Tuesday morning walk on the Brooklyn Bridge, which remains closed to traffic after the city awakened to the storm damage.
A car sits crushed by a tree in the Financial District on Tuesday. Photos: New York braces for Sandy.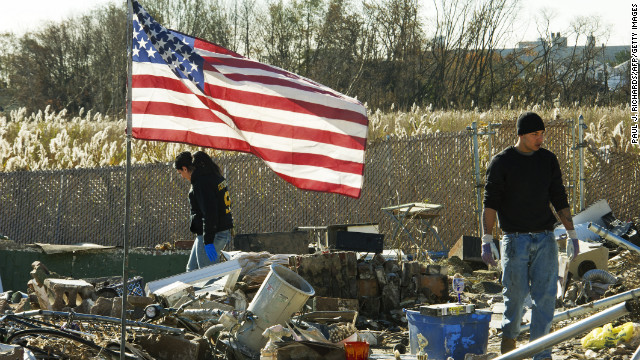 Photos: New York recovers from Sandy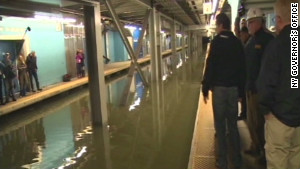 See submerged subway in Manhattan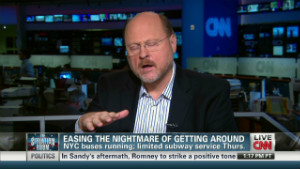 Getting NYC's subways running again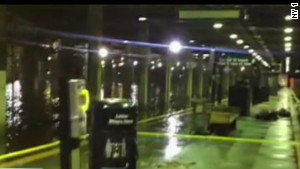 Sandy floods New York City subways
"We've proved that these plugs can hold back water," said Dave Cadogan of ILC Dover, the plug's manufacturer. "I wish we had moved a little bit faster as a team and had gotten this development done."
How giant tunnels protect Tokyo from flood threat
Ever Barbero, a West Virginia University professor who helped develop the idea, says he thought of the plug immediately when he saw a news report that New York was closing the Holland Tunnel in advance of the storm.
"I said to my wife, 'It's a pity that every tunnel doesn't have two of these plugs'," he said.
When he heard reports that tunnels had flooded, he said, "The first thing that came to us is maybe we have work cut out for the next 20 years. I think now everybody will say, 'I should have plugged this tunnel.' "
Engineers: Dangling crane tied securely to NYC building
But DHS project manager John Fortune, while bullish on the plug, says the plug is not ready for prime time.
"This is an experimental prototype. This is something that is probably two years away or so" from real-world applications," Fortune said. "It would be like asking Apple, 'Why can't I have an iPhone 6 now?' Because it's somewhere in the lab now. It's not ready to go."
The plug -- simple in theory, but sophisticated in design -- inflates like a balloon to fit the contours of a tunnel, and can reduce leakage to amounts manageable by pumps. Placed on either end of some of the tunnels under New York's East River, the plugs could have prevented flooding, team members told CNN. But plugs would not have prevented water from infiltrating porous underground subway stations and other infrastructure, they said.
Katrina, Joplin survivors offer advice to Sandy victims
In all, seven New York subway tunnels and two commuter train tunnels flooded during Monday's record flooding. Some of the tunnels were flooded from track to ceiling and "it is still too early to say how long it will take to restore the system to full service," the Metropolitan Transit Authority, which operates the rail systems, said Wednesday.
The Department of Homeland Security began the "Resilient Tunnel Project" in 2007, focusing on the threat of terrorist gas attacks and fires in transit tunnels. But almost from the start, developers believed the technology could serve a dual purpose, protecting tunnels from floods during natural disasters.
Sandy's impact: State by state
DHS teamed with the Pacific Northwest National Laboratory, West Virginia University and ILC Dover, a private Delaware company, on the project.
An early scaled-down plug, consisting of a single layer, was effective at preventing smoke or gas penetration. But when the team used a stronger, single-layer plug in a full-scale inflation test, the fabric failed, sending the team "back to the drawing board," Fortune said.
The current plug consists of three layers, including a tough outer layer that consists of thick webbing made of Vectran, a liquid-crystal polymer fiber.
The plugs must be fitted to individual tunnels.
"When you look at these things, you get the idea of a kid's balloon," Halter said. But "they are not at all stretchable. They are specifically made to fit a tunnel of a specific dimension. They are tailor made. Their ability to expand or contract is less than 1%."
Victims fall to Mother Nature's wrath
The plugs can be inflated in about three minutes. But once inflated, they are pressurized with either air or water.
The existing test plug is roughly 32 feet by 16 feet and holds 35,000 gallons of water.
ILC Dover, which also manufactures spacesuits for NASA, believes the product is ready for the marketplace.
"I'd say the technology is ready for implementation now," Cadogan said. "What we're doing now is in essence confidence testing, multiple deployments, just making sure."
If New York had had plugs, "I think they could have stopped a fair amount of incursion of water in the transit system," he said.
Team members say the plugs are cheaper than the leading alternative -- floodgates. The prototype plug cost about $400,000, and costs could go down if the plugs are manufactured in quantities.
"This would be a cheap solution," said Barbero, the West Virginia professor.
Transportation security officials initially were skeptical that a fabric device would hold back floodwaters, said DHS project manager Fortune. But that skepticism is fading, he said.
Developers said this week's disaster in New York will likely increase interest in the Resilient Tunnel Project.
Experts warn of superstorm era to come
"While we don't want to ride the back of a disaster, it's certainly our hope that people will look at this technology," Holter said. "This may be the worst storm ever recorded in the last 100 years, but that's no reason that we won't have another storm that will cause as much damage."
Should DHS have expedited development of the plug?
That's a hard question to answer, said terrorism expert Brian Jenkins, director of the National Transportation Security Center at the Mineta Transportation Institute in San Jose, California.
While officials can envision a wild spectrum of vulnerabilities, they have finite resources to address them, he said.
"There are lots of solutions that become obvious following a disaster of some type," Jenkins said.
"To a certain extent, security is almost always reactive, because it's hard to justify the costs of deploying technology for things that have not occurred. And once they do occur, it's almost impossible to resist spending the money on the technology to prevent a reoccurrence.
"That's the axiom. It's a sad one, but that's the reality."