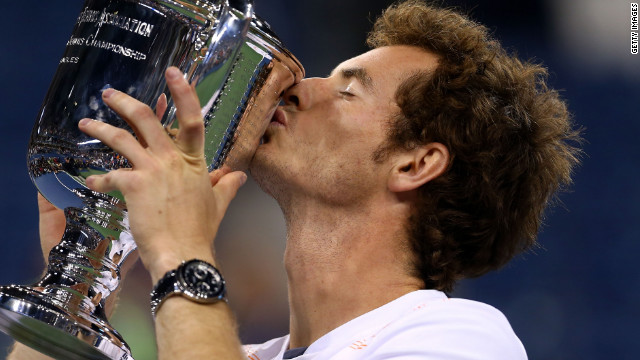 Andy Murray gets his hands on a grand slam trophy at last as he beats Novak Djokovic of Serbia to win the 2012 U.S. Open at Flushing Meadows.
Murray has reached two grand slam finals and won an Olympic gold medal since hiring Ivan Lendl. Even the great Czech player -- winner of eight majors -- needed four attempts before winning his first final.
Murray, seen here on court in the junior tournament during the 2002 Wimbledon Championships, went to Spain as a teenager to hone his tennis skills.
Murray announced himself as a player to watch with a emphatic victory in the final of the U.S. Open boys' tournament at Flushing Meadows in 2004. The then 17-year-old beat Sergiy Stakhovsky of Ukraine 6-4 6-2.
A 21-year-old Murray lined up against Roger Federer in his first grand slam final at the U.S. Open in 2008. It was a one-sided affair with Federer winning in straight sets 6-2 7-5 6-2 to pick up his 13th major.
Federer once again stood in the way of Murray at the Australian Open in 2010. The match was a bit closer than the 2008 final at Flushing Meadows, but Federer still ran out a comfortable winner 6-3 6-4 7-6.
Murray must have fancied his chances against Djokovic in 2011's Australian Open -- It was his third grand slam final and Federer wasn't his opponent. But his longtime friend provided equally stern opposition, thrashing the Scot 6-4 6-2 6-3.
Murray's fourth attempt to win a grand slam final got off to the perfect start at Wimbledon in July as he took the opening set 6-4 against Federer. But the Swiss champion fought back to win the next three sets, dashing British hopes of a first men's grand slam title since 1936.
Murray needed only a month to bounce back and beat Federer on the same courts to claim the gold medal at the London 2012 Olympics -- a victory that he later said gave him the confidence that he could win a grand slam.
Grand slam triumph at last
Murray learns from Lendl
Grass-court junior
Teen triumph
First big final
Floored by Federer
Melbourne meltdown
History must wait
Confidence booster
STORY HIGHLIGHTS
Andy Murray says he struggled with confidence after high-profile defeats
Scot was plagued by self doubt ahead of his double triumph in 2012
He won Olympic gold and U.S. Open crown in quick succession
Coach Ivan Lendl is credited with improving his fortunes this year
(CNN) -- Four grand slam finals, four heartbreaking defeats. Andy Murray was in danger of becoming the "nearly man" of men's tennis -- and despite his public brave face, it was taking its toll.
"Physically we go through a lot," the 25-year-old told CNN ahead of next week's ATP World Tour Finals.
"So sometimes I questioned whether it was worth it because I had lost a lot of close matches and hadn't quite got to where I wanted to get to."
July's defeat at Wimbledon, his home grand slam, was hard to take. Tears flowed after the final as he addressed the crowd.
But just four weeks later, his revenge victory over longtime nemesis Roger Federer on the famous grass courts earned him the gold medal at the Olympics -- and in September Murray became the first British male player to win a major since Fred Perry in 1936 when he lifted the U.S. Open.
Murray crashes out in Paris as ATP finals line-up is completed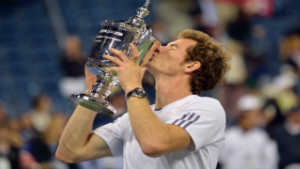 Andy Murray's summer of success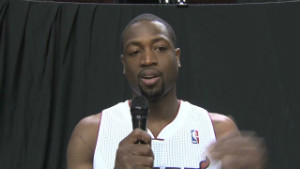 Dwyane Wade's shout out to Andy Murray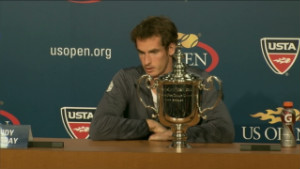 Britain's Andy Murray wins U.S. Open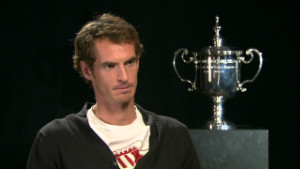 The Andy Murray you don't know
His older brother and occasional doubles partner Jamie says that New York final was the defining moment in Andy's career.
"I guess maybe it closed some of the doubts, I guess maybe in himself, but especially in the rest of the tennis world and in the media," he told CNN.
"He's finally got a grand slam now and hopefully that'll be the start of many to come."
Neil Harman, tennis correspondent for the Times of London, has followed Murray's career from the start and knew only too well the self-imposed pressure and self doubt that plagued the Scot, who has now won nearly $24 million in prize money on the ATP Tour.
"I can only pay tribute to his dedication to keep going, this is a tremendous affirmation of his qualities. It means everything to him," Harman told CNN.
Murray's London 2012 success against a man who had beaten him in three grand slam finals, and his later silver medal alongside Laura Robson in the mixed doubles, was made sweeter by his overwhelming support from a patriotic, flag waving home crowd.
"I'd probably say the Olympics was a highlight -- not just the match but the whole two weeks of the Olympics were just unbelievable," he said.
"I love sport, so as a sports fan it was great to be part of that and I love watching all the other sports whilst the tennis was on and then to win a gold medal and then a silver in the mixed was great. I really, really enjoyed it."
The man credited with helping Murray take the final step from nearly man to big-time winner is coach Ivan Lendl, appointed at the turn of this year with just that in mind.
Harman said it had been a "brave move" as former world No. 1 Lendl had little formal coaching, but "the proof of the pudding is in the results."
In what may prove to be a good omen for Murray, Czech-born legend Lendl lost his first four grand slam finals before going on to win eight.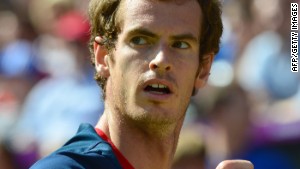 Can Murray win first tennis grand slam?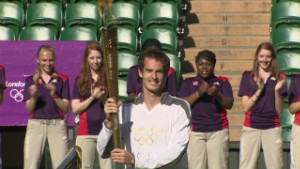 Andy Murray carries the Olympic torch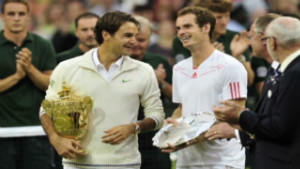 Wimbledon: Murray fans disappointed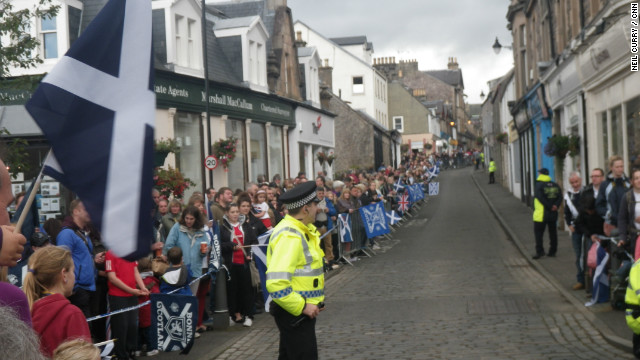 Thousands lined the streets of the Scottish town of Dunblane to welcome home local hero and U.S. Open champion Andy Murray.
Despite wet weather, eager fans waited for a glimpse of the world No. 4.
Murray, who beat Novak Djokovic in five sets to clinch his first grand slam title, spent four-and-a-half hours signing autographs and playing tennis with young fans at his former club.
It was also the first time Murray had returned home since he clinched the men's singles gold medal at the Olympic Games. Murray destroyed Roger Federer in three sets to take the title, while also winning mixed doubles silver for Team GB alongside Laura Robson.
Murray's mother Judy was also present to greet the crowds. Judy is a tennis coach and Britain's Fed Cup captain.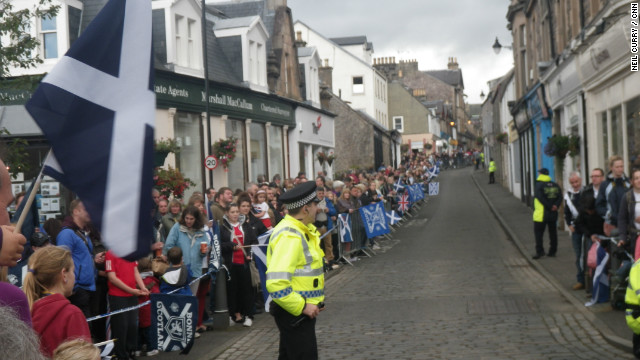 A hero's homecoming
"I'm not saying I will go on to achieve anything like that but he always wanted to keep improving," Murray said. "He worked incredibly hard. He would really do anything in terms of his training and his practice.
"That's what I will look to tap into over the next couple of years, how to, after reaching a certain goal, how to reset your goals and how to keep getting better. "
Murray will be seeking to emulate one of his best friends on the tour, Novak Djokovic -- who will be the year-end world No. 1 for the second season in a row no matter what happens in London at the eight-man season finale.
The Serbian was effusive in his praise of Murray, who he first played at the age of 11, following his final defeat at Flushing Meadows.
"It is obviously nice to hear that from him, he made his big real breakthrough last year -- he had one of the best years ever on the tour so he has helped inspire me in a way to keep trying to get better and believing that you can get to the top," Murray said.
Murray's heroics earned him a rapturous welcome in his hometown of Dunblane, scene of a 1996 mass shooting at the primary school which he attended.
A lone gunman, Thomas Hamilton, killed 17 people before taking his own life. Murray, eight at the time, survived by hiding in a classroom.
He has revealed since that his mother Judy once gave Hamilton a lift in their car while he was sat in the back.
A stunned community united in their grief and shock but now revel in the achievements of Andy and his brother, who has won a mixed doubles title at Wimbledon.
"I think Dunblane's only maybe 9,000 people and it's very close-knit, especially after the bad experiences that have happened in the town in the past," Jamie said.
"I think for what Andy's done the last few years of his career has really put a more positive light on the town and everyone's so behind him."
The pair have enjoyed success as a doubles partnership, claiming two ATP Tour titles, but losing in the first round of this year's Olympic competition.
Jamie has always relished the experience. "To be able to play high-level sport with your brother is always a cool thing to do, it's pretty unique as well."
It's a standing joke between them that Jamie is the only one to claim a Wimbledon title -- he won with Jelena Jankovic in 2007 -- but with Andy desperate to add to his grand slam tally it's perhaps only a matter of time before that changes.