Several Florida counties extend early voting
November 5, 2012 -- Updated 1428 GMT (2228 HKT)
STORY HIGHLIGHTS
NEW: Democratic Party confirms counties that have extended early voting on Sunday
Early voting expired on Saturday, but lawsuit sought to force state to keep certain polling places open
Florida governor had refused earlier requests to extend early voting
Florida is battleground in Tuesday's presidential election with 29 electoral votes
(CNN) -- A handful of key counties in the presidential battleground of Florida extended early voting on Sunday due mainly to heavy turnout.
President Barack Obama and Republican challenger Mitt Romney are running neck and neck in polls in the race to capture Florida's 29 electoral votes on Tuesday.
Polling places in Miami-Dade, Palm Beach, Hillsborough, and Pinellas counties were operating under extended hours to handle absentee balloting, the state's Democratic Party said in a statement.
Those areas acted to keep the doors open even though early voting technically ended statewide on Saturday.
Extra day of voting possible in New York
Separately, a judge ordered a continuation of early voting at a Winter Park polling station in Orange County after a suspicious package was found there and disrupted the process on Saturday.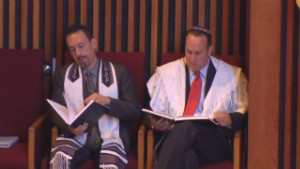 The Jewish vote In Florida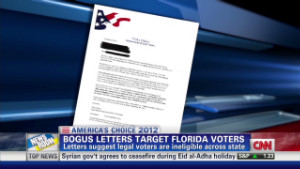 Bogus letter sent to voters
"We encourage registered voters in these counties to cast their ballots today," Scott Arceneaux, executive director of the Florida Democratic Party, said in a statement.
He also said it was "still our hope" that a judge would approve the Democrats' request early on Sunday for an injunction to force the state to keep polls going ahead of Election Day in Miami-Dade, Palm Beach and Broward counties even though two of them had already done so.
Their complaint filed in U.S. District Court in Miami said waits of up to seven hours in "many cases" over the weekend were the "result of polling facilities that are inadequate" to meet the needs of early voting. In some cases, lines "deferred or prevented" ballots from being cast, the complaint said.
Republican Gov. Rick Scott has refused earlier requests to extend early voting.
An Obama campaign official previously said that early voting in Leon County had been extended. Democrats later said that was not the case.

Today's five most popular stories
Part of complete coverage on
November 7, 2012 -- Updated 0012 GMT (0812 HKT)

In an op-ed for CNN.com, President Obama writes that the nation has climbed out of recession and war to face a future where everyone gets a fair shot, does his fair share and plays by the same rules.
November 7, 2012 -- Updated 0009 GMT (0809 HKT)

In an op-ed for CNN.com, Republican presidential candidate Mitt Romney writes that he offers the nation "real change and a real choice" that would speed economic recovery

Obama and Romney shared their visions for the country with CNN. Now it's your turn. How do you see America?

Predict which candidate will win each state and see who reaches 270 electoral votes first.

They represent a sliver of the electorate, yet their choices on Election Day could make a difference.

In Obama's first term, an evolving Christian faith and a more evangelical style
October 30, 2012 -- Updated 1557 GMT (2357 HKT)

How have presidential campaign ads changed since they have been on TV? Darrell West explains.

Get the latest opinion and analysis from CNN's columnists and contributors.