Sub saves Ahly in first leg of African final
November 4, 2012 -- Updated 2238 GMT (0638 HKT)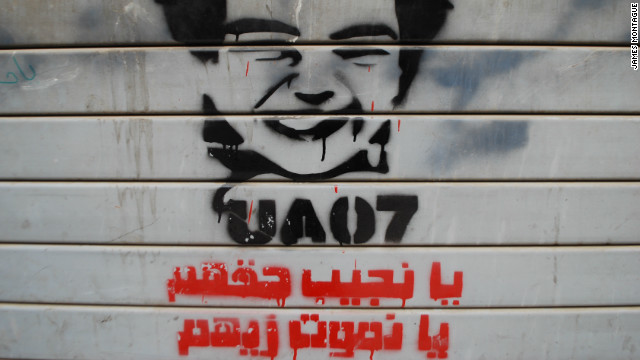 The 2011-12 Egyptian revolution thrust an unlikely group of young people into the country's political conscience: organized groups of soccer fans called "ultras."
Groups of well organized soccer fans, numbering several thousand, came to prominence during the Battle of the Camels in Tahrir Square. Graffiti eulogizing the ultras covered most of the nearby walls.
Emboldened by their success, groups of ultras would attend and lead many of the post-Mubarak protests in Cairo against the military regime.
The most prominent group was the Ahlawy, the ultras of Al Ahly, Egypt's biggest and most successful club.
The Ahlawy was formed in 2007 as a way of showing better organized support for the team. But it soon became much more.
Such were their numbers that security was tight. Members would be arrested and revolutionary, anti-regime chants could be heard from the stands.
Post Mubarak in 2011, soccer returned to Egypt after a brief suspension of the league. In the security vacuum violence grew. In February this year, 74 fans of Al Ahly, many of them Ahlawy members, died in Port Said after they were attacked by rival fans in the stands.
The ultra groups claim that the deaths weren't the result of thuggery, as claimed by the authorities, but planned by the military as pay-back for their role in the revolution. The trial of over 70 people allegedly involved is ongoing.
Marches were held across Egypt to honor the dead. Here a member of the Ahlawy leads marchers in song in the northern city of Alexandria. The soccer league was canceled. In their aim to achieve justice for the dead, the Ahlawy has launched a successful direct action campaign against the restart of the soccer league until the trial of those accused of the Port Said tragedy is completed.
The lack of competitive soccer is just one of the many problems that has faced Egyptian national team coach Bob Bradley. The former coach of the U.S. men's team has been charged with taking Egypt to Brazil for the 2014 World Cup.
His first competitive match was a World Cup qualifier earlier this year. Fears of violence were so high, the match was played without fans in a remote military stadium outside Alexandria.
Despite the revolution and despite the team having played little or no football, Egypt won their first two World Cup qualifying matches.
Even more incredible has been the performance of Al Ahly in the African Champions League. Despite having no league, and having to play all their home games behind closed doors, the team has reached the two -leg final and is hoping for a seventh title overall.
Ultra culture
Round one
Red is the color
V for Vendetta
Year zero
Ring of steel
The tragedy of Port Said
Remembering the 74
Song for the dead
Road to Brazil?
Lockdown
Egypt United
The road to the final
STORY HIGHLIGHTS
First leg of African Champions League final ends in 1-1 draw in Egypt
Titleholders Esperance take the lead through defender Waleed Hichri
Substitute striker El-Sayed Hamdy equalizes late ahead of trip to Tunisia
Match was played in Alexandria not Ahly's Cairo ground due to ongoing security fears
(CNN) -- Egyptian soccer club Al Ahly snatched a late equalizer against Tunisia's titleholders Esperance on Sunday to leave the African Champions League final in the balance.
The Cairo club will travel to Tunis for the second leg on November 17 thankful for the 88th-minute leveler from substitute El-Sayed Hamdy, who canceled out a valuable away goal by Waleed Hichri.
The match was played at an army stadium near Alexandria due to the security problems faced since 74 fans died in February's Port Said tragedy during a match involving Al Ahly and Al Masry.
Some 20,000 spectators were allowed to attend -- only the second time since the deaths that a match in Egypt has not been played behind closed doors.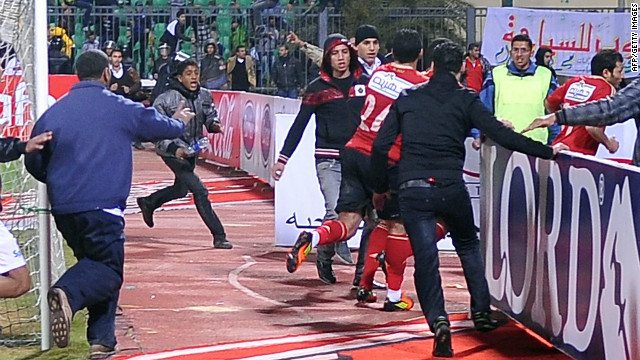 Al-Masry fans chase Al-Ahly players during riots that erupted after the football match.
Egyptian football fans rush on to the field during the clashes.
Flares are thrown in the stadium as tension builds throughout the game.
An Egyptian policeman intervenes as people try to separate rival football fans.
Egyptians gather outside the train station in Cairo as they wait for the arrival of people wounded at the match in Port Said.
Egyptian soldiers help a wounded football Al-Ahly fan after he arrived in Cairo on a military plane.
An Al-Masry fan invades the pitch during the match in Port Said.
Egyptians drive past Port Said Stadium, home of Al-Masry, on February 2, 2012.
A wounded Al-Masry fan is escorted by a medic and a friend following the clashes.
Egyptian medics wheel the body of a victim into a morgue in Cairo on February 2, 2012.
Egyptian women mourn victims of the riot at a morgue in Cairo on February 2.
Egyptian investigators inspect damage at the football stadium in Port Said on Thursday.
Family members and mourners gather at Cairo's railway station as they receive the bodies of football fans killed during clashes between rival fans in Port Said.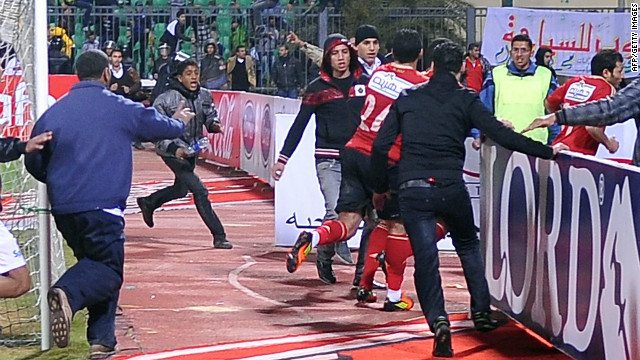 Scores dead in Egypt soccer riot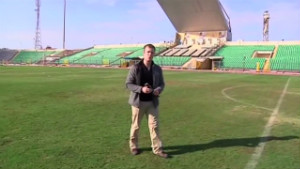 Inside Port Said stadium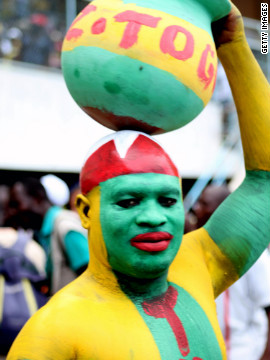 After a 1-1 draw with Gabon in the first leg, Togo's fans were hopeful of reaching January's Africa Cup of Nations ahead of Sunday's second leg.
Togo's star player is Tottenham Hotspur striker Emmanuel Adebayor. He is reverred by the country's football fans, with this banner saying: "Adebayor: Togo's only hope".
And it was Adebayor who proved the difference, scoring the goal which sealed a 2-1 win for Togo on the day and a 3-2 triumph on aggregate.
Saturday's playoff matches were overshadowed by events in Dakar, where riots caused Senegal's clash with Ivory Coast to be abandoned.
Ivory Coast were 2-0 up and 6-2 ahead on aggregate when the match was stopped. The Confederation of African football are yet to announce whether Senegal will be sanctioned for the disruption.
Zambia won the 2012 Africa Cup of Nations, the first time triumph in their history, after beating the Ivory Coast 8-7 in a dramatic penalty shootout in Libreville.
It was a poignant win for Zambia, who lost 18 members of their squad in a plane crash in Gabon in 1993.
The final of the 2013 Africa Cup of Nations will be played in Johannesburg's Soccer City stadium, which hosted the 2010 World Cup final, on February 10 2013.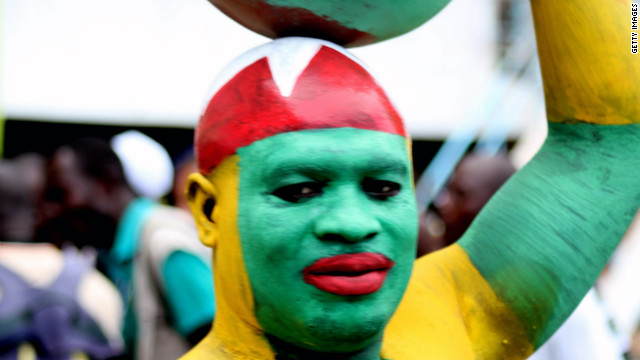 Africa Cup of Nations playoffs
Read more: Egyptian ultras seek justice for deaths
The Egyptian league has been suspended since February as the club's militant fans -- known as "ultras" -- have promised to disrupt matches in protest against the lack of action taken by the authorities. An inquiry into the Port Said deaths is ongoing.
A minute's silence in honor of the dead preceded a goalless first half on Sunday, but Esperance took the lead five minutes after the break when Tunisia international defender Hichri netted from Khalil Chamam's corner.
Al Ahly, in the final for the first time since 2008's record sixth title success, were denied by a superb point-blank save by goalkeeper Ben Chrifia until Ahmed Fathy set up striker Hamdy.
"I'm satisfied with that draw, the match was very difficult so it felt like a win for us today," Ahly coach Hossam El-Badry told reporters.
"The performance of Ahly players tonight was affected by the long football stoppage in Egypt. It was also difficult for us to arrange friendly games lately."

Today's five most popular stories
Part of complete coverage on
October 28, 2014 -- Updated 1253 GMT (2053 HKT)

They splash the cash on the world's best players, now Real Madrid are giving the Bernabeu the same treatment with a bling makeover.
October 27, 2014 -- Updated 1309 GMT (2109 HKT)

Football world mourns South African captain Senzo Meyiwa who was shot and killed during a botched robbery in a township near Johannesburg.
October 21, 2014 -- Updated 1348 GMT (2148 HKT)

From the ancient ruins of Rome, a new empire rises. But the eyes of the city's newest gladiator light up at thoughts of the Colosseum.
October 21, 2014 -- Updated 1622 GMT (0022 HKT)

Once part of Germany's largest Jewish sports club, now he's the first ISIS suspect to stand trial in a country left shocked by his alleged radicalization.
October 17, 2014 -- Updated 1411 GMT (2211 HKT)

One goal in eight matches for new club Liverpool, and dumped by the Italian national team -- Mario Balotelli has yet to shine on his English return.
October 18, 2014 -- Updated 1819 GMT (0219 HKT)

Should a convicted rapist, who has served their time in prison, be allowed to resume their old job? What if that job was as a high-profile football player?
October 16, 2014 -- Updated 1247 GMT (2047 HKT)

After 10 years of golden glory, it's easy to see how Lionel Messi has taken his place among the football gods.
October 16, 2014 -- Updated 1034 GMT (1834 HKT)

When will the tears stop? A leading Italian football club is pursuing a new direction -- under the guidance of its new Indonesian owner.
October 13, 2014 -- Updated 2241 GMT (0641 HKT)

Norwegian 15-year-old Martin Odegaard is the youngest player ever to feature in a European Championships qualifying match.
October 10, 2014 -- Updated 1310 GMT (2110 HKT)

After revolutionizing cricket with its glitzy Twenty20 league, India has now thrown large sums of money at a new football venture.
October 2, 2014 -- Updated 1453 GMT (2253 HKT)

Get ruthless. That is Rio Ferdinand's message to soccer's authorities in the fight to tackle the scourge of racism.
September 10, 2014 -- Updated 1328 GMT (2128 HKT)

He's just 15 and the world is seemingly already at his feet. Norway's Martin Odegaard is being sought by Europe's top clubs.