STORY HIGHLIGHTS
Czech Republic women's team wins Fed Cup final for second successive year
Lucie Safarova clinches an unassailable 3-1 lead with win over Ana Ivanovic
The former Czechoslovakia won the title five times up until 1988
David Ferrer wins his first ATP Masters title with Sunday's victory in Paris final
(CNN) -- Czech tennis fans are enjoying an uplift in fortunes not seen since before the Velvet Revolution more than 30 years ago.
The Czech Republic's women's team lifted the Fed Cup title for the second year in a row on Sunday -- echoing the achievements of the all-conquering Czechoslovakia team led by Martina Navratilova in the 1980s.
Lucie Safarova clinched the winning point against Serbia to spark joyous scenes in Prague, beating former world No. 1 Jelena Jankovic 6-1 6-1 to establish an unassailable 3-1 lead in the final.
"Here at home in this type of crowd, it's indescribable, it's an amazing feeling," said Safarova, ranked 17th in the world.
"There are so many emotions and happiness -- and that is the feeling we are practicing for every day, even if you're not in the mood to work."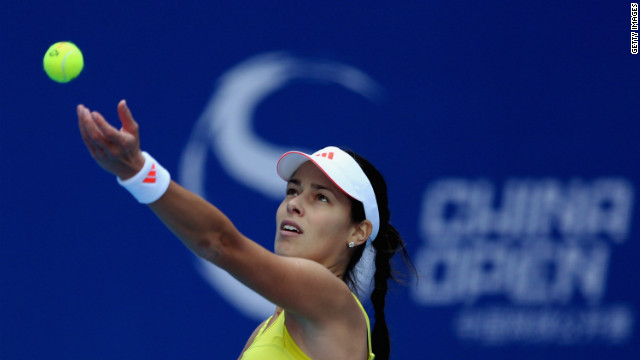 Ana Ivanovic will face Lucie Safarova in the opening rubber of the 2012 Fed Cup. The Czech holds a 3-2 lead over Ivanovic and recently defeated her in Sydney. Ivanovic said: "It's going to be a tough match -- I had a tough loss against her in Sydney so hopefully I can play better and get revenge."
Jankovic, ranked 22 in the world, will take on Petra Kvitova in her first match but is confident Serbia can overcome the current Fed Cup champions. She said: "It's an historical moment for Serbian women's tennis. We are all excited to be here in Prague and to have this opportunity to win the title, which is our ultimate goal and we very much look forward to the competition."
Bojana Jovanovski is set to play alongside Aleksandra Krunic in the doubles on Saturday. Jovanovski, who will turn 21 on December 31, is currently ranked 56 in the world and reached the second round at both Wimbledon and the U.S. Open. She is the third-highest ranked Serbian female after Ana Ivanovic and Jelena Jankovic.
At just 19 and ranked 167, this is the biggest weekend of Aleksandra Krunic's young career. But while she might be young, she's also fearless and has won three of the four doubles matches during her time on the Serbia team. In this year's first round tie against Belgium she stepped in to play the third singles rubber, losing to Yanina Wickmayer, before bouncing back to win the doubles contest alongside Bojana Jovanovski.
Serbia's Bojana Jovanovski, Jelena Jankovic, captain Dejan Vranes, Ana Ivanovic and Aleksandra Krunic pose for a photo with the trophy ahead of the weekend's battle with the Czech Republic.
Czech Republic's Andrea Hlavackova, Lucie Hradecka, Petra Kvitova, captain Petr Pala, Lucie Safarova and Klara Zakopalova are bidding to win the country's second consecutive title following last year's 3-2 win over Russia.
Petra Kvitova enjoyed a stunning 2011, winning six of her nine career titles including her Grand Slam triumph at Wimbledon. But having reached a career high of No.2 just 12 months ago, she has endured a less successful time in recent months and has slipped to No. 8. But in the Fed Cup, Kvitova has been on a hot-streak, winning ten consecutive matches to take her overall record to 15-4. She said: "I'm leading Czech Republic and I know I have big pressure on my back."
Left-hander Lucie Safarova will open the Czech's defence of the title against Ana Ivanovic and the 25-year-old is expecting a tough challenge. The World No. 17 said: "Ana is a great player, and Jelena as well, so both of the matches will be really tough, but that's how it should be as this is the finals so I will try my best and try to get the two points." Safarova will be hoping to perform better than she did in last year's final where she lost both singles rubbers to Svetlana Kuznetsova and Anastasia Pavlyuchenkova.
Andrea Hlavackova and Lucie Hradecka are the second ranked doubles team in women's tennis and will prove a huge threat in Prague. Together they have won nine titles including their 2011 triumph at the French Open. Despite losing in the finals at both Wimbledon and the Olympics, they have secured four hard court titles this year which came at Auckland, Memphis, Cincinnati and Luxembourg.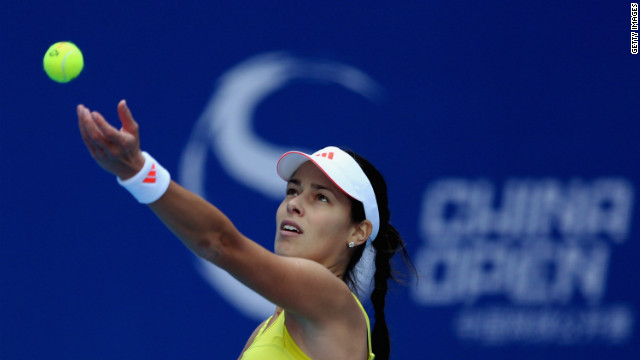 Women ready for Fed Cup battle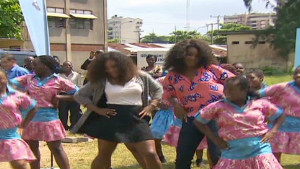 Williams sisters show off dancing skills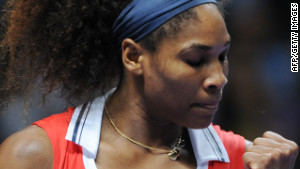 Serena Williams: 'I'm in awe' of Venus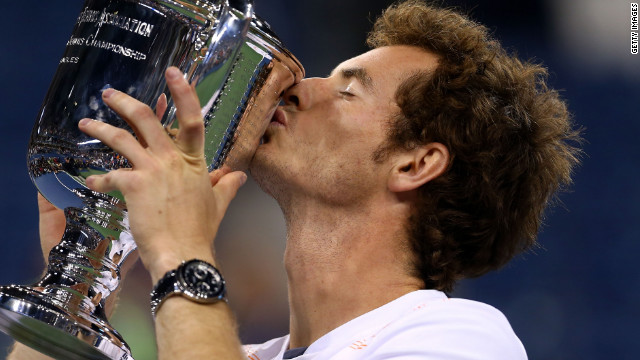 Andy Murray gets his hands on a grand slam trophy at last as he beats Novak Djokovic of Serbia to win the 2012 U.S. Open at Flushing Meadows.
Murray has reached two grand slam finals and won an Olympic gold medal since hiring Ivan Lendl. Even the great Czech player -- winner of eight majors -- needed four attempts before winning his first final.
Murray, seen here on court in the junior tournament during the 2002 Wimbledon Championships, went to Spain as a teenager to hone his tennis skills.
Murray announced himself as a player to watch with a emphatic victory in the final of the U.S. Open boys' tournament at Flushing Meadows in 2004. The then 17-year-old beat Sergiy Stakhovsky of Ukraine 6-4 6-2.
A 21-year-old Murray lined up against Roger Federer in his first grand slam final at the U.S. Open in 2008. It was a one-sided affair with Federer winning in straight sets 6-2 7-5 6-2 to pick up his 13th major.
Federer once again stood in the way of Murray at the Australian Open in 2010. The match was a bit closer than the 2008 final at Flushing Meadows, but Federer still ran out a comfortable winner 6-3 6-4 7-6.
Murray must have fancied his chances against Djokovic in 2011's Australian Open -- It was his third grand slam final and Federer wasn't his opponent. But his longtime friend provided equally stern opposition, thrashing the Scot 6-4 6-2 6-3.
Murray's fourth attempt to win a grand slam final got off to the perfect start at Wimbledon in July as he took the opening set 6-4 against Federer. But the Swiss champion fought back to win the next three sets, dashing British hopes of a first men's grand slam title since 1936.
Murray needed only a month to bounce back and beat Federer on the same courts to claim the gold medal at the London 2012 Olympics -- a victory that he later said gave him the confidence that he could win a grand slam.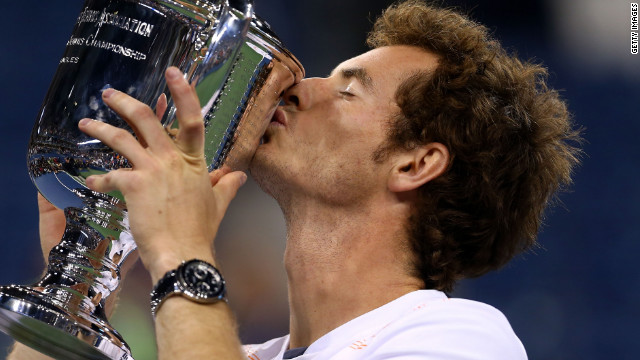 Murray joins the grand slam club
The Czechs had led 2-0 after Saturday's opening rubbers, but the Serbs stayed in the match when Ana Ivanovic -- another former No. 1 -- defeated last year's Wimbledon champion Petra Kvitova 6-3 7-5.
"I didn't have a lot of energy and it was obvious on the court," said Kvitova, who won her opening match against Jankovic despite an illness which ended her title defense at last month's WTA Championships in Istanbul.
"I tried to play only for a few shots, I couldn't play for longer, and that's why I started to have mistakes."
The Czechs became the third successive nation to defend the title following Italy (2009-10) and Russia (2007-08).
Counting the five won by the old Czechoslovakia up until 1988, it matched the seven held by Australia -- second overall, but 10 shy of the United States.
Last year's victory was the first since the split with Slovakia in 1993.
Meanwhile, David Ferrer lifted his first ATP Masters title after ending the giant-killing run of Jerzy Janowicz in Sunday's Paris final.
The fifth-ranked Spaniard won 6-4 6-3 to become the first player outside the world's top four to win a Masters 1000 tournament since Robin Soderling in the same event two years ago.
Poland's 69th-ranked Janowicz had earlier upset world No. 3 Andy Murray and No. 9 Janko Tipsarevic on his way to his first Masters final.
It was Ferrer's seventh title this season -- the most by any men's player -- and sets him up for the season-ending ATP World Tour Finals starting in London on Monday.
He will be in action in Tuesday's evening session against Argentina's Juan Martin del Potro, after defending champion Roger Federer plays Tipsarevic in the opening Group B tie.
Olympic and U.S. Open champion Murray will launch the tournament on Monday against sixth-ranked Czech Tomas Berdych.
Novak Djokovic, whose return to world No. 1 will be confirmed on Monday, will then face France's Jo-Wilfried Tsonga in another Group A clash.