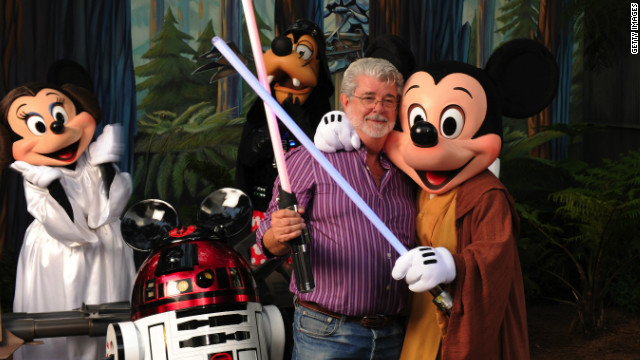 "Star Wars" creator George Lucas meets a group of "Star Wars"-inspired Disney characters at Disney's Hollywood Studios theme park in 2010. Click through and see what the original cast is up to now:
One of the good guys, Han Solo pilots the Millennium Falcon with Chewbacca.
Since playing Han Solo, Harrison Ford has starred in flicks like "Witness," which earned him an Academy Award nomination, "Sabrina" and "Air Force One." He's also starred in the "Indiana Jones" franchise and 2011's "Cowboys & Aliens."
Obi-Wan Kenobi trains Luke Skywalker to be a Jedi and weild a lightsaber. He's the twin brother of Princess Leia and son of Darth Vader.
Mark Hamill has lent his voice to many projects since playing "Star Wars' " Luke Skywalker. He recently appeared in the 2012 thriller "Sushi Girl."
Luke's twin sister Leia is the Princess of Alderaan. Leia is romantically pursued by Han Solo.
In addition to appearing in films like 1989's "When Harry Met Sally..." and lending her voice to "Family Guy," Carrie Fisher has established herself as a writer with "Postcards from the Edge" and "Wishful Drinking."
Formerly a Jedi named Anakin, Darth Vader eventually goes over to the dark side of the Force.
After voicing Darth Vader (played by David Prowse), James Earl Jones went on to lend his voice to video games, TV series and films like 1994's "The Lion King." He'll next appear in "The Angriest Man in Brooklyn," due out in 2013.
Chewbacca doesn't speak English, but Han Solo and the gang have no problem understanding the tall, furry Wookiee.
Peter Mayhew has continued voicing Chewbacca since he first played the Wookiee.
C-3PO is adept at communicating, which is helpful considering his buddy R2-D2 doesn't speak English.
Since playing C-3PO, Anthony Daniels has voiced the droid on video games and TV series like "Star Wars: The Clone Wars." He also appeared in the prequel trilogy.
R2-D2 is a faithful companion of Luke's. He assists him in many ways, including the piloting of Luke's X-Wing fighter.
Like Daniels, Kenny Baker returned for the prequel trilogy to play R2-D2.
Jedi Master Obi-Wan Kenobi trains Luke in the ways of the Force.
Alec Guinness continued acting after playing Ben Obi-Wan Kenobi. He died in 2000.
'Star Wars' cast then and now
Han Solo played by ...
Harrison Ford
Luke Skywalker played by ...
Mark Hamill
Princess Leia played by ...
Carrie Fisher
Darth Vader voiced by ...
James Earl Jones
Chewbacca played by ...
Peter Mayhew
C-3PO played by ...
Anthony Daniels
R2-D2 played by ...
Kenny Baker
Ben Obi-Wan Kenobi played by ...
Alec Guinness