STORY HIGHLIGHTS
In Staten Island, Limor Garfinkle seeks to save a woman's cache of wet, muddy photographs
She is trying to salvage five plastic bags stuffed with soggy memories
Photographer: "If they're ruined without washing them, then you try washing them"
(CNN) -- The storm that swept last week across the Northeast left indelible memories for many but also erased some.
Limor Garfinkle, whose Staten Island apartment is littered with scraps of paper that represent some of the most important memories of a woman she barely knows, is trying to salvage at least a few of them.
The 35-year-old art director for a Midtown ad agency drove Sunday from her home, which is on high ground and did not flood, to the hard-hit South Beach section of the borough to take pictures of Sandy's aftermath.
There, she came across Victoria Beckman, a Russian immigrant: Her family's photographs and documents were arrayed on the stone railing leading from the street to her front door.
iReport: Drying a lifetime's memories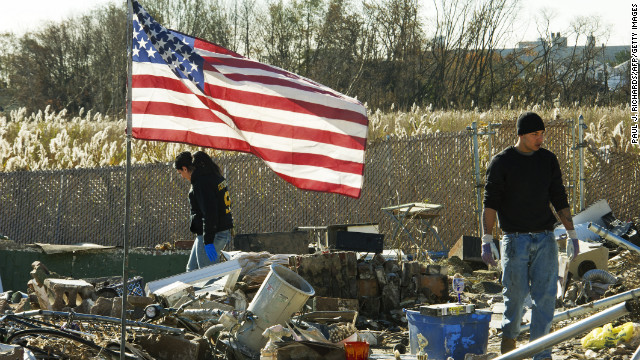 Friends and members of the Puglia family sift through the remains of their missing home for valuables on November 6, 2012, after Hurricane Sandy hit Staten Island, New York. View photos of New York preparing for Sandy.
A part of a house that floated off its foundation during the storm now sits in the middle of a coastal estuary in the Oakwood Beach area of Staten Island.
New York City police officers and a resident warm up in front of a fire in a blacked-out area of Oakwood Beach on Staten Island.
A woman looks through a sand covered parking lot used as a donation center on November 5 in the Rockaway neighborhood of the Queens borough of New York City.
Volunteers who call themselves the Broad Channel Police Department help clean a neighbor's damaged house.
People wait in line for food at a distribution center at Coney Island.
A dump truck empties trash collected from homes damaged by Superstorm Sandy on Saturday, November 3, in the Midland Beach neighborhood of Staten Island, New York. New York is trying to clean up and resume normal activities days after the storm hit.
A volunteer places donated clothing in plastic bags to protect it from potential rain at a relief center on Saturday in Midland Beach.
A damaged chair sits on the beach in low-lying Coney Island on Saturday.
A man salvages a set of drums at Rockaway Beach in Queens, New York, on Saturday. Most of the Rockaway Peninsula remains without power.
People gather among debris from Superstorm Sandy and boxes of donated goods on Saturday in Rockaway Beach.
Boats that were swept aground during Sandy sit against homes near a marina on Staten Island on Friday, November 2.
Eddie Liu uses a broom to clean up mud and water from a flooded coin laundry in Coney Island on Friday.
Michelle Dumas hugs her daughter Olivia to warm her up as they wait in an hours-long line for gas at a station Friday on Staten Island.
Men try to clean up the destruction in a flooded deli in Brooklyn, New York, on Friday.
Members of the Traina family on Friday sort through photographs and other personal items from their Staten Island home that was destroyed by Superstorm Sandy.
In the aftermath of Superstorm Sandy, replacement power utility poles are transported along Old Country Road on Friday in Plainview, New York.
Abandoned and flooded cars are piled up on Friday, November 2, in the heavily damaged Rockaway neighborhood, in Queens, where a large section of a landmark boardwalk was washed away.
Food trucks and men selling bread and cheeses line Broadway at Union Square on Friday in New York as the city recovers from the effects of Superstorm Sandy.
Debris piles up near the foundations of the iconic boardwalk, which was washed away in the Rockaway neighborhood in Queens.
A man rides his bike through the heavily damaged Rockaway neighborhood.
Matthew Mark Meyer, left, and Annie Barwick, center, sit in a darkened Randolf Beer Restaurant which is using generator power to reopen on Friday in New York City.
People walk through the heavily damaged Rockaway neighborhood.
Commuters pack into a train on Thursday in New York City. Limited public transit has returned to the city, where 14 of 23 subway lines are running.
Commuters ride the subway. Public transit is operating in New York City, but travel times are long, up to five hours in some cases.
A police officer directs passengers waiting on Thursday to board city buses into Manhattan at the Barclays Center in Brooklyn. About 4,000 buses are replacing the subway lines still closed by Superstorm Sandy damage.
Thousands of people wait to board city buses into Manhattan, and some subway lines remain underwater. Getting water out of the tunnels is "one of the main orders of business right now," Gov. Andrew Cuomo said Thursday.
A police officer directs traffic entering the Brooklyn Queens Expressway into Manhattan.
A police officer checks cars entering the Brooklyn Queens Expressway to confirm that they have three occupants before allowing them to cross into Manhattan on Thursday. Limited public transit has returned to New York, and most major bridges have reopened. However, vehicles must have three occupants to pass.
Parts of lower Manhattan are still without electricity on Thursday. Superstorm Sandy, which made landfall along the New Jersey shore on Monday, October 29, left much of the Eastern Seaboard without power, including much of Manhattan south of 34th Street.
Residents of New York City's East Village enjoy a bonfire on Wednesday, October 31.
East Village residents charge their phones with power from a generator on Wednesday.
Traffic snarls in New York City on Wednesday. Residents and businesses across the Eastern Seaboard are attempting to return to their daily lives in the aftermath of Superstorm Sandy.
A Caring Foundation worker hands out food to residents of the heavily damaged Rockaway section of Queens on Wednesday.
Water floods streets in the Rockaway section of Queens on Wednesday.
Traders stand outside of the New York Stock Exchange in New York on Wednesday. Stocks advanced as U.S. equity markets resumed trading for the first time this week after the storm.
A man surveys damage on Wednesday, October 31, in the Rockaway neighborhood of Queens, New York, where the historic boardwalk was washed away during Superstorm Sandy.
Residents walk with their belongings through the Rockaway section of Queens on Wednesday.
The remains of homes burned down in Rockaway are seen Wednesday, a day after an inferno spread across the flooded neighborhood.
Firefighters continued to survey the damage in Rockaway on Wednesday. At least 80 homes were destroyed.
People wait for buses on Sixth Avenue in New York on Wednesday as New Yorkers cope with the aftermath of Hurricane Sandy.
People attempt to squish into a crowded bus on First Avenue in New York on Wednesday.
Con Edison crew members work on a steam pipe on First Avenue on Wednesday.
The foundations to the historic Rockaway boardwalk in Brooklyn are all that remain after it was washed away Wednesday during Hurricane Sandy.
People walk to work Wednesday on a normally busy street near the New York Stock Exchange.
Traders work on the floor of the New York Stock Exchange on Wednesday after it had been closed for two days.
Commuters arrive in Manhattan by ferry from Jersey City, New Jersey, on its first day back in business after Sandy.
CNN iReporter Jordan Shapiro captured this view of the Williamsburg Bridge in New York at 11 p.m. on Tuesday, October 30. Half of the bridge and Brooklyn is lit, while the Manhattan side and the surrounding part of the island remain shrouded in darkness.
A subway station and escalator sit underwater in New York on Tuesday.
Much of the New York City skyline sits in darkness Tuesday evening after damage from Superstorm Sandy knocked out power. About 6.9 million customers are without power in 15 states and the District of Columbia, according to figures compiled by CNN from power companies.
New York City Mayor Michael Bloomberg, center, views the damage Tuesday in the Breezy Point neighborhood of Queens, where a fire broke out during Superstorm Sandy and destroyed at least 80 homes.
A resident looks through the debris of his destroyed home in Breezy Point, Queens, on Tuesday.
Burned-out vehicles and destroyed homes line a street in Breezy Point, located on the western end of the Rockaway peninsula in New York.
A fire continues to burn Tuesday in the remains of a structure that was destroyed by the Breezy Point blaze.
A New York City man hands a dog to first responders while being evacuated on Tuesday.
A bartender at the International Bar in the East Village neighborhood of New York City makes drinks in the dark on Tuesday as electricity remains out for many in the city.
Water floods the Plaza Shops in New York, in the wake of Superstorm Sandy, on Tuesday, October 30.
Con Edison employees monitor the drainage of water being pumped out of Seven World Trade Center in the Financial District of New York on Tuesday.
Onlookers watch a construction crane dangling from a $1.5 billion luxury high-rise after collapsing in high winds.
The construction crane dangles from a high-rise in midtown Manhattan.
Ramiro Arcos clears debris from a storm drain in the Financial District of New York after Sandy swept through the city.
A couple walks in the rain Tuesday, with the East River and the Lower Manhattan skyline as a backdrop.
The Manhattan skyline remains dark after much of the city lost electricity in the storm.
Cars float in a flooded below-street-level parking area in the Financial District on Tuesday.
People take a Tuesday morning walk on the Brooklyn Bridge, which remains closed to traffic after the city awakened to the storm damage.
A car sits crushed by a tree in the Financial District on Tuesday. Photos: New York braces for Sandy.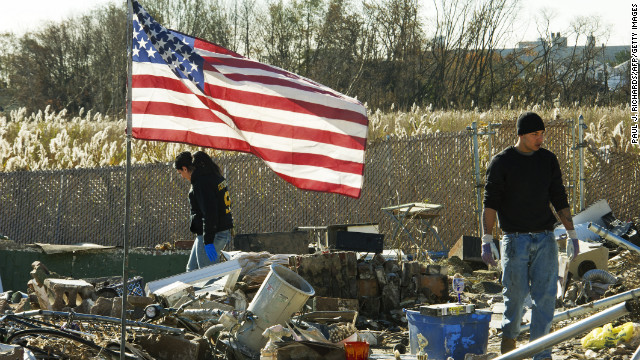 Photos: New York recovers from Sandy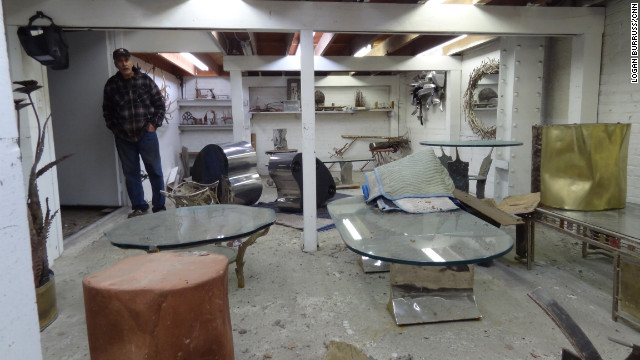 Silas Seandel stands in the back storage unit of his facility after flood waters from the Hudson River damaged several works during Superstorm Sandy.
A photograph dries at Derek Eller Gallery after being damaged by Sandy flooding.
Owner Derek Eller stands in his gallery during cleanup efforts after the storm.
Ongoing construction inside Haunch of Venison, a large gallery in Manhattan's Chelsea neighborhood.
Debris stuck to a work by Jaye Moon shows the flood levels Sandy brought to Newman Popiashvili Gallery.
Gallery owner Leo Koenig stands outside his space during repairs.
Marisa Newman assesses the flood damage at the Newman Popiashvili Gallery.
Artist and studio owner Silas Seandel works to restore his facility after floodwaters broke through his doors.
A watermark in Silas Seandel's storage room shows flood levels from the Hudson River.
Zach Feuer, temporarily using the floor above his gallery, stands in front of art being salvaged from his space.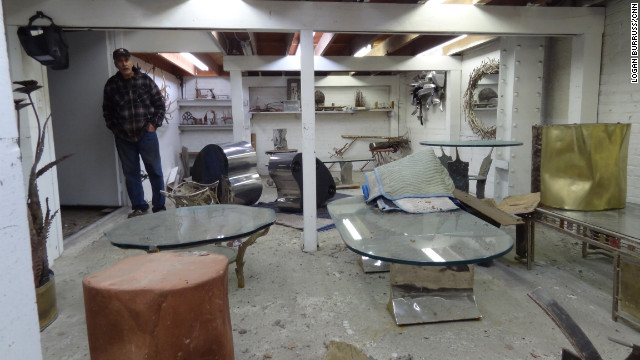 Sandy floods New York art galleries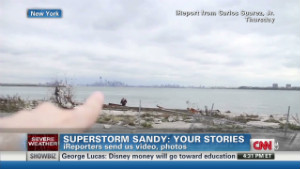 CNN iReport Sandy special: Part 1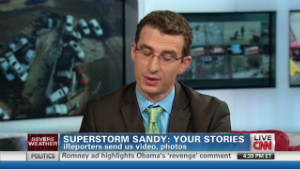 CNN iReport Sandy special: Part 2
"I saw she had thousands of pictures," Garfinkle said. Many were smeared with mud, others were stained by rust. The woman's house was gutted; she had no heat and she was bereft.
"I said to her, 'Would you like me to take these?' " Garfinkle recalled. "She said, 'Yes, please, I have nothing left.' So I just took it."
Sandy survivors face voting -- and another storm
Garfinkle took five plastic garbage bags stuffed full of memorabilia, loaded them into the trunk of her car and drove them back to her home.
"The whole thing was a mess," she said.
Garfinkle consulted the Internet and set about trying to preserve the treasure that had been entrusted to her. "It said to wash the pictures with water and just dry them," she said.
So she emptied the bags and set to work. Many of the pictures predate the introduction of digital photographs. They chronicle weddings and bar mitzvahs and include images of people presumably long dead. Among the pictures were citizenship papers, tax returns and a Russian army medal.
"It's all over my house and my floor," she said.
Garfinkle, who grew up in Israel, said she was just trying to help.
But Alan Radom, who has restored photographs for about 25 years, said that washing wet photographs may not always achieve that end. "It's the kind of thing that sometimes can help, but sometimes many old photos have dye in them -- water-soluble dye," he said in a telephone interview.
Radom, who runs Artisan Photo Restoration in Manhattan, said he is guided by the same maxim doctors follow: First, do no harm. Washing photographs is too risky for him. "That might work, but I wouldn't take a chance doing that because you might take the whole image off it."
He advises separating any pictures that may adhere to one another and letting them dry. "Once they're stuck together, then it becomes (nearly) impossible to deal with anything," he said. "I've seen 500 pictures dry together. It's basically just a congealed block of paper and glue."
New Jersey lets Sandy victims vote via e-mail
Radom recommends leaving any picture stuck to glass since trying to pull it away can tear it apart. "Leave it be," he said. And any wet pictures should be removed from albums, he said. "The worst thing you can do is leave them in plastic sleeves and albums."
His personal trove of family pictures survived Sandy in the basement of his home north of the city in Westchester County -- "raised about 6 feet off the ground."
Tom Sobolik, a professional photographer for more than 35 years in Westchester County, advised putting wet photos in a print dryer but said the devices have largely disappeared since the advent of digital photography. "I don't even know if there is such a thing any more," he said.
"My recommendation would be to do as little as possible," he said. "But, if they're ruined without washing them, then you try washing them."
Sobolik, who is launching an online print laboratory called riveredgestudio.com, said some companies, including Kodak, used resin-coated paper -- covered with a thin layer of plastic. Those photographs "are more likely to wash easier and resist washing better," he said.
Seth Bogdanove, owner of Digital Archiving and Photo Restoration in Brooklyn, said washing wet pictures is dangerous. "I would put them up on a piece of paper or towel or something absorbent and let the water leach out from the bottom and let the air dry the top, because the surface of the photograph is an emulsion -- you get it wet, it gets sticky and it can smear. You can get fingerprints on it. You put anything on top of it, it will stick. So the best thing to do is just put them face up and let them air dry."
Only if they were stuck together, he said, would he "very gently" soak them to separate them.
He recommends those who want to safeguard their pictures have them digitalized and stored that way.
In general, the approach worked, Garfinkle said. "Some of them, the ink in them didn't hold up very well," she said. "But very few, actually. Most of them are perfect. You know what held up best? Kodak. The ones that were printed the old-fashioned way."
Beckman, who has moved from her home to a relative's, said she was planning to pick up the photographs as soon as they are ready.
CNN's Daphne Sashin contributed to this report.