STORY HIGHLIGHTS
The village of Kogelo was the birthplace of President Obama's father
In 2008 the village celebrated "Obama mania"
Barack Obama's win put Kogelo on the map
Now, with a close election looming, many are nervous
Kogelo, Kenya (CNN) -- Four years ago this village was the center of "Obama mania."
The celebration of 2008 "was exceptional, it is something not any of us would have imagined to have happened because we were at the brink of history being made," said village resident Malik Obama, half-brother of the president.
In 2008, Malik Obama peered into a tiny TV with a flickering CNN signal for an all-night vigil watching results come in. After a rain-soaked night that stranded more than a few reporters who had come to the village, Malik Obama emerged bleary-eyed but dancing. A crowd of supporters chanted his name.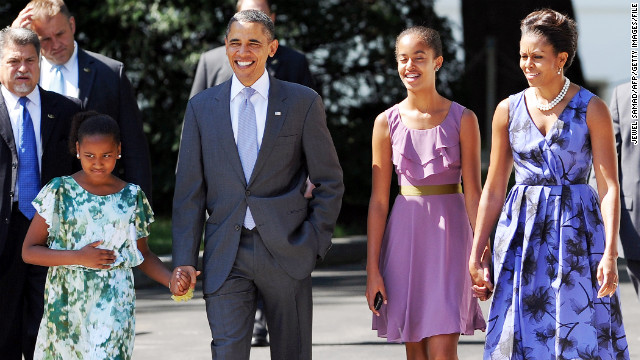 U.S. President Barack Obama walks to church with his wife, first lady Michelle Obama, and their daughters Sasha, left, and Malia, right in 2011.
President Obama with his father, Barack Obama Sr., in an undated family snapshot from the 1960s.
President Obama with his mother, Ann Dunham, in an undated childhood photo taken in Honolulu.
President Obama with his maternal grandparents, Stanley and Madelyn Dunham, in an undated family snapshot.
President Obama with his stepfather, Lolo Soetoro, left, his sister Maya Soetoro and his mother, Ann Dunham, center, in an undated family snapshot.
First lady Michelle Obama attends the final day of the 2012 Democratic National Convention.
President Obama greets his grandmother, Sarah Obama, at her home in Siaya, Kisumu, Kenya, in 2006.
President Obama's half-brother, Mark Ndesandjo, holds a news conference before a book launch in Guangzhou, China, in 2009.
Auma Obama, half sister of President Barack Obama, presents her new book "Das Leben kommt immer dazwischen" at the book fair in Frankfurt, Germany, in 2010.
President Barack Obama's half-brother George Hussein Obama attends a news conference in Nyangoma Kogelo, Kenya, in 2008.
President Obama speaks with his stepmother, Kezia Obama, at his swearing-in ceremony as the 44th U.S. president in 2009.
First lady Michelle Obama, daughters Malia, left, and Sasha, center, take turns reading to children from "The Cat in the Hat" by Dr. Seuss as they visit South Africa in 2011.
First lady Michelle Obama's brother Craig Robinson and Dr. Maya Kassandra Soetoro-Ng, President Obama's sister, speak on stage during the first day of the 2012 Democratic convention.
First lady Michelle Obama and her mother, Marian Robinson, at the 2012 Democratic convention.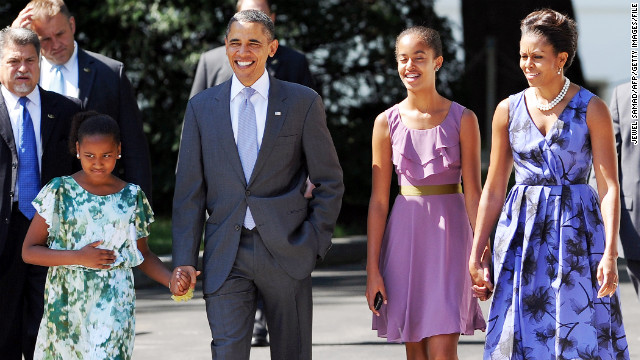 Photos: Meet the Obamas
Kogelo is the birthplace of Barack Obama's father, Barack Obama Sr. Then-Sen. Barack Obama visited in 2006 and paid special homage to his grandmother, Sarah Obama (now universally known as Mama Sarah). It's not just Sarah and Malik, there is a whole wing of the Obama clan here: cousins, aunts and half-cousins.
If 2006 was the start of the love affair, in 2008 it went full-blown.
Everywhere there were Obama T-shirts, DVDs and cakes (a black forest cake with an edible picture of the president-to-be and Mama Sarah was a favorite).
Things have certainly cooled down since then.
To many Africans (and Americans, if polls are correct), Barack Obama's presidential campaign of "hope" and "change" hit a wall of reality when he came into office.
Africans, in particular, saw great hope in the new American president with African roots. But after just one brief swing through Ghana in four years at the White House, many feel let down by Africa's "favorite son."
The administration contends that Africa is a priority, and Secretary of State Hillary Clinton has been a regular fixture in Africa.
But to Africans, and especially to Kenyans, it is not the same.
"Under the circumstances with what he has had to deal with we understand," said Malik Obama, "and we hope that circumstances will change. We hope he has the opportunity to come here and say hello."
Even without a visit from President Obama, Kogelo is still trying to make good use of the connection.
Where there was once just a dirt track running through town, now a paved road is nearing completion. Electricity is connected to many houses. Water projects have increased.
Simply put, President Obama's win put Kogelo on the map. Locals here say that charities flooded into Kogelo to get a bit of the "Obama cache."
With a tight race looming in 2012, many here are nervous.
"I don¹t know the other person who is contesting," said Pastor Joseph Omundi of the Christian Life church in Kogelo, "but we know Barack Obama is the son of this land."
Omundi, a fiery preacher who delivers sermons with a translator in a staccato double act, said his congregation has been praying for "peace, the economy, and Barack Obama."
Everyone a CNN crew spoke to in Kogelo is for Obama: the fruit vendors; the commuters streaming by in matatu, or minibus, vehicles; and even the opinionated boda boda, or bicycle and motorcycle, drivers. Many just refer to Mitt Romney as "the other guy."
While Kogelo has changed, with a new recreation center and lodge for foreign tourists, it is still just a rural village some 260 miles (418 kilometers) west of Nairobi, the capital. The flood of foreign visitors predicted by the government hasn't materialized, and the much-touted road isn't quite finished.
But Malik Obama stays positive.
"Washington, D.C., is the capital of the United States, but Kogelo is the capital of the world, because everybody comes to visit," he said.