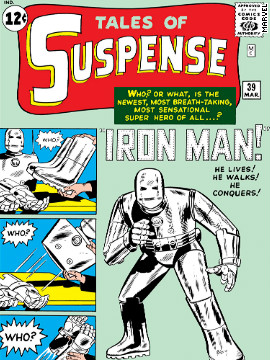 Marvel Comics is reimagining its popular characters with its Marvel Now initiative, which debuts throughout November. Before going forward, take a look back at the characters origins. In the original "Iron Man," Tony Stark wasn't always the wisecracking Robert Downey Junior character from recent movies. His suit was rather clunky in 1963's "Tales of Suspense" No. 39, and he fought against Vietnam during the early days of that war.
In Marvel Now's first issue of "Iron Man," out on November 7, a contemplative Stark re-evaluates his life's work and takes on an old enemy. His dialogue would fit if it were delivered by Downey. And, he has a brand new suit.
For more than two decades, Deadpool has served as the comic relief of Marvel Comics. Moviegoers may recall the "merc with the mouth" as played by Ryan Reynolds in "X-Men Origins: Wolverine." At first, Deadpool was a villain, but he soon proved to be far too likable.
Marvel Now's first issue of "Deadpool," out November 7, takes something of an "if it ain't broke, don't fix it" approach, but Deadpool makes a grand entrance that has to be seen to be believed. The story, co-written by comedian Brian Posehn ("The Sarah Silverman Program"), puts a historical twist on the zombie trend, as Deadpool must face undead versions of dead U.S. presidents.
Spider-Man's first appearance portrayed Peter Parker as an oft-bullied science nerd who gains super powers after being bitten by a radioactive spider. With a few notable exceptions, the basic Spidey character has remained much the same.
"Superior Spider-Man" brings the character into the Marvel Now universe, after a landmark 700th -- and final -- issue of the long-running "Amazing Spider-Man." Little is known except for this fact, which is already causing debate among the comic book faithful: This Spidey is not Peter Parker.
Fifty years ago, the Hulk was meant to be Marvel Comics' take on "Frankenstein," and he wasn't always a green goliath.
With the Hulk's newfound popularity, thanks to "The Avengers" box office success, Marvel Now presents a "whole new side" of the big galoot in "Indestructible Hulk" No. 1, out November 21. Award-winning writer Mark Waid has a more "enlightened" Bruce Banner joining S.H.I.E.L.D., the organization driving the story in the popular film.
The Fantastic Four started it all for Marvel Comics in the 1960s. In their first issue, Mr. Fantastic, the Invisible Girl, the Thing and the Human Torch didn't even wear uniforms.
With the announcement of a new "The Fantastic Four" film, the comics aren't wasting any time, giving the Fantastic Four some new scenery. Writer Matt Fraction compares the Marvel Now "Fantastic Four" -- in stores November 14 -- to the hit movie "The Incredibles," with the Richards family traveling to the deepest reaches of space.
Originally introduced at the dawn of World War II, patriotic hero Captain America was revived in the 1960s for a new generation. Portrayed on screen by Chris Evans, he's currently enjoying a fresh dose of popularity.
November's first issue of "Captain America" is a Cap unlike any seen before, with the possible exception of his adventures in the 1980s mini-series "Secret Wars." Writer Rick Remender compares this book with a science-fiction bent to that classic story. Cap, shield in tow, explores new worlds starting with the first issue November 21.
"Journey into Mystery" No. 83 brought the Norse god Thor into the Marvel universe. His epic adventures fighting his evil brother Loki have endured for 50 years, including his recent hit movie appearances, in which he is played by Chris Hemsworth.
"Thor: God of Thunder" arrives November 14. The series has been described as having "A Christmas Carol" feel as it explores the hammer-wielding hero's past, present and future.
Marvel then and 'Marvel Now'
Marvel then and 'Marvel Now'
Marvel then and 'Marvel Now'
Marvel then and 'Marvel Now'
Marvel then and 'Marvel Now'
Marvel then and 'Marvel Now'
Marvel then and 'Marvel Now'
Marvel then and 'Marvel Now'
Marvel then and 'Marvel Now'
Marvel then and 'Marvel Now'
Marvel then and 'Marvel Now'
Marvel then and 'Marvel Now'
Marvel then and 'Marvel Now'
Marvel then and 'Marvel Now'