STORY HIGHLIGHTS
Last season's Champions League finalists Barcelona lose for first time in 2012-13
Spanish side could have qualified for last 16 but went down 2-1 away to Celtic
Champions Chelsea snatch injury-time win at home to Shakhtar Donetsk
Manchester United through to knockout stage after fourth successive victory
(CNN) -- Barcelona's unbeaten run under new coach Tito Vilanova came to an unexpected halt on Wednesday as the Spanish side failed to clinch a place in the knockout stage of the European Champions League after losing 2-1 at Celtic.
Lionel Messi's late goal, his 74th of 2012, proved a mere consolation as the Scottish champions celebrated a famous victory to mark 125 years of existence.
The result left Barca still on top of Group G, while Celtic's hopes of reaching the last 16 were greatly improved as a first-half goal from Victor Wanyama and an 83rd-minute strike from teenage substitute Tony Watt put Neil Lennon's team in second place with two games left.
Spartak Moscow dropped to the bottom of the group after losing 2-0 at Benfica, with Oscar Cardozo scoring both second-half goals for the Portuguese team.
The Paraguay striker then missed a penalty, hitting the crossbar after Argentine defender Nicolas Pareja was sent off.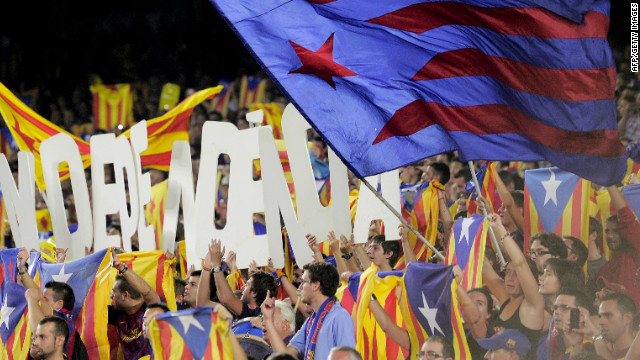 Barcelona fans hold letters forming the word 'Independencia' and wave Catalan 'Estelada' independence flags in the match against Real Madrid.
Lionel Messi (left) and Cristiano Ronaldo celebrate goals in the El Clasico clash in the Camp Nou.
Jose Mourinho gestures during the El Clasico clash with his Barcelona counterpart Tito Vilanova in the background.
Barcelona's decision to invite a former captured Israeli soldier Gilad Shalit to the El Clasico clash was met with protests in Palestine.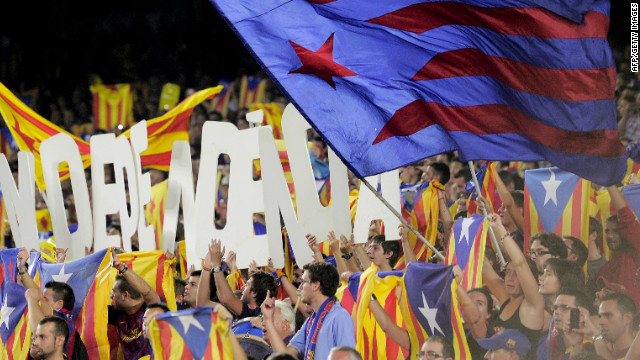 Spanish heavyweights battle El Clasico draw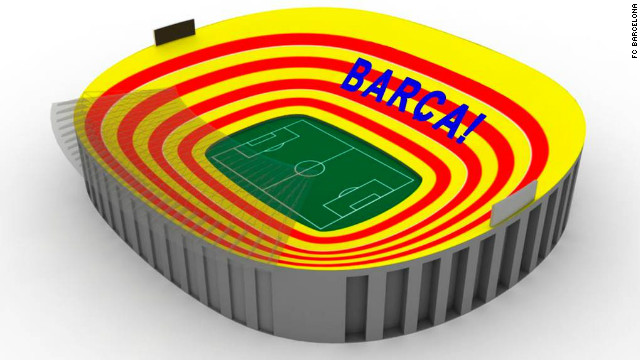 Barcelona's Nou Camp stadium will be transformed into a giant Catalan flag prior to kick off in Sunday's "El Clasico" match against Real Madrid. A total of 98,000 placards will proudly display bands of red and gold.
"El Clasico" also brings together the best two players on the planet. Cristiano Ronaldo of Real Madrid, right, has started the season in fine form and scored a hat-trick in Wednesday's European Champions League defeat of Ajax. But it is Barca's Lionel Messi who is revered by many as the finest player in the world. The Argentine has won the FIFA World Player of the Year award in each of the last three seasons.
Real coach Jose Mourinho had a fiery confrontation with then Barcelona assistant coach Tito Vilanova in August 2011. Mourinho poked Vilanova in the eye amid a scramble on the touchline of last year's Super Cup encounter. Vilanova has since gone on to replace Josep Guardiola as Barca coach.
The rivalry between Real Madrid and Barca is one of the most intense in football, and players who move between the two clubs are rarely forgiven. When Portugal's Luis Figo returned to the Nou Camp after moving to Real in 2000, fans threw numerous objects in his direction -- including the pig's head pictured here.
The president of semi-autonomous Catalonia is Artur Mas.He has been accused of using the debt crisis engulfing Spain as a way of garnering more support for the independence movement.
The Catalan National Day is September 11, commemorating the day in 1714 when the Spain monarchy defeated Catalan troops in the War of the Spain Succession. The day is used to showcase the region's culture and traditions, as well as to campaign for secession from Spain.
Josep Guardiola, right, gave his support to Europe's victorious Ryder Cup campaign in Illinois last weekend. The former Barca coach has also echoed calls for Catalan secession, declaring on the region's national day: "Here's one more vote for independence."
Catalan customs and the region's language were aggressively repressed by general Franco during the Spanish Civil War, which was fought between 1936 and 1939.
The Spanish financial crisis has led to a raft of anti-austerity measures. Protests against cuts have been seen on the streets of Madrid, where a minority of protesters have been involved in violent clashes with the police.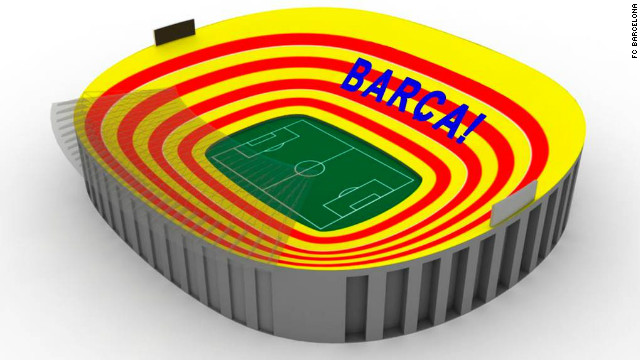 Austerity gives El Clasico new twist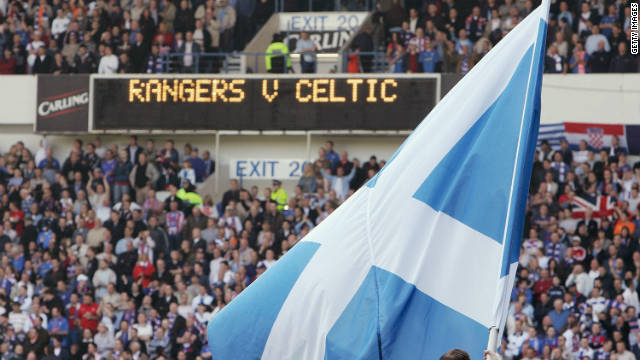 Celtic versus Rangers is one of the fiercest rivalries in world football.The coming together of the two communities of Glasgow in Scotland, in the cauldron of a stadium to cheer on their sides, as well as proclaim their identity with songs and banners, creates a unique and febrile atmosphere. On one side of the arena the red, white and blue of the British Union Flag. On the other the green, white and orange of the Irish tricolor flag.
Last season the family of Celtic's Catholic manager Neil Lennon were put under 24-hour police surveillance following live ammunition and a parcel bomb being sent to him in the post.
Rangers current manager is former club goal-scoring legend Ally McCoist. He led the side to the title last season but could not avoid the side being subject to a UEFA ban after sectarian songs were sung in a match against Dutch side PSV Eindhoven.
The imposing 1920s facade of the main stand at Ibrox Stadium, home ground to Rangers Football Club, a club who have won the Scottish title 54 times in their history. It was here that the biggest attendance for a soccer match in Britain was set in 1939, when 118, 567 turned out to watch an "Old Firm" game against Celtic.
Robert Marshall, the proud landlord of The Louden Tavern, a pub that sits close to Ibrox Stadium in Glasgow, Scotland and is overt in its support of Rangers Football Club.
The call The Louden Tavern a drinking hole would be a disservice, it would be more accurate to call it a shrine. How many bars do you know with stained-glass windows in honor of footballers?
The Louden Tavern is just around the corner from the Glasgow Orange Order -- a Protestant fraternity who still march once a year to celebrate the victory of King William III over the Catholic King James II in 1690 at the Battle of the Boyne
Bairds Bar on the Gallowgate road in Glasgow, Scotland. The pub is a popular stopping point for the faithful followers of Celtic on their way to the match.
Tommy Carberry at work in Bairds Bar. "There are no Rangers supporters that come in here, so nobody will be offended by what is being sung. Same with Rangers' pubs," said Carberry.
One of the large stands at Celtic Park, the 60, 000-seater home stadium of Celtic Football Club. The arena has been dubbed "Paradise" by the fans, many of whom travel from Ireland each fortnight to see the "Bhoys" play at home.
A statue commemorating Jock Stein at Celtic -- the manager who led a team comprised entirely of players from the Glasgow area to European Cup glory in 1967.
"Unfortunately, when you go to these fixtures you'll hear some of the most horrific chanting of a sectarian nature which is aimed wholeheartedly at offending people from another religious persuasion," Campbell Corrigan, Assistant Chief Constable for Strathclyde Police.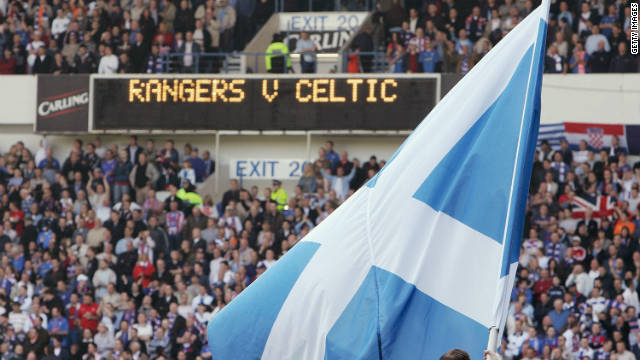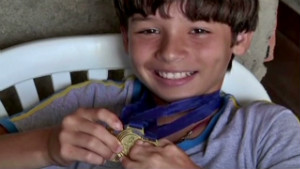 Footless footballer to meet Messi
Barcelona traveled to Parkhead as the only team from Europe's top leagues still unbeaten this season following weekend defeats for Juventus and Paris Saint-Germain, but went behind in the 21st minute when Kenyan midfielder Wanyama headed in Charlie Mulgrew's corner.
The 18-year-old Watt, making his first appearance in Europe's top club competition, made it 2-0 after veteran midfielder Xavi failed to cut out a long clearance by Celtic keeper Fraser Forster.
Messi netted at the start of injury time after an initial block by Forster but Barca could not repeat the last-gasp heroics of Celtic's visit to the Nou Camp last month, when Vilanova's team snatched a 2-1 victory.
It was one of the biggest results in Celtic's history, behind winning the European Cup in 1967 and losing in the final three years later.
"It's right up there, one of the proudest nights in my career," Lennon told reporters. "It was a monumental effort from all those players and on the anniversary of club, it's a very special occasion.
"I wanted them to do themselves justice and they've even surpassed that, they've beaten the best club in the world.
"You try to weather the storm, you know it's coming and there's not a lot you can do. Then young Tony comes on, gives us new lease of life and scores a great second goal, and he'll go down in history now."
Another unbeaten run came to an end as Barcelona's conquerors in last season's final, Chelsea, boosted hopes of reaching the last 16 after stealing a 3-2 win at home to Shakhtar Donetsk in the fourth minute of injury time.
Substitute Victor Moses headed in Juan Mata's corner to avenge last month's 2-1 defeat away to the Ukrainian league leaders, who paid for defensive lapses at Stamford Bridge.
The English team took the lead in the sixth minute when Spain striker Fernando Torres charged down an attempted clearance by goalkeeper Andriy Pyatov following a poor backpass by Yaroslav Rakitskiy.
Longtime Chelsea target Willian leveled in the ninth minute but fellow Brazilian midfielder Oscar gave the home team the halftime advantage with a superb long-range volley after Pyatov - racing out of his area -- headed a clearance straight into his path.
Willian equalized again straight after the break with an almost carbon copy of his first goal, this time with his left foot, but Chelsea hit back again as John Obi Mikel had a goal ruled out for offside and then 21-year-old Nigeria forward Moses followed up his goal in Saturday's Premier League draw with Swansea.
It left Shakhtar on top of Group E on goal difference from Chelsea, with Juventus a point adrift in third following a 4-0 win at home to Nordsjaelland.
The Italian champions ended a run of nine successive draws in European competition as Claudio Marchisio, Arturo Vidal and Sebastian Giovinco scored in the first half, while second-half substitute Fabio Quagliarella headed the other against the Danish league winners.
Manchester United ensured there would be no repeat of last season's embarrassment by booking a place in the last 16 with two matches to spare after a 3-1 win at Portuguese club Braga.
United failed to qualify from a group including Benfica, Basel and Otelul Galati as manager Alex Ferguson paid the price for resting his big names, but this time there has been no mistake with four wins from four in Group H.
Braga led through Alan's early penalty, but substitute Robin van Persie leveled before Wayne Rooney scored a penalty and a third forward, Javier Hernandez, bundled in another as United matched the late comeback in the 3-2 win at Old Trafford two weeks ago.
Braga dropped to the bottom of the group after Galatasaray joined Cluj on four points with a 3-1 win in Romania.
Turkey striker Burak Yilmaz scored a hat-trick to earn his club's first win of the European campaign.
Bayern Munich moved top of Group H with a 6-1 hammering of Lille that ended the French club's hopes of qualification.
Peru striker Claudio Pizarro scored a 16-minute first-half hat-trick as the Germans went above Valencia on goal difference, with Bastian Schweinsteiger, Arjen Robben and substitute Toni Kroos adding the others.
Valencia moved up to second place with a 4-2 win at home to BATE Borisov, having led 3-0 after 51 minutes with goals from Jonas, Roberto Soldado -- who netted a penalty -- and Sofiane Feghouli.
Renan Bressan and Dmitri Mozolevski replied but Feghouli's second in the 86th-minute condemned the Belorussian champions to a second successive defeat.