STORY HIGHLIGHTS
World No. 1 Novak Djokovic beats third-ranked Andy Murray at ATP World Tour Finals
Serbian wins his second successive match to move closer to a semifinal place
Murray needs to win his third and final match on Friday to go through in London
The tournament will stay in UK capital for the next three years after extending deal
(CNN) -- The immediate future of the ATP Tour's showpiece event was confirmed on Wednesday, and that news was quickly followed by proof that men's tennis has another classic rivalry to savor.
Novak Djokovic and Andy Murray are longtime friends, but their on-court clashes are showing all the hallmarks of following Federer-Nadal, Borg-McEnroe, Sampras-Agassi and Edberg-Becker in the annals of modern greats.
Murray may have had the better of their meetings at the Olympics and the U.S. Open, but Djokovic hit back in Shanghai and now the Serbian has a 9-7 career advantage after another tight tussle in London.
The UK capital's hosting of the ATP World Tour Finals has been confirmed for the next three years, ending fears that it would move because of top players' unhappiness over the country's tax laws for top earners.
Murray and Djokovic make winning starts at ATP finals
Djokovic won the season-ending tournament in 2008, its last year in Shanghai, but has not reached the final since.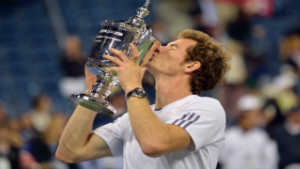 Andy Murray's summer of success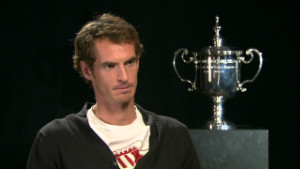 The Andy Murray you don't know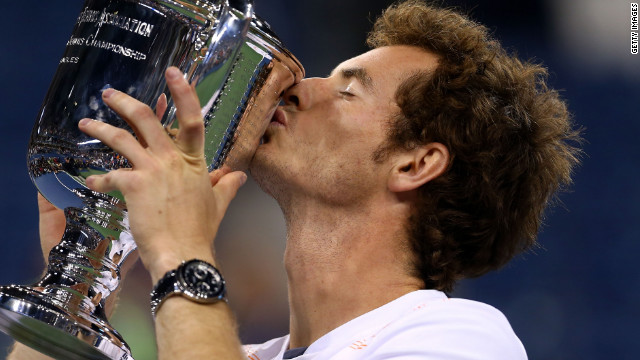 Andy Murray gets his hands on a grand slam trophy at last as he beats Novak Djokovic of Serbia to win the 2012 U.S. Open at Flushing Meadows.
Murray has reached two grand slam finals and won an Olympic gold medal since hiring Ivan Lendl. Even the great Czech player -- winner of eight majors -- needed four attempts before winning his first final.
Murray, seen here on court in the junior tournament during the 2002 Wimbledon Championships, went to Spain as a teenager to hone his tennis skills.
Murray announced himself as a player to watch with a emphatic victory in the final of the U.S. Open boys' tournament at Flushing Meadows in 2004. The then 17-year-old beat Sergiy Stakhovsky of Ukraine 6-4 6-2.
A 21-year-old Murray lined up against Roger Federer in his first grand slam final at the U.S. Open in 2008. It was a one-sided affair with Federer winning in straight sets 6-2 7-5 6-2 to pick up his 13th major.
Federer once again stood in the way of Murray at the Australian Open in 2010. The match was a bit closer than the 2008 final at Flushing Meadows, but Federer still ran out a comfortable winner 6-3 6-4 7-6.
Murray must have fancied his chances against Djokovic in 2011's Australian Open -- It was his third grand slam final and Federer wasn't his opponent. But his longtime friend provided equally stern opposition, thrashing the Scot 6-4 6-2 6-3.
Murray's fourth attempt to win a grand slam final got off to the perfect start at Wimbledon in July as he took the opening set 6-4 against Federer. But the Swiss champion fought back to win the next three sets, dashing British hopes of a first men's grand slam title since 1936.
Murray needed only a month to bounce back and beat Federer on the same courts to claim the gold medal at the London 2012 Olympics -- a victory that he later said gave him the confidence that he could win a grand slam.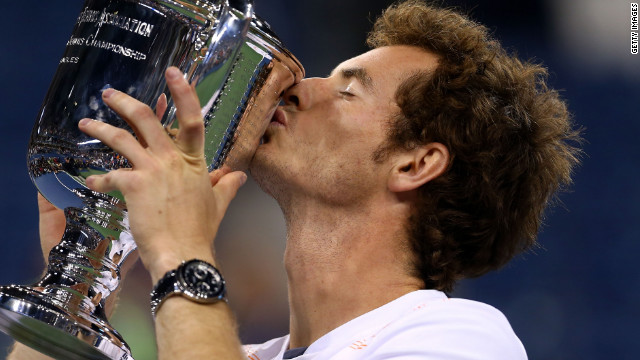 Murray joins the grand slam club
Last year he didn't even make it out of the group stage, fading with fatigue after a breakthrough 12 months that he ended as world No. 1, but Wednesday's 4-6 6-3 7-5 win in more than two and half hours was his second in a row this week.
It was a match that see-sawed either way, leaving world No. 3 Murray needing to win his third and final match against Jo-Wilfried Tsonga on Friday if he is to progress in the elite eight-man event.
Tsonga also has a win and a loss after being beaten 7-5 3-6 6-1 by Tomas Berdych in Wednesday's late match.
"It was another great match, another great performance from both of us. I hope that people who watched it agree with my opinion," said Djokovic, who plays his final match against sixth-ranked Czech Berdych.
"I didn't expect anything less other than a tough match that went down the wire and was decided on the last point."
It was the sort of match that has helped bring in 250,000 people each year to London's O2 Arena.
"This week we look forward to welcoming our one millionth fan through the gates since 2009," ATP Tour chief executive Brad Drewett said after announcing the extension of the tournament's sponsorship deal with banking group Barclays.
"We thank every one of these passionate tennis fans for helping to create the electrifying atmosphere at The O2, which has offered a spectacular stage for our biggest event."
While the tournament, which attracted a television audience of 70 million viewers in 184 countries last year, does not have the prestige of the sport's four grand slams, the stakes are high -- the prize purse increased to $5.5 million this year and will climb to $6.5 million by 2014.
Murray cut a forlorn figure last year when he pulled out after his opening match due to injury, but this season he has won his first grand slam under the tutelage of Ivan Lendl -- a five-time winner of the ATP showpiece.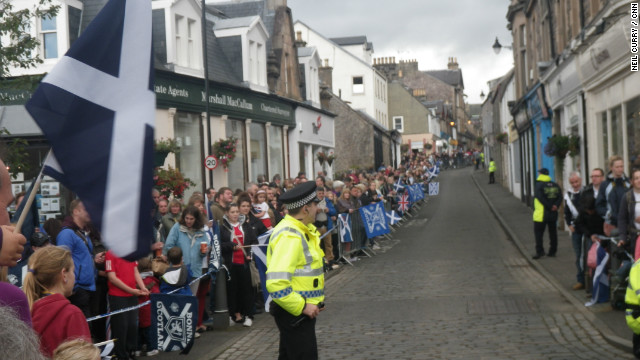 Thousands lined the streets of the Scottish town of Dunblane to welcome home local hero and U.S. Open champion Andy Murray.
Despite wet weather, eager fans waited for a glimpse of the world No. 4.
Murray, who beat Novak Djokovic in five sets to clinch his first grand slam title, spent four-and-a-half hours signing autographs and playing tennis with young fans at his former club.
It was also the first time Murray had returned home since he clinched the men's singles gold medal at the Olympic Games. Murray destroyed Roger Federer in three sets to take the title, while also winning mixed doubles silver for Team GB alongside Laura Robson.
Murray's mother Judy was also present to greet the crowds. Judy is a tennis coach and Britain's Fed Cup captain.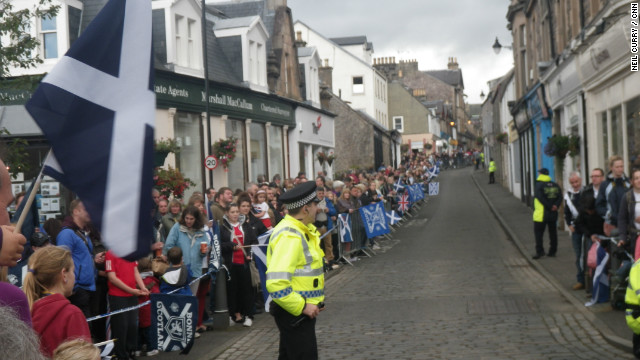 A hero's homecoming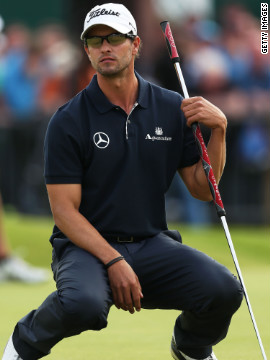 Adam Scott looked set for a first major win at this year's British Open, but four bogeys on the last four holes of the final round let South Africa's Ernie Els swoop in and steal the Australian's crown. Scott missed a putt on the 18th green that would've forced a playoff.
I.K. Kim has also endured major heartbreak in 2012. The 24-year-old missed a one-foot putt on the final hole of the Kraft Nabisco Championship that would've earned her first major, and then lost a playoff to fellow South Korean Yoo Sun-Young. But Scott and Kim aren't the only golfers to have choked on the big stage...
Rory McIlroy may now be the world's top-ranked golfer, but there was a time when he was looking for a first major win. Surely it would come at the 2011 Masters? The Northern Irishman had torn up the famous Augusta course, entering the final day with a four-stroke lead. McIlroy shot the worst round ever recorded by someone leading after three rounds of the Masters. He watched on heartbroken as Charl Schwartzel took the title, but bounced back with a record-breaking U.S. Open win to clinch his first major.
If McIlroy is still haunted by his Augusta nightmare, then one can only imagine the demons which must dwell in the mind of Jean van de Velde. The Frenchman was on course to become a shock winner of the 1999 British Open, requiring just a double bogey on the 18th hole to claim the Claret Jug. What followed has made Van de Velde one sport's most infamous chokers, with a series of wayward shots leaving him in the water. Van de Velde found a greenside bunker with his fifth shot before he eventually holed his seventh for a triple bogey, forcing a playoff. Scotland's Paul Lawrie emerged from the three-way decider as the champion.
Great chokes are not confined to the golf course. There wasn't a dry eye on Centre Court as Czech tennis star Jana Novotna sobbed uncontrollably on the shoulder of the Duchess of Kent after losing the 1993 Wimbledon women's singles final to Steffi Graf. Novotna led 6-7 6-1 4-1 before collapsing and allowing Graf to take the title. Novotna did eventually win a grand slam, beating Venus Williams in the 1998 Wimbledon final.
Brazil hosted the football World Cup for the first time in 1950, with an expectant home crowd demanding the team claim the title. Everything looked to be going to plan, with a freescoring Brazil team needing just a draw against Uruguay to seal a first World Cup triumph. Despite taking the lead, Brazil ended up losing 2-1 lead -- and a country was devastated. Since then "A Selecao" have won the World Cup five times, more than any other nation.
But even Brazil's collapse cannot match AC Milan's "achievement" in the 2005 European Champions League final against Liverpool. Carlo Ancelotti's Milan blew their English opponents out of the water in the first half, racing into a 3-0 lead. But, in six incredible second-half minutes, Rafeal Benitez's Liverpool launched one of the greatest comebacks in the history of sport, scoring three times to level the match. Liverpool held on grimly to force a penalty shootout, with Jerzy Dudek's save from Andriy Shevchenko handing Liverpool a most unlikely success.
U.S. sport is not immune to chokes. Buffalo Bills kicker Scott Norwood has the unfortunate honor of being arguably America's most famous choker. At Super Bowl XXV against the New York Giants, Norwood missed a 47-yard field goal that would've won the Vince Lombardi trophy for the Bills. It marked the first of four consecutive Super Bowl defeats for Buffalo and a the start of a rapid descent out of the NFL for Norwood.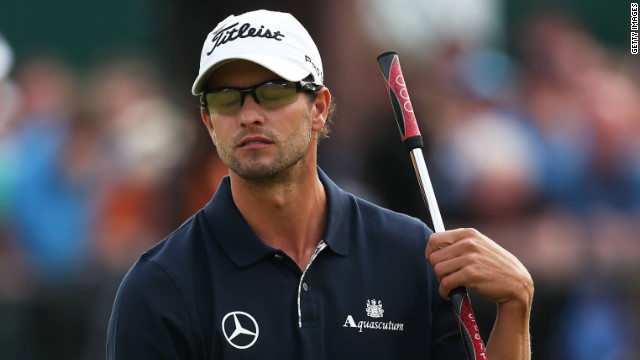 Sport's greatest chokes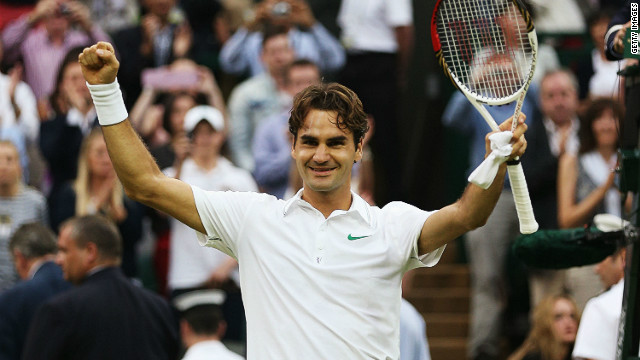 The 31-year-old Swiss champion has enjoyed another stellar year at the top of the men's game, winning six titles in 2012, including a seventh Wimbledon crown. He is the oldest men's singles champion at the All England Club since Arthur Ashe in 1975 and joins Andre Agassi and Pete Sampras as the only 30-somethings to win a grand slam this century.
At the age of 34, Germany's Tommy Haas has also enjoyed a successful year on tour rising up the rankings and is currently no.21 in the world. The former world no.2 beat Roger Federer in the ATP tournament in Halle, Germany in June. "Maybe 30 is the new 20," says Haas.
Austria's Jurgen Melzer has also enjoyed a good year. The 31-year-old is currently ranked 37 in the world and won the ATP tournament in Memphis in February.
Gil Reyes (left) was Andre Agassi's fitness trainer throughout his career. The pair formed a formidable working partnership and a strong friendship off court. Agassi played with "great relevance," says Reyes right up to his retirement at the age of 36. Reyes and Agassi recently launched BILT -- a suite of training equipment modelled on the workouts the pair devised during Agassi's career.
Agassi won five of his eight grand slams in the latter half of his career and was world no.1 at the age of 33. "When you stop and think about it, that's amazing," Reyes says. The 1999 French Open was one of Agassi's greatest acheivements, coming back from two sets to love down to win in five sets against Ukraine's Andrei Medvedev.
Agassi bids farewell to his playing days in the third round at the 2006 U.S. Open. "He was a factor all the way through," says Reyes. "I can say, honestly, that he was, if not the strongest player on the tour, one of the strongest. Playing to 36 in this day's game it takes a lot."
Darren Cahill (left) and Gil Reyes worked together to keep Agassi at the top of his game. "After a tournament, Darren [Agassi's former coach] would often say: 'get him in the gym, because I see a different guy on the court when he's been in the gym,'" Reyes said.
As the season draws to a close, Federer will be looking to defend his ATP Tour Finals title he won in 2011 (pictured). The six-time winner is already the oldest champion in the tournament's history. He's a class apart, Reyes says. "Roger is a perfect athlete -- his movement, his game, his mental, his physical. There's Roger and then there's everyone else."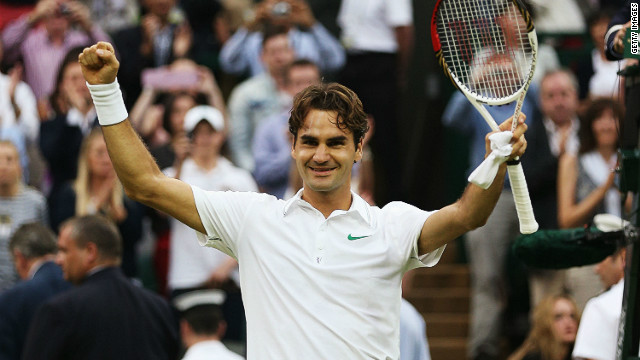 "In about the last two minutes of the match probably is what decided it," the Scot said of his latest clash with Djokovic.
"He broke from 15-40 and then I had 15-40 in the next game and didn't break.
"I think both of us probably see each other's games pretty well. Especially this year, because we've played so much. You kind of know a little bit what to expect.
"I think that's why all the matches, especially the last few, have been so close and decided by a few points. The intensity of my matches with him have been extremely high this year.
"I think both of us probably have seen things in each other's games improve and that's why there's a lot of long rallies and the matches are incredibly tight."
They both have some way to go before matching Roger Federer, who has won the tournament a record six times and on Wednesday was named the ATP Tour's most popular player by fans for the 10th year in a row.
The 31-year-old, who conceded the year-end No.1 ranking to Djokovic when he decided against defending his Paris title last week, also won the ATP's top sportsmanship award -- voted for by his peers -- for the eighth time in his career.
"We have great matches all over the world, and the recognition is a great feeling. We're trying to inspire the next generation," said the 17-time grand slam champion, who beat Janko Tipsarevic in his opening round-robin match on Tuesday.