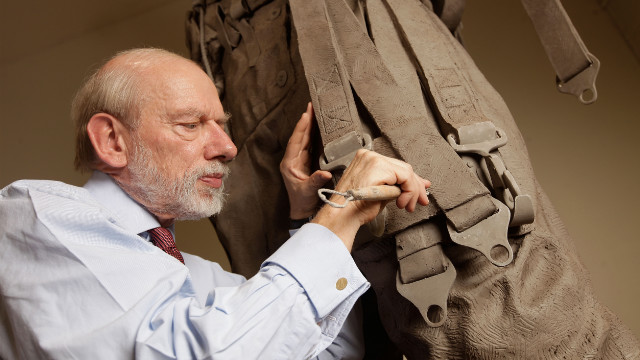 Like Alex Ferguson, sculptor Philip Jackson was born in Scotland. Here he is pictured working on The Bomber Command Memorial Sculpture, which is situated in London's Green Park, and was unveiled by the Queen in June.
Jackson was also the artist who created the statue of former England captain Bobby Moore, which is located at Wembley Stadium. The statue, standing six meters in height and weighing approximately two tons, commemorates when Moore captained England to World Cup glory in 1966.
The Alex Ferguson sculpture is the third Manchester United piece Jackson has produced. His statue of George Best, Denis Law and Bobby Charlton, which stands outside Old Trafford, depicts three of the club's greatest players.
Jackson's first Manchester United related sculpture depicted former manager Matt Busby, who was a key figure in creating the club's attacking philosophy of football which Ferguson has helped maintain.
Jackson's bronze scultpture of Ferguson is nine foot in height. It will be unveiled ahead of United's home game against Queens Park Rangers on November 23.
A number of other English clubs have commissioned artworks to remember former managers, notably Bobby Robson, who managed a number of clubs including Ipswich Town, Barcelona and Newcastle United as well as England. This statue of Robson is outside Newcastle United's St James' Park.
Manchester United's great rivals Liverpool have a statue of former Scottish manager Bill Shankly outside their Anfield ground.
It is not just managers and players who have been immortalized in sculpture form. In Baku, Azerbaijan, there is a statue of the 1966 World Cup final linesman Tofig Bahramov outside the Tofig Bahramov stadium. Here former West Germany goalkeeper Hans Tilkowski and former England striker Sir Geoff Hurst are pictured standing next to the the Bahramov statue in June 2011.
The moment French football superstar Zinedine Zidane headbutted Italy's Marco Materazzi in the 2006 World Cup final has been immortalized in a five meter bronze statue. The statue, positioned outside of Paris' Pompidou Museum, is the work of Algerian-born artist Adel Abdessemed.
More unusually in April 2011, Fulham chairman Mohamed Al Fayed unveiled a statue in tribute to singer Michael Jackson, who died in 2009, outside the English Premier League club's Craven Cottage ground.
Fellow Scots
England legend Moore
Man Utd's "Holy Trinity"
Busby in bronze
Ferguson artwork
Bobby Robson remembered
Shanks sculpture
Linesman cast
Zizou's bronze butt
Tribute to singer Jackson
STORY HIGHLIGHTS
Alex Ferguson will be honored with a statue outside Man Utd's stadium
The nine-meter bronze sculpture will be unveiled on November 23
Briton Philip Jackson is the artist commissioned to produce the artwork
Jackson has worked with United on two previous commissions
(CNN) -- Alex Ferguson is the legendary Manchester United coach who once sent a boot flying into the face of David Beckham, but a British sculptor has revealed a softer side to the formidable Scot.
Ferguson recently celebrated 26 years as United's manager this week, during which time he has won trophies at home and abroad as well as gaining a fierce reputation for the "hairdryer treatment" he dishes out to his players.
But that was not the man sculptor Philip Jackson encountered after being commissioned to produce a nine-foot bronze statue of Ferguson which was unveiled on Friday with a host of United legends in attendance.
"He's a very interesting character," Jackson, based in the English county of Sussex, told CNN when asked about the 70-year-old United boss.
"He's much more than you seen on the television.
"When he came down to the studio he said, 'Did you know that Gore Vidal had died?' and 'Have you read the new biography of Charles de Gaulle?' He's a very well-read man."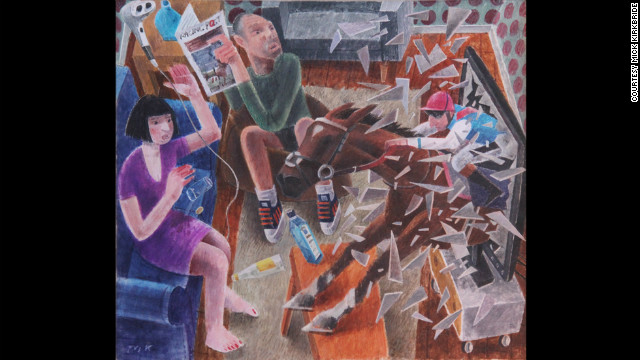 Artist Michael Kirkbride's painting, "Armchair Ride," was inspired by a poem about Frankel demolishing the field in last year's 2000 Guineas race.
Kirkbride painted the piece in egg tempura; a mixture of colored pigment and egg yolk which dates back to the 1st Century.
The British artist is perhaps best known for his paintings of English football scenes, including "Bar Kick," a surrealist look at sporting revelry in a pub.
British thoroughbred Frankel remained unbeaten in 14 consecutive races. The colt won his last ever race in the Champions Stakes at Ascot.
Leonardo da Vinci's 16th Century masterpiece "Mona Lisa," on display in Paris's Musee du Louvre, is one of the most visited artworks in the world. The famous portrait is thought to be of Lisa Gherardini, the wife of Francesco del Giocondo.
Pablo Picasso's 1937 painting "Weeping Woman" depicted long-time mistress Dora Maar. Their notoriously tempestuous relationship lasted nine years.
Frida Kahlo was the wife and muse of Mexican artist Diego Rivera. An acclaimed artist in her own right, today Frida is the more renowned of the pair, with actress Salma Hayek playing her in the 2002 biographical film "Frida."
Spanish artist Salvador Dali's wife Gala featured in many of his works, including 1949 painting "The Madonna of Port Lligat". She was also the muse of first husband, French poet Paul Eluard.
Andy Warhol catapulted model and actress Edie Sedgwick to "It Girl" status in his avant-garde films of the 1960s.
British artist Lucien Freud caused a stir with his 1995 painting of Job Centre supervisor Sue Tilley, called "Benefits Supervisor Sleeping." The naked woman weighed around 127kg at the time.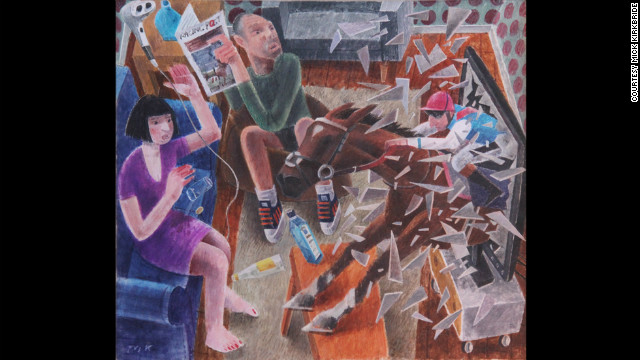 My muse: A race horse called Frankel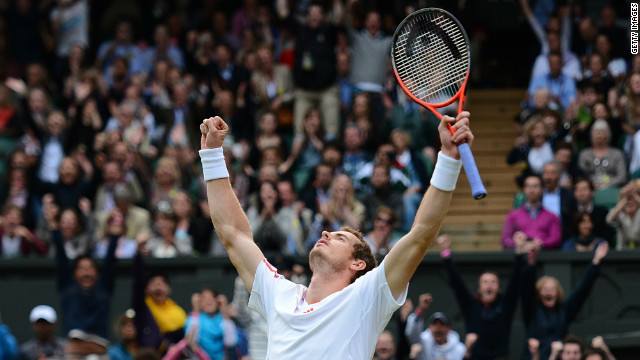 Expectation weighs on Andy Murray at Wimbledon every year, with the British crowd eager to see one of the nation's male tennis players win the singles title for the first time since 1936.
Murray has assumed the position once held by Tim Henman as Britain's premier tennis hope. Henman reached the Wimbledon semifinals on four occasions between 1998 and 2002.
It has become a Wimbledon tradition for fans to gather on a large grassy bank outside of Centre Court to watch games on a large screen. The area was once known as "Henman Hill" and has since been rechristened "Murray Mound".
The last British winner of the men's singles title was the great Fred Perry, who won Wimbledon in three consecutive years between 1934, 1935 and 1936.
British tennis fans aren't the only supporters who have had to wait for glory. The Boston Red Sox won baseball's World Series five times between 1903 and 1918. But after selling Babe Ruth in 1919-1920 offseason, the Red Sox did not win the World Series again until 2004, when they beat the St.Louis Cardinals.
Ferrari are one of Formula One's most celebrated teams. But, by year 2000, it had been 21 years since the legendary Italian manufacturer produced a drivers' champion. Step forward Michael Schumacher, who claimed the title for Ferrari in 2000 and in each of the following four seasons.
New Zealand have been the most dominant team in rugby union for a number of years, but the World Cup title had proved out of their grasp since 1987. The All Blacks addressed that last year, winning the Webb Ellis trophy at their own World Cup.
Manchester City had been branded "noisy neighors" by Alex Ferguson, the manager of local rivals Manchester United. But after an Abu Dhabi-funded takeover in 2008, City embarked on a huge spending spree which resulted in an English Premier League title triumph last season. It was City's first league title win since 1968.
One team still waiting to achieve their goal is Brazil, who need an Olympic gold medal to complete a clean sweep of fooballing honors. Brazil won bronze at Beijing 2008, after a 3-0 semifinal defeat to archrivals Argentina.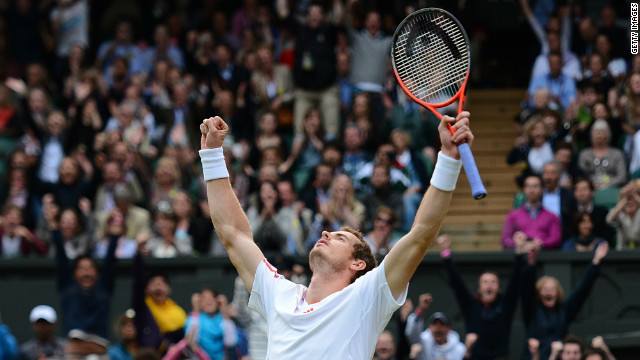 Sport's longest waits
Over the last quarter of a century, Ferguson has overseen United's ascent to the top of English football.
The Old Trafford team has won 12 league titles under his stewardship, helping it to a record 19 English championships overall, in addition to two European Champions League triumphs.
Benign expression
Raised in the working-class district of Govan in Glasgow, the 70-year-old Ferguson is a staunch supporter of the British Labour Party.
As a manager Ferguson has a no-nonsense reputation, letting go of top players like Beckham, Roy Keane, Jaap Stam and Ruud van Nistelrooy when he senses they have outlived their usefulness to the United cause.
A long-running spat with the BBC saw Ferguson refuse to speak with the British broadcaster for seven years after a 2004 documentary made unproven allegations of wrongdoing against his football agent son Jason.
But fellow Scotsman Jackson wanted to capture a different side of Ferguson for the sculpture which was unveiled during a ceremony ahead of Saturday's match with Queens Park Rangers -- the team he faced in his first match in charge at Old Trafford in 1986.
"I wanted him to have a slightly benign expression on his face, so that's what he's got. He's wearing the sort of clothes he would wear at a match in the winter."
Amalgam
Jackson was already known to United's hierarchy after producing sculptures of former manager Matt Busby and the legendary playing trio of George Best, Bobby Charlton and Denis Law.
"I'd already done the Matt Busby sculpture for Manchester United some 12-15 years ago," said Jackson, who in his role as royal sculptor has produced works ranging from the archangel Gabriel and Constantine the Great to the young Mozart.
"I did the United trinity of Best, Charlton and Law and when that was completed we talked about doing Alex. I didn't do anything immediately.
"There was an opportunity when his 25th anniversary came up and they decided to name a stand after him. So it was decided it should be done to go in front of that."
In order to do justice to a man as respected as Ferguson, Jackson built up an in-depth knowledge of his personality and appearance during several meetings.
"I went up to see him, took a lot of photographs of him and spent some time watching him at a match," explained Jackson, who also produced a sculpture of England's World Cup-winning squad of 1966 which is outside Wembley Stadium.
"I got a lot of photographs from the Manchester United archives and also a lot of books that had been written about him.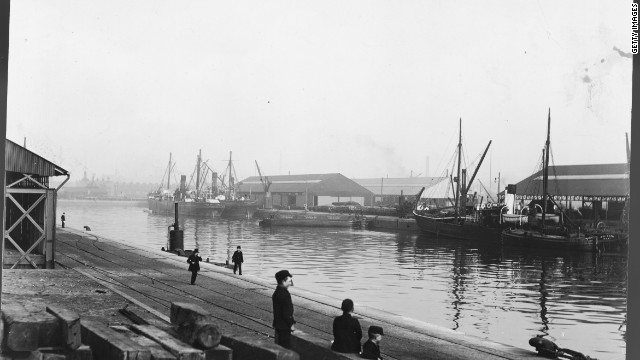 It has been suggested the rivalry between the cities of Manchester and Liverpool can be traced back to the construction of the Manchester Ship Canal. Tired of paying their dues to import through the Mersey estuary, Manchester merchants built their own waterway, leaving Liverpudlian dock workers disgruntled and out of pocket.
Both United and Liverpool are have had to endure their fair share of tragedies. United lost an entire generation of young, promising stars in 1958, when a plane carrying the team back from a European Cup match in Belgrade crashed on a snowy runway in Munich -- killing eight players.
The shadow of the 1989 Hillsborough Stadium disaster has loomed large over Liverpool for over two decades. A total of 96 Liverpool fans lost their lives in a fatal crush before and during an FA Cup semifinal against Nottingham Forest. An independent report recently released absolved Liverpool fans of any blame for the tragedy, instead pointing the finger of blame at the authorities.
At times, the two sets have fans have used the two tragedies as a way of trying to provoke each other. On the pitch, this picture shows Manchester United captain Gary Neville wearing a black armband in honor of the Hillsborough victims during a match in 2004.
United and Liverpool have both enjoyed success in the European Cup, now known as the Champions League. In the 1999 final, United stunned the footballing world by scoring twice in injury time to beat Bayern Munich 2-1 and complete an historic league, FA Cup and Champions League treble.
Liverpool pulled off a shock of their own in 2005. At half-time against Italian giants AC Milan in Istanbul, Rafael Benitez's Liverpool found themselves 3-0 down. During an incredible second half, Liverpool scored three times before sealing a fifth European triumph when goalkeeper Jerzy Dudek saved Andriy Shevchenko's penalty in a shootout.
The rivalry between Manchester and Liverpool also spills over into areas of popular culture. Indie band Oasis are arguably Manchester's most famous musical export. Brothers Liam and Noel Gallagher are, however, Manchester City fans.
To this day, the music of the Beatles helps to put the city of Livepool on the map. "The Fab Four" of John Lennon, Paul McCartney, Ringo Starr and George Harrison were global megastars between 1960 and 1970.
By winning the Premier League title at the end of the 2010-11 season, Manchester United became English champions for a record 19th time -- overhauling Liverpool's total of 18.
The rivalry between the two clubs reached new heights last season. Liverpool's Luis Suarez was handed an eight-match ban by the Football Association for racially abusive Manchester United's Patrice Evra. In the return fixture, Suarez refused Evra's hand in the pre-match handshake.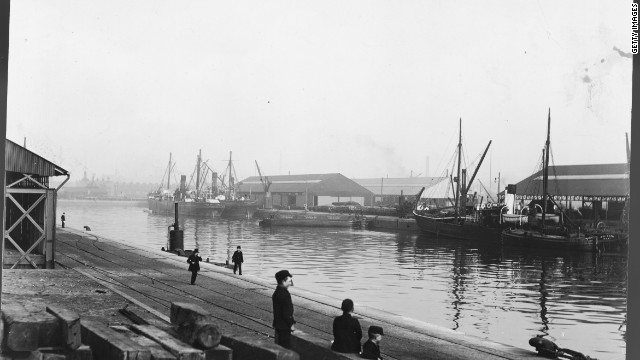 Liverpool vs. Manchester United: A rivalry in pictures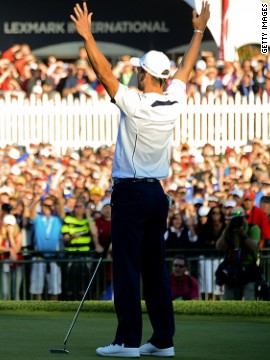 German Martin Kaymer milks the moment as his putt on the 18th green ensures Europe will retain the Ryder Cup. His defeat of Steve Stricker capped an improbable comeback, as the Europeans triumphed 14½-13½ despite trailing 10-4 at one stage on Saturday.
Justin Rose punches the air as he caps an unlikely comeback of his own, defeating Phil Mickelson on the 18th green after being one down with two to play. The American described his loss as one of the turning points of the 2012 Ryder Cup.
Europe's victory echoed the 1999 Ryder Cup, where the U.S. also came from 10-6 down to win 14½ - 13½. The 'Battle of Brookline' was bathed in controversy as U.S. players stormed the 17th green in celebration at s crucial Justin Leonard putt. Golfing etiquette had been broken as Leonard's opponent, Jose Maria Olazabal, could still have squared their match.
Jean Van de Velde (middle) looks bewildered as he reflects on his defeat in the 1999 British Open. The Frenchman blew a three-shot lead on the final hole, so forcing a play-off with Justin Leonard (right) and Scotland's Paul Lawrie (left) which the latter won to seal his first major, despite trailing Van de Velde by an enormous 10 strokes before the final round took place.
Liverpool players celebrate with goalkeeper Jerzy Dudek (in black) after the English side completed their remarkable comeback against Italians AC Milan in the 2005 European Champions League final. Trailing 3-0 at half time, Liverpool scored three goals in six second half minutes in Istanbul to force extra time and a penalty shoot-out, which they won 3-2.
Players and fans of Manchester City celebrate after winning their first English title since 1968. City trailed Queens Park Rangers 2-1 but scored two stoppage time goals to win 3-2 - and so deny city rivals Manchester United the title. The success echoed United's 1999 Champions League triumph in Barcelona, where they beat Bayern Munich 2-1 despite trailing after 90 minutes.
Having won the last four gold medals, the Soviet Union were hot favourites to win ice hockey gold at the 1980 Winter Olympics. Few expected Team USA - made up of amateur and college players - to stop them but they defied the odds to beat the Soviets 4-3 in a semifinal which became known as 'The Miracle on Ice.' They went on to win gold against Finland in the final.
Despite being two sets and 5-1 down in his semifinal, Frenchman Henri Cochet managed to win the 1927 Wimbledon title. He stunned the world No. 1, American Bill TiIden, in the semis before repeating his escapology act in the final, trailing by two sets once more and surviving six match points before rallying to win in five sets for a third successive game.
It is the one-day cricket international that may never be equalled. Set a world record score of 435 to win in their allotted 50 overs, Graeme Smith's South Africa beat Australia in Johannesburg after racking up 438 runs, with just one wicket and one ball to spare.
It is baseball's greatest fairytale comeback. In August 2001, the Seattle Mariners were on their way to equalling the major league record of 116 victories in a season. They led the lowly Cleveland Indians 14-2 at the halfway stage and though the Indians rallied they still needed five full runs with only one out remaining - and got them to win 15-14 in the 11th innings, with Kenny Lofton grabbing the crucial score.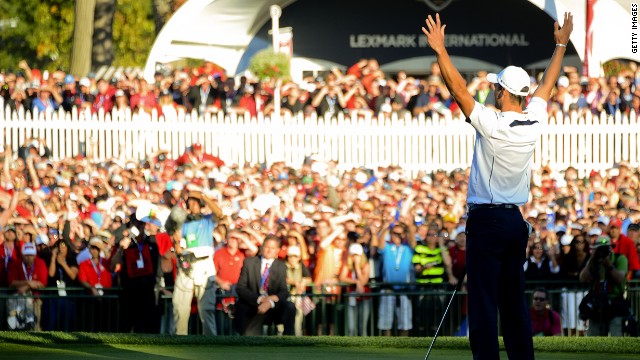 The greatest sporting comebacks
"To start of piece of sculpture is almost like researching for a book, you have to get to know the person very well.
"It's an amalgam of everything I've seen of him and the meetings I've had with him. I've done him fairly pensive. He often stands on the edge of the pitch deciding on what's going to happen next. That's the moment I've chosen to record."
When capturing a character like Ferguson, how did Jackson select one stationary pose to epitomize a coach who is most often seen wildly gesticulating from the sidelines?
"I imagine him standing on the touchline in deep concentration, about to say something to the team which is going to change the tactics somewhat," he replied.
"One of the things he does is when the team has won or someone has scored a goal, he tends to put his hands in the air and wave them backwards and forwards.
"That's a very good pose for film, but it's not a good pose for sculpture as it makes him look like he's surrendering."
Ancient tradition
Sports stars have long been the subject of works of art, with the athletes of ancient Greece often honored with carvings and statues.
"Sports sculptures, the tradition goes back to Greco-Roman times," said Jackson.
"If you look at Greek sculpture, it's all of athletes or people who took part in the Games. It is carrying on a very long tradition."
There are practical advantages of depicting sportsmen for sculptors.
"They have generally come to a job through being young, athletic sportsmen," added Jackson.
"The theme of fitness continues throughout their life. It makes them easier to sculpt because their bodies are well proportioned."
Read: 'Ode to defeat': Zidane headbutt immortalized in bronze statue
The sculpture of Ferguson will be the latest in a long line of monuments proudly displayed by English football clubs.
Ferguson's fellow Scot Bill Shankly has a tribute outside Liverpool's Anfield Stadium for the three league titles he won for the club between 1964 and 1973.
Newcastle United unveiled a statue of much-loved former manager Bobby Robson earlier this year. Robson, England's coach during the 1990 World Cup, was a native of the north east and occupied the Newcastle hotseat for five years.