STORY HIGHLIGHTS
Chelsea announces profit of $2.2 million for the period ending June 30, 2012
It is the first time the English club has been in black since Roman Abramovich took over
Russian has bankrolled Chelsea in recent years but new rules threaten to curb this
Club says it now has the fifth largest turnover of any team in Europe
(CNN) -- Chelsea's onfield successes this year have led to the European soccer champions' first financial profit during the nine-year reign of owner Roman Abramovich.
The Russian billionaire has bankrolled the English Premier League club since buying it for a nominal fee in 2003, posting big losses every year since then as he has sanctioned spending sprees to sign some of the sport's biggest players.
Last year ended in a loss of £67.7 million ($108 million) but the figures up to June 30, 2012 reveal a profit of £1.4 million ($2.2 million).
Chelsea also announced on Friday that it had made a record turnover of £255.7 million ($407 million) -- which it said is the fifth largest of any European club.
That was a boost of £33 million ($52 million) from last year, driven by the club's first UEFA Champions League title and a profit on player sales of £28.8 million ($46 million).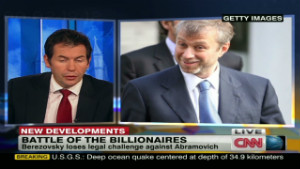 Battle of the Russian billionaires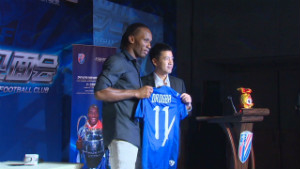 Didier Drogba welcomed to China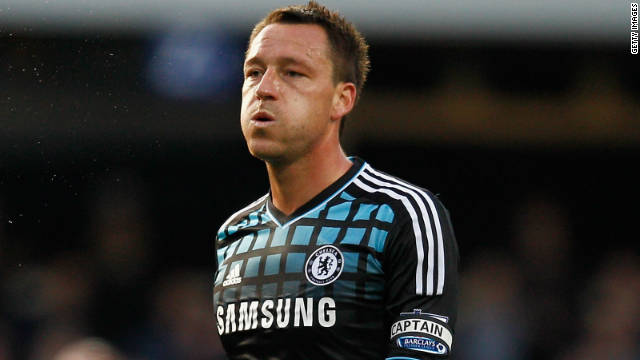 It is now nearly a year since Chelsea lost to QPR 1-0 in an English Premier League game at Loftus Road. During the game it was alleged QPR defender Anton Ferdinand swore at John Terry and made reference to the Chelsea captain's reported affair with the ex-partner of former team-mate Wayne Bridge. Terry is then said to have described Ferdinand as a "f***ing black c***".
In July, Terry was cleared in a London court, where the criminal burden of proof is "beyond all reasonable doubt". But the English Football Association then investigated the case, and using the test of "on the balance of probabilities", came to the conclusion that Terry's defence against claims he racially abused Ferdinand was "improbable, implausible, contrived".
Back in September, Ferdinand had declined Terry's offer of a handshake when QPR met Chelsea at Loftus Road as the feud between the two players rumbled on.
After the FA delivered the independent commission's report on the Terry case, the Chelsea captain's teammate Ashley Cole tweeted: "Hahahahaa, well done #fa I lied did I, #BUNCHOFT***S". The Chelsea and England left-back quickly issued a "unreserved apology" for his tweet through his solicitor.
In 2011 the FA had to deal with another racism case, this time handing Liverpool striker Luis Suarez an eight-match ban and a $63,000 fine after finding the Uruguayan guilty of racially abusing Manchester United defender Patrice Evra.
Suarez and Evra failed to shake hands before the start of an English Premier League game at Old Trafford last season after the Uruguayan had served his ban. However, when United beat Liverpool 2-1 at Anfield in September, the pair did shake hands.
Questions have been raised about UEFA's sanctioning policy. Denmark striker Nicklas Bendtner was fined $126,000 and banned from playing in his side's next competitive game for flashing his sponsored waistband promoting a bookmaker as he celebrated a goal against Portugal in Euro 2012. But that fine eclipsed the $52,000 fine that UEFA handed to the Bulgarian Football Union for its fans' racist abuse of England players during a Euro 2012 qualifier in Sofia in September 2011.
In November 2011, FIFA president Sepp Blatter told CNN that football did not have a problem with racism on the field and any incidents should be settled by a handshake.
The FA's Independent Regulatory Commission heard 473 cases between December 2010 and December 2011, but only two of them ended in "not guilty" verdicts.
Stoke City boss Tony Pulis wants the Football Association to punish Liverpool's Luis Suarez for diving. "It's an embarrassment," said the Stoke manager after a 0-0 draw at Anfield. "The FA should be looking at this."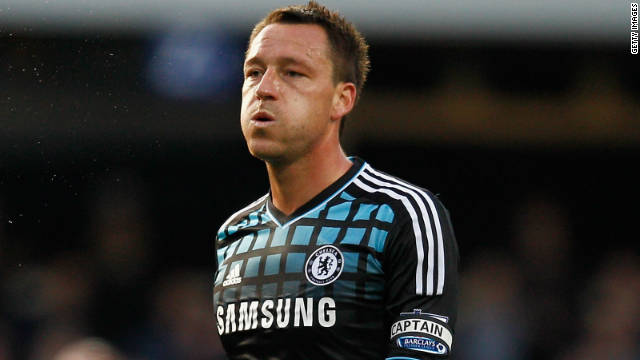 Crime and Punishment in sport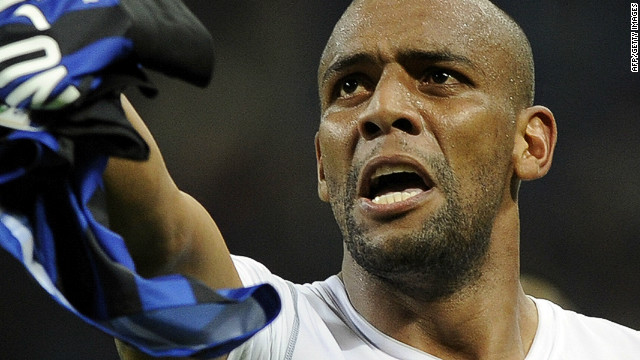 From Inter Milan to Manchester City: The reigning English Premier League champions have snapped up right-back Maicon for an undisclosed fee to help boost their bid for domestic and European honors in 2013. The Brazilian international has been at the San Siro for the past six seasons and made 235 appearances for the club.
Spurs to Hamburg: The Dutch international returns to the Bundesliga after a successful two-year spell at the north London club. Van der Vaart played for Hamburg from 2005 to 2008 before joining Spanish champions Real Madrid.
Manchester United to Fulham: With the arrival of Robin van Persie from Arsenal earlier this month, the chances of Dimitar Berbatov playing even more of a bit part at Old Trafford have only increased. Fulham have been the benefactors of Alex Ferguson's growing indifference to the player he signed for $47 million from Tottenham Hotspur in 2008. The 31-year-old Bulgarian rejected suitors in Italy, notably Juventus and Fiorentina, to stay in the English Premier League.


The $55 million paid by PSG for 19-year-old midfielder Lucas Moura broke the Brazilian transfer record for the third time this year, eclipsing the fee the French club spent on Thiago Silva and Chelsea's deal for Oscar. He will move to Paris in January, becoming the sixth Brazilian at the club.
Sao Paulo to Paris Saint-Germain


At $50.75 million, Thiago Silva is the world's most expensive defender in terms of upfront transfer fees -- though the largest including add-ons remains Rio Ferdinand's move from Leeds to Manchester United, which eventually rose to $150,000 more than the Brazilian's total). The 27-year-old spent three years in Italy with AC Milan and is an established international.
AC Milan to Paris Saint-Germain


Spain midfielder Javi Martinez completed a "complicated" move to the Bundesliga giants after activating a $50 million buyout clause in his contract that left him having to foot some of the bill.
Athletic Bilbao to Bayern Munich


Luka Modric completed his long-awaited switch from English club Tottenham Hotspur to Spanish champions Real Madrid for a reported $50 million. After attempting to force a transfer ahead of the 2011-12 season, the Croatian has finally got his move away from White Hart Lane.
Tottenham to Real Madrid
Lille to Chelsea
Eyebrows may have been raised upon seeing the size of the $49.5 million transfer fee Chelsea paid for Eden Hazard, but the 21-year-old Belgium winger is one of Europe's biggest talents, having being selected for the Ligue 1 Team of the Year three times in a row.


After a protracted saga of a transfer, Chelsea finally gave in to Internacional president Giovanni Luigi's demands and paid a Brazilian transfer record $39.25 million for 20-year-old midfielder Oscar. Only time will tell if the talented young playmaker is worth the money, but with so many creative options at Roberto di Matteo's disposal he may well have to make an immediate impact or risk spending a season on the bench.
Internacional to Chelsea


Robin van Persie, the English Premier League's top scorer last season, stunned Arsenal fans by joining rivals United for $37 million after refusing to sign a new contract.
Arsenal to Manchester United


Argentina international forward Ezequiel Lavezzi arrives at PSG with a $36.25 million price tag and a big reputation following his five years in Italy. He will link up with another former Serie A star in Zlatan Ibrahimovic.
Napoli to Paris Saint-Germain
Borussia Dortmund to Manchester United
Those who cynically write off $26.25 million signing Shinji Kagawa as nothing more than a ploy to boost United shirt sales in Asia do so at their own peril -- the 23-year-old is a top-level player with excellent credentials: two Bundesliga titles, one German Cup, an Asian Cup and more than 30 appearances for Japan.


Young England international Jack Rodwell was Roberto Mancini's first signing since winning Manchester City's first English league title in 43 years. At $24 million he is far from the most expensive player at the Etihad Stadium, but the highly-rated 21-year-old midfielder is seen as a long-term investment.
Everton to Manchester City


Until last season, Zlatan Ibrahimovic had won the league eight years in a row with five different clubs. The Sweden striker's $24 million move to PSG pushed him further ahead of Nicolas Anelka as the most expensive player of all time, with total transfers of more than $210 million.
AC Milan to Paris Saint-Germain


For the second year in a row, a key Arsenal player has been lured to Spain by Barcelona. Last August it was Cesc Fabregas, this time it's Cameroon midfielder Alex Song. The 25-year-old moved for $23.7 million on a five-year contract, with a release clause of $100 million.
Arsenal to Barcelona


Spain star Santi Cazorla was one of Malaga's marquee signings last season, but is the first of the troubled Spanish club's high-profile players to depart in the midst of financial problems. The winger's $23.5 million fee is similar what he cost when joining from Villarreal.
Malaga to Arsenal
Borussia Monchengladbach to Borussia Dortmund
Finishing fourth in both goals scored and assists last season, Marco Reus almost single-handedly pushed Borussia Monchengladbach to a fourth-place finish in Germany and Champions League football. Champions Dortmund see the 23-year-old, who cost $21 million, as the ideal replacement for Shinji Kagawa -- and if his brief appearances at Euro 2012 are anything to go by he could become much more.


After much interest from all corners of Europe, FC Twente's top-scoring target man Luuk de Jong decided to join Borussia Monchengladbach in an $18. 5 million deal. The 21-year-old, who scored 25 goals in 32 appearances last season, went to Euro 2012 but did not appear for the Netherlands.
FC Twente to Borussia Monchengladbach


With the eyes of the English Premier League's fans firmly set on the Robin Van Persie transfer saga, many have neglected the man coming in to replace him -- $18.5 million France international Olivier Giroud. For all the money PSG spent last season, it was Giroud and his 21 goals which spurred underdogs Montpellier to a first Ligue 1 title.
Montpellier to Arsenal


New Barca boss Tito Villanova acted quickly to fill the gap left since Eric Abidal's liver transplant, bringing in Spain's Euro 2012 surprise standout player Jordi Alba for a bargain $17 million to fill the left-back slot before the tournament had even finished.
Valencia to Barcelona


New Liverpool boss Brendan Rodgers paid $17 million for 21-year-old striker Fabio Borini, whose nine goals in 24 appearances at Roma earned him selection for Italy's Euro 2012 squad. He returns to Britain following an earlier loan spell with Rodgers' former club Swansea.
AS Roma to Liverpool


Lukas Podolski has left his childhood club Cologne for the second time, having struggled to make an impression at Bayern Munich following his 2006 transfer. The Germany star cost Arsenal $15.75 million after scoring 18 Bundesliga goals last season -- which was not enough for "the Billy Goats" to avoid relegation.
FC Cologne to Arsenal


A surprise star of Euro 2012, Mario Mandzukic scored three times in three games for Croatia to be the tournament's equal top scorer. Bayern paid Bundesliga rivals Wolfsburg $15.75 million for the 26-year-old striker's services.
Vfl Wolfsburg to Bayern Munich


Belgium international Jan Vertonghen is already being touted by Tottenham fans as the long-term replacement for injury-plagued former captain Ledley King in the center of defense. His protracted $11.5 million transfer could prove key to the fortunes of new Spurs boss Andre-Villas Boas.
Ajax to Tottenham Hotspur


Chelsea took its spending in the current transfer window to over $100m with the signing of Spanish full back Cesar Azpilicueta from French team Marseille.
Marseille to Chelsea


Germany midfielder Marko Marin agreed his $9.5 million move to Chelsea before last season had even finished, and the 23-year-old is expected to make a big impact for the European champions with the skills that have seen him dubbed "the German Messi."
Werder Bremen to Chelsea


Antonio Cassano has left AC Milan to join city rivals Inter, while fellow Italy striker Giampaolo Pazzini went in the other direction. Milan had to pay a reported $8.7 million extra for Pazzini, who at 28 is two years younger than his former Sampdoria teammate. Cassano, meanwhile, recovered from heart surgery to help Italy reach the final of Euro 2012.
AC Milan to Internazionale


Diego Forlan struggled to impress in his one season in Italy after seven prolific years in Spain's top flight, but the 33-year-old Uruguay striker could prove to be a free-transfer bargain in Brazil for Internacional. He was named best player at the 2010 World Cup, where he was joint top scorer, and has led the goal charts twice in Europe.
Internazionale to Internacional


Midfielder Riccardo Montolivo agreed to join Milan on a free transfer before helping Italy reach the final of Euro 2012, having spent seven years at Fiorentina.
Fiorentina to AC Milan


Turkey midfielder Nuri Sahin failed to impress in in his one season at Real Madrid after being snapped up from German champions Borussia Dortmund, and has been given the chance to kickstart his career in the English Premier League.
Real Madrid to Liverpool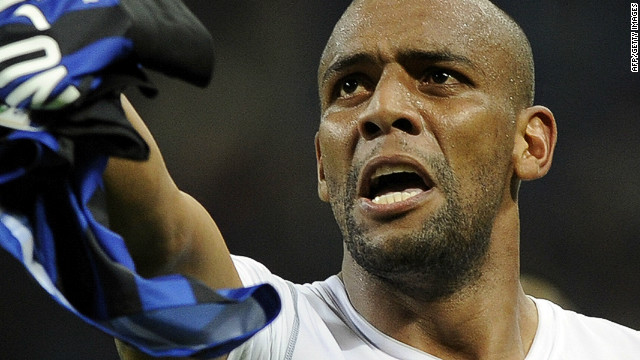 Top European football transfers
The latter figure came despite offloading players such as Didier Droga, Nicolas Anelka and Salomon Kalou on free transfers while spending big on Juan Mata and Romelu Lukaku in that period.
In comparison, Premier League rival Arsenal -- which has a more prudent transfer policy -- made a profit of £30.6 million ($48 million) on turnover of £243 million ($386 million) in figures released in September.
Another key element in Chelsea's finances is that £166.6 million ($265 million) of intergroup debt was capitalized into equity -- effectively personal loans to the club written off by Abramovich -- to leave the club debt free.
Chelsea is one of the clubs under the financial spotlight following the implementation of UEFA's new financial fairplay rules, which require teams to be self sufficient and limit the amount that benefactors such as Abramovich can spend with no expectation of return.
If they don't meet these targets, which are being phased in over a number of years, then clubs face expulsion from top European competitions.
"The big challenge is always to have a successful team on the field that wins trophies and to make a profit at the same time," said Chelsea chief executive Ron Gourlay.
"The objectives have been set across the whole business, from the Academy to Under-21s and all the way through to the first team.
"Our club philosophy is built on success. We had that success on the field this year, as we were the first London team to win the UEFA Champions League, and we enjoyed it off the field as well and this helps us inject financial investment into the team."
Chelsea has also sought to boost its income streams, signing a three-year global energy deal with Russian corporation Gazprom in July while also taking full control of its digital media operations.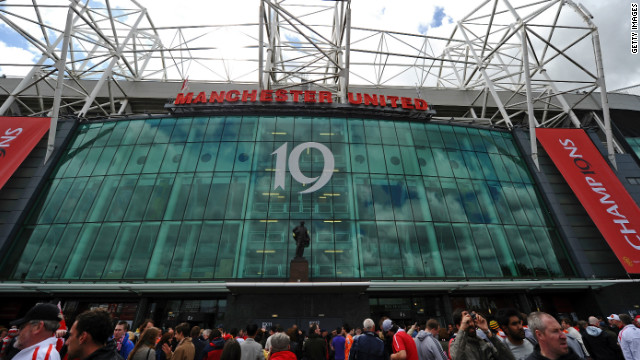 Manchester United is the most valuable brand in football according to a report by independent consultancy Brand Finance. The global appeal and on-field success of the 19-time English champions has helped establish a brand worth an estimated $853 million.
Bayern Munich's players and fans were distraught after losing Saturday's European Champions League to Chelsea, but the German team's brand was second on the list, valued at $786 million.
Real Madrid recently pipped Barcelona to the Spanish title, but both clubs have suffered setbacks financially. Both brands decreased, by 7% and 8% respectively, as a result of the eurozone crisis and its impact on the Spanish economy.
Chelsea's brand value was significantly boosted by the European triumph. The west London club, backed by Russian billionaire Roman Abramovich, is ranked fifth on the list valued at $398 million.
Manchester City's dramatic Premier League title win has increased the value of the Abu Dhabi-owned English club's brand, putting it eighth on the list, worth an estimated $302 million.
The 2011 Major League Soccer champions Los Angeles Galaxy had the honor of meeting President Barack Obama earlier this month. Galaxy, 50th on the list, still struggle to attract commercial rights deals which compare to the club's European counterparts.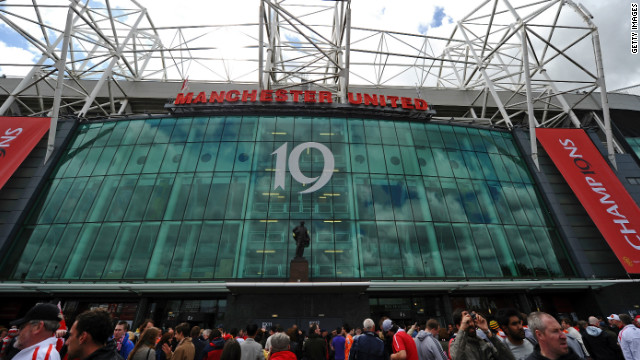 Brand power: Football's most valuable clubs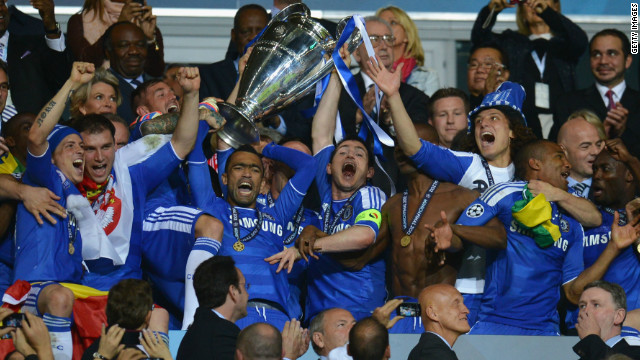 Chelsea's players lift the Champions League for the first time after their dramatic win over Bayern Munich.
Bayern Munich's supporters packed their home Allianz Arena to see their heroes take on Chelsea.
Thomas Mueller celebrates his opening goal for Bayern Munich with just seven minutes remaining.
Didier Droga proved Chelsea's hero with a goal in normal time and the penalty shootout winner.
Arjen Robben is left stunned after his penalty effort is saved by Petr Cech and he cannot convert the follow up.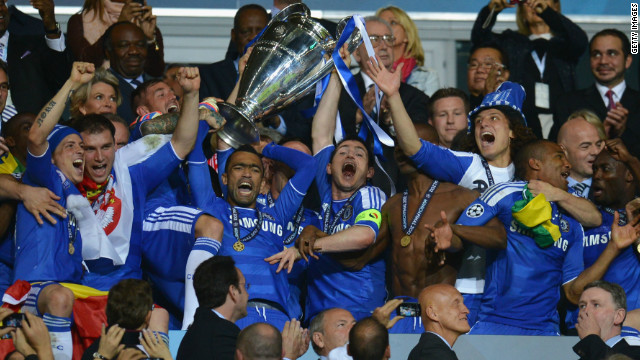 Chelsea win Champions League for the first time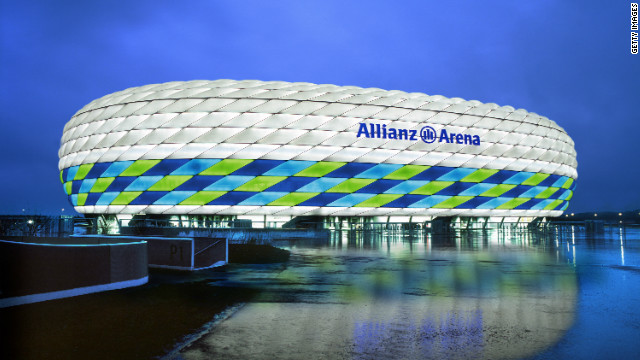 The host venue for Saturday's Champions League final, Bayern Munich's Allianz Arena, has a capacity of 69,000 that the German club sells out for every match.
Chelsea's Stamford Bridge, on the other hand, has a capacity of just 41,837 -- but the English club has similar matchday revenue to Bayern due to higher ticket prices. However, owner Roman Abramovich is seeking to move to a bigger stadium.
Russian billionaire Abramovich has owned 100% of Chelsea since buying the club in 2003. Bayern, on the other hand, is 82% owned by fans -- most German clubs are governed by the "50+1" rule to protect them from aggressive takeovers.
German legend Franz Beckenbauer, left, lifts the European Cup in 1975 -- the second of Bayern's four triumphs. Chelsea skipper John Terry, right, missed a vital penalty in his club's only previous final appearance in 2008.
Bayern coach Jupp Heynckes won Europe's top club tournament with Real Madrid in 1998, while Chelsea's interim manager Roberto di Matteo is seeking to follow up this season's English FA Cup final success.
Bayern will be without (from left) David Alaba, Holger Badstuber, Luiz Gustavo, as the trio are suspended after being booked in the second leg of the semifinal against Real Madrid.
Chelsea's dramatic semifinal win over defending champions Barcelona came at a cost as Terry (left) was sent off, and Branislav Ivanovic, Raul Meireles and Ramires picked up yellow cards to also be ruled out of the final.
Bayern's record signing is $40 million top scorer Mario Gomez. Chelsea splashed out twice that on Fernando Torres, who has struggled to find the net since leaving Liverpool in January 2011. Bayern's revenue is higher, but Abramovich has funded Chelsea's spending sprees.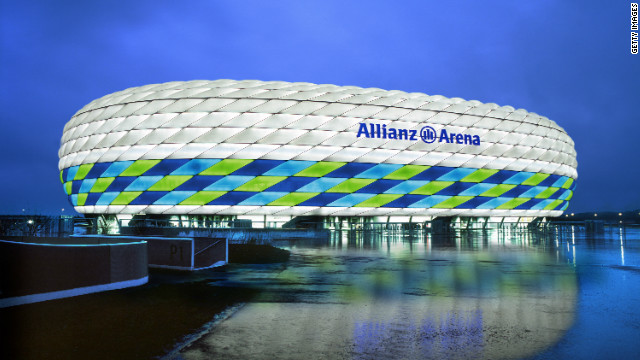 Bayern vs. Chelsea: Final figures
"We're in favor of Financial Fair Play," manager Roberto di Matteo told reporters on Friday ahead of this weekend's home clash with Liverpool.
"We're doing everything in our power to comply with the new rules, and this is great news for the club.
"For the first time, we've been able to achieve a profit -- also thanks to the success on field, but off field as well, with new sponsor deals and also the transfer market.
"Going forward, I think that puts Chelsea in a strong position to remain competitive at domestic level but also international level."
It has been a mixed season so far for Chelsea, with impressive onfield performances marred by racism controversies.
Captain John Terry has just completed a four-match ban for abusing a black opponent a year ago, while the club has lodged a complaint against EPL referee Mark Clattenburg over alleged racist remarks made to Nigerian midfielder John Obi Mikel.
A Chelsea fan has also been arrested for making an alleged monkey gesture towards a Manchester United player during last week's English League Cup match at Stamford Bridge.