'Wozilroy' struggling in Singapore rain
November 9, 2012 -- Updated 1948 GMT (0348 HKT)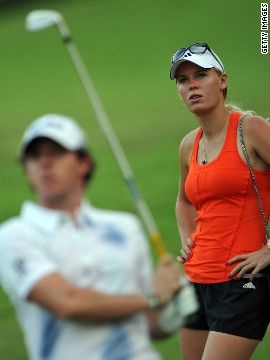 Caroline Wozniacki watches boyfriend Rory McIlroy during the continuation of the weather-delayed first round of the Singapore Open.
The Danish tennis star tweeted that she had not enjoyed having to get up at 5.15 a.m. as McIlroy got ready to resume the tournament.
McIlroy took a break last week to watch Wozniacki's final tournament of the year, and she returned the compliment as he returned to action following his "Duel at Jinsha Lake" against Tiger Woods.
Half of the tournament's players were unable to start their second rounds on Friday due to ongoing rain delays and the threat of lightning.
McIlroy is struggling with illness as he seeks to clinch a notable money list double on both the European and U.S. PGA Tours, emulating Luke Donald's feat last year.
Go Rory!
Early rise
'Wozilroy' reunited
Stormy weather
Big incentive
STORY HIGHLIGHTS
World No. 1 Rory McIlroy under the weather in bid to complete double money list wins
His tennis star girlfriend Caroline Wozniacki is accompanying him in Singapore
Rain delays have caused havoc with the tournament's schedule, meaning early starts
The $6 million event may be reduced to 54 holes for the second year in a row
(CNN) -- Rory McIlroy's bid to clinch the European Tour money list has been hit by bad weather in Singapore -- and the world's No. 1 golfer has revealed that his tennis star girlfriend is not enjoying the experience.
Caroline Wozniacki traveled to Asia to be by his side after her season ended last weekend at a tournament final in Bulgaria, but the couple -- dubbed "Wozilroy" -- has had to put up with rain and early-morning starts.
"Nearly 12 hours at the golf course already today! @CaroWozniacki really enjoying her holiday this week... Not!!," he wrote on Twitter, where he posted a less than flattering picture of the Dane slumped asleep on a desk.
McIlroy, unable to complete his first round on Thursday, came back early to post a one-under-par 70 and was then level after 12 holes when the second round of the $6 million event was again halted.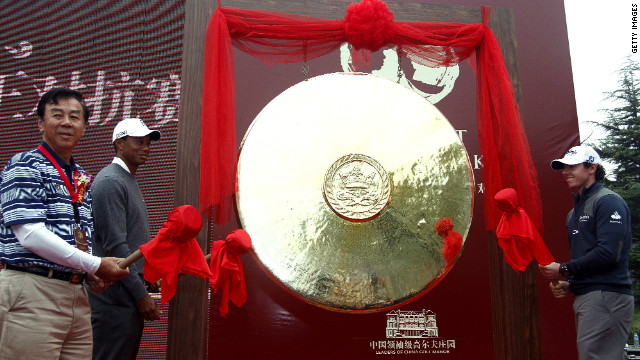 Rory McIlroy and Tiger Woods look on in amusement before banging a ceremonial gong to mark the start of their "Duel at Jinsha Lake."
Both McIlroy and Woods, pictured above, had their handprints immortalized in clay as a lavish ceremony featuring drum majorettes and fireworks preceded their clash in the Chinese city Zhengzhou.
World No. 1 McIlroy cannot keep a straight face as the players pose at the first green, ahead of a clash reported to be paying the pair a combined total of $2 million.
"The scene was barely-controlled chaos," wrote Sports Illustrated's Alan Shipnuck. "Some 3,000 fans streamed across the fairways, with soldiers locking arms in a human fence to keep the throngs off the greens."
A course marshall practices kung fu as she awaits the golfers' arrival.
"On the tee boxes there were so many camera clicks it sounded like machine gun fire," Shipnuck wrote.
Local golf fans talk with one of the models who inhabited the greens in their evening wear in scenes seldom seen on any golf course.
Woods tries to maintain focus as a luxury boat passes by, with the clubhouse car park also boasting a collection of Rolls-Royces, Ferraris, Aston Martins and Maseratis.
Young fans show their support for McIlroy and Woods in a country that is seen as the next great market for golf to conquer.
McIlroy never trailed Woods after starting with a birdie, going on to card a five-under-par 67 -- one less than the world No. 2.
McIlroy awaits his trophy on a day that coincided with the launch of the multi-million-dollar "Golf Villas" to be built around the Jinsha Lake course.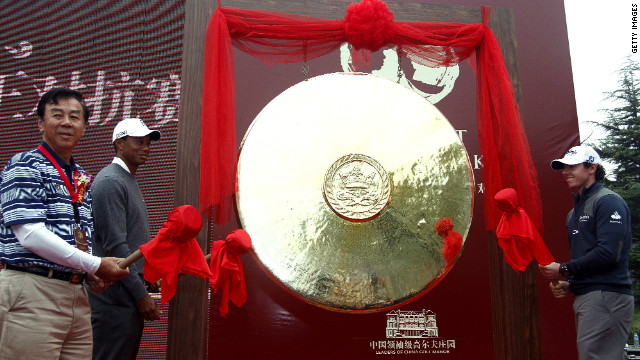 Duel at Jinsha Lake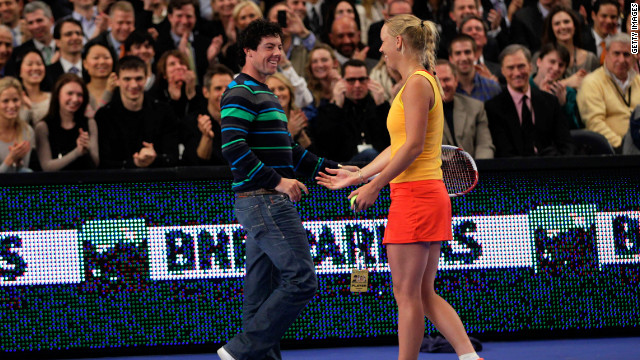 Love match. Caroline Wozniacki welcomes her boyfriend Rory McIlroy onto the court at Madison Square Garden.
Wrong sport Rory ! McIlroy addresses a tennis ball golf style with Maria Sharapova at the other end.
Golf ace Rory McIlroy shows he is a dab hand at tennis with a backhand return against Maria Sharapova.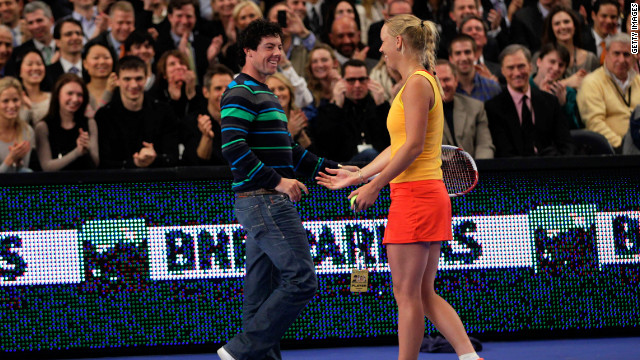 Love match. Rory takes on Sharapova for Caroline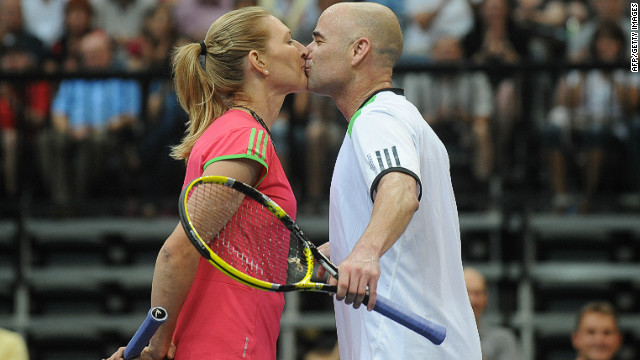 Tennis' ultimate poster couple are still going strong after 10 years of marriage since reportedly getting together at the champions' ball after both won the French Open in 1999. They have two children and still play the odd charity match, but rarely battle each other. As their website reveals: "Andre says his problem playing Steffi is not watching the ball."
Roger Federer met Mirka Vavrinec at the Sydney Olympics in 2000 when they both represented Switzerland. Mirka says her husband's glittering career has eased her pain after injury forced her retirement in 2002. Of his wife, Roger told the Telegraph newspaper: "I developed faster, grew faster with her. I owe her a lot."
She is the former world No. 1 waiting to land her first major title -- he's the baby-faced golfer whose capitulation at the 2011 Masters, and subsequent victory at the U.S. Open, entranced the sport. Together since September last year, Denmark's Wozniacki and McIlroy, from Northern Ireland, go by the moniker of "Wozilroy" and say they lean on each other's experiences to help their sporting performance.
World No. 8 Adam Scott's appearance at last month's Australian Open confirmed that another powerful golf and tennis combo are back on the scene. They split in 2010, but 2008 French Open champion Ivanovic told Australian newspaper the Herald Sun: "Sometimes you need time apart to figure things out."
Hewitt and Clijsters, both former world No. 1s, met at the Australian Open in 2000, reportedly after Kim's sister Elkie asked her to get Lleyton's autograph. They announced their engagement in 2003 but split in October 2004. Both decried the "malicious gossip" that followed their separation.
Chris Evert's romance with Jimmy Connors was one that captivated the sporting world after they both won Wimbledon singles titles in 1974, but a planned wedding in November that year was called off. Tennis writer Peter Bodo famously said of the couple: "It was a match made in heaven, not on Earth, which is probably why it didn't last."
The courtship of former world No. 8 Kournikova and pop star Iglesias was the very definition of a high-profile romance when they started dating in 2001. The Russian appeared in the video for Iglesias' song "Escape," causing a media frenzy. They are still together, 10 years on.
British pop star Cliff Richard revealed in his 2008 autobiography "My Life, My Way" that he nearly asked 1976 French Open winner Sue Barker -- now a TV presenter -- to marry him in 1982. The couple's relationship attracted much press attention. "I seriously contemplated asking Sue to marry me," he wrote. "But in the end I realized that I didn't love her quite enough to commit the rest of my life to her."
They grew up in the same town and were instantly dubbed the "Czech mates" when they started dating in 2003. But they split in 2011, with Czech model Ester Satorova seen watching world No. 7 Berdych at November's season-ending ATP World Tour Finals in London.
After her split with Connors in 1974, 18-time grand slam winner Evert married British tennis pro John Lloyd in 1979, the same year he reached the Australian Open final. Evert's alleged affair with late British pop star Adam Faith threatened to derail their marriage. They reconciled, but then divorced in 1987.
Former women's No. 1 Hingis became engaged to Stepanek in 2006 but a year later the couple announced through the ATP Tour they had split. Hingis, who won five grand slam titles, retired in 2007 after testing positive for cocaine during Wimbledon. Stepanek married fellow Czech Nicole Vaidisova in July 2010.
A third entry to the list for Evert, whose romance and susbsequent marriage to Australian golfer Greg Norman -- known as the "The Great White Shark" -- captured headlines in 1998. Evert even caddied for the two-time British Open winner at the Masters during a par-three tournament. The couple split 15 months after their wedding.
Former world No. 1 Andy Roddick famously began dating Brooklyn Decker in 2007 after asking his agent to track down a phone number for the Sports Illustrated model. They were married in 2009 at a ceremony that included Agassi and Graf as guests.
The romance between Russian tennis ace Sharapova and Slovenian basketballer Vujacic blossomed in 2009 before their engagement was announced in October the following year. The former L.A. Lakers star can often be seen courtside, cheering the three-time grand slam winner on at major tournaments. He now plys his trade in Turkey.
Before Agassi teamed up with Graf, he married actress Brooke Shields in 1997 after a four-year courtship. Agassi, winner of three grand slam titles by then, and Shields, star of TV sitcom "Suddenly Susan," were a box office hit but split after less than two years of marriage in 1999.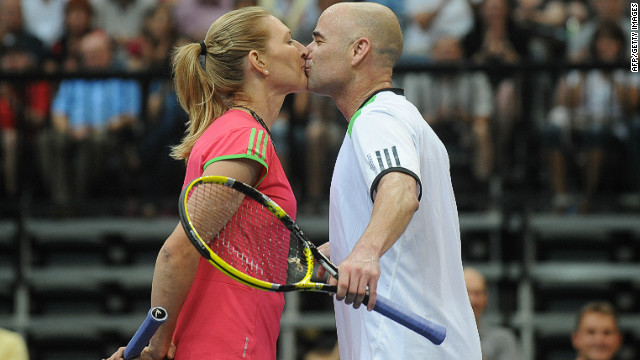 15-love: Top tennis romances
"Now I remember why golf isn't my sport! Waking up at 5.15 isn't really my thing lol... #notamorningperson," Wozniacki posted on Twitter.
McIlroy could add to his PGA Tour money list title by winning in Singapore, where officials face the prospect of cutting the tournament to 54 holes for the second year in a row if the disruptions continue.
However, he is battling illness which may mean he has to wait until next week's Hong Kong Open title defense or the season-ending World Tour Championship in Dubai before he can emulate Luke Donald's feat last year.
"I'm struggling a bit and not feeling 100%," the 23-year-old told reporters. "Maybe it's a good thing that the humidity is so high because I might be able to sweat it out."
This time last year McIlroy was suffering with an illness suspected to be Dengue Fever, and he ended up finishing second in the Race To Dubai standings behind Donald.
England's world No. 63 Simon Dyson shared the lead with 631-ranked Chapchai Nirat of Thailand when Friday's play was finally stopped, with both on six under par.
Half the field had not played since Thursday, including veteran American Phil Mickelson and fellow major winner Padraig Harrington -- who were both down the field after the opening round.

Today's five most popular stories
October 13, 2014 -- Updated 1449 GMT (2249 HKT)

There have been many dark days for Oliver Wilson, but golf's unluckiest loser is finally riding an upward swing of his career roller coaster.
October 7, 2014 -- Updated 1648 GMT (0048 HKT)

They dress like it's the 1930s and they swing antique equipment that eschews cutting-edge technology -- this is hickory golf.
September 15, 2014 -- Updated 1609 GMT (0009 HKT)

CNN's Living Golf focuses on women's golf, charting the growth of the sport from royal pastime to multi-million dollar machine.
October 1, 2014 -- Updated 0846 GMT (1646 HKT)

"I don't know how to paint happy," says golf's poster girl Michelle Wie. "I think it releases a lot of the darker feelings in me."
September 29, 2014 -- Updated 1213 GMT (2013 HKT)

If you're a U.S. golf fan, or Tom Watson, look away now.
September 25, 2014 -- Updated 2318 GMT (0718 HKT)

A ban on uploading social media pictures from the course at Gleneagles was dropped for the Ryder Cup.
September 24, 2014 -- Updated 1052 GMT (1852 HKT)

A spot of shopping, the odd spa day and some serious flag waving. Welcome to the life of a Ryder Cup WAG.
September 23, 2014 -- Updated 1301 GMT (2101 HKT)

Tom Watson has learned plenty in the 21 years since he was last U.S. Ryder Cup captain, but social media is proving to be problematic.
September 22, 2014 -- Updated 1243 GMT (2043 HKT)

Patriotism will reach fever pitch when the USA and Europe collide in golf's Ryder Cup ... and it looks like Rickie Fowler has let it go to his head.
September 22, 2014 -- Updated 1342 GMT (2142 HKT)

Pressure is inescapable in the cauldron of Ryder Cup competition -- pressure and ping pong.
September 23, 2014 -- Updated 1150 GMT (1950 HKT)

Millions of golf fans were watching on television with great anticipation. All Martin Kaymer could think about was getting his phone out.