China's exports surge, trade surplus widens
November 10, 2012 -- Updated 0808 GMT (1608 HKT)
STORY HIGHLIGHTS
China's exports swell by 11.6% in October
Foreign trade expands 6.4% in first 10 months of this year
Commerce minister says 10% trade growth unlikely for 2012
Growth hit by European slowdown, higher operating costs
Hong Kong (CNN) -- China's trade surplus widened further in October to $32 billion as exports swelled 11.6%, the strongest rise since May, state-run news agency Xinhua reported Saturday.
During the same period, imports rose 2.4% year-on-year, the same rate of growth recorded in September.
In the first ten months of 2012, the country's total foreign trade expanded 6.3% to $3.16 trillion compared to the same period last year.
China had set a target of target of 10% growth in foreign trade this year, however the country's commerce minister has said that will be difficult to achieve.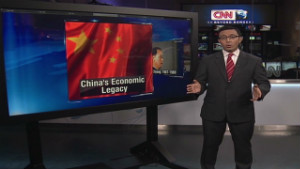 Can China's new leader maintain growth?
"Even though our year-on-year export growth rate rebounded slightly to 9.9% in September and 11% in October, it remains very difficult for us to achieve the 10% foreign trade growth target for the whole year," Chen said on the sidelines of the Communist Party's 18th National Congress in Beijing, according to Xinhua.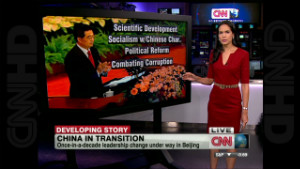 Challenges for China's new leaders
Read more: Hu warns of corruption threat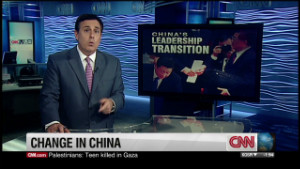 China's Middle East trading ties
Chen said that China could instead expect to maintain its share of global trade.
Last year, China's trade surged 22.5 percent, however this year weak global demand, higher operating costs and growing trade protectionism were putting pressure on exports, Xinhua reported.
In the first ten months of this year, trade with China's largest trading partner, the European Union fell 3% amid a severe economic downturn and a series of severe austerity measures. A territorial dispute between China and Japan has also taken a toll on their economic relations, pushing trade between the two down by 2.1%.
Read more: Will the music stop for China's economy?
The falls were offset by China's growing trade relations with the United States, ASEAN countries, Russia and Brazil. This year, China's trade with the U.S., its second largest trading partner, increased by 9.1% to $396 billion.
The positive figures come as thousands of delegates meet in Beijing for a once-in-a-decade leadership change. Next week, Xi Jinping is expected to be named the country's new president, replacing current President Hu Jintao.

Today's five most popular stories
Part of complete coverage on
December 15, 2014 -- Updated 1144 GMT (1944 HKT)

A Chinese couple allegedly threw hot water on a flight attendant and threatened to blow up the plane, forcing the Nanjing-bound plane to turn back to Bangkok.
December 15, 2014 -- Updated 0503 GMT (1303 HKT)

China's 1.3 billion citizens may soon find it much harder to belt out their national anthem at will.
December 10, 2014 -- Updated 0021 GMT (0821 HKT)

Like Beijing today, Los Angeles in the last century went through its own smog crisis. The city's mayor says LA's experience delivers valuable lessons.
December 6, 2014 -- Updated 0542 GMT (1342 HKT)

At the height of his power, Zhou Yongkang controlled China's police, spy agencies and courts. Now, he's under arrest.
December 5, 2014 -- Updated 0826 GMT (1626 HKT)

China says it will end organ transplants from executed prisoners but tradition means that donors are unlikely to make up the shortfall.
December 5, 2014 -- Updated 0648 GMT (1448 HKT)

China's skylines could look a lot more uniform in the years to come, if a statement by a top Beijing official is to believed.
December 3, 2014 -- Updated 0855 GMT (1655 HKT)

Despite an anti-corruption drive, China's position on an international corruption index has deteriorated in the past 12 months.
November 26, 2014 -- Updated 1201 GMT (2001 HKT)

A daring cross-border raid by one of Russian President Vladimir Putin's associates has -- so far -- yet to sour Sino-Russian relations.
November 24, 2014 -- Updated 0051 GMT (0851 HKT)

A 24-hour Taipei bookstore is a hangout for hipsters as well as bookworms.
November 25, 2014 -- Updated 0153 GMT (0953 HKT)

China is building an island in the South China Sea that could accommodate an airstrip, according to IHS Jane's Defence Weekly.
November 19, 2014 -- Updated 1057 GMT (1857 HKT)

North Korean refugees face a daunting journey to reach asylum in South Korea, with gangs of smugglers the only option.
November 21, 2014 -- Updated 2319 GMT (0719 HKT)
China and "probably one or two other" countries have the capacity to shut down the nation's power grid and other critical infrastructure.