Korean footballers go 'Gangnam Style' after winning Asian title
November 10, 2012 -- Updated 1736 GMT (0136 HKT)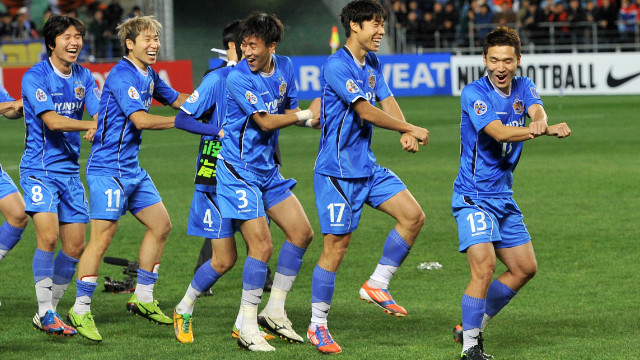 Ulsan Hyundai players perform the horse-riding dance of Psy's worldwide pop hit "Gangnam Style" after winning the AFC Champions League football final against Saudi Arabia's Al Ahli.
Ulsan Hyundai thrashed Al Ahli 3-0 to become the third South Korean club in four years to be crowned kings of Asia, having reached the final for the first time.
Ulsan captain Kwak Tae-hwi celebrates after scoring the opening goal of the final in front of his home fans.
Ulsan's supporters had much to celebrate, but their team is struggling to qualify for next year's tournament after falling off the pace in the K-League.
Gangnam Style
First final, first title
Leading from the front
Savor the moment
STORY HIGHLIGHTS
Ulsan Hyundai earn place at FIFA Club World Cup by winning Asian title
K-League team beats Saudi Arabia's Al Ahli 3-0 in Champions League final
Third time in four years that a Korean club has won the final
Ulsan won all nine games but battling to qualify for next season's tournament
(CNN) -- South Korean singer Psy has conquered the world with his "Gangnam Style" hit -- and his country continued its dominance of Asian club football on Saturday.
Ulsan Hyundai's players celebrated by performing a victory dance in homage to the pop phenomenon after winning the region's Champions League title for the first time.
Ulsan defeated Saudi Arabia's Al Ahli 3-0 to become the third K-League team in four years to lift the trophy.
"Ulsan have had to wait for a long time to come to final so I told the players we must win the game and to do that we must play a normal game," coach Kim Ho-gon said after goals from captain Kwak Tae-hwi, Brazilian striker Rafinha and midfielder Kim Seung-yong completed a run of nine successive wins in the competition.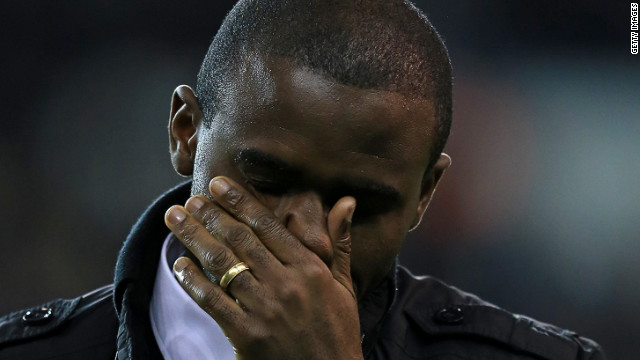 Fabrice Muamba wept as he addressed the crowd at White Hart Lane -- the English soccer ground where he collapsed due to cardiac arrest during a match in March 2012.
His collapse while playing for Bolton in an FA Cup match against Tottenham was seen by a worldwide television audience -- and the cameras were there again on his first return to the London stadium in November the same year.
Before attending the Europa League match, Muamba had been at London's O2 Arena to watch tennis star Roger Federer at the ATP World Tour Finals.
Muamba announced his retirement from football in August 2012, but the following month he attended a match played by his former club Bolton, which has dropped into the second division.
Muamba took part in the Olympic torch relay for the London 2012 Games. Here he lights the cauldron on day 64 of the flame's 8,000-mile journey around the UK.
In May 2012, he and his now wife Shauna were guests at the FA Cup final, which was won by Chelsea.
His life was saved by cardiologist Andrew Deaner, a Tottenham fan who came out of the crowd to help with his resuscitation.
Muamba collapsed before halftime and the match was abandoned as he was taken to hospital after receiving several defibrillator shocks to restart his heart, which stopped for 78 minutes. He was discharged only a month later after making a remarkably quick recovery.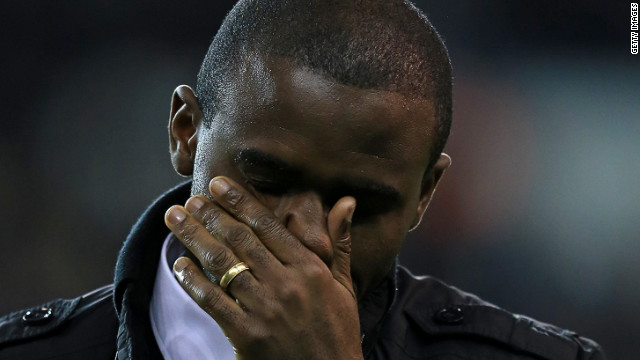 Muamba returns to scene of seizure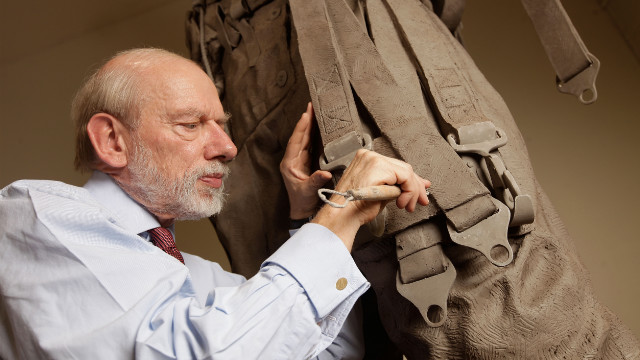 Like Alex Ferguson, sculptor Philip Jackson was born in Scotland. Here he is pictured working on The Bomber Command Memorial Sculpture, which is situated in London's Green Park, and was unveiled by the Queen in June.
Jackson was also the artist who created the statue of former England captain Bobby Moore, which is located at Wembley Stadium. The statue, standing six meters in height and weighing approximately two tons, commemorates when Moore captained England to World Cup glory in 1966.
The Alex Ferguson sculpture is the third Manchester United piece Jackson has produced. His statue of George Best, Denis Law and Bobby Charlton, which stands outside Old Trafford, depicts three of the club's greatest players.
Jackson's first Manchester United related sculpture depicted former manager Matt Busby, who was a key figure in creating the club's attacking philosophy of football which Ferguson has helped maintain.
Jackson's bronze scultpture of Ferguson is nine foot in height. It will be unveiled ahead of United's home game against Queens Park Rangers on November 23.
A number of other English clubs have commissioned artworks to remember former managers, notably Bobby Robson, who managed a number of clubs including Ipswich Town, Barcelona and Newcastle United as well as England. This statue of Robson is outside Newcastle United's St James' Park.
Manchester United's great rivals Liverpool have a statue of former Scottish manager Bill Shankly outside their Anfield ground.
It is not just managers and players who have been immortalized in sculpture form. In Baku, Azerbaijan, there is a statue of the 1966 World Cup final linesman Tofig Bahramov outside the Tofig Bahramov stadium. Here former West Germany goalkeeper Hans Tilkowski and former England striker Sir Geoff Hurst are pictured standing next to the the Bahramov statue in June 2011.
The moment French football superstar Zinedine Zidane headbutted Italy's Marco Materazzi in the 2006 World Cup final has been immortalized in a five meter bronze statue. The statue, positioned outside of Paris' Pompidou Museum, is the work of Algerian-born artist Adel Abdessemed.
More unusually in April 2011, Fulham chairman Mohamed Al Fayed unveiled a statue in tribute to singer Michael Jackson, who died in 2009, outside the English Premier League club's Craven Cottage ground.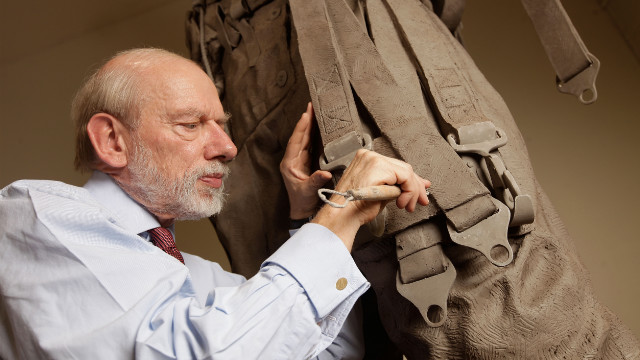 Sculpting football icons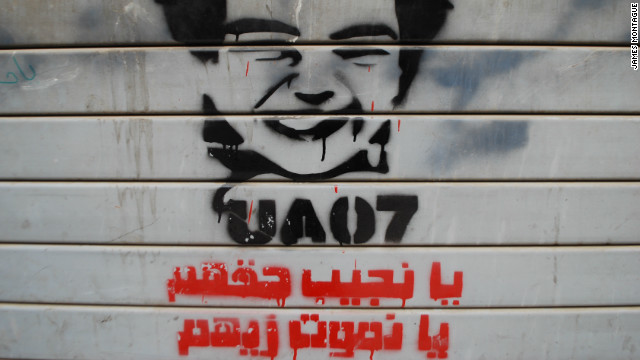 The 2011-12 Egyptian revolution thrust an unlikely group of young people into the country's political conscience: organized groups of soccer fans called "ultras."
Groups of well organized soccer fans, numbering several thousand, came to prominence during the Battle of the Camels in Tahrir Square. Graffiti eulogizing the ultras covered most of the nearby walls.
Emboldened by their success, groups of ultras would attend and lead many of the post-Mubarak protests in Cairo against the military regime.
The most prominent group was the Ahlawy, the ultras of Al Ahly, Egypt's biggest and most successful club.
The Ahlawy was formed in 2007 as a way of showing better organized support for the team. But it soon became much more.
Such were their numbers that security was tight. Members would be arrested and revolutionary, anti-regime chants could be heard from the stands.
Post Mubarak in 2011, soccer returned to Egypt after a brief suspension of the league. In the security vacuum violence grew. In February this year, 74 fans of Al Ahly, many of them Ahlawy members, died in Port Said after they were attacked by rival fans in the stands.
The ultra groups claim that the deaths weren't the result of thuggery, as claimed by the authorities, but planned by the military as pay-back for their role in the revolution. The trial of over 70 people allegedly involved is ongoing.
Marches were held across Egypt to honor the dead. Here a member of the Ahlawy leads marchers in song in the northern city of Alexandria. The soccer league was canceled. In their aim to achieve justice for the dead, the Ahlawy has launched a successful direct action campaign against the restart of the soccer league until the trial of those accused of the Port Said tragedy is completed.
The lack of competitive soccer is just one of the many problems that has faced Egyptian national team coach Bob Bradley. The former coach of the U.S. men's team has been charged with taking Egypt to Brazil for the 2014 World Cup.
His first competitive match was a World Cup qualifier earlier this year. Fears of violence were so high, the match was played without fans in a remote military stadium outside Alexandria.
Despite the revolution and despite the team having played little or no football, Egypt won their first two World Cup qualifying matches.
Even more incredible has been the performance of Al Ahly in the African Champions League. Despite having no league, and having to play all their home games behind closed doors, the team has reached the two -leg final and is hoping for a seventh title overall.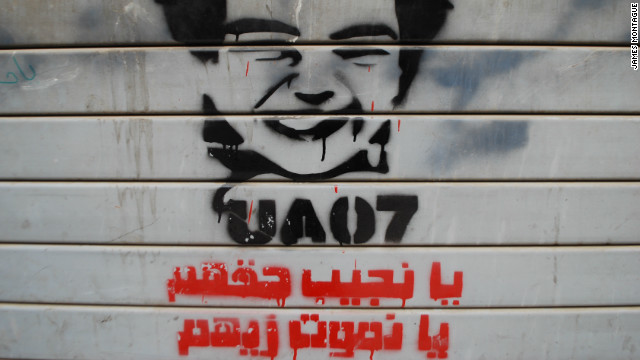 Egypt's soccer revolutionaries
"After the first group game every game felt like a final, but the final did not feel like a final as we had done so well in the semifinal."
The victory at Ulsan's Munsu Stadium earned the club a place at December's Club World Cup in Japan, with a quarterfinal tie against Mexico's Monterrey.
"I am so happy for the players," Kim said on the Asian Football Confederation website. "They wanted to play in the FIFA Club World Cup and it is the same for me. This is the happiest day in my coaching career."
Al Ahli had reached the final for the first time in the tournament's present format, though the club lost in the title match of the 1986 competition when it was known as the Asian Club Championship.
"The team learned a lot this year by playing against different strong teams," said Ahli's Czech coach Karel Jarolim.
"Al Ahli is a very young team and these players have gained experience this season and they will work hard for next year and will try to do our best."
His team booked a place in next year's tournament by finishing second in the Saudi league, but Ulsan may miss out after dropping outside the K-League's qualification places.

Today's five most popular stories
Part of complete coverage on
October 28, 2014 -- Updated 1253 GMT (2053 HKT)

They splash the cash on the world's best players, now Real Madrid are giving the Bernabeu the same treatment with a bling makeover.
October 27, 2014 -- Updated 1309 GMT (2109 HKT)

Football world mourns South African captain Senzo Meyiwa who was shot and killed during a botched robbery in a township near Johannesburg.
October 21, 2014 -- Updated 1348 GMT (2148 HKT)

From the ancient ruins of Rome, a new empire rises. But the eyes of the city's newest gladiator light up at thoughts of the Colosseum.
October 21, 2014 -- Updated 1622 GMT (0022 HKT)

Once part of Germany's largest Jewish sports club, now he's the first ISIS suspect to stand trial in a country left shocked by his alleged radicalization.
October 17, 2014 -- Updated 1411 GMT (2211 HKT)

One goal in eight matches for new club Liverpool, and dumped by the Italian national team -- Mario Balotelli has yet to shine on his English return.
October 18, 2014 -- Updated 1819 GMT (0219 HKT)

Should a convicted rapist, who has served their time in prison, be allowed to resume their old job? What if that job was as a high-profile football player?
October 16, 2014 -- Updated 1247 GMT (2047 HKT)

After 10 years of golden glory, it's easy to see how Lionel Messi has taken his place among the football gods.
October 16, 2014 -- Updated 1034 GMT (1834 HKT)

When will the tears stop? A leading Italian football club is pursuing a new direction -- under the guidance of its new Indonesian owner.
October 13, 2014 -- Updated 2241 GMT (0641 HKT)

Norwegian 15-year-old Martin Odegaard is the youngest player ever to feature in a European Championships qualifying match.
October 10, 2014 -- Updated 1310 GMT (2110 HKT)

After revolutionizing cricket with its glitzy Twenty20 league, India has now thrown large sums of money at a new football venture.
October 2, 2014 -- Updated 1453 GMT (2253 HKT)

Get ruthless. That is Rio Ferdinand's message to soccer's authorities in the fight to tackle the scourge of racism.
September 10, 2014 -- Updated 1328 GMT (2128 HKT)

He's just 15 and the world is seemingly already at his feet. Norway's Martin Odegaard is being sought by Europe's top clubs.