STORY HIGHLIGHTS
Javier Hernandez comes off the bench to inspire Manchester United to victory
Mexican scores twice and has another effort deflected in by Aston Villa player
The 3-2 win puts United four points clear at the top of the Premier League
Arsenal lose more ground after blowing a two-goal lead for the second time this week
(CNN) -- Javier Hernandez has had to be patient this season. Robin van Persie's arrival at Manchester United was followed by a glut of goals that justified Alex Ferguson's $38 million investment in the former Arsenal striker.
Hernandez also made a big impact two years ago as a relatively little-known signing from Guadalajara, being named player of the season as United won a record 19th league title.
But last season was a different story as the Mexico international played a bit-part role and the club's Premier League crown was snatched by crosstown rivals Manchester City.
The 24-year-old came into the 2012-13 campaign fresh after Ferguson demanded he miss Mexico's successful Olympic campaign, but he has started only five matches out of 16 in all competitions.
However, a run of seven goals in his last five games means "Chicharito" will be one of the first names on the team sheet next weekend for United's trip to Norwich.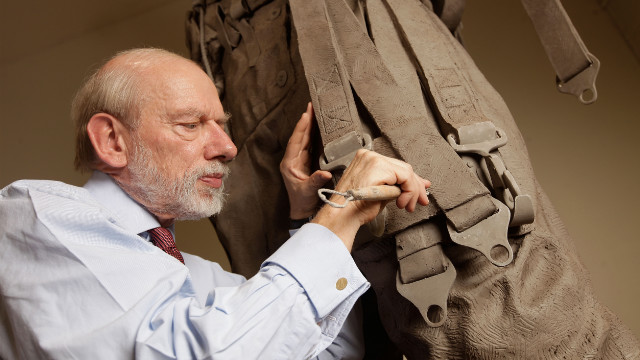 Like Alex Ferguson, sculptor Philip Jackson was born in Scotland. Here he is pictured working on The Bomber Command Memorial Sculpture, which is situated in London's Green Park, and was unveiled by the Queen in June.
Jackson was also the artist who created the statue of former England captain Bobby Moore, which is located at Wembley Stadium. The statue, standing six meters in height and weighing approximately two tons, commemorates when Moore captained England to World Cup glory in 1966.
The Alex Ferguson sculpture is the third Manchester United piece Jackson has produced. His statue of George Best, Denis Law and Bobby Charlton, which stands outside Old Trafford, depicts three of the club's greatest players.
Jackson's first Manchester United related sculpture depicted former manager Matt Busby, who was a key figure in creating the club's attacking philosophy of football which Ferguson has helped maintain.
Jackson's bronze scultpture of Ferguson is nine foot in height. It will be unveiled ahead of United's home game against Queens Park Rangers on November 23.
A number of other English clubs have commissioned artworks to remember former managers, notably Bobby Robson, who managed a number of clubs including Ipswich Town, Barcelona and Newcastle United as well as England. This statue of Robson is outside Newcastle United's St James' Park.
Manchester United's great rivals Liverpool have a statue of former Scottish manager Bill Shankly outside their Anfield ground.
It is not just managers and players who have been immortalized in sculpture form. In Baku, Azerbaijan, there is a statue of the 1966 World Cup final linesman Tofig Bahramov outside the Tofig Bahramov stadium. Here former West Germany goalkeeper Hans Tilkowski and former England striker Sir Geoff Hurst are pictured standing next to the the Bahramov statue in June 2011.
The moment French football superstar Zinedine Zidane headbutted Italy's Marco Materazzi in the 2006 World Cup final has been immortalized in a five meter bronze statue. The statue, positioned outside of Paris' Pompidou Museum, is the work of Algerian-born artist Adel Abdessemed.
More unusually in April 2011, Fulham chairman Mohamed Al Fayed unveiled a statue in tribute to singer Michael Jackson, who died in 2009, outside the English Premier League club's Craven Cottage ground.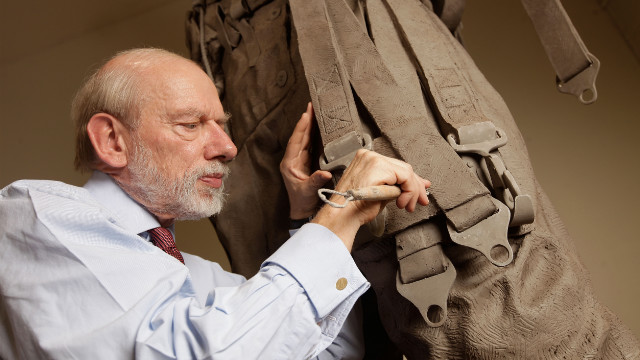 Sculpting football icons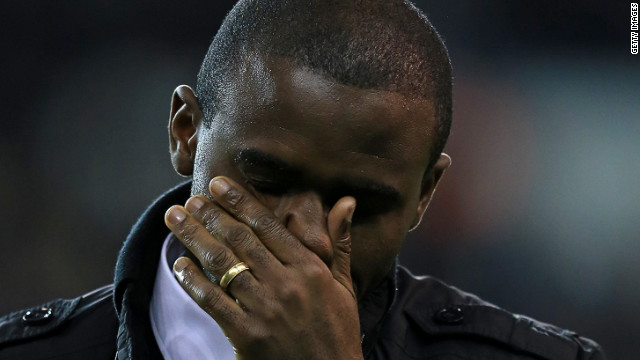 Fabrice Muamba wept as he addressed the crowd at White Hart Lane -- the English soccer ground where he collapsed due to cardiac arrest during a match in March 2012.
His collapse while playing for Bolton in an FA Cup match against Tottenham was seen by a worldwide television audience -- and the cameras were there again on his first return to the London stadium in November the same year.
Before attending the Europa League match, Muamba had been at London's O2 Arena to watch tennis star Roger Federer at the ATP World Tour Finals.
Muamba announced his retirement from football in August 2012, but the following month he attended a match played by his former club Bolton, which has dropped into the second division.
Muamba took part in the Olympic torch relay for the London 2012 Games. Here he lights the cauldron on day 64 of the flame's 8,000-mile journey around the UK.
In May 2012, he and his now wife Shauna were guests at the FA Cup final, which was won by Chelsea.
His life was saved by cardiologist Andrew Deaner, a Tottenham fan who came out of the crowd to help with his resuscitation.
Muamba collapsed before halftime and the match was abandoned as he was taken to hospital after receiving several defibrillator shocks to restart his heart, which stopped for 78 minutes. He was discharged only a month later after making a remarkably quick recovery.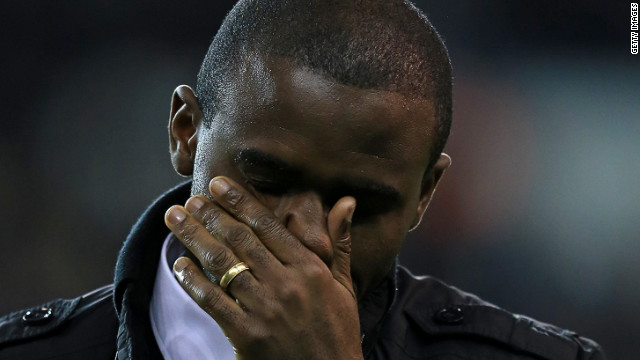 Muamba returns to scene of seizure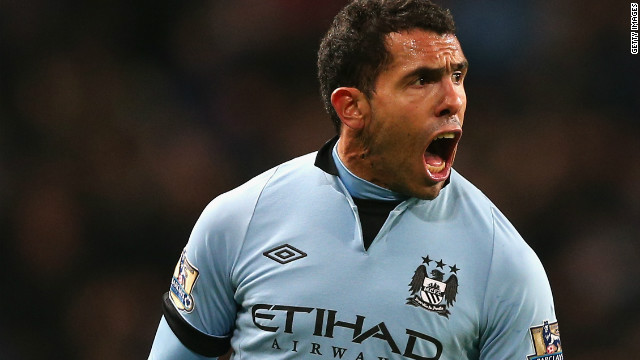 Carlos Tevez celebrates after scoring the only goal in Manchester City's 1-0 win at home to Swansea.
The match was the longest in Premier League history due to two lengthy delays for injuries. While 12 minutes were added on, almost 13 were played -- for a total of 102 and 43 seconds that beat the previous longest in 2011 between Arsenal and Liverpool. 7, 2012 in Manchester, England.
Swansea City's Dutch goalkeeper Michel Vorm was taken from the pitch on a stretcher after suffering a groin injury when he failed to stop Tevez's long-range effort in the 61st minute.
City defender Micah Richards was later also stretchered off after suffering an apparently serious knee injury.
Manchester City manager Roberto Mancini, criticized for his tactics during the midweek Champions League defeat at Ajax, was forced to make a halftime substitution due to an injury to Aleksandar Kolarov. He brought on striker Mario Balotelli.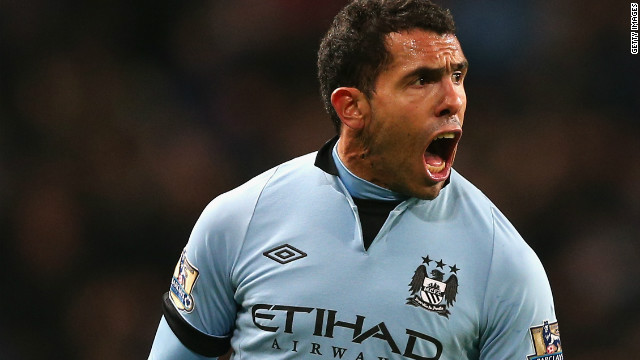 Longest match in EPL history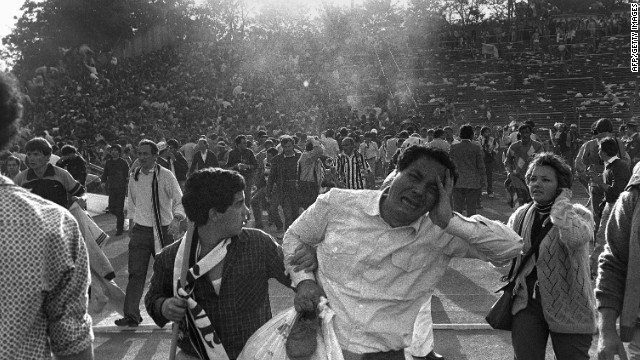 In the space of four years in the 1980s, a total of 191 people died in three stadium disasters at Bradford, Heysel and Hillsborough.
Thirty-nine fans -- 32 from Italy, four from Belgium, two from France, one from Northern Ireland, the youngest just 11 years old -- were killed in a stampede before the European Cup final between Liverpool and Juventus at the Heysel Stadium in May 1985.
In the decade before Heysel there had been a history of trouble surrounding English supporters at European matches on the continent, notably Tottenham Hotspur in Rotterdam in 1974 and 1983, Leeds United in Paris in 1975 and Manchester United in Saint-Etienne in 1977. Violence had also ominously flared between English and Italian supporters when Liverpool played Roma in the 1984 European Cup final in Italy's capital. Liverpool won the game on penalties.
Sixty-five years after its construction in 1920, Heysel was crumbling. The outer wall was made of cinder block, and fans who didn't have tickets were seen kicking holes in it to get in. Heysel's Sector Z terrace had grass poking through the crumbling concrete while flimsy wire-netting separated the Liverpool and Juve fans.
Michel Platini, who is now UEFA president, scored Juve's winning goal in a 1-0 victory, though he was criticized at the time for celebrating. "On that far away spring day I was a player who had not yet turned 30, happy go lucky, like many supporters who on that day made it to Brussels for the love of Juve and who unfortunately never returned, having been ripped away from their loved ones that cursed night," the Frenchman said in 2010.
"For me that cup will always be covered in death," wrote Juve defender Antonio Cabrini in his autobiography. "The cup of death."
Heysel is a story of "incompetence, violence, cover-up, shame and lies," writes British historian John Foot -- the author of the authoritative history of Italian football "Calcio."
"I'm happy that sometimes there is someone who remembers the tragedy," Rosalina Vannini Gonnelli told CNN. "Many years have passed. People had forgotten soon after it happened, so now there's no way. The 39 angels will always be in the memories of their loved ones."
"Whenever I think of Heysel, the first image that springs to mind is the expression on Joe Fagan's face as the terrifying scenes of crowd violence escalated to the point where the game that had been his whole life no longer meant anything. At the end, he looked a broken man," wrote former Liverpool defender Alan Hansen of the club's manager in his autobiography "A Matter of Opinion."
Liverpool met Juventus in a competitive match for the first time since that fateful day in 2005's Champions League quarterfinal tie. Liverpool won 2-1 on aggregate and went on to to win the European Cup after beating AC MIlan on penalties in Istanbul.
Striker Ian Rush, right, spent one season at Juve in 1987-88 between two spells at Liverpool. Before the first leg of the 2005 quarterfinal at Anfield, Liverpool supporters held up a mosaic to form the word "Amicizia" (friendship). Some of the visiting Juve fans applauded, but many turned their backs in disgust. There is also a Heysel memorial plaque at Liverpool's Anfield Stadium.
Juventus officials insist the Serie A club has never forgotten the victims of the Heysel disaster. "The families of the victims are always welcome at the club, the museum and the stadium -- for free," said a Juve spokeswoman.
Former Juve defender Fabio Cannavaro attended a memorial ceremony for the victims of the Heysel stadium disaster prior to a friendly international between Italy and Mexico in Brussels on June 3, 2010 -- the 25th anniversary of the tragedy.
A decade after the Heysel disaster the ground was rebuilt and renamed the King Baudouin Stadium.The new ground had a plaque dedicated to the disaster, though it had no names of the victims, before, in 2005, a monument that did include the 39 victims' names was unveiled.
Former Juve striker Alessandro del Piero this year told Italian newspaper Gazzetta Dello Sport that Liverpool made an approach to him while he was in discussions with Sydney FC but he "thought about what happened at Heysel" before opting for a move to Australia. "Liverpool have worked hard to mend their relationship, but for a lot of people it's something that can never be forgotten," added Del Piero.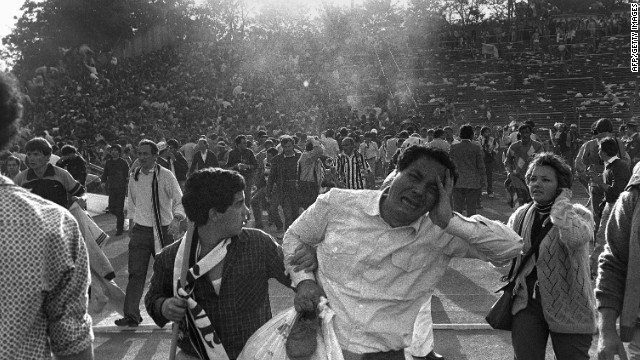 The Heysel stadium disaster
"When he came to us two years ago, that's what we're seeing again today and, when you score a hat-trick, you pick yourself. I think he'll be playing next week," Ferguson said after Hernandez inspired another comeback victory against Aston Villa on Saturday to put United four points clear at the top of the table.
The "Little Pea" scored three goals in the two come-from-behind wins against Braga that sealed United's place in the last 16 of the Champions League, and he came off the bench to rescue the team from 2-0 down against struggling Villa.
It was the eighth time United have won this season after going behind.
Hernandez is claiming a hat-trick, though his equalizing goal appeared to be off-target before it deflected into the net off Villa defender Ron Vlaar.
Ferguson had to change his preferred attacking formation at halftime, taking off England winger Ashley Young, after Villa took a shock lead with two goals from young Austrian forward Andreas Weimann.
"We do prefer that one striker with one playing behind," the 70-year-old manager said.
"It didn't work today in the first half but when Javier came on and Robin dropped a bit deeper, and Wayne went out to the left-hand side, you had a feeling that if we got a goal we would go on and win it."
Van Persie could not add to his league-leading eight goals this season, but he played a key role as he hit the bar twice in the space of a minute and then laid on a perfect freekick for Hernandez to head an 87th-minute winner.
"It doesn't matter who scored the goals," Hernandez said. "The most important thing is who is top of the league and that we came back from two goals down to win."
It put pressure on second-placed Chelsea and City, who respectively host Liverpool and sixth-placed Tottenham on Sunday.
Seventh-placed Arsenal lost more ground on the leaders after being held 3-3 by London rivals Fulham, as midfielder Mikel Arteta missed a last-minute penalty.
Arsene Wenger's team blew a two-goal lead for the second time this week, having also been held in the Champions League by Schalke.
France striker Olivier Giroud put Arsenal ahead before fellow preseason signing Lukas Podolski added another, but Fulham's former Manchester United striker Dimitar Berbatov continued his career revival as he reduced the deficit and then set up Alex Kacaniklic's 40th-minute equalizer.
The Bulgarian put visiting Fulham 3-2 ahead with a penalty but Giroud leveled before Arteta's spot-kick was saved by veteran Australian goalkeeper Mark Schwarzer -- leaving both teams on 16 points from 11 matches.
"It was frustrating because we had the chances," Wenger said. "We were caught in too comfortable a position. We did the difficult thing, going 2-0 up, but then we lacked defensive urgency."
Everton stayed fourth with a 2-1 victory at Sunderland in manager David Moyes' 400th Premier League game.
In-form Marouane Fellaini leveled Adam Johnson's opener with his sixth league goal this season and then set up striker Nikica Jelavic for the Croatian's fifth.
Fifth-placed West Brom joined the Merseyside club on 20 points following a 2-1 win at Wigan.
James Morrison headed the opener and Gary Caldwell diverting Billy Jones effort into his own net before Arouna Kone reduced the deficit just before halftime.
Stoke moved away from the relegation zone with a 1-0 win at home to bottom club Queens Park Rangers, while promoted sides Reading and Southampton remained in the drop zone after respective draws against Norwich and Swansea.