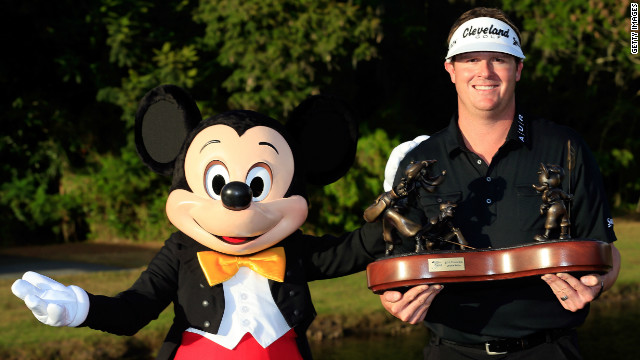 American rookie Charlie Beljan wins the Children's Miracle Network Hospitals Classic just two days after being taking to hospital with an elevated heart rate and numbness in his arm.
Beljan speaks with emergency medical services staff during his second round at the Magnolia course on Friday.
Beljan, who was fighting to keep his PGA Tour playing rights for next season, told his caddy that he thought he was "going to die" after suffering elevated blood pressure and numbness in his arms.
The 28-year-old was taken to hospital following Friday's round, having shot a remarkable eight-under-par 64 to lead the $4.7 million tournament by three shots.
The Arizona native confirmed that he would play in Saturday's third round in Florida despite being advised to rest by doctors.
Cinderella story
Panic attack?
Time out
Hospital treatment
Playing on
STORY HIGHLIGHTS
U.S. golfer Charlie Beljan taken to hospital after almost passing out on the course
Despite suffering elevated blood pressure, Beljan was leading the tournament
He is battling to keep his PGA Tour rights after a difficult first season
Arizona native plays in Saturday's third round against medical advice, retains lead
(CNN) -- It's understandable to feel stress when your livelihood is on the line, but Charlie Beljan is suffering more than most.
"He kept saying he thought he was going to die," the golfer's caddy Rick Adcox said after Friday's second round of the PGA Tour's final tournament of 2012, held at Disney World in Florida.
"A couple times I thought he might pass out. He just said, 'I'm gonna keep going until I pass out or they take me off.' "
Beljan is fighting to keep his full tour card after a difficult first season on the circuit -- the top 125 players qualify for next season, and he is in 139th place.
The stress is taking its toll on the 28-year-old. He was taken to hospital straight after his round, having suffered increased heart rate, high blood pressure and numbness in his arms.
Follow Beljan's progress with latest scores from PGA Tour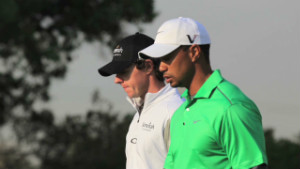 Exclusive: Tiger and Rory's 'bromance'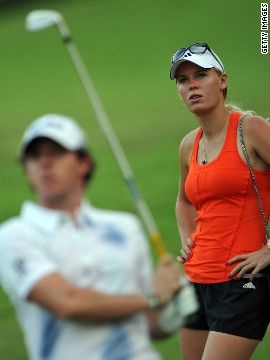 Caroline Wozniacki watches boyfriend Rory McIlroy during the continuation of the weather-delayed first round of the Singapore Open.
The Danish tennis star tweeted that she had not enjoyed having to get up at 5.15 a.m. as McIlroy got ready to resume the tournament.
McIlroy took a break last week to watch Wozniacki's final tournament of the year, and she returned the compliment as he returned to action following his "Duel at Jinsha Lake" against Tiger Woods.
Half of the tournament's players were unable to start their second rounds on Friday due to ongoing rain delays and the threat of lightning.
McIlroy is struggling with illness as he seeks to clinch a notable money list double on both the European and U.S. PGA Tours, emulating Luke Donald's feat last year.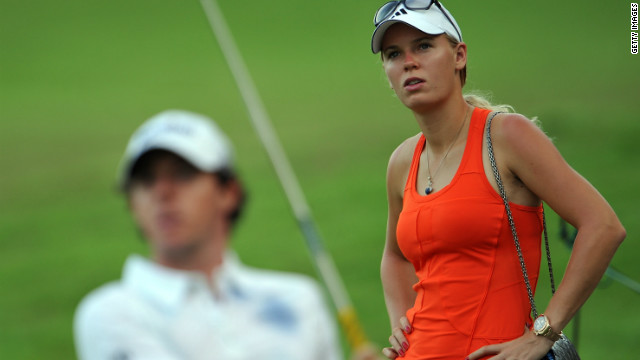 'Wozilroy' struggling in Singapore rain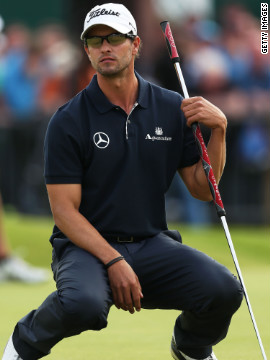 Adam Scott looked set for a first major win at this year's British Open, but four bogeys on the last four holes of the final round let South Africa's Ernie Els swoop in and steal the Australian's crown. Scott missed a putt on the 18th green that would've forced a playoff.
I.K. Kim has also endured major heartbreak in 2012. The 24-year-old missed a one-foot putt on the final hole of the Kraft Nabisco Championship that would've earned her first major, and then lost a playoff to fellow South Korean Yoo Sun-Young. But Scott and Kim aren't the only golfers to have choked on the big stage...
Rory McIlroy may now be the world's top-ranked golfer, but there was a time when he was looking for a first major win. Surely it would come at the 2011 Masters? The Northern Irishman had torn up the famous Augusta course, entering the final day with a four-stroke lead. McIlroy shot the worst round ever recorded by someone leading after three rounds of the Masters. He watched on heartbroken as Charl Schwartzel took the title, but bounced back with a record-breaking U.S. Open win to clinch his first major.
If McIlroy is still haunted by his Augusta nightmare, then one can only imagine the demons which must dwell in the mind of Jean van de Velde. The Frenchman was on course to become a shock winner of the 1999 British Open, requiring just a double bogey on the 18th hole to claim the Claret Jug. What followed has made Van de Velde one sport's most infamous chokers, with a series of wayward shots leaving him in the water. Van de Velde found a greenside bunker with his fifth shot before he eventually holed his seventh for a triple bogey, forcing a playoff. Scotland's Paul Lawrie emerged from the three-way decider as the champion.
Great chokes are not confined to the golf course. There wasn't a dry eye on Centre Court as Czech tennis star Jana Novotna sobbed uncontrollably on the shoulder of the Duchess of Kent after losing the 1993 Wimbledon women's singles final to Steffi Graf. Novotna led 6-7 6-1 4-1 before collapsing and allowing Graf to take the title. Novotna did eventually win a grand slam, beating Venus Williams in the 1998 Wimbledon final.
Brazil hosted the football World Cup for the first time in 1950, with an expectant home crowd demanding the team claim the title. Everything looked to be going to plan, with a freescoring Brazil team needing just a draw against Uruguay to seal a first World Cup triumph. Despite taking the lead, Brazil ended up losing 2-1 lead -- and a country was devastated. Since then "A Selecao" have won the World Cup five times, more than any other nation.
But even Brazil's collapse cannot match AC Milan's "achievement" in the 2005 European Champions League final against Liverpool. Carlo Ancelotti's Milan blew their English opponents out of the water in the first half, racing into a 3-0 lead. But, in six incredible second-half minutes, Rafeal Benitez's Liverpool launched one of the greatest comebacks in the history of sport, scoring three times to level the match. Liverpool held on grimly to force a penalty shootout, with Jerzy Dudek's save from Andriy Shevchenko handing Liverpool a most unlikely success.
U.S. sport is not immune to chokes. Buffalo Bills kicker Scott Norwood has the unfortunate honor of being arguably America's most famous choker. At Super Bowl XXV against the New York Giants, Norwood missed a 47-yard field goal that would've won the Vince Lombardi trophy for the Bills. It marked the first of four consecutive Super Bowl defeats for Buffalo and a the start of a rapid descent out of the NFL for Norwood.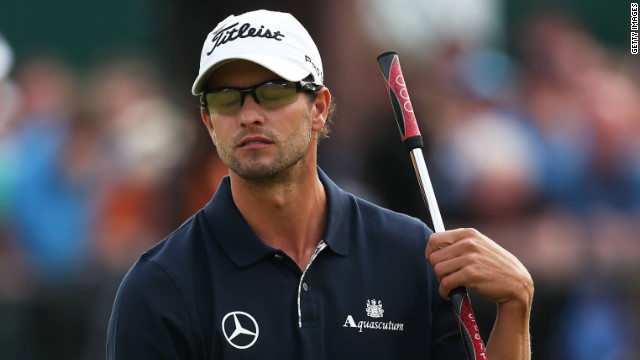 Sport's greatest chokes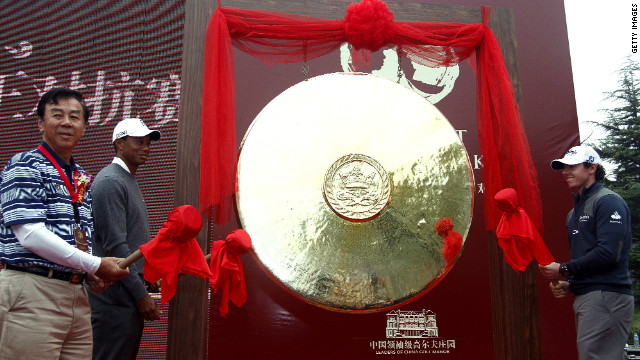 Rory McIlroy and Tiger Woods look on in amusement before banging a ceremonial gong to mark the start of their "Duel at Jinsha Lake."
Both McIlroy and Woods, pictured above, had their handprints immortalized in clay as a lavish ceremony featuring drum majorettes and fireworks preceded their clash in the Chinese city Zhengzhou.
World No. 1 McIlroy cannot keep a straight face as the players pose at the first green, ahead of a clash reported to be paying the pair a combined total of $2 million.
"The scene was barely-controlled chaos," wrote Sports Illustrated's Alan Shipnuck. "Some 3,000 fans streamed across the fairways, with soldiers locking arms in a human fence to keep the throngs off the greens."
A course marshall practices kung fu as she awaits the golfers' arrival.
"On the tee boxes there were so many camera clicks it sounded like machine gun fire," Shipnuck wrote.
Local golf fans talk with one of the models who inhabited the greens in their evening wear in scenes seldom seen on any golf course.
Woods tries to maintain focus as a luxury boat passes by, with the clubhouse car park also boasting a collection of Rolls-Royces, Ferraris, Aston Martins and Maseratis.
Young fans show their support for McIlroy and Woods in a country that is seen as the next great market for golf to conquer.
McIlroy never trailed Woods after starting with a birdie, going on to card a five-under-par 67 -- one less than the world No. 2.
McIlroy awaits his trophy on a day that coincided with the launch of the multi-million-dollar "Golf Villas" to be built around the Jinsha Lake course.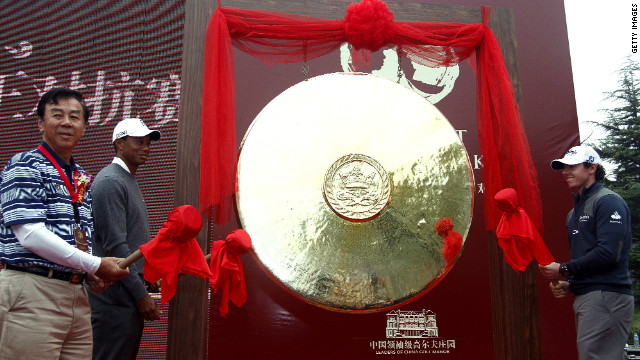 Duel at Jinsha Lake
Incredibly, despite all this he was leading the tournament, which is known as the Children's Miracle Network Hospitals Classic.
"I don't know how he hit the golf ball feeling the way he was feeling," Adcox said on the PGA Tour's official website. "I thought he was going to stop when he heard what his blood pressure was."
Adcox said his boss had been hospitalized last month after fainting on a plane flight, but doctors had not found the cause.
Beljan, who became a first-time father less than two months ago, carded an incredible round of eight-under-par 64 to build a three-shot lead in the $4.7 million event.
The first prize is $846,000 -- and Beljan is determined to play on so he can add to his total of $527,528 from 21 tournaments this year.
"Tour official says Charlie Beljan will play today @ Disney after being taken to the hospital on Friday," Golf Channel journalist Rex Hoggard wrote on Twitter before Saturday's third round.
Beljan told the broadcaster on Friday he hoped it was just a panic attack.
PGA Tour reporter Brian Wacker confirmed the news.
"Doc recommended he not play but found nothing wrong physically. Appears to be anxiety related. Beljan is playing," Wacker wrote on Twitter.
And he played well, carding 71 to take a two-shot lead into Sunday's final round. At this stage he is projected to finish 63rd on the money list.
"I honestly didn't think I was going to get through it," Beljan said. "I just stayed strong."
Beljan had no idea that he was leading the tournament during Friday's round.
"It's nice to be able to walk around and smile," he said. "Yesterday, I was hanging on for my life."