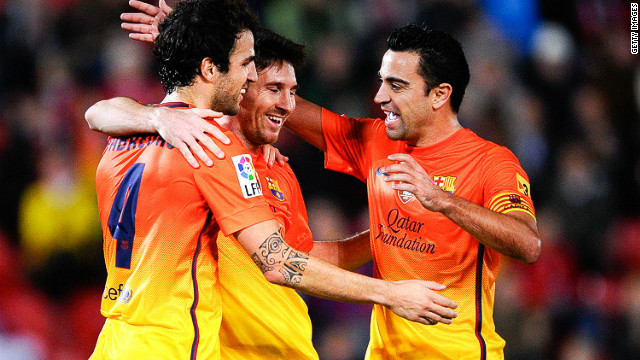 Lionel Messi, center, celebrates with Barcelona teammates Cesc Fabregas, left, and Xavi Hernandez after matching Pele's 75 goals in a calendar year.
The Argentina star then moved past the Brazil legend with his second goal of the match against Mallorca, which left Messi nine short of the best tally for a year held by Germany's Gerd Muller.
The 25-year-old has had a new celebration since the birth of his first child, son Thiago, earlier this month.
Messi is in line to win a fourth successive world player of the year award in January. Pele presented him with the Ballon d'Or at the start of this year.
Pele scored 75 goals in 1958, when he launched onto the football scene as a 17-year-old and helped Brazil win that year's World Cup.
That feat was surpassed in 1972 by Muller, who scored 85 goals as West Germany won the European Championship and his club Bayern Munich lifted the Bundesliga title.
Messi magic
Second best
Proud dad
Award winner
Golden boot
Goal machine Gerd
STORY HIGHLIGHTS
Lionel Messi scores twice as Barcelona beat Mallorca 4-2 on Sunday
Argentine forward moves past Pele's landmark 75 goals in a calendar year
He now has nine more matches to beat the record set by Gerd Muller in 1972
Messi's rival Cristiano Ronaldo suffers eye injury in Real Madrid victory
(CNN) -- The goals just keep flowing for Lionel Messi, who on Sunday surpassed soccer legend Pele's mark of 75 in a calendar year to help Barcelona bounce back from a rare defeat.
The Argentina star netted twice in the 4-2 win at Mallorca that kept the Catalans three points clear in Spain's La Liga, leaving him just nine short of Gerd Muller's all-time record.
The 25-year-old, who became a first-time father earlier this month, was able to put a bit more enthusiasm into his new thumb-sucking celebration than when he scored late in the shock midweek Champions League loss to Scottish side Celtic.
"Leo continually breaks records. His goal tally is spectacular," said Barca manager Tito Vilanova, who has yet to experience a domestic league defeat after his first 11 matches in charge, equaling the best start to a season set by Real Madrid.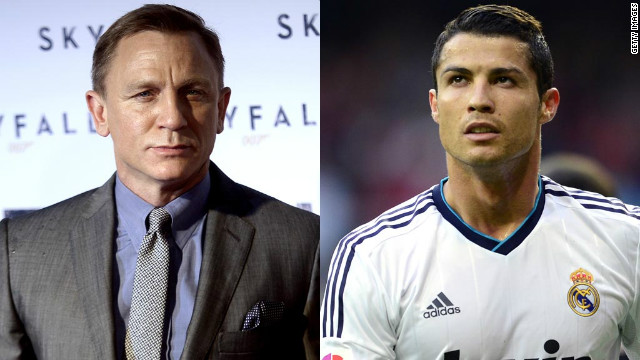 Daniel Craig and Cristiano Ronaldo have both been outspoken in their desire to reclaim a right to privacy. Both men have become frustrated with their treatment in public.
Cristiano Ronaldo and his model girlfriend Irina Shayk enjoy some peace and quiet together but the camera lens is never far away from the pair.
Shayk is a celebrity in her own right having established herself as a leading model. The Russian's romance with Ronaldo has taken her fame to new heights.
"We are just partners," Ronaldo told CNN when asked about his relationship with Shayk. "We have a good relationship, we are almost three years together, I love to be with her, I love her. It's great."
Ronaldo has yet to pop the question to Russian model Shayk but he admits he has thought about marriage. He said: "Not now, but of course in the future, yes. Everyone wants that. I still haven't done that. I don't have the courage."
"In Real Madrid we are always under pressure," Cristiano Ronaldo told CNN. "This is maybe the best club in the world... so we have a lot of pressure and we know that the fans, the Madrid city... everyone wants 'La Decima' (a 10th European Cup). "
Ronaldo has nothing but praise for Real coach Jose Mourinho: "Well, my relationship with him is perfect. I don't ask for nothing better. In terms of coaching I'm sure 100%... 200% that he is the best. He shows every country who's the best because he wins all the leagues."
Ronaldo will be up against Barcelona's Lionel Messi for the Ballon d'Or with the Argentine having won the prize on each of the past three occasions. Both men were on target twice during the last El Clasico match which finished 2-2 at the Camp Nou.
Ronaldo has scored 160 goals in 164 appearances for Real Madrid since his move from Manchester United in 2009. His determination to win is always evident, even when it comes to beating his girlfriend at swimming in their own pool. He said: "Sometimes you have to give her an opportunity to be happy, but I win because I don't like to lose."
Ronaldo last won the Ballon d'Or in 2008 after helping lead Manchester United to the Champions League crown with victory over Chelsea in Moscow. In the 2007-8 season, he scored 42 goals as United also won the English Premier League title.
While Ronaldo has enjoyed great club success with Manchester United and Real Madrid, he has yet to win a major tournament with Portugal. "I'm not saying Portugal doesn't have the capacity to win the World Cup or Euro, but its more tough... its difficult, because you don't have 100 players to choose," sai the Portuguese star.
Ronaldo insists he'd relish the opportunity to talk to his critics and listen to their opinions on why they believe he is arrogant. He told CNN: "People who call me arrogant, I'm interested, not with all of them, but most of them. One day I would like to sit with them and have a chat to see in which way they think I'm arrogant."
When he finishes his football career, Ronaldo wants to become an actor.
Ronaldo tells CNN's Pedro Pinto in an exclusive interview that he believes his perceived 'arrogance' has made him less popular than his chief rival Lionel Messi. "You know, sometimes I'm a victim of that because they don't know the real Cristiano," said the Real Madrid forward.
Cars are one of Ronaldo's great passions. In 2009, while at Manchester United, Ronaldo was lucky to esacpe injury after crashing his Ferrari.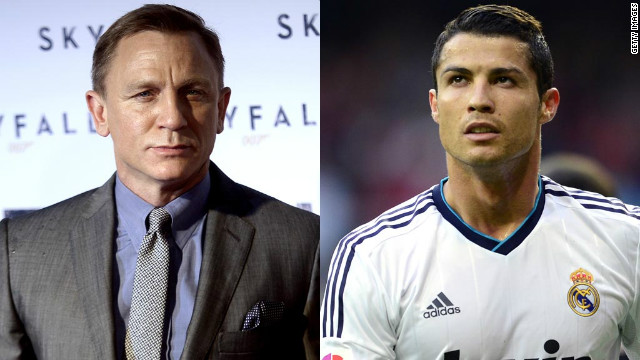 The Real Ronaldo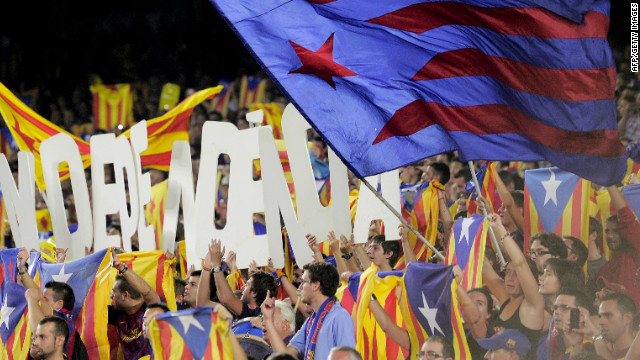 Barcelona fans hold letters forming the word 'Independencia' and wave Catalan 'Estelada' independence flags in the match against Real Madrid.
Lionel Messi (left) and Cristiano Ronaldo celebrate goals in the El Clasico clash in the Camp Nou.
Jose Mourinho gestures during the El Clasico clash with his Barcelona counterpart Tito Vilanova in the background.
Barcelona's decision to invite a former captured Israeli soldier Gilad Shalit to the El Clasico clash was met with protests in Palestine.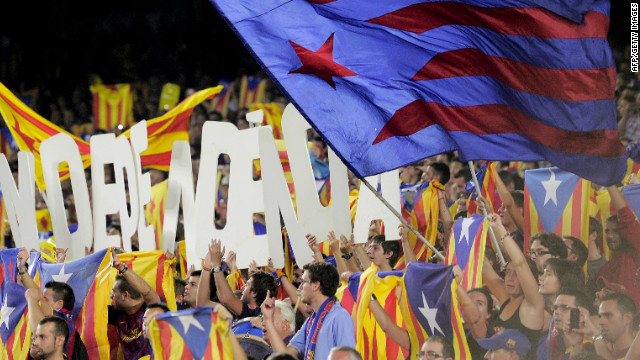 Spanish heavyweights battle El Clasico draw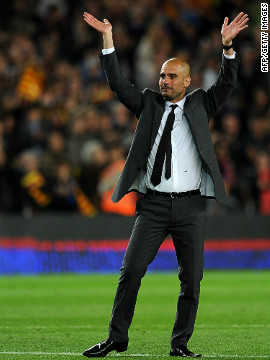 Pep Guardiola waved goodbye to Barcelona on Friday in the only way he knows how -- by winning a trophy. The club's victory in the Spanish Cup final took his haul of trophies to 14 during his four years in charge.
Guardiola is inextricably linked with Barcelona. He was born in Catalonia, and joined Barca's academy in 1984, winning six Spanish league titles and one European Cup before leaving for Italy in 2001.
After a spell coaching Barcelona's 'B' team, in which he delivered promotion to the second tier of Spanish football, Guardiola was handed the top job in June 2008 by then president Joan Laporta (L).
Guardiola's dedication to an approach known as "tiki taka" -- a fluent passing style based around dynamic movement -- was immediately evident, as players like Xavi and Andres Iniesta, both World Cup winners with Spain in 2010, flourished. Guardiola also maximised the use of a young striker called Lionel Messi, who would go on to break all records.
In Guardiola's first season Barcelona won an unprecedented treble as they scooped the Spanish league title, the Spanish Cup and the European Champions League, beating Manchester United in Rome.
By the time 2009 was out, Barca had added the Spanish Supercup, European Supercup and Club World Cup trophies to their cabinet, making it six won in Guardiola's first season. He also retained the Spanish league title in 2010.
Prior to the 2010 season Real Madrid employed Jose Mourinho, the self-anointed 'Special One' as their coach. This intensified the fierce rivalry between the two giants, and provoked a series of disagreeements between two of the game's biggest names.
Despite Mourinho's presence, Guardiola again retained the Spanish league title in 2011 and claimed his second European Champions League crown, as Barca again beat Manchester United, this time at Wembley in London.
But for months there had been rumors that the demands of the job and those he placed on himself were wearing Guardiola down. After Barcelona had relinquished both their league and Champions League titles, he confirmed he was standing down. "The reason is simple: four years is enough," he said. "I'm drained and I need to fill up."
At the press conference to announce Guardiola's departure Barca confirmed his assistant Tito Vilanova would take over as coach. As another disciple of Barcelona's approach, he has a tough task to replicate Guardiola's achievements.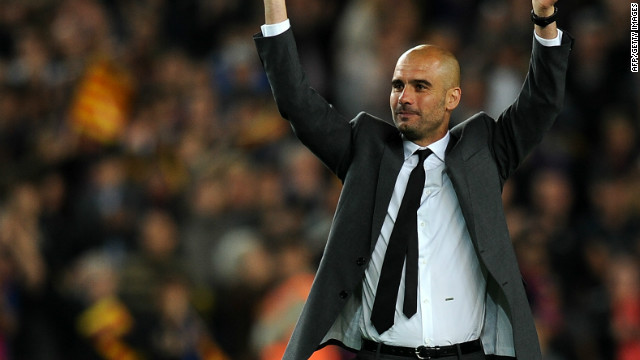 How Pep Guardiola reinvented football
"It takes other great players seven or eight seasons to score the amount of goals he scores in one season. Also, some of his goals are absolute beauties."
Read blog: Is loyalty Barca's biggest strength?
Messi has now scored 64 goals for his club and 12 for his country this year, from just 59 matches overall.
Pele managed 75 from 53 as a 17-year-old in 1958, helping Brazil to win the World Cup for the first of a record five times.
Muller, a World Cup winner in 1974, surpassed Pele's record in a year that West Germany won the European Championship.
Messi has yet to win a senior title with Argentina, though he won Olympic gold with the under-23 side in 2008.
He has nine matches left this year to catch Muller -- six in La Liga, two in the Champions League and one in the Spanish Cup.
His two goals against Malaga gave him 15 in the league this season, three clear of his big rival Cristiano Ronaldo -- who scored the opener in Real Madrid's 2-1 win on a waterlogged pitch at Levante in Sunday's late match.
Ronaldo, switched to a central attacking role with Karim Benzema and Gonzalo Higuain out injured, suffered an early blow above the eye and was taken off at halftime.
The Portugal captain is now Real's seventh highest league scorer with 124 goals since his arrival from Manchester United in 2009 in a world-record $130 million transfer.
Levante leveled in the second half through Angel Rodriguez, but 20-year-old Alvaro Morata headed an 84th-minute winner with his first touch of the ball on his debut to keep Jose Mourinho's third-placed defending champions eight points behind Barcelona.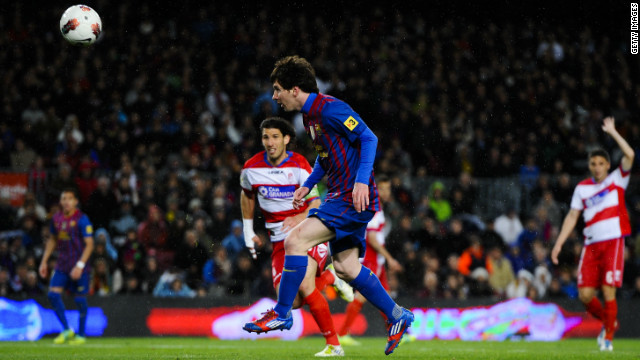 Lionel Messi's hat-trick against Granada took his tally for Barcelona to 234 and past the club's previous highest scorer, Cesar Rodriguez, who notched 232. The 24-year-old secured the record with this cheeky chip.
Messi's first goal for Barca came in May 2005 against Albacete, a strike which made him the youngest goalscorer in the club's history. The record was later broken by Spain's Bojan Krkic, who is now with Italian Serie A side Roma.
The Argentine cemented his position in Barca folklore in March 2007 when he scored a hat-trick against archrivals Real Madrid in a 3-3 draw. He was the first player to score a treble in the "El Clasico" fixture since Chile's Ivan Zamarano in the 1994-95 season.
Comparisons between Messi and his legendary compatriot Diego Maradona were becoming more and more frequent. Messi made them unavoidable by scoring a goal against Getafe in a Copa del Rey semifinal which bore a startling resemblence to Maradona's famous strike against England at the 1986 World Cup.
In February 2009, Messi came off the bench to score twice as Barca rallied from behind to beat Racing Santander 2-1. His second goal was Barca's 5000th in league competition.
Messi headed the second goal as Barca comprehensively outplayed Manchester United in the 2009 European Champions League final, registering a 2-0 win in Rome.
He scored four goals in a match for the first time in his career when Barca beat Arsenal 4-1 in the second leg of their Champions League last eight match in April 2010.
Messi haunted Manchester United in a Champions League final for the second time in 2011 when he scored the second goal as Barca beat the English Champions 3-1 at Wembley. It was Barca's third European triumph in six years.
In January, Messi was crowned the FIFA Ballon d'Or winner for the third time in his career having also won the award for the world's best player in 2010 and 2011. No-one has ever won it four times.
He made Champions League history earlier in March by becoming the first player to score five goals in a single match during Barca's 7-1 demolition of German side Bayer Leverkusen.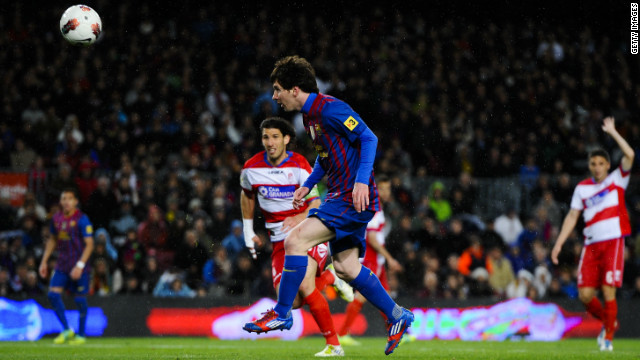 Messi's record-breaking career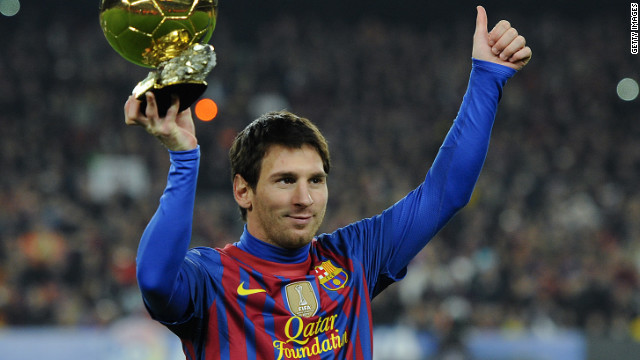 France Football magazine has released a list of the highest-earning players in world soccer. Three-time World Player of the Year Lionel Messi of Barcelona tops the list, earning $52 million in wages and sponsorship deals.
Former England captain David Beckham is second on the list. The 36-year-old recently signed a new contract with Major League Soccer franchise Los Angeles, which he joined in 2007, and he unveiled a clothing line with Swedish store H & M in February.
Real Madrid's Cristiano Ronaldo became the world's most expensive player when he joined the Spanish giants from Manchester United in 2009 for a reported $130 million.The Portugal forward's silky skills and prolific goalscoring also help him to attract sponsorship deals, such as the one he has with his boot manufacturer Nike.
Cameroon's Samuel Eto'o profited from joining big-spending Russian outfit Anzhi Machachkala from Inter Milan in August 2011.
England star Wayne Rooney penned a lucrative five-year contract with Manchester United in October 2010, after initially declaring that he wanted to leave the Old Trafford club.
Argentina striker Serguio Aguero is one of two Manchester City players in the top 10 after joining the Abu Dhabi-owned English Premier League club from Atletico Madrid for a reported $62 million in July 2011.
Aguero is joined on the list by City teammate Yaya Toure, the Ivory Coast midfielder who signed for the club from Barcelona in 2010. Toure signed a sponsorship deal with German brand Puma in October 2011.
Spain striker Fernando Torres joined Chelsea from EPL rivals Liverpool in a British-record transfer reported to be worth $80 million in January 2011. Despite his lucrative move, Torres has struggled to find the net during his spell in west London.
Brazil playmaker Kaka was briefly the world's most expensive player when he signed for Real Madrid from AC Milan in 2009. The reported$100 million fee Real paid for his services was beaten later in the same transfer window, when the Spanish club signed Ronaldo.
Bayern Munich captain Philipp Lahm completes the top 10. The Germany skipper attracted controversy last year for releasing a book in which he criticized the training techniques of former Bayern coaches Jurgen Klinsmann and Felix Magath.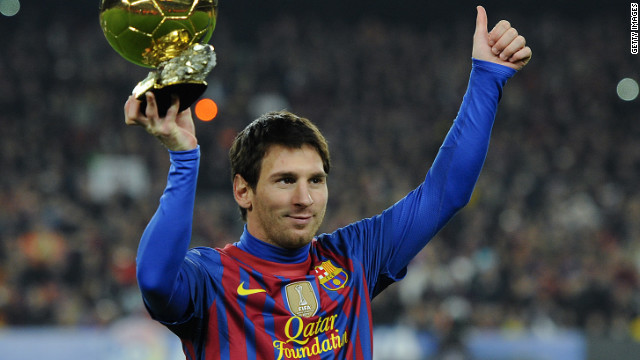 World's richest footballers
Real inflicted Levante's first home defeat this season, hitting the crossbar twice and missing a penalty by Xabi Alonso, whose late freekick set up substitute Morata's winner.
Atletico Madrid retained second place after beating Getafe 2-0.
Adrian Lopez scored a first-half opener after his initial attempt was saved, while Arda Turan's second-half effort was allowed to stand despite a clear handball in the buildup.
In Italy, Inter Milan failed to reduce Juventus' four-point lead after suffering a surprise 3-2 defeat at Atalanta.
Veteran striker German Denis netted in the 60th and 67th minutes to put the home side 3-1 ahead, while Inter reduced the deficit through his fellow Argentine Rodrigo Palacio before Atalanta substitute Facundo Parra was sent off in time added on.
Napoli stayed third with a 4-2 win at Genoa, while fourth-placed Fiorentina won 3-1 away to troubled 2010-11 Serie A champions AC Milan.
Milan's sixth defeat in 12 league games left last season's runners-up in 13th place, with coach Massimiliano Allegri's future increasingly in doubt.
Lazio consolidated fifth place with a 3-2 win in the capital derby against Roma, as both teams had a player sent off.
In Germany, Bayer Leverkusen missed the chance to go above fourth-placed champions Borussia Dortmund after losing 3-1 to third-bottom Wolfsburg.
Leverkusen stayed a point above Hanover, who won 4-2 at Stuttgart.