STORY HIGHLIGHTS
Rory McIlroy completes European Tour/PGA Tour money list double on Sunday
World No. 1 finishes third at the Singapore Open to emulate Luke Donald's 2011 feat
Louis Oosthuizen could have delayed his title win but lost in a playoff to Matteo Manassero
McIlroy will defend his Hong Kong title next week before the season finale in Dubai
(CNN) -- Since its inception in 2009, the Race To Dubai has provided European golf with a thrilling battle for big bucks that has gone to the final day of the season.
But not this year. Such has been Rory McIlroy's dominance in 2012 that the world No. 1 has sealed a notable money list double with two tournaments still to play.
The 23-year-old can defend his Hong Kong Open title next week and then go to Dubai for the $8 million World Tour Championship without the pressure of the last three years, when he was twice the European Tour's No. 2.
"It has been one of my main goals to become number one in Europe ever since securing my card five years ago, so to end the year as the number one on both the European and U.S. PGA Tours is absolutely amazing," McIlroy said after clinching the title with third place at the Singapore Open on Sunday.
He emulated Luke Donald's efforts from last year, but the Englishman needed to play in extra Fall Series events to clinch the American crown on the final day of the season.
'Wozilroy' struggling in Singapore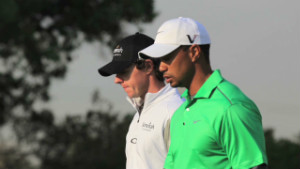 Exclusive: Tiger and Rory's 'bromance'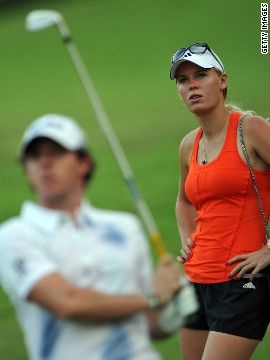 Caroline Wozniacki watches boyfriend Rory McIlroy during the continuation of the weather-delayed first round of the Singapore Open.
The Danish tennis star tweeted that she had not enjoyed having to get up at 5.15 a.m. as McIlroy got ready to resume the tournament.
McIlroy took a break last week to watch Wozniacki's final tournament of the year, and she returned the compliment as he returned to action following his "Duel at Jinsha Lake" against Tiger Woods.
Half of the tournament's players were unable to start their second rounds on Friday due to ongoing rain delays and the threat of lightning.
McIlroy is struggling with illness as he seeks to clinch a notable money list double on both the European and U.S. PGA Tours, emulating Luke Donald's feat last year.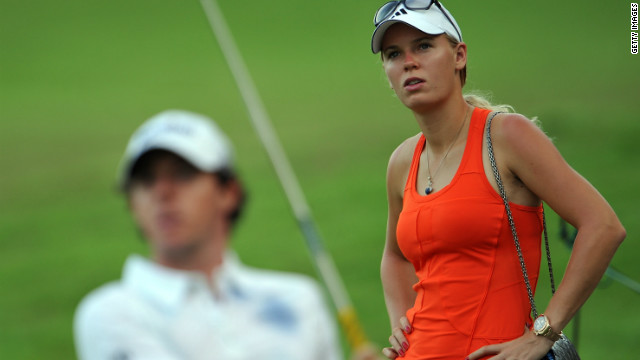 'Wozilroy' struggling in Singapore rain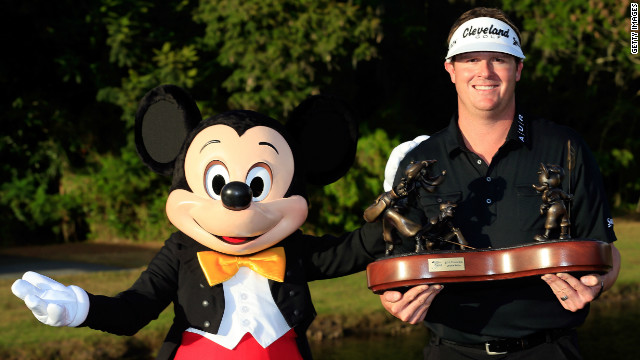 American rookie Charlie Beljan wins the Children's Miracle Network Hospitals Classic just two days after being taking to hospital with an elevated heart rate and numbness in his arm.
Beljan speaks with emergency medical services staff during his second round at the Magnolia course on Friday.
Beljan, who was fighting to keep his PGA Tour playing rights for next season, told his caddy that he thought he was "going to die" after suffering elevated blood pressure and numbness in his arms.
The 28-year-old was taken to hospital following Friday's round, having shot a remarkable eight-under-par 64 to lead the $4.7 million tournament by three shots.
The Arizona native confirmed that he would play in Saturday's third round in Florida despite being advised to rest by doctors.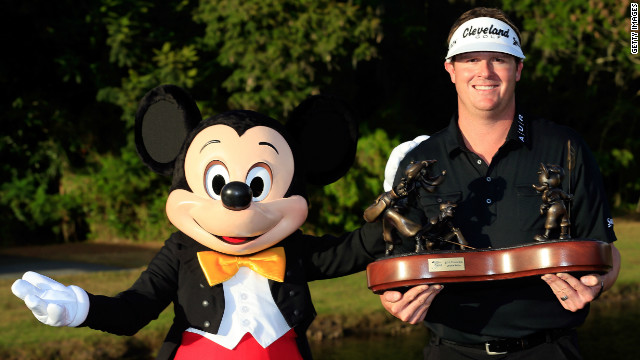 Charlie Beljan's Cinderella story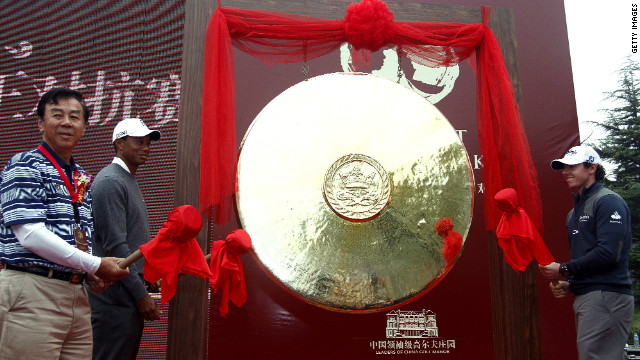 Rory McIlroy and Tiger Woods look on in amusement before banging a ceremonial gong to mark the start of their "Duel at Jinsha Lake."
Both McIlroy and Woods, pictured above, had their handprints immortalized in clay as a lavish ceremony featuring drum majorettes and fireworks preceded their clash in the Chinese city Zhengzhou.
World No. 1 McIlroy cannot keep a straight face as the players pose at the first green, ahead of a clash reported to be paying the pair a combined total of $2 million.
"The scene was barely-controlled chaos," wrote Sports Illustrated's Alan Shipnuck. "Some 3,000 fans streamed across the fairways, with soldiers locking arms in a human fence to keep the throngs off the greens."
A course marshall practices kung fu as she awaits the golfers' arrival.
"On the tee boxes there were so many camera clicks it sounded like machine gun fire," Shipnuck wrote.
Local golf fans talk with one of the models who inhabited the greens in their evening wear in scenes seldom seen on any golf course.
Woods tries to maintain focus as a luxury boat passes by, with the clubhouse car park also boasting a collection of Rolls-Royces, Ferraris, Aston Martins and Maseratis.
Young fans show their support for McIlroy and Woods in a country that is seen as the next great market for golf to conquer.
McIlroy never trailed Woods after starting with a birdie, going on to card a five-under-par 67 -- one less than the world No. 2.
McIlroy awaits his trophy on a day that coincided with the launch of the multi-million-dollar "Golf Villas" to be built around the Jinsha Lake course.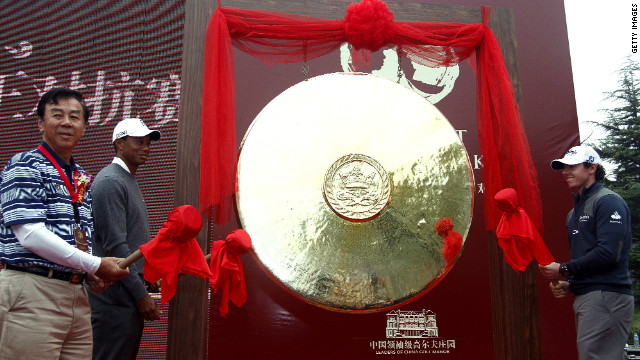 Duel at Jinsha Lake
McIlroy became the youngest player to win the European money list since Scotland's Sandy Lyle did so at the age of 21 in 1979 and 22 the following year.
"I set myself a number of ambitious goals at the start of the year, and to have ticked so many of the boxes feels great," said McIlroy, who displaced Donald at the top of the rankings and won his second major title at the PGA Championship after recovering from a mid-season slump.
"I've still got two events remaining this year, and the goal is still to try and win at least once more before the end of the season. Beyond that, I'm looking forward to a good break over the winter!
"Monty (Colin Montgomerie) won eight Orders of Merit in his prime, and I have only won one so far, so there is plenty of ground to make up. But to be able to go into 2013 as the number one on both tours is hugely satisfying."
McIlroy won $8 million in PGA Tour events and has €3,696,597 ($4.7 million) from Europe's almost worldwide swing -- though both circuits have several co-sanctioned tournaments.
McIlroy's closest European rival, Ryder Cup teammate Peter Hanson, chose not to play in Singapore and will not line up again until Dubai.
Louis Oosthuizen could have delayed McIlroy's crowning for another week, but the South African lost in a playoff at Sentosa to Matteo Manassero.
The 19-year-old Italian eagled the third extra hole to deny 2010 British Open champion Oosthuizen his third title of 2012.
Manassero became the first teenager to win three European Tour titles, having been the youngest to win one in 2010.
McIlroy also eagled his last hole to surge up the leaderboard with a six-under-par 65 that left him three shots behind the top duo.
Denmark's Thomas Bjorn was another shot back in fourth on nine under overall, while Australia's Adam Scott and Italian Francesco Molinari tied for fifth.
The tournament, which is seeking a new sponsor following the withdrawal of Barclays, was plagued by bad weather but went the distance this year -- in 2011 it was reduced to 54 holes.