STORY HIGHLIGHTS
Alastair Campbell: Despite my run-ins with the BBC over the years, I remain a supporter
Campbell wished George Entwistle well, told him that first impressions matter
Entwistle looked like man struggling to find his feet amid media storm, Campbell says
Campbell: BBC's strength is that one of its own interviewers took Entwistle to task
Editor's note: Alastair Campbell is a writer, communicator and strategist best known for his role as former British Prime Minister Tony Blair's spokesman, press secretary and director of communications and strategy. He recently published his diaries covering 9/11 to the Iraq War: The Burden of Power: Countdown to Iraq, Hutchinson.
London (CNN) -- When George Entwistle was appointed director-general of the BBC, I sent him a short message: "Congratulations. Good Luck. And get yourself some decent suits."
Despite my fairly regular run-ins with the BBC, culminating in the dispute that led to the Hutton Inquiry and the resignation of his predecessor-but-one, Greg Dyke, and the then chairman Gavyn Davies, I remain a supporter.
It is one of Britain's great cultural achievements and defining institutions. We can all find faults with it: Overmanning in places, unwieldy bureaucracy, an arrogance in dealing with complaints, occasional races to the bottom to keep up (or down) with the celebrity and reality mania of other channels, failure to protect its sporting heritage (brilliant Olympics coverage notwithstanding). But its journalism tends to be of a quality higher than other channels at home and abroad. It continues to make great programs and films that keep the public engaged, locally, regionally, nationally and internationally; in general it takes its role seriously and carries it out responsibly, and deserves the higher reputation it enjoys when set against other stations, other forms of media, and many other institutions.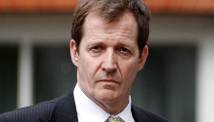 Alastair Campbell
So in sending George Entwistle that personal message, I genuinely wished him well in one of the most exposed and demanding media jobs in the world, at a time when political and rival media forces were positioned to continue their fairly regular onslaughts. As for the reference to the suits, it was light-hearted, yes, but not merely a quip. As an executive rising through the ranks, he didn't have to worry overly about his own presentational skills and demeanor. But once you're at the top, how you look, how you sound, how you come over -- these things matter, because only if they are in good working order will people get to hear the substance of what you are saying, respond, and follow the leadership you are seeking to give.
As he stood, all smiles alongside the similarly smiling BBC Trust Chairman Chris Patten, on the day he got the job, the slightly crumpled suit was the look of an editor of the current affairs program Newsnight -- not the look of the new man in charge. Small point, you might think. But when a crisis comes, the small points become enlarged. Former Conservative Culture Secretary David Mellor may have been harsh in saying "poor George had the leadership qualities of Winnie the Pooh," but that was his brutally political assessment of how he looked, how he sounded and how he came over.
BBC News director, deputy 'step aside'
First impressions matter. When BP was handling the crisis provoked by the Deepwater Horizon oil spill, it became clear that whatever business skills company boss Tony Hayward had, communications were not top of the list. His first intervention was something of a disaster, and set the tone for those which followed, until all benefit of the doubt was gone.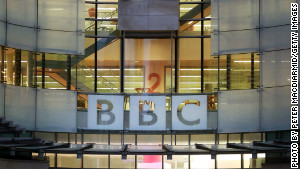 BBC chief quits over report error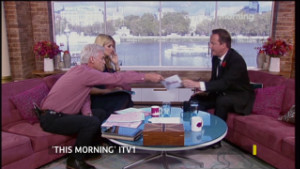 UK PM handed 'pedophile' list on live TV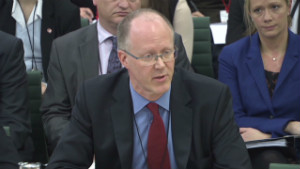 TV icon sex abuse scandal rocks the BBC
So, as the scandal over sexual abuse by the late BBC presenter Jimmy Savile grew -- and with it the controversy over the shelving of a Newsnight investigation into his actions -- Entwistle looked like a man struggling to find his feet amid the howls of a full-blown media storm, part caused by genuine issues of scandal, part by other media interests exploiting them to promote their own at the expense of the BBC.
By the time the second Newsnight fiasco developed, this time over something they did report rather than something they didn't, he was not cutting it as a commanding figure. Had Saturday's Today program interview been the first such performance, he might have survived a little longer. But it wasn't. It was just the latest, the most difficult, and the one that had him looking in the mirror and saying "I know I have to go."
It was a sign of the strength of the BBC that it was one of its own interviewers, John Humphrys, who so took Entwistle to task that the hopelessness of the position was exposed. Can anyone point me to a challenging Fox News or Sky News interview with Rupert Murdoch over phone-hacking, biased U.S. election reporting, or any other of the cultural depravities he seems to be proud of as he sits and tweets atop his empire? No, I didn't think so.
However, as CNN have also asked me to address any comparisons or differences with the BBC crisis I am alleged to have provoked in 2003, I wonder whether it would even have happened had Humphrys been half as vigorous with reporter Andrew Gilligan. Instead he allowed him, virtually unchallenged, and because they fitted the then agenda on the issue, to make a series of explosive and false claims against the Blair government over the Weapons of Mass Destruction dossier of September 2002. Had he not done so, had the BBC accepted there might have been another side to the story, and properly investigated Gilligan's story when asked to do so via an official complaint, that particular situation might not have become the crisis it did, and Gilligan's misquoted contact, David Kelly, might still be alive.
Steady rise, fast fall for BBC chief
The problem then was that because it was the government making the complaint, the BBC from top to bottom decided it had to defend the original broadcast right or wrong. Indeed the most shocking thing to emerge from the Hutton Inquiry was the utter failure of the management to establish the veracity -- or rather lack of veracity -- of the report which set the whole thing off. Dyke and Davies went. Gilligan went. But some key players were promoted. [Editor's note: Gilligan later admitted that some of his reporting about the dossier on Iraqi WMD was wrong. "I again apologize for it," he said. "My departure is at my own initiative. But the BBC collectively has been the victim of a grave injustice."]
Can anyone point me to a challenging Fox News or Sky News interview with Rupert Murdoch over phone-hacking, biased U.S. election reporting, or any other of the cultural depravities he seems to be proud of as he sits and tweets atop his empire?
Alastair Campbell
Others today parade as independent commentators on BBC affairs, rarely if ever acknowledging their own role, and regularly perpetuating the falsehoods of the time by saying that because no WMD were found after the fall of Saddam Hussein in Iraq, the BBC was right. A reminder of the actual allegations: that we -- and specifically I -- inserted false intelligence into the dossier, against the wishes of the intelligence agencies, when knowing it to be false. As untrue today as it was then. A failure of journalism, certainly, but also a failure of management, and for some the denial goes on.
Indeed, with Entwistle gone, and proper inquiries both into the Savile story, and into the Newsnight coverage which led to a former Tory politician falsely being named as a pedophile, at least this time, the BBC did not do its usual "BBC right or wrong" thing. There has been acknowledgement of wrongdoing, and it is being addressed.
One problem that does persist from a decade ago, despite the organizational changes which include the five-year-old BBC Trust, is the confusion surrounding the position of the BBC chairman. For Lord Patten, the current chairmanship is one in a long line of establishment positions he has held since losing his seat in parliament in 1992. Yet, as has also been pointed out by David Mellor, he seems to have lost the political skills he was once deemed to possess.
He said it was "one of the saddest evenings of my public life" to see his appointee fall on his sword. Yet it was his appointee, and assuming he is still in place to oversee the succession, he will have to do a better job this time. The nature of Entwistle's departure makes the process, and the politically exposed position for the successor, even more difficult.
TV icon sex-abuse scandal rocks BBC
It is hard to escape the conclusion that the same weaknesses some commentators and insiders saw in Entwistle when he was appointed lay behind the appointment in the first place: it would not be the first time the board of an important organization appointed as chief executive someone they felt was unlikely to threaten or overshadow them.
In any event, Lord Patten's role surely has to come under proper examination now, not just in relation to the appointment process, but also in the fundamental flaw in the nature of the position which makes him both cheerleader and regulator, defender and overseer.
All the above being said, however, it is important for the BBC not to panic, not to overreact. As with Gilligan, we are talking here about one piece of very bad journalism which, coming on top of the horrors uncovered posthumously about Savile, have led to frenzy and now genuine crisis for the leadership of the organization. Entwistle has carried the can, but clearly others directly involved in that bad piece of journalism are likely to have to go.
But the BBC can and will withstand it. It means finding the right person now. It does not mean tearing up the current BBC Charter half way through. And it means we should see the rest of the British media's attacks for what they are -- self-serving positioning in a complex and difficult environment made more so by the pending report into press ethics by Lord Justice Leveson.
Let us see how firm their commitment is to the exposure of wrongdoing by journalists when he reports, let alone their willingness to take responsibility for it as Entwistle has done.
The opinions expressed in this commentary are solely those of Alastair Campbell.