A Cinderella story: Beljan comes back from brink
November 12, 2012 -- Updated 1433 GMT (2233 HKT)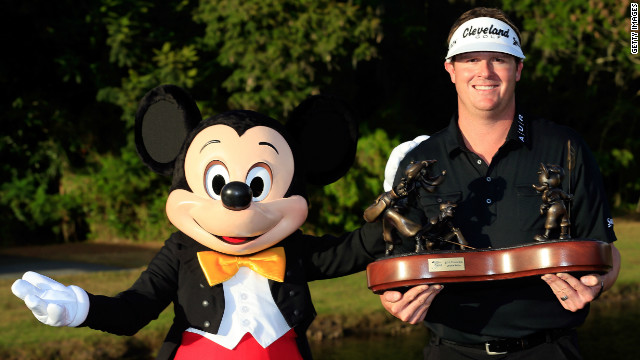 American rookie Charlie Beljan wins the Children's Miracle Network Hospitals Classic just two days after being taking to hospital with an elevated heart rate and numbness in his arm.
Beljan speaks with emergency medical services staff during his second round at the Magnolia course on Friday.
Beljan, who was fighting to keep his PGA Tour playing rights for next season, told his caddy that he thought he was "going to die" after suffering elevated blood pressure and numbness in his arms.
The 28-year-old was taken to hospital following Friday's round, having shot a remarkable eight-under-par 64 to lead the $4.7 million tournament by three shots.
The Arizona native confirmed that he would play in Saturday's third round in Florida despite being advised to rest by doctors.
Cinderella story
Panic attack?
Time out
Hospital treatment
Playing on
STORY HIGHLIGHTS
Charlie Beljan wins first PGA Tour event after being hospitalized
The U.S. rookie suffered an elevated heart rate and numbness in his arm on Friday
Beljan's two-stroke win guarantees him a PGA Tour card for the 2013 season
Beljan: "I was literally fighting for my life and I just think that you can't ever give up"
(CNN) -- It was a Cinderella story taken straight from the script of a Disney classic.
On Friday, Charlie Beljan thought he was dying at the Magnolia Golf Course in Florida, with his professional golf career also about to take a potentially fatal blow .
But two days later the American rookie was celebrating his first victory on the U.S.-based circuit, retaining his Tour card for 2013 after a win at the appropriately named Children's Miracle Network Hospitals Classic.
Beljan was taken to hospital after Friday's second round suffering from an elevated heart rate and numbness in his left arm after finishing the day's round as leader of the tournament.
Ignoring advice from doctors to rest, Beljan played on over the weekend and carded a three-under-par round of 69 on Sunday, which secured him a two-shot victory over compatriot Matt Every.
As Beljan celebrated with his seven-week old son on the 18th green a band played "Zippity-Do-Dah" -- from the 1946 Disney "Song of the South" -- and a wonderful day for the Arizona native was complete.
"Every day I drove underneath that Disney sign coming in here that said, 'Where dreams come true,' and that's just what happened this week," the 28-year-old told the PGA Tour's official website. "And I'm so grateful and so honored."
The win means Beljan will not have to navigate the PGA Tour's offseason qualifying school.
"It was incredible," Beljan said after picking up the eighth win of his pro career. "I was happy that I was a PGA Tour champion. I was happy that my wife and my baby were here. It still isn't real."
The good news kept coming for Beljan, who also pocketed a winner's check for $846,000.
"You never know what's going to happen in this game or in the game of life," he added. "You keep plugging away."
"I believe that everything happens for a reason, and sometimes days like Friday weren't very enjoyable, but the score was wonderful, and I think it taught me that it doesn't matter about your golf swing or your putting stroke."
"I was literally fighting for my life and I just think that you can't ever give up."

September 22, 2014 -- Updated 1243 GMT (2043 HKT)

Patriotism will reach fever pitch when the USA and Europe collide in golf's Ryder Cup ... and it looks like Rickie Fowler has let it go to his head.
September 22, 2014 -- Updated 1342 GMT (2142 HKT)

Pressure is inescapable in the cauldron of Ryder Cup competition -- pressure and ping pong.
September 22, 2014 -- Updated 1350 GMT (2150 HKT)

Millions of golf fans were watching on television with great anticipation. All Martin Kaymer could think about was getting his phone out.
September 12, 2014 -- Updated 1140 GMT (1940 HKT)

She's just 19 but Hyo Joo Kim is already showing she's ready for the big time after recording the lowest ever round at a major championship.
September 12, 2014 -- Updated 1131 GMT (1931 HKT)

The world's top women golfers will be chasing a $3.25 million prize purse at one of the most stunning courses on the LPGA Tour.
September 3, 2014 -- Updated 1219 GMT (2019 HKT)

Tom Watson selects Keegan Bradley, Hunter Mahan and Webb Simpson as his wildcard picks for the Ryder Cup contest with Europe.
September 2, 2014 -- Updated 1352 GMT (2152 HKT)

Ian Poulter, who has constantly haunted the U.S. in Ryder Cup golf, is back after being chosen as a wildcard by European captain Paul McGinley.
August 25, 2014 -- Updated 1540 GMT (2340 HKT)

Tiger Woods has split with his longtime coach Sean Foley after not winning a major during their four-year tenure.
August 11, 2014 -- Updated 1105 GMT (1905 HKT)

Success just keeps on coming for Rory McIlroy, but the world No. 1 is already targeting more titles following his second PGA Championship win.
August 8, 2014 -- Updated 1424 GMT (2224 HKT)

From Seve's "spine-shivering" moment to Jack Nicklaus' "perfect explosion," David Cannon has captured many of golf's defining images.

Today's five most popular stories