A Cinderella story: Beljan comes back from brink
November 12, 2012 -- Updated 1433 GMT (2233 HKT)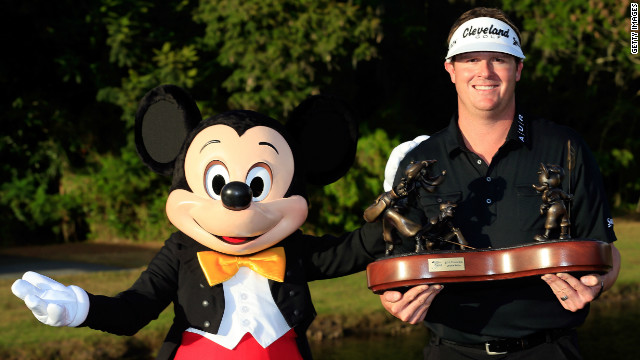 American rookie Charlie Beljan wins the Children's Miracle Network Hospitals Classic just two days after being taking to hospital with an elevated heart rate and numbness in his arm.
Beljan speaks with emergency medical services staff during his second round at the Magnolia course on Friday.
Beljan, who was fighting to keep his PGA Tour playing rights for next season, told his caddy that he thought he was "going to die" after suffering elevated blood pressure and numbness in his arms.
The 28-year-old was taken to hospital following Friday's round, having shot a remarkable eight-under-par 64 to lead the $4.7 million tournament by three shots.
The Arizona native confirmed that he would play in Saturday's third round in Florida despite being advised to rest by doctors.
Cinderella story
Panic attack?
Time out
Hospital treatment
Playing on
STORY HIGHLIGHTS
Charlie Beljan wins first PGA Tour event after being hospitalized
The U.S. rookie suffered an elevated heart rate and numbness in his arm on Friday
Beljan's two-stroke win guarantees him a PGA Tour card for the 2013 season
Beljan: "I was literally fighting for my life and I just think that you can't ever give up"
(CNN) -- It was a Cinderella story taken straight from the script of a Disney classic.
On Friday, Charlie Beljan thought he was dying at the Magnolia Golf Course in Florida, with his professional golf career also about to take a potentially fatal blow .
But two days later the American rookie was celebrating his first victory on the U.S.-based circuit, retaining his Tour card for 2013 after a win at the appropriately named Children's Miracle Network Hospitals Classic.
Beljan was taken to hospital after Friday's second round suffering from an elevated heart rate and numbness in his left arm after finishing the day's round as leader of the tournament.
Ignoring advice from doctors to rest, Beljan played on over the weekend and carded a three-under-par round of 69 on Sunday, which secured him a two-shot victory over compatriot Matt Every.
As Beljan celebrated with his seven-week old son on the 18th green a band played "Zippity-Do-Dah" -- from the 1946 Disney "Song of the South" -- and a wonderful day for the Arizona native was complete.
"Every day I drove underneath that Disney sign coming in here that said, 'Where dreams come true,' and that's just what happened this week," the 28-year-old told the PGA Tour's official website. "And I'm so grateful and so honored."
The win means Beljan will not have to navigate the PGA Tour's offseason qualifying school.
"It was incredible," Beljan said after picking up the eighth win of his pro career. "I was happy that I was a PGA Tour champion. I was happy that my wife and my baby were here. It still isn't real."
The good news kept coming for Beljan, who also pocketed a winner's check for $846,000.
"You never know what's going to happen in this game or in the game of life," he added. "You keep plugging away."
"I believe that everything happens for a reason, and sometimes days like Friday weren't very enjoyable, but the score was wonderful, and I think it taught me that it doesn't matter about your golf swing or your putting stroke."
"I was literally fighting for my life and I just think that you can't ever give up."

August 8, 2014 -- Updated 1424 GMT (2224 HKT)

From Seve's "spine-shivering" moment to Jack Nicklaus' "perfect explosion," David Cannon has captured many of golf's defining images.
August 7, 2014 -- Updated 1320 GMT (2120 HKT)

They came home as casualties of war -- physically shattered and mentally broken. But golf is proving to be an unlikely salvation for U.S. veterans.
August 5, 2014 -- Updated 1231 GMT (2031 HKT)

You are the one hitting the shots, but the man standing over your shoulder could hold the key to your golfing destiny.
July 21, 2014 -- Updated 1227 GMT (2027 HKT)

He has been there for all three of his son's major wins, but the latest triumph may well have been the sweetest yet for Rory McIlroy's father.
July 9, 2014 -- Updated 1218 GMT (2018 HKT)

The next generation of golfers just keeps on getting younger. "They have the confidence to perform against their idols," says one ex-prodigy.
July 1, 2014 -- Updated 1159 GMT (1959 HKT)

He was Spain's ultimate matador and golf's greatest escape artist.
June 18, 2014 -- Updated 1536 GMT (2336 HKT)

Two-time major champion Rory McIlroy declares he'll represent Ireland at the Rio Olympics, not Great Britain.
April 29, 2014 -- Updated 0248 GMT (1048 HKT)

Already admired by Annika Sorenstam and with a bucketful of talent, New Zealand's Lydia Ko has the world of golf at her feet.
April 28, 2014 -- Updated 1130 GMT (1930 HKT)

Like footie? Partial to a bit of golf? Then you'll love FootGolf. The sport's growing fan base includes a host of former English Premier League stars.
April 24, 2014 -- Updated 1343 GMT (2143 HKT)

A runaway ostrich-like bird hiding near an English golf course has caused quite a stir. Some say it's dangerous, while others are cashing in.
April 22, 2014 -- Updated 1238 GMT (2038 HKT)

Eagles may be thin on the ground for most golfers at the Bear Trace course at Harrison Bay. But up in the treetops, it's a different matter.
April 18, 2014 -- Updated 1754 GMT (0154 HKT)

When someone tells you to go jump in a lake, sometimes it's best to take their advice. "I've never been so scared," says golfer Pablo Larrazabal.

Today's five most popular stories