Turn-down service for first class fliers
November 12, 2012 -- Updated 2209 GMT (0609 HKT)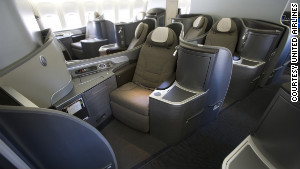 STORY HIGHLIGHTS
United Airlines is offering new turn-down service in first class on international flights
A sleeping cushion with a 250-thread count cover is part of the new offering
Multi-course meals and fine wines are part of the airline's existing Global First service
(CNN) -- Sweet dreams on an airplane generally are reserved for first class passengers. And United Airlines is sweetening that dreamy proposition for their premier passengers with a new turn-down service on long-haul international flights.
Upon request, crew members will make up a passenger's flat-bed suite, plumped up with a new sleeping cushion with a 250 thread-count cover, plus the airline's standard duvet, pillows and Philosophy-brand toiletry kit. Note: there are mints in the toiletry kit, but not on the pillow.
"Throughout their travel experience, our Global First customers expect the highest level of service," said Mark Bergsrud, United's senior vice president of marketing, in a statement. "The new turn-down service offers customers even more comfort, enabling them to arrive at their destinations refreshed and ready to go."
United Global First is offered on most flights to Europe, Asia, Africa, India, the Middle East, South America and the South Pacific, and flights between Tokyo and Bangkok, Seoul, Singapore and Taipei.
United isn't the first airline to offer turn-down service, according to Bryan Saltzburg, general manager of TripAdvisor Flights and SeatGuru. "A number of international carriers have been offering turn-down service for years in their premium cabins," Saltzburg said in an e-mail. American Airlines was the first U.S. carrier to offer the service, he said.
U.S. airline offerings have been lagging behind international airlines for years, Saltzburg said.
"With Singapore Air and Cathay Pacific setting the bar for Asia, Lufthansa and (British Airways) for Europe, and now the aggressively-rising Middle East carriers like Emirates and Etihad setting a new standard, American carriers are starting to focus more heavily on their premium cabins."
In addition to the new bedding service, United's first class passengers are also treated to multi-course meals and fine wines among other perks. These luxuries do come at a price. A search Monday for a Chicago to London roundtrip flight the first week in December yielded Global First tickets starting at more than $12,000. Bon voyage, business executives.
The rest of us will continue to sleep really tight in coach.

Part of complete coverage on
CNN recommends
June 11, 2013 -- Updated 1817 GMT (0217 HKT)

It's about making an entrance. Dramatic entries are a given with air travel, and airports should convey a sense of welcome and arrival.
September 10, 2013 -- Updated 1356 GMT (2156 HKT)

When even the most secluded beach on the mainland is too crowded, there's always the option of renting a private island for your vacation. Really.
June 6, 2013 -- Updated 1218 GMT (2018 HKT)

Yosemite National Park has almost everything a nature lover could desire.
September 10, 2013 -- Updated 1722 GMT (0122 HKT)

It all started with Madonna -- the original Madonna -- and the 16th-century Italian artists who paid tribute to her with artwork drawn directly on the street.
September 9, 2013 -- Updated 1333 GMT (2133 HKT)

Sports venues in the United States have come full circle.
September 6, 2013 -- Updated 1237 GMT (2037 HKT)

Bread served hot out of the oven. Fluffy pancakes topped with huckleberries. These are the kinds of hotel breakfasts that satisfy guests.
November 27, 2013 -- Updated 1105 GMT (1905 HKT)

An afternoon spent in a world-class museum can be an out-of-body experience -- a trip in a mental time machine.
February 4, 2013 -- Updated 1627 GMT (0027 HKT)

Check out daily travel photos from CNN.com readers and share your best shots
June 10, 2013 -- Updated 1212 GMT (2012 HKT)

We've come to expect fees for hotel WiFi and parking, but as lodging fees pile up, there are some that may come as a surprise.
April 26, 2013 -- Updated 1222 GMT (2022 HKT)

The worn-down, travel-weary businessperson is looking for proximity, convenience and comfort in an airport hotel. There's little time to waste.
October 19, 2012 -- Updated 1245 GMT (2045 HKT)

Gross is everywhere. It's in the food we eat, it's in nature, and of course, we ourselves might be the greatest source of grossness.
July 28, 2012 -- Updated 0101 GMT (0901 HKT)

When five teenagers sat down and posed for a picture at Copco Lake in 1982, they didn't plan on making it a tradition. But that's what it became.
Today's five most popular stories