Turn-down service for first class fliers
November 12, 2012 -- Updated 2209 GMT (0609 HKT)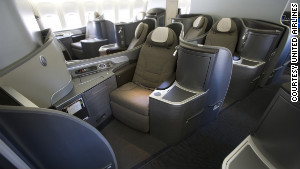 STORY HIGHLIGHTS
United Airlines is offering new turn-down service in first class on international flights
A sleeping cushion with a 250-thread count cover is part of the new offering
Multi-course meals and fine wines are part of the airline's existing Global First service
(CNN) -- Sweet dreams on an airplane generally are reserved for first class passengers. And United Airlines is sweetening that dreamy proposition for their premier passengers with a new turn-down service on long-haul international flights.
Upon request, crew members will make up a passenger's flat-bed suite, plumped up with a new sleeping cushion with a 250 thread-count cover, plus the airline's standard duvet, pillows and Philosophy-brand toiletry kit. Note: there are mints in the toiletry kit, but not on the pillow.
"Throughout their travel experience, our Global First customers expect the highest level of service," said Mark Bergsrud, United's senior vice president of marketing, in a statement. "The new turn-down service offers customers even more comfort, enabling them to arrive at their destinations refreshed and ready to go."
United Global First is offered on most flights to Europe, Asia, Africa, India, the Middle East, South America and the South Pacific, and flights between Tokyo and Bangkok, Seoul, Singapore and Taipei.
United isn't the first airline to offer turn-down service, according to Bryan Saltzburg, general manager of TripAdvisor Flights and SeatGuru. "A number of international carriers have been offering turn-down service for years in their premium cabins," Saltzburg said in an e-mail. American Airlines was the first U.S. carrier to offer the service, he said.
U.S. airline offerings have been lagging behind international airlines for years, Saltzburg said.
"With Singapore Air and Cathay Pacific setting the bar for Asia, Lufthansa and (British Airways) for Europe, and now the aggressively-rising Middle East carriers like Emirates and Etihad setting a new standard, American carriers are starting to focus more heavily on their premium cabins."
In addition to the new bedding service, United's first class passengers are also treated to multi-course meals and fine wines among other perks. These luxuries do come at a price. A search Monday for a Chicago to London roundtrip flight the first week in December yielded Global First tickets starting at more than $12,000. Bon voyage, business executives.
The rest of us will continue to sleep really tight in coach.

Part of complete coverage on
CNN recommends
April 23, 2014 -- Updated 1723 GMT (0123 HKT)

Fireworks are fantastic and human endeavor has its place, but sometimes Mother Nature outshines any performance we can produce.
February 22, 2014 -- Updated 1909 GMT (0309 HKT)

They're almost unbelievable. Impossible blues, electric greens, depths as clear as glass -- all bathed in blinding sunshine.
July 29, 2014 -- Updated 1538 GMT (2338 HKT)

Each day, CNN producers select a user-submitted photo to be our Travel Photo of the Day. Click through the gallery above to see stunning shots from around the world, and be sure to come back every day for a new image.
February 12, 2014 -- Updated 1653 GMT (0053 HKT)

Are abandoned buildings urban blight or historic relics? Photographers love them, in either case.
March 14, 2014 -- Updated 1600 GMT (0000 HKT)

The lush Emerald Isle is easy on the eyes.
January 17, 2014 -- Updated 2225 GMT (0625 HKT)

Earth never stops surprising us. Every corner of the planet offers some sort of natural peculiarity.

For 24 hours, we made the world's busiest airport our destination and found a world unto its own. Join us on our journey. What you see will surprise you.
August 13, 2013 -- Updated 1934 GMT (0334 HKT)

Beaches along the coasts of the United States call to shoreline explorers year-round.
July 28, 2012 -- Updated 0101 GMT (0901 HKT)

When five teenagers sat down and posed for a picture at Copco Lake in 1982, they didn't plan on making it a tradition. But that's what it became.
Today's five most popular stories