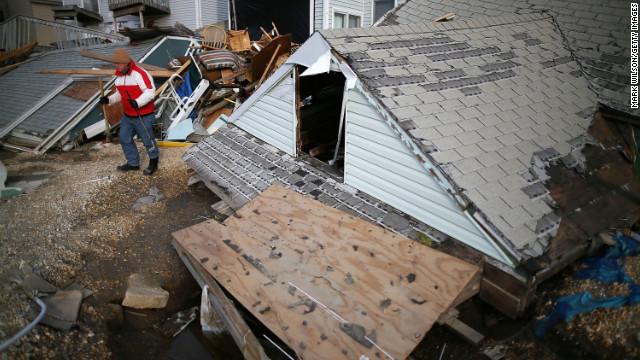 David McCue stands near the roof of his beach house, which was completely demolished by Superstorm Sandy, in Ortley Beach, New Jersey, on Sunday, November 25.
See photos of the immediate aftermath of Sandy.
Utility workers replace a pole Sunday that was damaged by Superstorm Sandy in Seaside Heights, New Jersey.
Old photographs are laid out to dry on a car hood on Sunday after being removed from a home in Seaside Heights.
Rena McCain cleans out the first floor of her home in Seaside Heights on Sunday.
Little remains of this home in Union Beach, New Jersey, on Tuesday, November 20, after Superstorm Sandy devastated the area.
Wilma Marrero and son Joseph Kendall wait in line about five hours Tuesday for food and other items from a Coney Island distribution point in Brooklyn, New York.
Volunteers on Tuesday remove flooring from a Keansburg, New Jersey, home damaged by the storm.
People walk along a beach in the heavily damaged Rockaway neighborhood in the Queens borough of New York on Friday, November 16.
Amy Neukom works to remove sand from her parents' house in Mantoloking, New Jersey, on Friday -- a result of Superstorm Sandy.
Residents wait for free food in a parking lot in Rockaway on Friday.
President Barack Obama embraces a local resident on Cedar Grove Avenue during a visit to Staten Island on Thursday, November 15.
People receive free sandwiches from a mobile food distribution center in the Rockaway neighborhood of Queens, New York, on Thursday.
Residents take free clothing Thursday at the Ocean Bay Action Center in Queens.
A tattered U.S. flag flies over the storm-damaged boardwalk in the Rockaway section of Queens on Thursday.
Lisa Baney walks back toward her family's home in Bay Head, New Jersey, after taking a photo of a neighbor's destroyed house Wednesday, November 14.
A living room is filled with sand Wednesday washed in by Superstorm Sandy in Point Pleasant Beach, New Jersey. Two weeks after the storm hit, many residents of the seaside town remain without power.
People wait in line to receive free food from the American Red Cross on Wednesday in the heavily damaged Rockaway neighborhood of Queens, New York. Thousands are still without power and heat.
People walk past a destroyed miniature golf attraction Wednesday in Point Pleasant, New Jersey.
Heavy equipment operator Bill Unger carries photos he salvaged from a mass dump of household possessions on Tuesday in the Midland Beach area of the Staten Island. Unger said he's been collecting the photos as he cleans and taking them to his daughter, who is posting them on Facebook for neighborhood residents to find and later collect.
People wait in line to collect some of the 1,500 donated coats from New York Cares on Tuesday in Queens. The charity started its annual coat drive early this year to assist those affected by Superstorm Sandy. It hopes to collect 200,000 coats this winter.
A woman walks past debris on Rockaway Beach on Tuesday.
A New York police officer jumps over a large crack in a boardwalk in Brooklyn on Wednesday, November 14. The boardwalk was damaged by the storm surge from Hurricane Sandy.
Insurance claims adjusters walk past burned-out houses Wednesday in the Breezy Point section of Queens, New York. A fire that broke out in the neighborhood during the storm destroyed more than 100 homes.
A family friend of a drowning victim of Superstorm Sandy looks through household debris in New York on Tuesday, November 13.
A man looks through the home of a drowning victim Tuesday.
Children wait to board buses to temporary schools in the Rockaway Beach neighborhood of Queens, New York, on Tuesday. The Rockaways peninsula was hit especially hard when Sandy barreled into the East Coast on October 29, unleashing a record storm surge that flooded low-lying areas and fierce winds that toppled trees and power lines.
A home damaged by Sandy is seen in Union Beach, New Jersey, on Monday, November 12.
A resident of Breezy Point in Queens walks past houses destroyed by fire during Sandy on Monday.
Shoes are set out to dry Monday on the steps of a house in an area that was completely flooded on the south side of Staten Island in New York City.
Dale Freeman stands in his water-damaged apartment in a public housing building that still doesn't have power on Monday in Brooklyn. About 58,000 customers in the Rockaways, Long Island and Brooklyn require more extensive repairs before electricity can be restored.
Residents who returned to their damaged homes line up for a hot meal served from a Red Cross vehicle on Samson Avenue in Seaside Heights, New Jersey, on Monday.
A home damaged by Sandy lists in Mantoloking, New Jersey, on Monday.
One room has power Monday in Rockaway, where many areas are still without electricity. "If you don't have your power back, it probably means power can't be restored to your home at this time," New York Gov. Andrew Cuomo said Monday afternoon.
Debris strewen by Superstorm Sandy sits piled outside a damaged home in Mantoloking, New Jersey, on Monday.
People line up to receive donated items from Catholic Charities of Brooklyn and Queens at Visitation of the Blessed Virgin Mary Catholic Church in Brooklyn on Monday.
People gather for donated food beneath a spotlight in an area still without power on Monday in Rockaway.
Roofers repair damage Monday on a home in the Annadale neighborhood of Staten Island.
An SUV sits atop the debris from a home in Mantoloking, New Jersey, on Monday.
A woman makes her way past trash piles in Lower Manhattan on Monday.
A man looks through donated clothes and supplies at nightfall Monday in Rockaway.
Long, slow recovery from Superstorm Sandy
Long, slow recovery from Superstorm Sandy
Long, slow recovery from Superstorm Sandy
Long, slow recovery from Superstorm Sandy
Long, slow recovery from Superstorm Sandy
Long, slow recovery from Superstorm Sandy
Long, slow recovery from Superstorm Sandy
Long, slow recovery from Superstorm Sandy
Long, slow recovery from Superstorm Sandy
Long, slow recovery from Superstorm Sandy
Long, slow recovery from Superstorm Sandy
Long, slow recovery from Superstorm Sandy
Long, slow recovery from Superstorm Sandy
Long, slow recovery from Superstorm Sandy
Long, slow recovery from Superstorm Sandy
Long, slow recovery from Superstorm Sandy
Long, slow recovery from Superstorm Sandy
Long, slow recovery from Superstorm Sandy
Long, slow recovery from Superstorm Sandy
Long, slow recovery from Superstorm Sandy
Long, slow recovery from Superstorm Sandy
Long, slow recovery from Superstorm Sandy
Long, slow recovery from Superstorm Sandy
Long, slow recovery from Superstorm Sandy
Long, slow recovery from Superstorm Sandy
Long, slow recovery from Superstorm Sandy
Long, slow recovery from Superstorm Sandy
Long, slow recovery from Superstorm Sandy
Long, slow recovery from Superstorm Sandy
Long, slow recovery from Superstorm Sandy
Long, slow recovery from Superstorm Sandy
Long, slow recovery from Superstorm Sandy
Long, slow recovery from Superstorm Sandy
Long, slow recovery from Superstorm Sandy
Long, slow recovery from Superstorm Sandy
Long, slow recovery from Superstorm Sandy
Long, slow recovery from Superstorm Sandy
Long, slow recovery from Superstorm Sandy
Long, slow recovery from Superstorm Sandy
Long, slow recovery from Superstorm Sandy