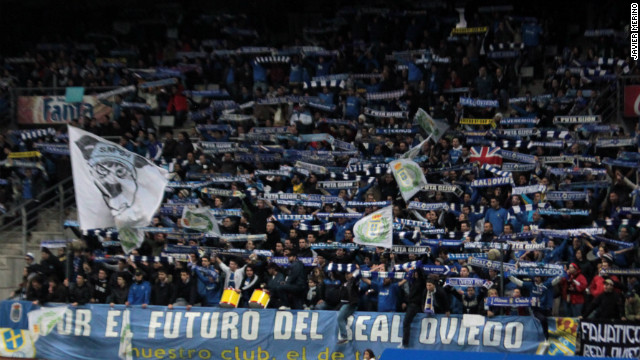 Real Oviedo fans show their support for the club in the Estadio Carlos Tartiere with a banner reading "For the future of Real Oviedo" before a game with Real Madrid's reserve team on November 11, 2012.
The Real Oviedo players huddle on the pitch before the match.
Real Oviedo fans hold up a banner as they march through the northern city on their way to the game.
Fans demonstrate against the demise of their club, which needs to raise $2.4 million by November 17.
Oviedo fans display a banner in the Estadio Carlos Tartiere reading: "Happen what may, Oviedistas until death."
World Cup winner Juan Mata is one of the stars produced by Oviedo's youth system. He now plays for England's European champions Chelsea.
Arsenal's midfield maestro Santi Cazorla is another big-name player from Oviedo's academy who is helping to save his former club.
Michu was a Real Oviedo player for four years and has been campaigning on Twitter to save the club. He now plays in the English Premier League with Welsh club Swansea.
Real Oviedo: A Twitter sensation
Real Oviedo: A Twitter sensation
Real Oviedo: A Twitter sensation
Real Oviedo: A Twitter sensation
Real Oviedo: A Twitter sensation
Real Oviedo: A Twitter sensation
Real Oviedo: A Twitter sensation
Real Oviedo: A Twitter sensation
STORY HIGHLIGHTS
Real Oviedo's story has become an instant Twitter sensation as football fans snap up shares
Now in the third tier, Real Oviedo developed players like Juan Mata, Santi Cazorla and Michu
Club received over €1 million in just nine days, with €274,000 of that from people from Twitter
(CNN) -- In an age when Russian oligarchs and Arab Sheikhs spend billions of dollars on forging the perfect dream team, fan ownership has become a novelty for many of Europe's top soccer clubs. But it is a route that might just be the salvation of struggling Spanish team Real Oviedo, thanks to a social media campaign that has gone viral.
Once a top-flight contender with La Liga heavyweights Real Madrid and Barcelona, the 86-year-old club -- based in the northern mining region of Asturias -- has until Saturday to raise €1.9 million ($2.4 million) or face extinction.
So far Oviedo has received over €1 million in a period of just nine days -- with €274,000 coming from those who heard about it via Twitter, according to board member Juan Ramon. There is a Twitter hashtag set up -- #saverealoviedo.
The football community is also doing its part to save the third division club, whose "cantera" youth academy -- or quarry -- is responsible for unearthing some of the gems of Spanish football. Names such as World Cup winner Juan Mata, Arsenal's little magician Santi Cazorla and Swansea's star striker Michu are all graduates.
The English Premier League stars have joined forces to help save their former club, while Real Madrid legend Raul has bought €1,000 worth shares to keep Oviedo in business.
Real Oviedo and Sporting de Gijon are the two major clubs in Asturias, once the heartland of Spanish coal mining and one of the country's most prosperous regions.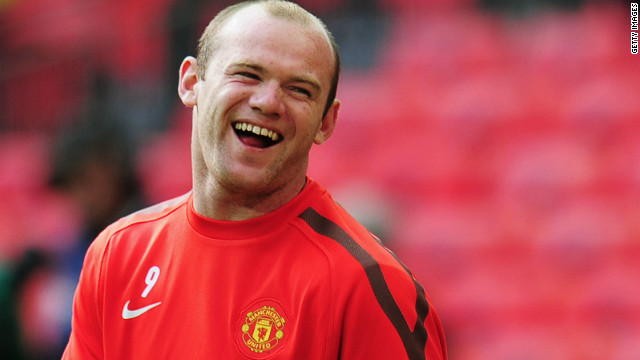 Manchester United and England striker Wayne Rooney has 4.6 million followers on Twitter. The Premier League's new code of conduct on the use of social media sites is to underline to players the responsibility they have to such a big audience.
Rio Ferdinand is a way behind teammate Rooney but still has three million followers who tune in for his views on everything from fashion to music, with a bit of football thrown in too of course.
Chelsea's Ashley Cole is a recent convert to Twitter but has already caused controversy, taunting fans from former club Arsenal over how many trophies he's won since swapping North London for West.
Even some Premier League managers have taken to Twitter. Former Liverpool boss Kenny Dalglish is on board and took to his page to thank the club's fans after he was sacked in May.
Neither Rooney nor Ferdinand can rival the popularity of Real Madrid's Cristiano Ronaldo though. The Portugal star currently has 11.8 million followers, and rising.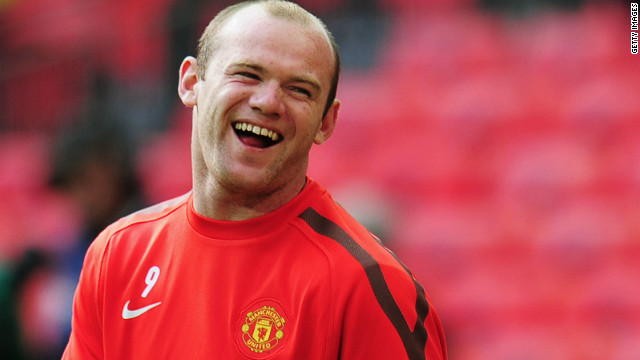 Premier League issue Twitter code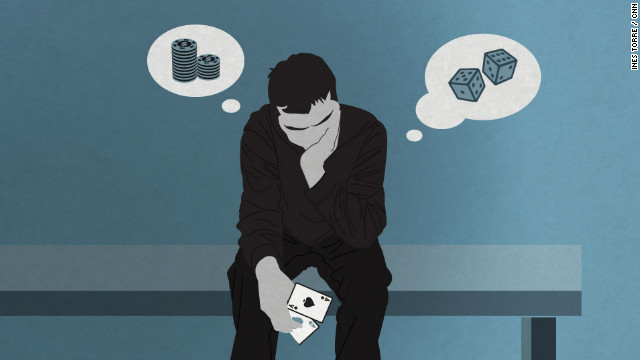 English football and some of it's most high-profile stars have long battled gambling addiction. The combination of a bloated bank account and boredom can set some players on the road to ruin.
Tony Adams struggled with alcohol and drug addiction throughout his career, serving a jail sentence for drink driving in 1992. The former Arsenal captain managed to turn his life around, leading the north London club to a league and FA Cup double in 2002. He also set up the Sporting Chance clinic, aimed at helping fellow sportsmen and women hooked on gambling, alcohol and drugs.
Paul Merson was a longtime teammate of Adams at Arsenal. The midfielder fought gambling addiction and said he once won £54,000 on a single bet as well as losing £30,000 on another.
Dietmar enjoyed an illustrious playing career, winning the European Champions League with Liverpool and collecting 59 caps for Germany. The midfielder told the BBC in February he fell into gambling when his marriage broke down and lost over £200,000 in one night, saying he gambled to forget about the absence of his children.
Matthew Etherington is another English Premier League player to have succumbed to gambling addiction. In order to overcome his problems, the Stoke City winger attends Gambling Anonymous meetings twice a week.
Michael Chopra played in the Premier League for both Newcastle United and Sunderland. Last year the striker revealed he was undergoing treatment for gambling addiction, saying he was betting up to £20,000 per day and he had lost between £1.5m and £2m.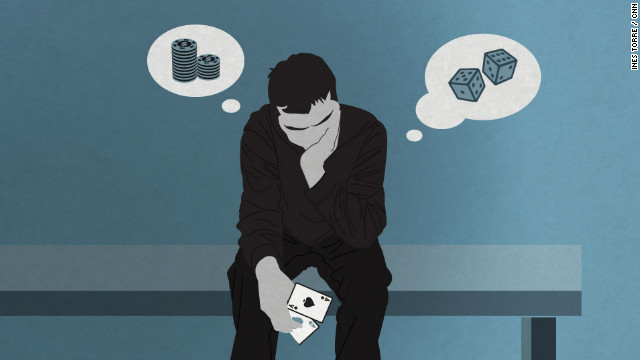 Footballers' gambling addiction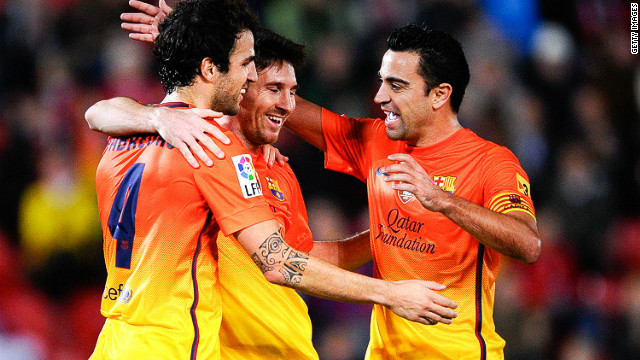 Lionel Messi, center, celebrates with Barcelona teammates Cesc Fabregas, left, and Xavi Hernandez after matching Pele's 75 goals in a calendar year.
The Argentina star then moved past the Brazil legend with his second goal of the match against Mallorca, which left Messi nine short of the best tally for a year held by Germany's Gerd Muller.
The 25-year-old has had a new celebration since the birth of his first child, son Thiago, earlier this month.
Messi is in line to win a fourth successive world player of the year award in January. Pele presented him with the Ballon d'Or at the start of this year.
Pele scored 75 goals in 1958, when he launched onto the football scene as a 17-year-old and helped Brazil win that year's World Cup.
That feat was surpassed in 1972 by Muller, who scored 85 goals as West Germany won the European Championship and his club Bayern Munich lifted the Bundesliga title.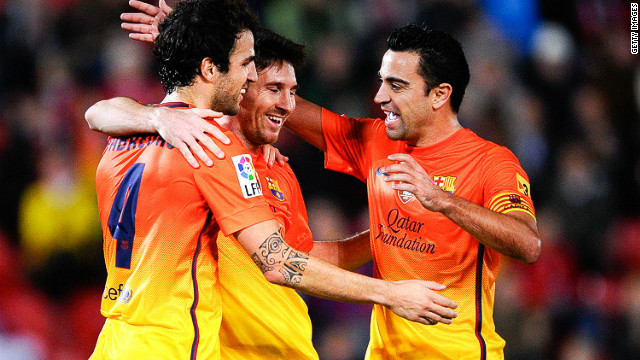 Messi moves past Pele milestone
But its coal industry has receded and the European debt crisis has engulfed Spain. Substantial investment has been hard to find as the Spanish government grapples with harsh austerity measures and chronic unemployment.
In a desperate attempt to salvage the club and guarantee its future in the short term, the board of directors announced a share issue earlier this month to attract investment.
The scheme -- open to anyone with a spare €11 ($13) -- has become an instant Twitter sensation, and football fans around the world have been quick to show their support by purchasing shares.
However, Spanish football expert and long-time Real Oviedo supporter Sid Lowe says he is unsure whether the social-network campaign will be enough to save the club before the looming deadline.
Lowe -- who has worked tirelessly to raise awareness of Oviedo's plight among football fans -- told CNN the worldwide response from supporters is "absolutely astonishing."
Last week, queues formed outside the club's 30,000-seater stadium, the Estadio Carlos Tartiere, as fans clamored to buy a stake in their beloved club.
"The financial target is quite modest in football terms ... but serious investment for the club is very hard to find, particularly in a place like Asturias," Lowe said.
'A perfect storm'
After 13 consecutive seasons in La Liga, Oviedo dropped to the second division in 2001.
The real turmoil began in 2003, when mismanagement from the club's directors bought the Asturian team to the brink of bankruptcy. The boardroom turned into a political battlefield as relationships soured, aggravated by a series of poor performances on the field, according to Real Oviedo shareholder Rodolfo Diaz.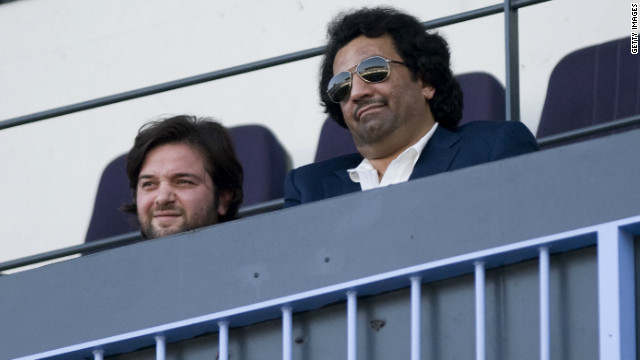 Sheikh Abdullah Al Thani (right) purchased Spanish La Liga team Malaga in June 2010 and proceeded to spend millions bringing top players to the Costa del Sol.
Under the guidance of former Real Madrid coach Manuel Pellegrini, players such as Santiago Cazorla and Dutch defender Joris Mathijsen helped Malaga finish fourth and qualify for the Champions League for the first time. However, Pellegrini was reportedly not paid for several months this year, while sporting director Fernando Hierro quit in May.
As Malaga began cutting costs, the big-name players left the club. Cazorla was transferred to English team Arsenal, while Mathijsen returned to his native Netherlands with Feyenoord.
Malaga's fans have been left in the dark where Al Thani and the club's future is concerned. Some supporters accused journalists of attempting to destabilize the team with stories of wages not being paid.
Malaga earned a 1-0 win over newly-promoted Celta Vigo on the Spanish season's opening weekend, but Pellegrini's team needed a goal from 16-year-old substitute Fabrice Olinga to secure victory.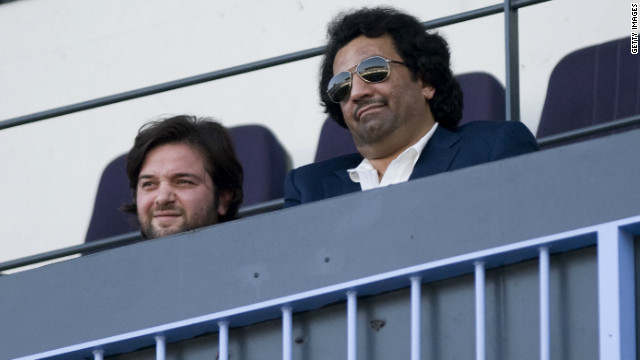 Malaga's financial meltdown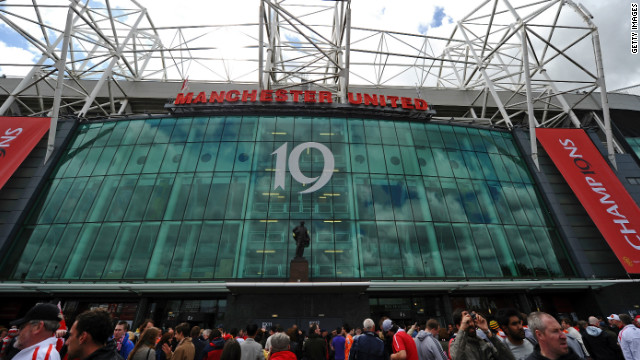 Manchester United is the most valuable brand in football according to a report by independent consultancy Brand Finance. The global appeal and on-field success of the 19-time English champions has helped establish a brand worth an estimated $853 million.
Bayern Munich's players and fans were distraught after losing Saturday's European Champions League to Chelsea, but the German team's brand was second on the list, valued at $786 million.
Real Madrid recently pipped Barcelona to the Spanish title, but both clubs have suffered setbacks financially. Both brands decreased, by 7% and 8% respectively, as a result of the eurozone crisis and its impact on the Spanish economy.
Chelsea's brand value was significantly boosted by the European triumph. The west London club, backed by Russian billionaire Roman Abramovich, is ranked fifth on the list valued at $398 million.
Manchester City's dramatic Premier League title win has increased the value of the Abu Dhabi-owned English club's brand, putting it eighth on the list, worth an estimated $302 million.
The 2011 Major League Soccer champions Los Angeles Galaxy had the honor of meeting President Barack Obama earlier this month. Galaxy, 50th on the list, still struggle to attract commercial rights deals which compare to the club's European counterparts.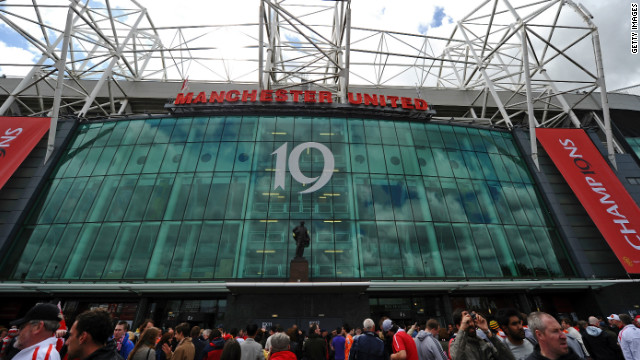 Brand power: Football's most valuable clubs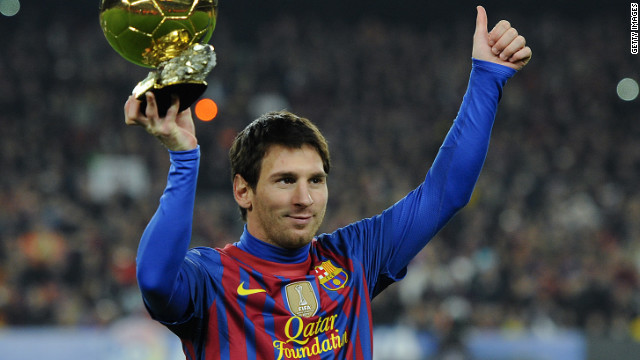 France Football magazine has released a list of the highest-earning players in world soccer. Three-time World Player of the Year Lionel Messi of Barcelona tops the list, earning $52 million in wages and sponsorship deals.
Former England captain David Beckham is second on the list. The 36-year-old recently signed a new contract with Major League Soccer franchise Los Angeles, which he joined in 2007, and he unveiled a clothing line with Swedish store H & M in February.
Real Madrid's Cristiano Ronaldo became the world's most expensive player when he joined the Spanish giants from Manchester United in 2009 for a reported $130 million.The Portugal forward's silky skills and prolific goalscoring also help him to attract sponsorship deals, such as the one he has with his boot manufacturer Nike.
Cameroon's Samuel Eto'o profited from joining big-spending Russian outfit Anzhi Machachkala from Inter Milan in August 2011.
England star Wayne Rooney penned a lucrative five-year contract with Manchester United in October 2010, after initially declaring that he wanted to leave the Old Trafford club.
Argentina striker Serguio Aguero is one of two Manchester City players in the top 10 after joining the Abu Dhabi-owned English Premier League club from Atletico Madrid for a reported $62 million in July 2011.
Aguero is joined on the list by City teammate Yaya Toure, the Ivory Coast midfielder who signed for the club from Barcelona in 2010. Toure signed a sponsorship deal with German brand Puma in October 2011.
Spain striker Fernando Torres joined Chelsea from EPL rivals Liverpool in a British-record transfer reported to be worth $80 million in January 2011. Despite his lucrative move, Torres has struggled to find the net during his spell in west London.
Brazil playmaker Kaka was briefly the world's most expensive player when he signed for Real Madrid from AC Milan in 2009. The reported$100 million fee Real paid for his services was beaten later in the same transfer window, when the Spanish club signed Ronaldo.
Bayern Munich captain Philipp Lahm completes the top 10. The Germany skipper attracted controversy last year for releasing a book in which he criticized the training techniques of former Bayern coaches Jurgen Klinsmann and Felix Magath.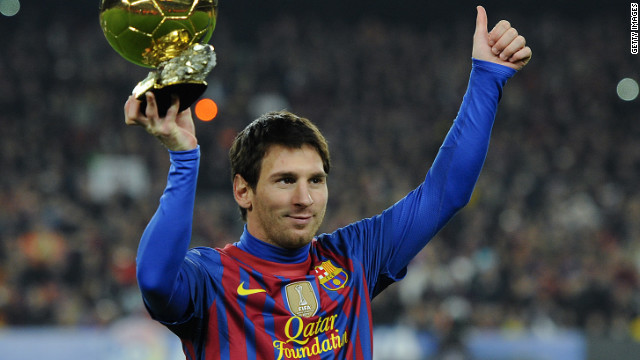 World's richest footballers
Diaz -- an Oviedo supporter since the 1970s and a season ticket-holder for over 20 years -- has stuck with the club through good times and bad. He told CNN that 2003 was like a "perfect storm" for Oviedo.
"In modern times, Real Oviedo has been a victim of greed and businessmen who wanted to make profits quickly," he said.
Today, Diaz is pleased to see that control of the club is back in the hands of the supporters and that football fans globally are buoying the club through charitable donations.
"As a linguist, football is that universal language that we all speak and we all understand. It allows us to bond," he said.
"This bad situation has generated a very positive spirit through Twitter."
Club ownership
Real Oviedo is not the only Spanish club to embrace shareholder power.
Barcelona -- touted as the best football team in the world -- is governed by a group of fans called the "socis." In return for an annual fee of €140, members are tasked with electing the club president and voting on matters affecting the side.
In Germany, it is a requirement for clubs in the league -- known as the Bundesliga -- to be 51% owned by supporters or members to ensure they're managed responsibly.
Ramon believes an influx of shareholder fans provides a "great opportunity" and can create a more financially stable and healthy environment for football teams.
"Across Europe, a movement is developing that aims to promote the influence of fans at football clubs," he told CNN.
On November 7, Supporters Direct Europe, the association of European football fans, presented a list of recommendations to the European Parliament in Brussels, including greater involvement for supporters in their clubs and financial fair play.
"The social role of football is of great importance," said Ivo Belet, a member of European Parliament involved with the movement.
"This is the reason supporters should have a say in the management of their clubs."
Uncertain future for Oviedo
Although the future of Real Oviedo remains far from certain, Diaz says he would expect nothing less of the club he has followed since he was a boy.
"It is quite a poetic situation -- a club on the verge of extinction -- and I think in the last minutes everything will be solved. In injury time, we will come out fighting and gain victory."
Diaz thinks Real Oviedo will play until the end of this season, even if the club does not meet its November 17 deadline -- when the team faces a tough trip away to the reserve side of second-placed La Liga club Atletico Madrid.
"It's the same of story for the fans, we will suffer to the very end."