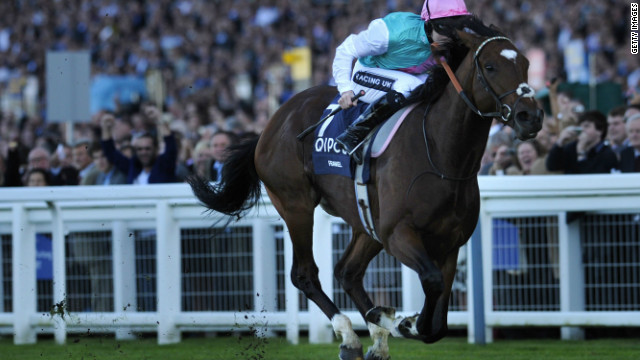 "Frankel was a cracking name -- it jumped out of the microphone," says racing commentator Cornelius Lysaught. The superstar colt, who recently retired after an unblemished 14-win career, scooped the main prize at the 2012 UK Horse of the Year awards.
A young racegoer shows her support for Australian horse Black Caviar. The owners chose the name because they thought it appeared sophisticated and stylish.
Phar Lap is immortalized in the Melbourne Museum. The New Zealand-born champion gelding's name has also been included in the International Federation of Horseracing Authorities' protected list.
Camelot's owners reserved the name in the hope of finding a horse that would live up the mythical Arthurian city. The British colt came close, but failed to secure the Triple Crown this year.
"It's not the pronunciation that's difficult, it's identifying the horse," says Lysaght.
"The Queen is renowned for naming her horses sensible, cleverly constructed words," says BBC commentator Lysaght.
Horse names can influence punters, with inexperienced betters particularly drawn to humorous or quirky titles.
Fabulous Frankel
The people's horse
Forever Phar Lap
Myth of Camelot
Wordsmith
Setting the pace
You bet
STORY HIGHLIGHTS
Silly horse names are a traditional part of the horse racing experience
But naming a thoroughbred is also fine art subject to strict international rules
A horse's name can influence betting among inexperienced punters
Important horse names, such as Frankel, are put on a protected register
Editor's note: What is your favorite silly horse name? Let us know in the comments box at the bottom of this story.
(CNN) -- Say these names as fast as you can: Hoof Hearted, Whykickamoocow, Oh no it's my mother-in-law, Maythehorsebewithyou.
It's not a playground tongue twister, but a legitimate list of horse names, announced at speed by racing commentators adept at wrapping their lips around some of the most difficult -- and ridiculous -- titles on the planet.
Silly horse names are as much a part of the racing experience as ladies in hats or laying a bet. But naming a thoroughbred is also a fine art subject to strict international regulations, with the power to both sway punters and shape the horse's legacy.
"If you look at the big races, there are not many horses who win them without good names," British racing commentator Cornelius Lysaght said.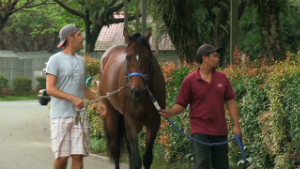 Singapore attracts top horse trainers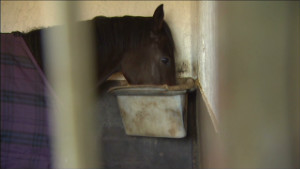 What do winners eat for lunch?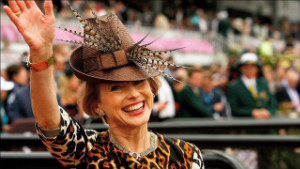 First lady of Australian horse racing
"Frankel (the superstar colt who recently retired after an unblemished 14-win career) was a cracking name. It was very distinctive, strong and easy to pronounce -- it absolutely jumped out of the microphone.
"Added to that was the fairytale story of trainer Sir Henry Cecil naming him after trainer Bobby Frankel, who died from cancer. It created a certain mystique around the horse."
So why are many horse names downright weird? It's partly a way of getting around rules dictating that no professional thoroughbreds have the same name. That includes names which are spelled differently, but phonetically sound the same.
Read: Breakfast of champions - What's in the nosebag?
Names can be no longer than 18 characters, with up to seven syllables.
Each name is also protected for 20 years, and up to 35 years if the horse goes to stud after retiring.
Then there's the holy grail of names considered so important, they can never be used again.
When people say, "There'll never be another Frankel," they aren't wrong. The International Federation of Horseracing Authorities has put the champion horse on its eternally protected list, alongside such greats as Australian gelding Phar Lap and U.S. stallion Seabiscuit.
One loophole does allow horses from different countries to have the same name -- provided they include the nation's prefix at the end.
Read: Melbourne Cup memories -- The legs that stopped a nation
And if you want to name your horse after a person or company, you've got to have their permission. British Prime Minister Margaret Thatcher famously turned down a request by the late Clement Freud -- a former celebrity chef, politician and grandson of the famed psychoanalyst Sigmund Freud -- to name his horse after her. He called it Weareagrandmother instead.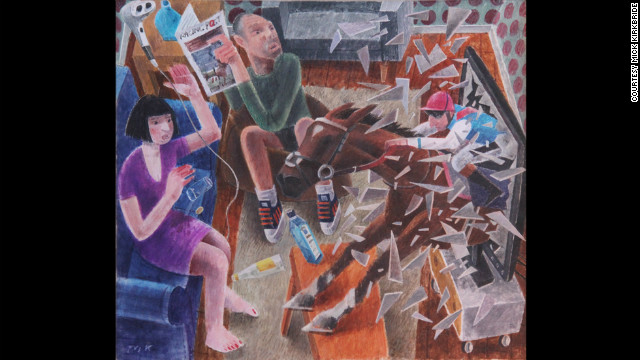 Artist Michael Kirkbride's painting, "Armchair Ride," was inspired by a poem about Frankel demolishing the field in last year's 2000 Guineas race.
Kirkbride painted the piece in egg tempura; a mixture of colored pigment and egg yolk which dates back to the 1st Century.
The British artist is perhaps best known for his paintings of English football scenes, including "Bar Kick," a surrealist look at sporting revelry in a pub.
British thoroughbred Frankel remained unbeaten in 14 consecutive races. The colt won his last ever race in the Champions Stakes at Ascot.
Leonardo da Vinci's 16th Century masterpiece "Mona Lisa," on display in Paris's Musee du Louvre, is one of the most visited artworks in the world. The famous portrait is thought to be of Lisa Gherardini, the wife of Francesco del Giocondo.
Pablo Picasso's 1937 painting "Weeping Woman" depicted long-time mistress Dora Maar. Their notoriously tempestuous relationship lasted nine years.
Frida Kahlo was the wife and muse of Mexican artist Diego Rivera. An acclaimed artist in her own right, today Frida is the more renowned of the pair, with actress Salma Hayek playing her in the 2002 biographical film "Frida."
Spanish artist Salvador Dali's wife Gala featured in many of his works, including 1949 painting "The Madonna of Port Lligat". She was also the muse of first husband, French poet Paul Eluard.
Andy Warhol catapulted model and actress Edie Sedgwick to "It Girl" status in his avant-garde films of the 1960s.
British artist Lucien Freud caused a stir with his 1995 painting of Job Centre supervisor Sue Tilley, called "Benefits Supervisor Sleeping." The naked woman weighed around 127kg at the time.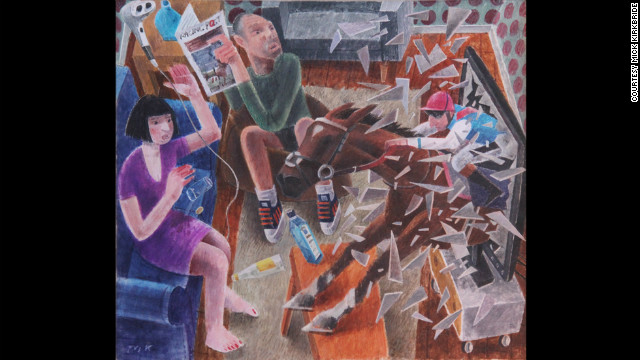 My muse: A race horse called Frankel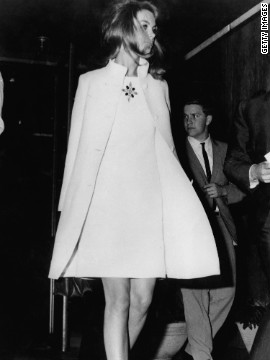 British model Jean Shrimpton caused a huge uproar after arrving at the Melbourne Cup Carnival in 1965 wearing a minidress five inches above the knees, with no stockings, gloves or hat.
London designer Colin Rolfe created the short, shoulderless dress after being given a limited amount of material by textile manufactuer DuPont.
For the first time since the inaugural race in 1861, the winning horse was knocked off newspaper front pages in favour of Shrimpton's legs.
Silence descended on the Flemington members' lounge as Shrimpton and Hollywood actor boyfriend Terence Stamp (pictured) marched in two hours late.
DuPont employed a local milliner, Adele Chapeaux of South Yarra, to create a hat for Shrimpton's next appearances. The model complied -- for one day.
Margaret Woods was the winner of the first Melbourne Cup Carnival "Fashions on the Field" competition in 1962. The top prize was a Ford Falcon Futura car.
Just three years after Shrimpton caused a stir, finalists in the 1968 "Fashions on the Field" competition can be seen wearing dresses well above the knee.
The 2011 "Fashions on the Field" winner Angela Menz (center) with finalists Alex Foxcroft and Louise Struber.
Competitors are judged on their originality, accessories, understanding of current fashion trends and deportment, with prizes in 2012 including a Lexus IS 250C F Sport convertible.
Actors Eva Longoria, right, and Ronn Moss attend the 2005 carnival. International celebrity guests are now a regular feature at the $6.2 million horse race.
Actress Kate Bosworth chats to jockey Chris Munce at the 2006 carnival. The mild Australian climate means punters aren't obliged to wear jackets and gloves.
"Sex and the City" star Sarah Jessica Parker at last year's carnival, alongside cricketer Shane Warne and actress Liz Hurley.
"Fashions on the Field" celebrated its 50th anniversary in 2012, with "O.C" star Mischa Barton one of the announced guests.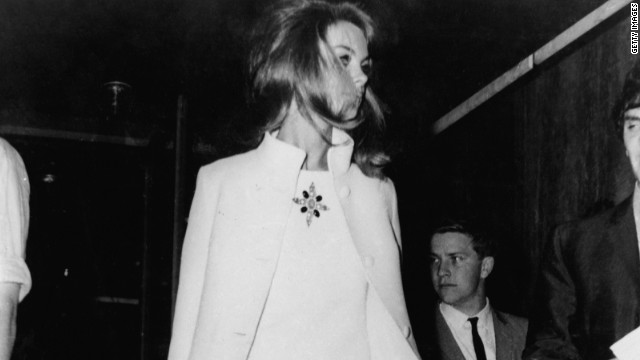 The legs that stopped a nation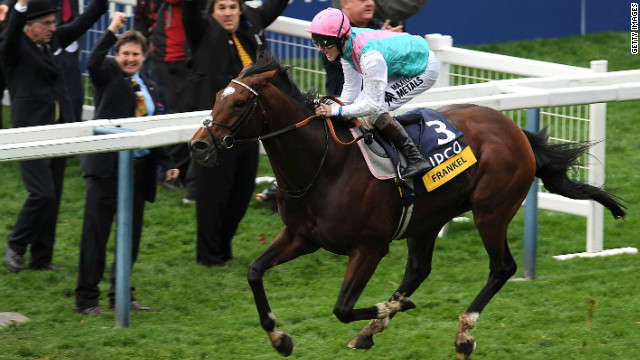 British colt Frankel powers home to take the Champion Stakes at Ascot -- his 14th consecutive win.
Queen Elizabeth II presents Frankel's jockey Tom Queally with the Champion Stakes trophy at Ascot.
Australian mare Black Caviar, pictured with trainer Peter Moody, remains unbeaten in 22 races.
Frankel has even been immortalised in a surrealist painting. Artist Michael Kirkbride's "Armchair Ride" was inspired by a poem about Frankel demolishing the field in last year's 2000 Guineas race.
Under the stewardship of jockey Queally, the four-year-old Frankel has brought home winnings of just over $4 million for his owners.
Trainer Henry Cecil has put his all into schooling Frankel and even installed a closed circuit TV system in the horse's stable to ensure he is safe at night.
Both Black Caviar and Frankel have spawned a micro marketing industry. Frankel flags were the order of the day at Glorious Goodwood this year. There is also an impressive line in Frankel fleeces, mugs and hats available online.
The Australian High Commission in the UK had to hold a ballot for Ascot tickets, such was the demand from the expat community to see Black Caviar on British soil. She also has an online store with cufflinks selling for $42.
Frankel and Black Caviar even have their own Twitter handles. "Goodbye UK, and thank you for your hospitality Your Majesty," tweeted @blackcaviar2006 after coming to Britain. "I enjoyed my time in Newmarket and racing at Royal Ascot xx."
In Frankel's new life as a stud, the in-demand colt is expected to command a fee of $160,000 each time he sires a foal.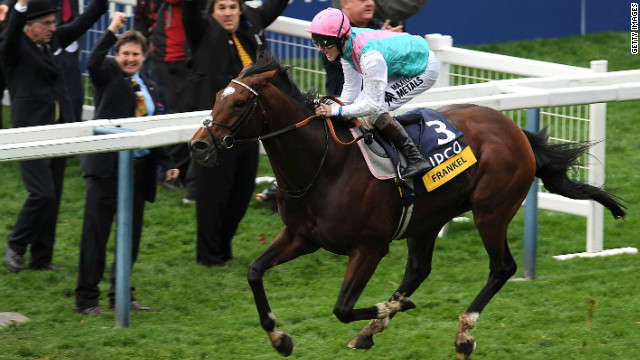 The 'Brangelina' of horse racing?
There's also the minefield of names deemed too offensive for the track. Among the risque suggestions which failed to get the seal of approval from the British Horse Racing Authority's administrative arm, Weatherbys, are: Chit Hot, Harry Balzitch, Pee Ness and Hucking Fell.
The names of terrorist organizations such as Al Qaeda and IRA have also been turned away, though Weatherbys racing director Paull Khan admitted suspect names had "slipped through the net" in the past.
"You've also got to take cultural differences into account. In Britain, people would generally be quite flattered to have a horse named after them, but in France it would more likely be seen as an insult," he said.
Read: 'Brangelina' dreams over - The world's most sought-after gigolo
BBC commentator Lysaght has had to call some tongue-twisting horse names in a career spanning more than 30 years.
"A few complicated names in a tight finish can get a bit frightening," he said
"If a few of the more difficult names go down in a race, I think deep down the commentator is thinking, 'Thank God that one's not involved anymore.' "
Thankfully for Lysaght, the most prolific winners in recent years have had sharp, easily pronounceable names -- think Frankel or Australian supermare Black Caviar.
"There's also a certain trend now for short, real words," he said. "The Queen is renowned for naming her horses sensible, quite cleverly constructed words -- like Sea Shanty."
Read: A weighty issue -- Hidden world of jockey heaving bowls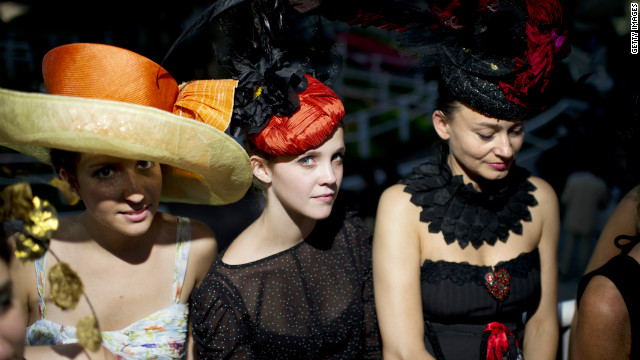 "French chic" has become synonymous with the country's powerhouse fashion labels, including Channel, Louis Vuitton and Yves Saint Laurent.
The fashion stakes are high at the Prix de 'Arc de Triomphe, with many race-goers opting for a classic, elegant style.
Spanish model Irene Salvador set the tone last year in a 1920s-inspired ensemble. The French race attracts a more demure style than the extroverted costumes seen at Britain's Royal Ascot.
Monaco's Princess Charlotte Casiraghi, the daughter of Princess Caroline, was one of the high-profile guests at last year's Arc. The prestigious race regularly attracts royalty, political leaders and business heavyweights from across Europe.
France's Industry Minister Eric Besson and wife Yasmine Tordjman also brought glamor to the stands in 2011. Politicians are a common sight at Longchamp, with many owning race horses.
Ladies at Britain's Royal Ascot tend to have a more flamboyant style than their counterparts across The Channel. "French dressing is less spectacular," says Arc spokesman Julien Pescatore.
Some fashion racing accessories appear universal -- such as the obligatory outrageous hat. A Royal Ascot punter dons a football-themed hat at this year's races.
The picturesque Parisian race track is named after the Prix du Moulin de Longchamp windmill, orginally built as part of a 13th century monastery.
The Qatar Racing and Equestrian Club-sponsored event is the richest in Europe, with almost €8 million ($10.4 million) in prize money on offer over the weekend.
Jockey Andrasch Starke celebrates on the podium after German horse Danedream wins the 2011 race. The defending champion was banned from traveling this year after training at the Cologne racecourse, which is under strict quarantine following the detection of swamp fever.
French jockey Christophe Soumillon will be riding Japan's big hope Orfevre. His chances of winning now look slim after drawing the far outside stall 18.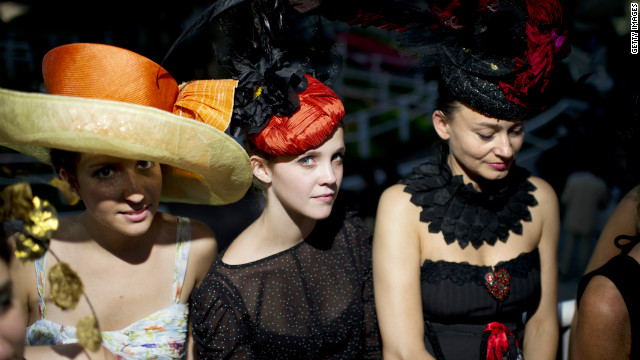 Glitz and glamour of the Arc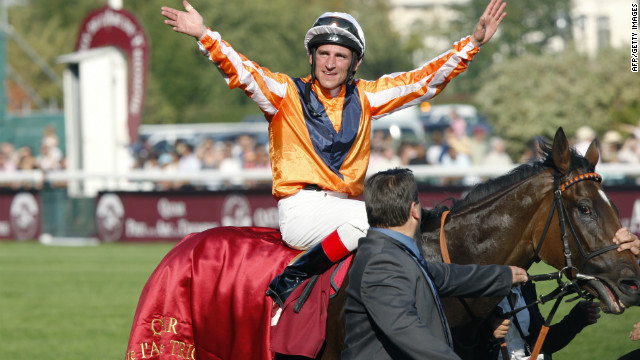 Andrasch Starke celebrates on Danedream after winning the 2011 Prix De L´Arc De Triomphe at Longchamps.
Starke is looking forward to bowing out in style with Danedream as she closes out her remarkable career.
Danedream at her home stables where she has been trained by Peter Schiergen to a string of big race wins.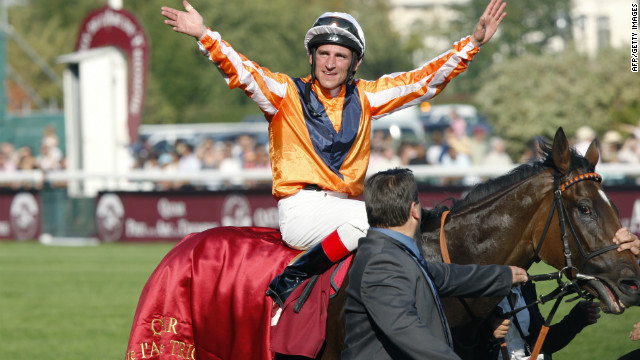 Danedream: Germany's Seabiscuit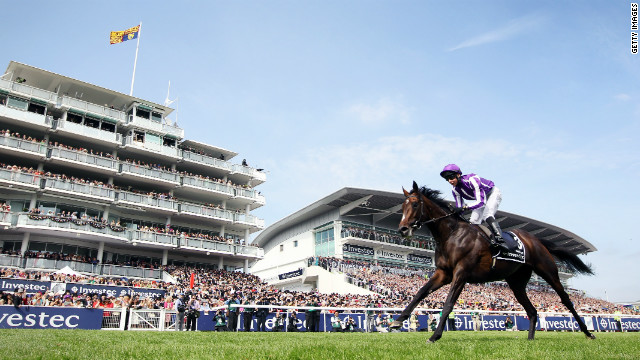 Camelot, the horse with the mythical name, has so far lived up to his billing, winning the Epsom Derby and 2,000 Guineas. Will he win a fairytale Triple Crown at the St Leger at Doncaster on Saturday?
Jockey Jospeh O'Brien rode the three-year-old colt to victory at the Epsom Derby. The 19-year-old Irishman has ridden Camelot in all of his starts and will play a decisive role masterminding Saturday's race.
Jospeh's father and trainer Aiden O'Brien, pictured, has admitted Camelot's bid to become the first horse since Nijinsky to win the Triple Crown will be a push for the colt.
Team Ballydoyle inspect the track at Melbourne Cup's Flemington Racecourse. The Ballydoyle stables in Ireland were also home to Nijinksy -- the last Triple Crown winner.
The British Royal Family watch Camelot storm to victory at the Epsom Derby. The Queen's horse, Carlton House, had been the bookmakers favorite to win, but came third.
The Ballydole operation has made a clean sweep of the English Classics this season -- the 2,000 Guineas, the Derby and their fillies' equivalents the 1,000 Guineas and the Oaks.
Father Aiden says the tactics of the race will be left to jockey son Joseph, adding: "I presume he'll take his time on him, he usually does. That's the way he rides every race, he rides it by feel and takes it as it comes."
The last horse to win the Triple Crown was Nijinsky in 1970, seen here being led at Ascot by a different O'Brien -- legendary trainer Vincent.
Bahram won the Triple Crown 35 years before Nijinksy. Nowadays, very few horses even attempt the Triple Crown due to the extreme versatility required to win races ranging from one mile to one-and-three-quarter miles.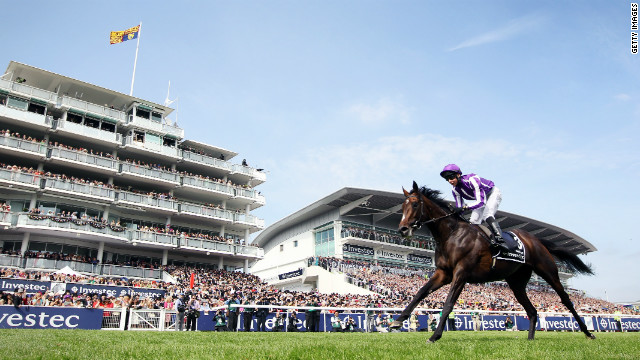 Will Camelot rise again?
But can a horse's name affect its performance? Is it possible to have a champion horse called Loser? Lysaght believes a horse's name can be self-prophesying -- to an extent.
"Camelot's owners reserved the name 10 years ago -- they thought it was a marvelous name but there was no horse that came up to scratch," Lysaght said.
"They wanted to wait and attach it to a really great horse who would live up to the mythical title. As it turned out, he didn't quite get there in the end."
British colt Camelot came close to fulfilling his promise, winning this year's 2,000 Guineas and Epsom Derby but failing to complete the English Triple Crown after finishing second at the St. Leger Stakes.
Read: Tall, dark and handsome muse...is a horse
It's difficult to pinpoint a link between names and performance. But that still hasn't stopped horse names having an effect on punters' betting habits.
"I think it holds the most sway at something like the Grand National in Britain, where you've got a large proportion of inexpert betters," Khan said.
"You'll have lots of small bets on appealing names -- things that have a human element people can associate with or are cleverly constructed."
As for the horse's legacy, Khan puts it down to performance.
"I think the degree people feel attached to certain names is dependent on the performance of the horse -- not the other way around," he said.
So if Khan had a horse, what would he name it? "Worksop Bellyflop. It's a name that just jumped out at me when I gave a talk in Worksop, in the East Midlands, once."
It's no Camelot. But then, as Shakespeare's Juliet famously said: "What's in a name? That which we call a rose by any other name would smell as sweet."