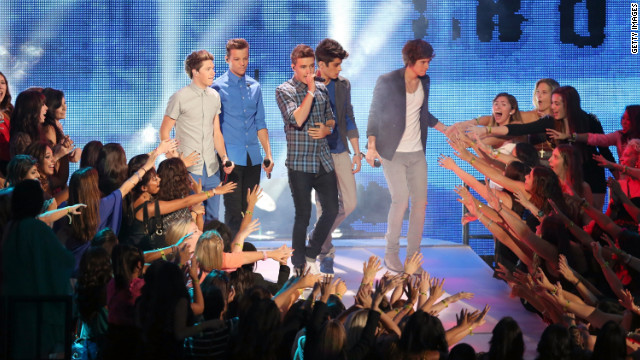 There's no question that One Direction's Niall Horan, Zayn Malik, Liam Payne, Harry Styles and Louis Tomlinson, pictured here at the 2012 MTV Video Music Awards, are heartthrobs -- not unlike the Rolling Stones were once upon a time,
Mick Jagger told CNN
. Here are some other boy bands who've made our hearts flutter:
*NSYNC performed "It's Gonna Be Me" at the MTV Movie Awards in 2000. The boy band, consisting of Justin Timberlake, JC Chasez, Chris Kirkpatrick, Joey Fatone and Lance Bass, struck gold in the United States with "I Want You Back" in 1998. Their 2001 album, "Celebrity," would be their last as a group.
new album
for 2013. In the meantime, check out BSB's new holiday song,
"It's Christmas Time Again."
In 1996, the Backstreet Boys (shown here performing with Sting in 2000) released their debut album. "Backstreet's Back," "Millennium," "Black & Blue," "Never Gone," "Unbreakable" and "This Is Us" followed. After parting with the group years ago, Kevin Richardson rejoined A. J. McLean, Howie Dorough, Brian Littrell and Nick Carter. They're currently working on a
Danny Wood, Donnie Wahlberg, Jordan Knight, Joey McIntyre and Jonathan Knight of New Kids on the Block performed live in 2008. The group, which rose to superstardom in the late '80s and early '90s reunited for 2008's "The Block" and 2011's "NKOTBSB" with the Backstreet Boys.
Ralph Tresvant, Michael Bivins, Ronnie DeVoe, Ricky Bell, Bobby Brown and Johnny Gil of New Edition performed an homage to Michael Jackson during the 2009 BET Awards. The R&B group's albums include 1983's "Candy Girl" and 1988's "Heart Break," among others.
98 Degrees, pictured performing in 1999, included brothers Nick and Drew Lachey, Justin Jeffre and Jeff Timmons. The group released three albums, in addition to one Christmas album, between 1997 and 2000.
Isaac, Taylor and Zac Hanson of Hanson are shown here performing in 2001. The brothers became superstars with their 1997 album "Middle of Nowhere" thanks to a little earworm called "MMMBop."
Menudo, pictuerd here performing in 2008, originally formed in the '70s and helped launch Ricky Martin's career. The boy band has had many members over the years.
November 2011
, Alex Solowitz, Evan Farmer, Noah Bastian and Kevin Farley said they were looking to reunite the band.
The made-for-TV boy band 2gether debuted on MTV in 2000. Shown here at the 2000 MTV Movie Awards, the guys attracted attention with songs like "U + Me = Us (Calculus)" and "Say It (Don't Spray It)." "2ge+her: The Series" followed the original TV movie, but ended in 2001 when Michael Cuccione, who played Jason 'Q.T.' McKnight, died of cancer. In
The Boys released three albums between 1988 and 1992. "Dial My Heart" was the debut single from brothers Khiry, Hakim, Tajh and Bilal Abdulsamad.
Erik-Michael Estrada, Jacob Underwood, Trevor Penick, Dan Miller and Ashley Parker Angel of the group O-Town perform in 2002. The group, which came to be thanks to the first season of MTV's "Making the Band," is perhaps best known for releasing the single "Liquid Dreams" in 2000.
Lyte Funky Ones, also known as LFO, released their first album in 1999. Made up of Rich Cronin, Devin Lima and Brad Fischetti, the boy band referenced New Kids on the Block and gave a shout out to girls who wear Abercrombie & Fitch on their single "Summer Girls."
Davy Jones, Peter Tork, Mickey Dolenz and Michael Nesmith of The Monkees, the band created for the 1960s TV series of the same name, won the hearts of fans with hits like "I'm a Believer," "Pleasant Valley Sunday" and "Daydream Believer."
One Direction
*NSYNC
Backstreet Boys
New Kids on the Block
New Edition
98 Degrees
Hanson
Menudo
2gether
The Boys
O-Town
LFO
The Monkees