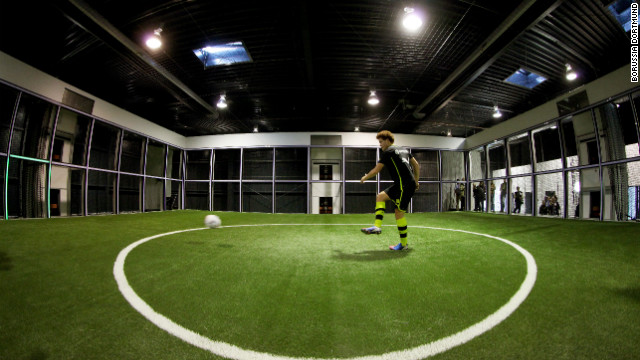 The "Footbonaut" -- is a robotic cage which footballers can use to improve passing, spatial awareness and control. The machine is being used by German champions Borussia Dortmund.
Once inside the "Footbonaut", a player is fed balls by eight different machines and then has deliver the ball to one of the 72 panels - - which is indciated by a flashing green light -- that make up the space-age contraption before they receive another ball. This picture shows Dortmund's German star Mario Gotze testing himself against the machine.
German coach Jurgen Klopp has overseen Dortmund's recent domination of German football. Dortmund have won the Bundesliga in each of the last two seasons, winning plaudits for the adventurous style of play. Klopp's team also currently sit top of a European Champions League group containing Real Madrid, Manchester City and Ajax.
Dortmund's rise to prominence has forced their attractive young squad into the limelight. None more so than Polish striker Robert Lewandowski, who was strongly linked with a move to Manchester United earlier this year.
One player who did swap Dortmund for Manchester was Shinji Kagawa. The Japanese playmaker had made a promising start to his Old Trafford career before being sidelined with a knee injury last month. Another player developed by Dortmund was Nuri Sahin, the Turkish midfielder who signed for Real Madrid in 2011 before joining Liverpool on a season-long loan deal in August.
The final frontier?
A giant leap for soccer training?
High-klass Klopp
Polish power
Borussia's best
STORY HIGHLIGHTS
German champions Borussia Dortmund pioneer the use of "space age" training
The "Footbonaut" is a 14-meter cage which delivers balls to a player by eight machines
The player must then pass to one of 72 panels which is signaled by a flashing green light
"It is the perfect tool to improve ball-handling skills," says Dortmund coach Jurgen Klopp
(CNN) -- It's football training, but not as we know it.
German champions Borussia Dortmund are boldly going where no club has gone before with the "Footbonaut", a soccer training machine powered by a smart phone.
Winners of the Bundesliga title in each of the last two seasons, Dortmund has unveiled the 14-meter cage which is the brainchild of Berlin-based designer Christian Guttler.
Once inside the "Footbonaut", a player is fed balls by eight different machines, having to find one of the 72 panels - - lit by a flashing green light -- which make up the space-age contraption before receiving another ball.
Dortmund hope the device, which can also be operated using a tablet, will improve a player's technique, spatial awareness and peripheral vision.
Intensity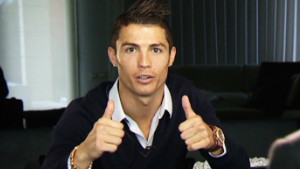 A day in the life of Cristiano Ronaldo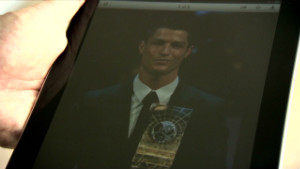 A different side of Cristiano Ronaldo
Not that Dortmund requires much improvement.
Jurgen Klopp's team sits fourth in the German top flight and is being heavily tipped for European success after excelling in a Champions League group containing Real Madrid, Manchester City and Ajax, with the Spanish club's manager Jose Mourinho viewing them as candidates to win the tournament.
Klopp has instilled in Dortmund a non-stop adventurous style of football and the "Footbonaut" is the next step in their pursuit of excellence.
"It´s as if you are surrounded by 10 colleagues who are there only to serve you balls," said Dortmund's Australian youngster Mustafa Amini after a session inside the cage.
"In the course of normal training that level of intensity just is not possible. The ´Footbonaut´ allows you to work on any weaknesses and ensures that you play at pace but with precision."
Guttler claims that after 15 minutes in the cage a player "will have received and passed on as many balls as he would in a normal week of training.
"Repetition and intensity are crucial if you want to conquer a particular skill, whether that be playing football, tennis or learning the piano."
Perfect tool
Dortmund's success in recent years and the performances of players like striker Robert Lewandowski and midfielder Mario Gotze have attracted admiring glances from a host of top clubs.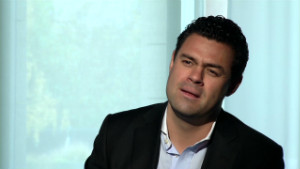 Ronaldo: 'I have bad image on pitch'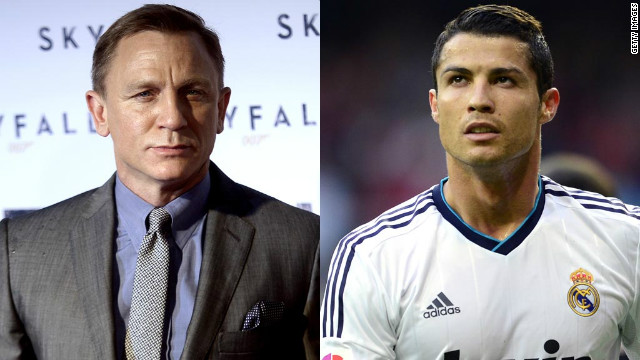 Daniel Craig and Cristiano Ronaldo have both been outspoken in their desire to reclaim a right to privacy. Both men have become frustrated with their treatment in public.
Cristiano Ronaldo and his model girlfriend Irina Shayk enjoy some peace and quiet together but the camera lens is never far away from the pair.
Shayk is a celebrity in her own right having established herself as a leading model. The Russian's romance with Ronaldo has taken her fame to new heights.
"We are just partners," Ronaldo told CNN when asked about his relationship with Shayk. "We have a good relationship, we are almost three years together, I love to be with her, I love her. It's great."
Ronaldo has yet to pop the question to Russian model Shayk but he admits he has thought about marriage. He said: "Not now, but of course in the future, yes. Everyone wants that. I still haven't done that. I don't have the courage."
"In Real Madrid we are always under pressure," Cristiano Ronaldo told CNN. "This is maybe the best club in the world... so we have a lot of pressure and we know that the fans, the Madrid city... everyone wants 'La Decima' (a 10th European Cup). "
Ronaldo has nothing but praise for Real coach Jose Mourinho: "Well, my relationship with him is perfect. I don't ask for nothing better. In terms of coaching I'm sure 100%... 200% that he is the best. He shows every country who's the best because he wins all the leagues."
Ronaldo will be up against Barcelona's Lionel Messi for the Ballon d'Or with the Argentine having won the prize on each of the past three occasions. Both men were on target twice during the last El Clasico match which finished 2-2 at the Camp Nou.
Ronaldo has scored 160 goals in 164 appearances for Real Madrid since his move from Manchester United in 2009. His determination to win is always evident, even when it comes to beating his girlfriend at swimming in their own pool. He said: "Sometimes you have to give her an opportunity to be happy, but I win because I don't like to lose."
Ronaldo last won the Ballon d'Or in 2008 after helping lead Manchester United to the Champions League crown with victory over Chelsea in Moscow. In the 2007-8 season, he scored 42 goals as United also won the English Premier League title.
While Ronaldo has enjoyed great club success with Manchester United and Real Madrid, he has yet to win a major tournament with Portugal. "I'm not saying Portugal doesn't have the capacity to win the World Cup or Euro, but its more tough... its difficult, because you don't have 100 players to choose," sai the Portuguese star.
Ronaldo insists he'd relish the opportunity to talk to his critics and listen to their opinions on why they believe he is arrogant. He told CNN: "People who call me arrogant, I'm interested, not with all of them, but most of them. One day I would like to sit with them and have a chat to see in which way they think I'm arrogant."
When he finishes his football career, Ronaldo wants to become an actor.
Ronaldo tells CNN's Pedro Pinto in an exclusive interview that he believes his perceived 'arrogance' has made him less popular than his chief rival Lionel Messi. "You know, sometimes I'm a victim of that because they don't know the real Cristiano," said the Real Madrid forward.
Cars are one of Ronaldo's great passions. In 2009, while at Manchester United, Ronaldo was lucky to esacpe injury after crashing his Ferrari.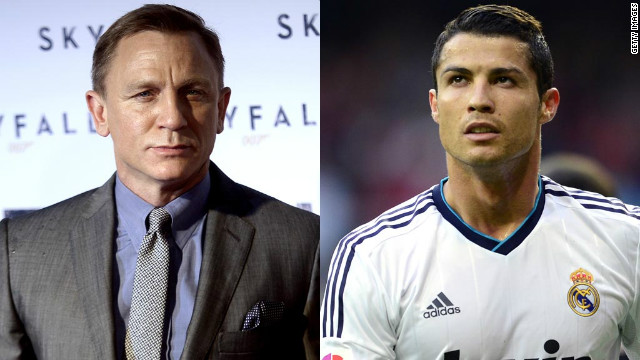 The Real Ronaldo
Japan's Shinji Kagawa and Nurin Sahin of Turkey have both been developed by Dortmund in recent years before being sold on to Manchester United and Real Madrid respectively. Sahin is currently on loan at Liverpool.
And former Mainz coach Klopp hopes the "Footbonaut" can help Dortmund maintain their stellar standards.
"It is the perfect tool to improve ball-handling skills," said the 45-year-old. "It demands precise skills used at speed in a physically tough environment. It´s quite a package!"
Echoing Klopp's excitement, Dortmund's chief scout Sven Mislintat is interested by the cage's potential to analyze player development.
"We can closely monitor a player´s development with data gleaned from the machine," said Mislintat. "There is no reason why a player cannot translate the actions practised in this environment onto the actual playing field."
Caution
But Belgian coach Michel Bruyninckx, who works with the Aspire Academy in Qatar -- the gulf kingdom which will host the 2022 FIFA World Cup -- struck a note of caution.
"One of the major features of high performance is focused attention and that can be trained through this device," Bruyninckx told CNN.
"Brain research tells us that optimal learning requires that skill training must be embedded in the natural environment of an activity. This is not the case (with 'Footbonaut').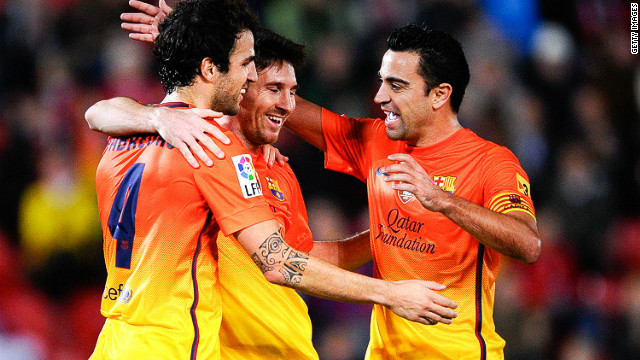 Lionel Messi, center, celebrates with Barcelona teammates Cesc Fabregas, left, and Xavi Hernandez after matching Pele's 75 goals in a calendar year.
The Argentina star then moved past the Brazil legend with his second goal of the match against Mallorca, which left Messi nine short of the best tally for a year held by Germany's Gerd Muller.
The 25-year-old has had a new celebration since the birth of his first child, son Thiago, earlier this month.
Messi is in line to win a fourth successive world player of the year award in January. Pele presented him with the Ballon d'Or at the start of this year.
Pele scored 75 goals in 1958, when he launched onto the football scene as a 17-year-old and helped Brazil win that year's World Cup.
That feat was surpassed in 1972 by Muller, who scored 85 goals as West Germany won the European Championship and his club Bayern Munich lifted the Bundesliga title.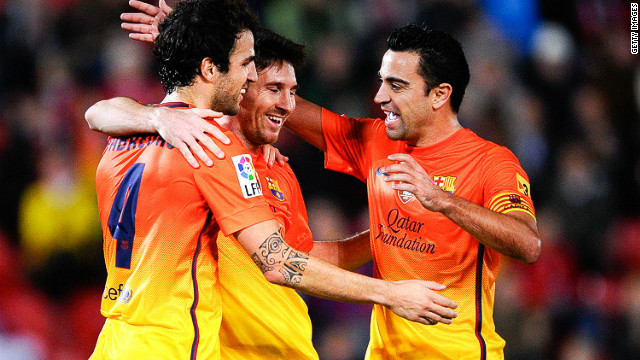 Messi moves past Pele milestone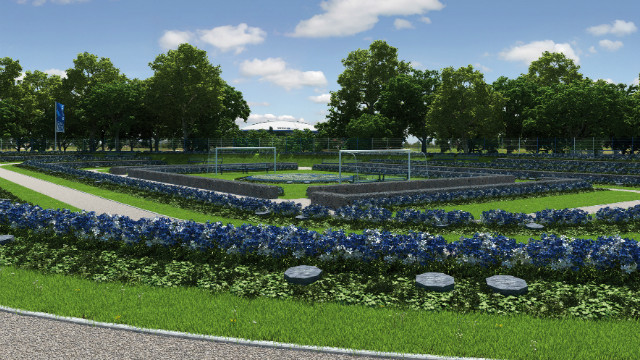 The Schalke Fan Feld, whose centerpiece will be a club logo made up of blue and white flowers lying between two goals, looks directly on to the Bundesliga club's home stadium - the white domed Veltins-Arena, which can be seen in the gap between the trees in this picture.
Schalke fans are known as some of the most passionate in German football.
The cemetery will only have space for 1,904 graves -- reflecting the year of Schalke's foundation -- and the club says there will not be another site when the entire allocation is taken up.
Schalke's on-field fortunes have improved in recent years to the point where they have brought in leading strikers Raul Gonzalez, who left the club earlier this year, and current Dutch striker Klaas-Jan Huntelaar.
The cemetery will be laid out in the shape of a stadium, with the miniature pitch located at the centre.
The "pitch" will feature the Schalke logo, made up of blue and white flowers, with a goal at each end and benches in the middle of those.
Schalke's Veltins-Arena was built in the run-up to the 2006 World Cup and can hold over 65,000 fans.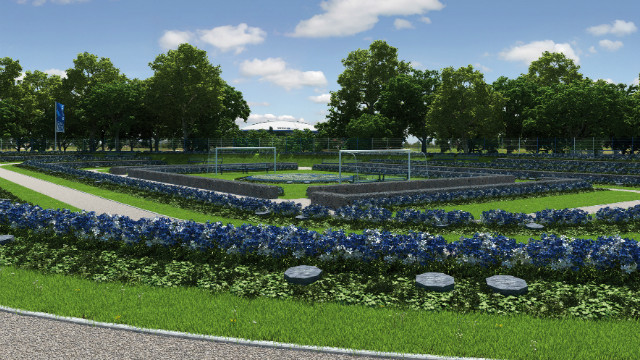 From the cradle to the grave
"The fact the player must react to a sound is not matching the reality of a game when a player reacts to visual information."
And Bruyninckx questioned the position of the player in the cage.
"The fact the performing player always stays in the central position is also a disadvantage. In a game he has to move and search for the best position to receive the ball.
"I am also curious to know how one-footed or technically less skilled players are going to react tn the 'Footbonaut'. For me you need to prepare a player for this kind of resource."
Bruyninckx also raised concerns over the grueling physical workout which the cage gives a player.
"Using sweating as a parameter is not a good approach," he said. "Too often coaches think that high intensity delivers high performance. Brain research tells us that if energy is low, learning will go down."
So, while the "Footbonaut" is one small step for Dortmund, it could take a giant leap for the device to become a fixture at training grounds across the world.