STORY HIGHLIGHTS
Manchester City move to top of English Premier League with 5-0 win over Aston Villa
Rivals Manchester United drop to second after losing 1-0 to Norwich City
Third-placed Chelsea suffer 2-1 defeat away to surprise team West Brom
Arsenal win 5-2 in London derby with Tottenham, who have a player sent off
(CNN) -- Anthony Pilkington was rejected by Manchester United as a youth player, and Alex Ferguson claims he doesn't even remember the player's time at Old Trafford.
But the 24-year-old made a point to the veteran manager on Saturday, scoring the only goal as his Norwich team knocked United off the top of the English Premier League.
Norwich's 1-0 home win left United a point behind rivals Manchester City, who earlier thrashed Aston Villa 5-0.
"We've been a bit more ruthless and we're putting our chances away; maybe we could have had another one at the end to make it a bit more comfortable," said Pilkington, whose 60th-minute header inflicted United's third league defeat in 12 matches and lifted Norwich up to 13th.
"It's a great day for Norwich and it's a massive win for us. We've been performing well over the last couple of weeks and we showed today that we could beat the team that is probably the best in the league."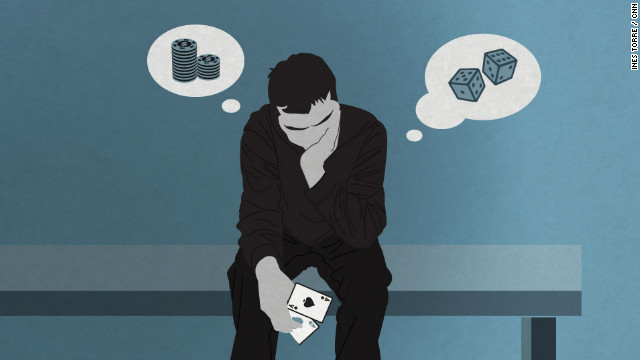 English football and some of it's most high-profile stars have long battled gambling addiction. The combination of a bloated bank account and boredom can set some players on the road to ruin.
Tony Adams struggled with alcohol and drug addiction throughout his career, serving a jail sentence for drink driving in 1992. The former Arsenal captain managed to turn his life around, leading the north London club to a league and FA Cup double in 2002. He also set up the Sporting Chance clinic, aimed at helping fellow sportsmen and women hooked on gambling, alcohol and drugs.
Paul Merson was a longtime teammate of Adams at Arsenal. The midfielder fought gambling addiction and said he once won £54,000 on a single bet as well as losing £30,000 on another.
Dietmar enjoyed an illustrious playing career, winning the European Champions League with Liverpool and collecting 59 caps for Germany. The midfielder told the BBC in February he fell into gambling when his marriage broke down and lost over £200,000 in one night, saying he gambled to forget about the absence of his children.
Matthew Etherington is another English Premier League player to have succumbed to gambling addiction. In order to overcome his problems, the Stoke City winger attends Gambling Anonymous meetings twice a week.
Michael Chopra played in the Premier League for both Newcastle United and Sunderland. Last year the striker revealed he was undergoing treatment for gambling addiction, saying he was betting up to £20,000 per day and he had lost between £1.5m and £2m.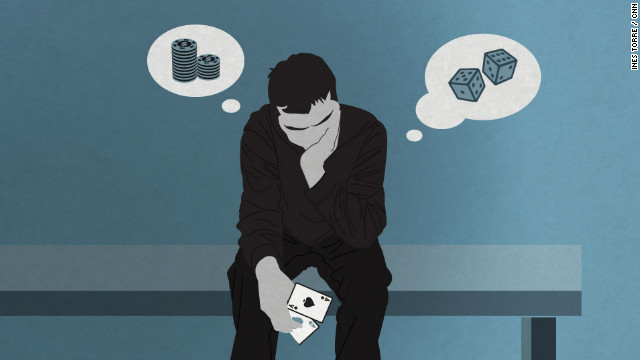 Footballers' gambling addiction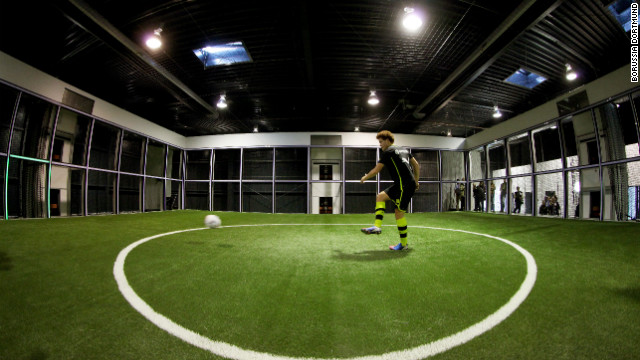 The "Footbonaut" -- is a robotic cage which footballers can use to improve passing, spatial awareness and control. The machine is being used by German champions Borussia Dortmund.
Once inside the "Footbonaut", a player is fed balls by eight different machines and then has deliver the ball to one of the 72 panels - - which is indciated by a flashing green light -- that make up the space-age contraption before they receive another ball. This picture shows Dortmund's German star Mario Gotze testing himself against the machine.
German coach Jurgen Klopp has overseen Dortmund's recent domination of German football. Dortmund have won the Bundesliga in each of the last two seasons, winning plaudits for the adventurous style of play. Klopp's team also currently sit top of a European Champions League group containing Real Madrid, Manchester City and Ajax.
Dortmund's rise to prominence has forced their attractive young squad into the limelight. None more so than Polish striker Robert Lewandowski, who was strongly linked with a move to Manchester United earlier this year.
One player who did swap Dortmund for Manchester was Shinji Kagawa. The Japanese playmaker had made a promising start to his Old Trafford career before being sidelined with a knee injury last month. Another player developed by Dortmund was Nuri Sahin, the Turkish midfielder who signed for Real Madrid in 2011 before joining Liverpool on a season-long loan deal in August.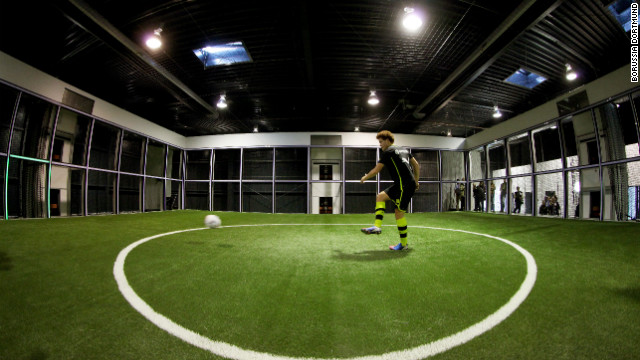 Dortmund's training pays dividends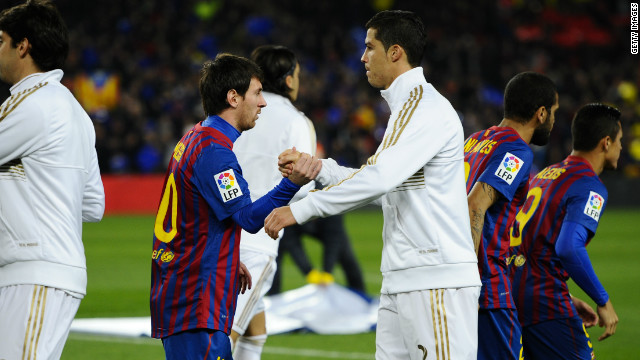 Barcelona's Lionel Messi (left) and Real Madrid's Cristiano Ronaldo (right) -- widely considered the two best players in the world -- shake hands before the 'El Classico' derby between Spain's two biggest clubs. But is the huge wealth of Barca and Real damaging the rest of Spanish football?
Real Madrid manager Jose Mourinho (left) and Barcelona manager Tito Vilanova (right) shake hands at the derby between the two clubs. Real's revenue is $695 million, $42 million more than Barca and $526 million more than that of Valencia.
Barcelona's Andres Iniesta, Lionel Messi and Real Madrid's Cristiano Ronaldo were all nominated for the prestigious Balon d'Or award this year. The last time the Barca-Real league monopoly was broken was in 2004 when Rafael Benitez's Valencia won La Liga.
Atletico Madrid striker Radamel Falcao is arguably the best striker in the world, but the Colombian is likely to be sold at the end of the season.
Real Oviedo fans show their support for the club in the Estadio Carlos Tartiere with a banner reading "For the future of Real Oviedo". The third-tier club's financial problems are so great that they have turned to their fans for help, offering them the right to buy shares in Oviedo.
The Real Oviedo team huddle on the pitch before taking on Real Madrid's reserve team in Asturias. Oviedo need to raise $2.4 million to save the club.
Real Oviedo fans hold up banner as they march through the city on their way to the league match to protest against the possible closure of the club due to financial difficulties.
The Spanish financial crisis has led to a raft of anti-austerity measures. Protests against cuts have been seen on the streets of Madrid, where a minority of protesters have been involved in violent clashes with the police.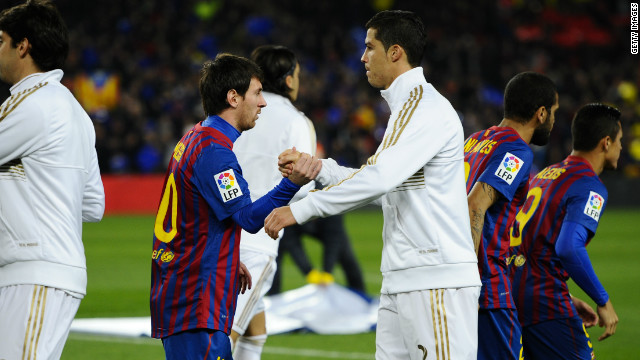 Spanish football hit by sponsorship cutbacks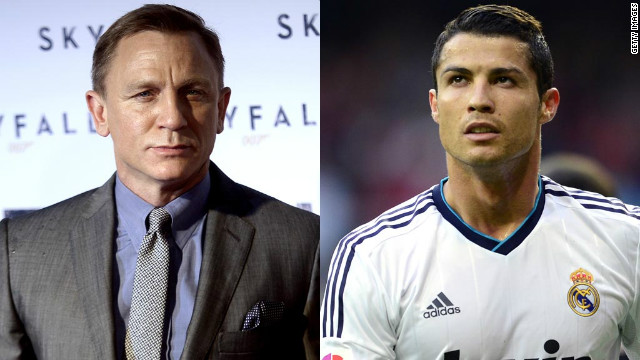 Daniel Craig and Cristiano Ronaldo have both been outspoken in their desire to reclaim a right to privacy. Both men have become frustrated with their treatment in public.
Cristiano Ronaldo and his model girlfriend Irina Shayk enjoy some peace and quiet together but the camera lens is never far away from the pair.
Shayk is a celebrity in her own right having established herself as a leading model. The Russian's romance with Ronaldo has taken her fame to new heights.
"We are just partners," Ronaldo told CNN when asked about his relationship with Shayk. "We have a good relationship, we are almost three years together, I love to be with her, I love her. It's great."
Ronaldo has yet to pop the question to Russian model Shayk but he admits he has thought about marriage. He said: "Not now, but of course in the future, yes. Everyone wants that. I still haven't done that. I don't have the courage."
"In Real Madrid we are always under pressure," Cristiano Ronaldo told CNN. "This is maybe the best club in the world... so we have a lot of pressure and we know that the fans, the Madrid city... everyone wants 'La Decima' (a 10th European Cup). "
Ronaldo has nothing but praise for Real coach Jose Mourinho: "Well, my relationship with him is perfect. I don't ask for nothing better. In terms of coaching I'm sure 100%... 200% that he is the best. He shows every country who's the best because he wins all the leagues."
Ronaldo will be up against Barcelona's Lionel Messi for the Ballon d'Or with the Argentine having won the prize on each of the past three occasions. Both men were on target twice during the last El Clasico match which finished 2-2 at the Camp Nou.
Ronaldo has scored 160 goals in 164 appearances for Real Madrid since his move from Manchester United in 2009. His determination to win is always evident, even when it comes to beating his girlfriend at swimming in their own pool. He said: "Sometimes you have to give her an opportunity to be happy, but I win because I don't like to lose."
Ronaldo last won the Ballon d'Or in 2008 after helping lead Manchester United to the Champions League crown with victory over Chelsea in Moscow. In the 2007-8 season, he scored 42 goals as United also won the English Premier League title.
While Ronaldo has enjoyed great club success with Manchester United and Real Madrid, he has yet to win a major tournament with Portugal. "I'm not saying Portugal doesn't have the capacity to win the World Cup or Euro, but its more tough... its difficult, because you don't have 100 players to choose," sai the Portuguese star.
Ronaldo insists he'd relish the opportunity to talk to his critics and listen to their opinions on why they believe he is arrogant. He told CNN: "People who call me arrogant, I'm interested, not with all of them, but most of them. One day I would like to sit with them and have a chat to see in which way they think I'm arrogant."
When he finishes his football career, Ronaldo wants to become an actor.
Ronaldo tells CNN's Pedro Pinto in an exclusive interview that he believes his perceived 'arrogance' has made him less popular than his chief rival Lionel Messi. "You know, sometimes I'm a victim of that because they don't know the real Cristiano," said the Real Madrid forward.
Cars are one of Ronaldo's great passions. In 2009, while at Manchester United, Ronaldo was lucky to esacpe injury after crashing his Ferrari.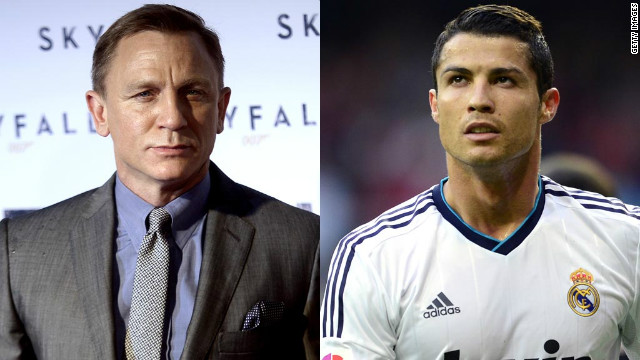 The Real Ronaldo
United went into the match without England striker Wayne Rooney, who was ill, and could not continue a remarkable run of come-from-behind victories.
"They deserved the win just because they worked so hard for it," Ferguson said.
"The players are used to making comebacks and we're always a threat in the last minutes of matches. We had a lot of half-chances but it just wasn't our night."
Manchester City face an early European exit if Wednesday's home clash with Real Madrid ends in anything but victory, but the EPL champions picked up a morale-boosting win as Argentine forwards Sergio Aguero and Carlos Tevez scored twice each against a Villa side who dropped into the relegation zone.
David Silva opened the scoring before halftime, while Tevez and Aguero both netted from the penalty spot once as City remained the only unbeaten team in the division.
"For us it is very important we start to play well and in the last two games we have scored six goals with our strikers," said manager Roberto Mancini. "I think we have been missing their goals."
Third-placed Chelsea's title hopes continued to fade with a 2-1 defeat at this season's surprise team, West Bromwich Albion.
Roberto di Matteo's side have now failed to win in four league games, and this setback came in the Italian's first return to the club that sacked him in 2009.
Chelsea's defeat at the same ground in March ended the reign of manager Andre Villas-Boas, and his assistant Di Matteo stepped up to take charge and preside over a historic first Champions League title.
The London club's chances of progressing to the last 16 of this season's European competition could hinge on getting a result from Tuesday's trip to Juventus in the penultimate match of the group stage.
West Brom moved up to fourth to continue the fine start made by new manager Steve Clarke, who spent four years at Chelsea as assistant manager to first Jose Mourinho and then Avram Grant.
Chelsea, missing injured captain John Terry, went behind to Shane Long's 10th-minute header but midfielder Eden Hazard leveled six minutes before halftime.
However, Nigeria forward Peter Odemwingie nodded the home team ahead just five minutes after the break from a cross by Ireland striker Long as West Brom held on for a sixth win from seven at the Hawthorns.
Everton dropped to fifth after a 2-1 defeat at Reading that lifted the promoted team out of the bottom three on goal difference.
Striker Adam Le Fondre scored both goals in Reading's first top-flight win since May 2008, after Everton led through Scotland forward Steven Naismith.
Everton went into the match without influential veteran Phil Neville, who has been ruled out for up to two months following knee surgery.
Arsenal closed on the top four with a dramatic 5-2 north London derby win against Tottenham, who had Emmanuel Adebayor sent off after giving the visitors the lead against his former club.
The Togo striker netted his first goal for Spurs this season from close range but then saw red after a two-footed lunge on Santi Cazorla.
Arsenal took full advantage as defender Per Mertesacker headed in, fellow German Lukas Podolski scrambled a second and France forward Olivier Giroud also scored before halftime.
Spain midfielder Cazorla made it 4-1 before Gareth Bale reduced the deficit but England international Theo Walcott boosted his hopes of a new contract as he ensured a repeat of last season's scoreline.
Spurs dropped to eighth, two points behind their rivals and one behind seventh-placed West Ham -- who host Stoke on Monday.
Swansea claimed 10th place with a 2-1 win over Newcastle, who went into the match threatening legal action against Senegal's national federation after Papiss Cisse was refused permission to play.
The striker did not travel to Niger for a midweek friendly due to a back injury, so Senegal invoked FIFA's five-day rule that stops players from missing internationals and returning immediately to play for their clubs.
"I love playing for my country and would only withdraw from a squad -- for either a friendly or competitive game -- for a genuine reason," Cisse said.
"I am fully supportive of the position my club has adopted in this matter and am sorry that the Federation seem to doubt my honesty and integrity. I will now consider if I wish to continue to captain my country."
Spanish striker Michu and Canadian Jonathan de Guzman put Swansea ahead before a late consolation from Cisse's compatriot Demba Ba -- the forward's eighth league goal this season.
Liverpool moved up to 11th with a 3-0 win over Wigan as Luis Suarez continued his goalscoring run -- and again ran into controversy.
The Uruguay striker netted a double to move to the top of the EPL charts with 10, but was accused by Wigan manager Roberto Martinez of stamping on David Jones.
"The first finish is probably the real clinical one and a sign of a top player," Martinez said.
"He was very fortunate because it was a stamp which the referee didn't see, and that wasn't the sign of a top player."
Queens Park Rangers lost 3-1 at home to second-bottom Southampton, leaving Mark Hughes' team four points adrift at the foot of the table as the Welshman battles to save his job.