STORY HIGHLIGHTS
Four tournaments in three continents decided on busy Sunday in the world of golf
Miguel Angel Jimenez becomes oldest European Tour winner in Hong Kong
Luke Donald wins in Japan to leapfrog Tiger Woods to number two in world
Adam Scott holds off Ian Poulter to win the Australian Masters in Melbourne
(CNN) -- A busy Sunday saw four tournaments across three continents settled to underline the truly global nature of modern golf.
Spain's Miguel Angel Jimenez became the oldest winner on the European Tour as the 48-year-old took top honors at the Hong Kong Open, while England's Luke Donald won in Japan to reclaim the world No. 2 ranking from Tiger Woods.
In Australia, Adam Scott held off Ryder Cup hero Ian Poulter to take his first title in 15 months at the Australian Masters and ease the pain of his British Open heartbreak back in July.
And if that wasn't enough Sweden's Henrik Stenson completed a hectic Sunday by recording victory in the SA Open Championship at the Serengeti Golf & Wildlife Estate in Pretoria, South Africa.
Do 'nice guys' finish last? How to heal major heartbreak
But back to Hong Kong, and the heroics of Jimenez who captured his 19th European Tour title and his 12th since turning 40, by one shot over Sweden's Fredrik Andersson Hed.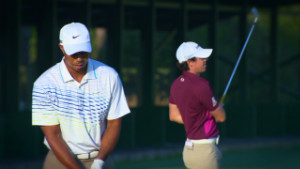 Tiger and Rory's $1.4M battle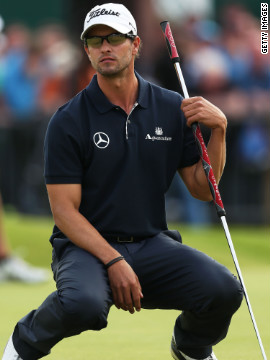 Adam Scott looked set for a first major win at this year's British Open, but four bogeys on the last four holes of the final round let South Africa's Ernie Els swoop in and steal the Australian's crown. Scott missed a putt on the 18th green that would've forced a playoff.
I.K. Kim has also endured major heartbreak in 2012. The 24-year-old missed a one-foot putt on the final hole of the Kraft Nabisco Championship that would've earned her first major, and then lost a playoff to fellow South Korean Yoo Sun-Young. But Scott and Kim aren't the only golfers to have choked on the big stage...
Rory McIlroy may now be the world's top-ranked golfer, but there was a time when he was looking for a first major win. Surely it would come at the 2011 Masters? The Northern Irishman had torn up the famous Augusta course, entering the final day with a four-stroke lead. McIlroy shot the worst round ever recorded by someone leading after three rounds of the Masters. He watched on heartbroken as Charl Schwartzel took the title, but bounced back with a record-breaking U.S. Open win to clinch his first major.
If McIlroy is still haunted by his Augusta nightmare, then one can only imagine the demons which must dwell in the mind of Jean van de Velde. The Frenchman was on course to become a shock winner of the 1999 British Open, requiring just a double bogey on the 18th hole to claim the Claret Jug. What followed has made Van de Velde one sport's most infamous chokers, with a series of wayward shots leaving him in the water. Van de Velde found a greenside bunker with his fifth shot before he eventually holed his seventh for a triple bogey, forcing a playoff. Scotland's Paul Lawrie emerged from the three-way decider as the champion.
Great chokes are not confined to the golf course. There wasn't a dry eye on Centre Court as Czech tennis star Jana Novotna sobbed uncontrollably on the shoulder of the Duchess of Kent after losing the 1993 Wimbledon women's singles final to Steffi Graf. Novotna led 6-7 6-1 4-1 before collapsing and allowing Graf to take the title. Novotna did eventually win a grand slam, beating Venus Williams in the 1998 Wimbledon final.
Brazil hosted the football World Cup for the first time in 1950, with an expectant home crowd demanding the team claim the title. Everything looked to be going to plan, with a freescoring Brazil team needing just a draw against Uruguay to seal a first World Cup triumph. Despite taking the lead, Brazil ended up losing 2-1 lead -- and a country was devastated. Since then "A Selecao" have won the World Cup five times, more than any other nation.
But even Brazil's collapse cannot match AC Milan's "achievement" in the 2005 European Champions League final against Liverpool. Carlo Ancelotti's Milan blew their English opponents out of the water in the first half, racing into a 3-0 lead. But, in six incredible second-half minutes, Rafeal Benitez's Liverpool launched one of the greatest comebacks in the history of sport, scoring three times to level the match. Liverpool held on grimly to force a penalty shootout, with Jerzy Dudek's save from Andriy Shevchenko handing Liverpool a most unlikely success.
U.S. sport is not immune to chokes. Buffalo Bills kicker Scott Norwood has the unfortunate honor of being arguably America's most famous choker. At Super Bowl XXV against the New York Giants, Norwood missed a 47-yard field goal that would've won the Vince Lombardi trophy for the Bills. It marked the first of four consecutive Super Bowl defeats for Buffalo and a the start of a rapid descent out of the NFL for Norwood.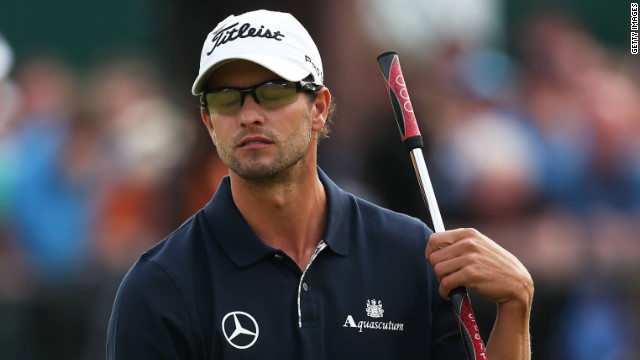 Sport's greatest chokes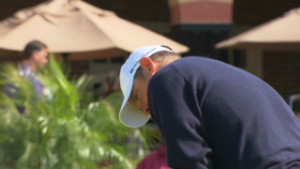 Greatest sporting drama of all time?
Jimenez, a European vice captain in the recent Ryder Cup, recorded a final round of 65 to earn his place in the record books by virtue of being six months older than Des Smyth when he won the Madeira Islands Open in 2001.
"It's very nice -- I hope it's not the last one," Jimenez joked in quotes on the European Tour's official website.
"The most important thing, I do what I like to do in my life, and golf has given me all of this pleasure. Winning now, at 48, my goodness -- 24 years I've been on the Tour.
"I still love it and I think that is fantastic, to love what you're doing, and enjoy yourself, keep fit, keep working myself a little bit and stretching a lot, and that's the main thing to do to compete with the new guns.
"I really love this place. I love the golf course -- it's a great golf course where you have to control the ball very well, it's not a matter of distance."
There were mixed fortunes for two other players who played their part in Europe's remarkable Ryder Cup comeback in Medinah.
Luke Donald cruised to victory at the Dunlop Phoenix tournament in Japan by five shots to reclaim the world No. 2 ranking from 14-time major winner Tiger Woods.
Donald, who led from the front for most of the competition in Miyazaki, still has a long way to go to topple Rory McIlroy who is out in front of the rankings but he was delighted with his win.
He said on micro-blogging site Twitter: "BOOM!! 3rd win of the year - honored to add my name to the great Champions that have won the Dunlop Phoenix Tournament.
Golfer: I thought I was going to die
"Loved my week here in Japan - the Dunlop Phoenix is a great event, on a great course, great food, great beer....it's just great!"
But Ian Poulter was pipped to the Australian Masters crown by Adam Scott after the Englishman carded a disappointing final round.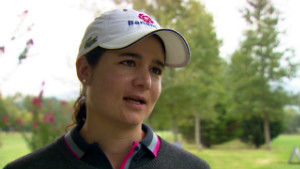 Ochoa: Motherhood has changed me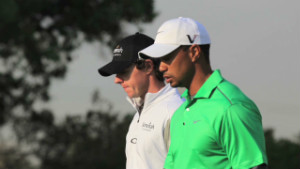 Exclusive: Tiger and Rory's 'bromance'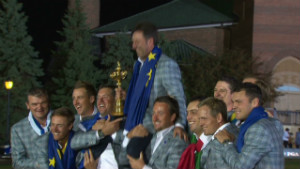 Europe's historic Ryder Cup comeback
With the pair well clear of the chasing pack Sunday came down to a straight shoot out between the pair and Scott went some way to erasing the painful memory of his British Open experience, when he led with four holes left and ended up losing.
Scott's triumph means he has continued his run of winning at least one event in every season since 2001.
After receiving his trophy and the golden jacket that goes with it he set his sights on a jacket of a different color -- the green one awarded to the winner of the Masters in Augusta.
"It's pretty awesome to be able to slip this jacket on. Maybe I can set the theme of winning jackets and turn it green next year before I come back to defend," he was quoted as saying on the tournament's website.
"I haven't been dwelling on what happened at the Open at all, I put that out of my head in the week afterwards.
"I had to, otherwise you'd never come back to a golf course, would you? It's kind of painful. I'd been working hard and I hadn't quite got back in that position until today, but I felt good out there.
"I just had to trust that all the work that I'd put into my game was going to hold up and to not get in my own way is the big thing.
"Not (to) have thoughts of what happened at the Open or any other negative thoughts come into play -- that's just part of the mental side of this game."
The last of Sunday's winner was 28-year-old Stenson, who held off the late challenge of George Coetzee to end a five-year run without a European Tour victory.
He also secured his place at next week's World Tour Championship in Dubai after closing the tournament on 17-under, despite a blip half way through his round when he fell back to level pegging with his South African challenger.
"It was great that I came down here," he told the European Tour website. "One of the bigger reasons was I was 59th in The Race to Dubai standings and I needed a good week.
"I made it difficult for myself in the middle of the round there but hung in there and stayed patient. I played well to shoot 17 under par around here in these windy conditions. It was playing a lot harder today."