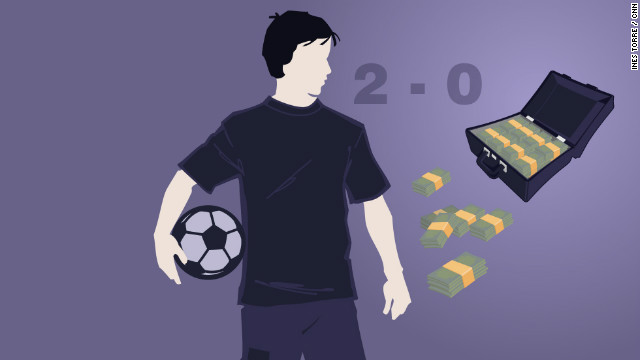 The Secret Footballer says in the early days of in-play betting players used to make money by manipulating elements of the match such as who would win the first throw in.
Former Southampton man Claus Lundekvam has insisted that whilst he and the other players knew what they were doing at the time was illegal, it was never considered more than a bit of fun. Players, he claims, would bet on anything from who would get carded to the recipient of the first throw-in. En route to away matches everything was fair game for a flutter, he says, except for the score.
Lars Bohinen enjoyed eight successful years in the Premier League, and played alongside Lundekvam at international level for Norway. He explains that whilst he heard talk of spot-fixing, he never fully bought into the idea. It is only now, years after his retirement, that he considers that gambling talk between the players was more than a harmless joke. He also believes that there is far more addiction amongst top-flight players than people see. "You could sense it from the way they gambled", he says.
For former Arsenal and England captain Tony Adams holds the matter of addiction amongst professioanl footballers much more seriously. After overcoming drug and alcohol problems he fouded the Sporting Chance Clinic, dedicated to help other sportsmen and women do the same. The Professional Footballers' Association and ex-Gunner Paul Merson are also patrons.
In-play betting
Lundekvam speaks out
Bohinen's concern
Adams' addiction
STORY HIGHLIGHTS
The Secret Footballer reveals players made money using in-play betting
Players could make money by manipulating who would take the first throw in
Bookmakers now go to extreme lengths to prevent spot fixing in sport
Editor's note: "The Secret Footballer" is a current player who has chosen to write about his life in the English game. His book "I Am The Secret Footballer: Lifting The Lid On The Beautiful Game" is published by Guardian Books. Read more about him at www.thesecretfootballer.com. In the second of a two-part piece on gambling and match-fixing, he reveals how some players cashed in on the rise of in-play betting.
(CNN) -- When I first started playing, I was simply too young and too naive to realize what was going on. I just thought that the full back who was clipping the ball down the line and out of play was s*** and there was no helping him. It was only years later that I found out what had been going on.
"In play" betting was a relatively new thing in those days. The internet was just taking off and the algorithms used to detect fraudulent gambling were nowhere near as sophisticated as they are now. Let me give you an indication of just how easy it was to manipulate the system back then ...
Read: Football's addiction to gambling
Let's say that you are the captain of the team. At the start of every game, you are involved in the toss of a coin to determine which team has the kick off and which end you are going to kick towards. No team wants to win the toss so that they can have the kick off; an away team only wants to win the toss so that they can choose which end to kick towards -- so the home team does not have the advantage of kicking towards their home fans in the second half.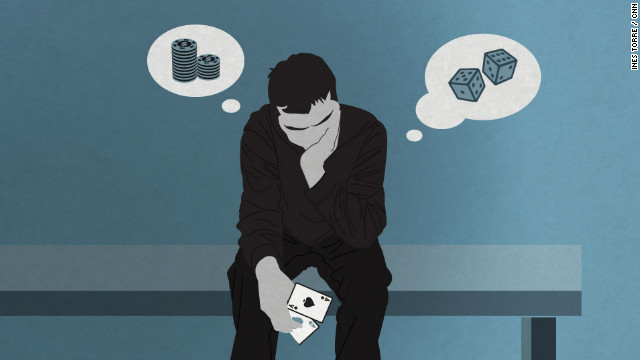 English football and some of it's most high-profile stars have long battled gambling addiction. The combination of a bloated bank account and boredom can set some players on the road to ruin.
Tony Adams struggled with alcohol and drug addiction throughout his career, serving a jail sentence for drink driving in 1992. The former Arsenal captain managed to turn his life around, leading the north London club to a league and FA Cup double in 2002. He also set up the Sporting Chance clinic, aimed at helping fellow sportsmen and women hooked on gambling, alcohol and drugs.
Paul Merson was a longtime teammate of Adams at Arsenal. The midfielder fought gambling addiction and said he once won £54,000 on a single bet as well as losing £30,000 on another.
Dietmar enjoyed an illustrious playing career, winning the European Champions League with Liverpool and collecting 59 caps for Germany. The midfielder told the BBC in February he fell into gambling when his marriage broke down and lost over £200,000 in one night, saying he gambled to forget about the absence of his children.
Matthew Etherington is another English Premier League player to have succumbed to gambling addiction. In order to overcome his problems, the Stoke City winger attends Gambling Anonymous meetings twice a week.
Michael Chopra played in the Premier League for both Newcastle United and Sunderland. Last year the striker revealed he was undergoing treatment for gambling addiction, saying he was betting up to £20,000 per day and he had lost between £1.5m and £2m.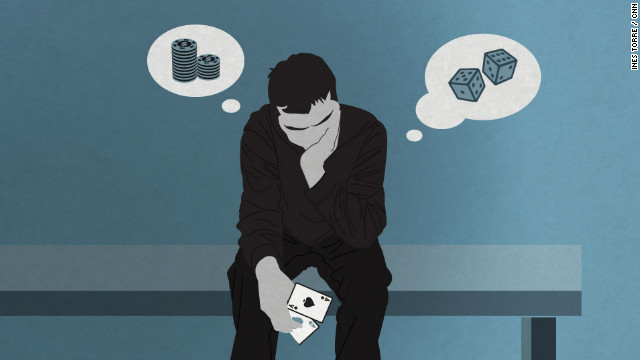 Footballers' gambling addiction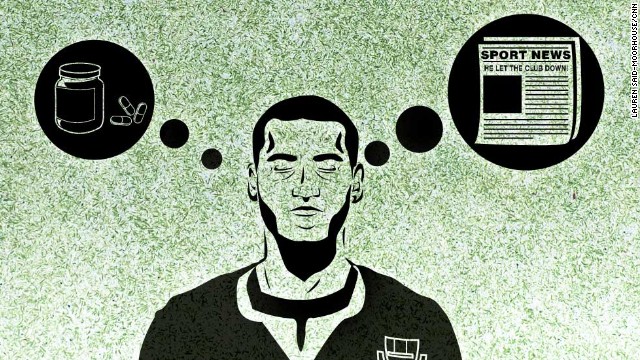 In 2009, Robert Enke was first-choice goalkeeper for the German national football team, enjoying a successful club spell with Hannover. But in November of that year, he took his own life by stepping in front of train. The 32-year-old had been battling depression for the majority of his career and the story of his struggle is told movingly in Ronald Reng's acclaimed biography "A life too short: The tragedy of Robert Enke".
Kelly Holmes is a British sporting hero after winning her gold medals over 800 and 1500 meters at the Athens 2004 Olympic Games. But the track star has had to fight depression throughout her life, including a period of self-harming in the year before her Olympic triumph.
Stan Collymore is former England footballer turned broadcaster who now campaigns for depression charities. He tweeted last year: "I'm tweeting because the stigma around this illness suggests that us sufferers all of a sudden become useless, maudlin, and unable to function. Well, I haven't seen daylight for 4 days now ... but I've done a week of Talksport/Channel 5 prep work, a national newspaper column, all in the eye of one of the most challenging, soul destroying bouts of this cruel illness one could have."
Sebastian Diesler was hailed as the future of German football after bursting onto the international scene at the start of the last decade. His performances earned him a move to Bayern Munich in 2002, but by 2007 he had retired -- aged 27. Diesler endured an injury-ravaged career, while struggling to come to terms with the pressure of professional football.
Boxer Ricky Hatton revealed he contemplated suicide following his brutal defeat to Manny Pacquiao in 2009. Hatton, who has suffered from drink and drug problems, retired from the sport in the aftermath of the loss, but this month announced he intends to make a return to the ring in November.
Marcus Trescothick was a key member of the England Test cricket team which beat Australia to win the Ashes in 2005. Ahead of the return series in 2007, England announced Trescothick would be leaving the squad citing a reccurence of a stress-related illness as the reason.
Jerry West is an NBA icon who revealed he has been battling depression since childhood, stemming from his abusive father. West said his relationship with his father left him feeling worthless and tormented.
Former New Zealand rugby international John Kirwan spoke in detail about his battle with depression in the book "All Blacks Don't Cry". He is actively involved with mental health campaigns in his homeland.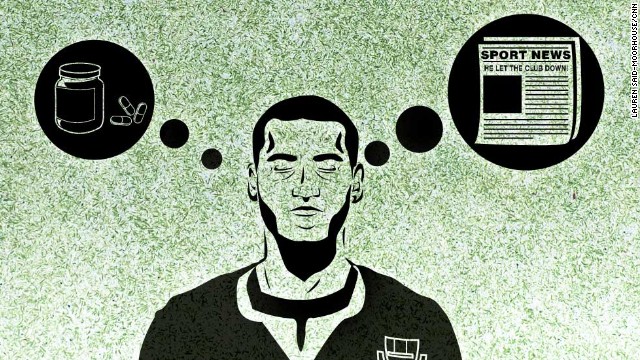 Sport's battle against depression
So, we know no team is interested in winning the toss to get the kick off. Now, imagine what would happen if, as the captain, you went in to each of these tosses with the sole intention of making sure that your team got the kick off. You could, in theory, kick-off every time and, if that happens, it becomes ridiculously easy to bet on which team will win the first throw in.
I want to go on record as saying I had nothing to do with this.
As I say, I was a young man who could barely find my way to the training ground. I also had aspirations of playing at the very highest level so anything that seemed even remotely "iffy" just wasn't for me.
Even so, regularly kick-offs that started a game led to the ball being played to a full-back who in turn would shank it out of play. I have no idea how much money was made but it would probably have been the equivalent to a player's full weekly wage.
Read: Down the rabbit hole - depression in the EPL
It didn't take the bookies long to catch on and, these days, the levels of detection are as scary as they are effective. In the research I did for this article, I consulted a friend of mine who works for a leading online betting site to see what measures have been put in place since the early days of internet gambling.
You could, in theory, kick-off every time and, if that happens, it becomes ridiculously easy to bet on which team will win the first throw in
The Secret Footballer
It turns out that they do not have anything specific to track irregular betting patterns but, instead, rely on a combination of tools that help their "operator traders" decide whether a bet is fraudulent or not.
The main tool is recognizing the repeat customers and their betting patterns.
There are reports that show the customers who repeatedly bet on the same outcome -- win, lose, draw, etc. These customers are then pooled together into "liability groups" that are monitored closely so that any betting pattern that changes is immediately flagged up on the system.
The operator traders monitor such behavior through "live alerts" that are set up to detect irregular bets in real time.
The traders look for sudden upshifts in betting and on particular selections.
A tell-tale sign that a bet may have sinister undertones is when a user places the maximum amount allowed in one bet. Again, this is all exposed through real-time alerts and reports.
Read: The Secret Footballer reveals life inside the EPL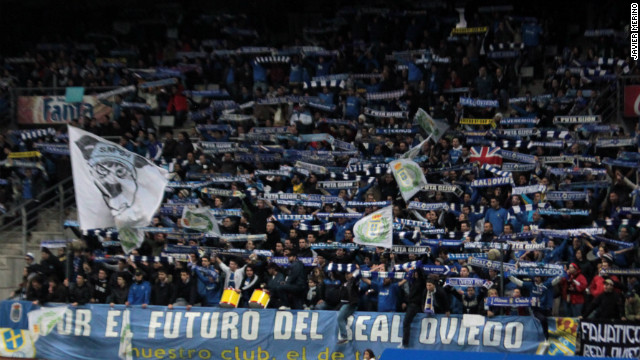 Real Oviedo fans show their support for the club in the Estadio Carlos Tartiere with a banner reading "For the future of Real Oviedo" before a game with Real Madrid's reserve team on November 11, 2012.
The Real Oviedo players huddle on the pitch before the match.
Real Oviedo fans hold up a banner as they march through the northern city on their way to the game.
Fans demonstrate against the demise of their club, which needs to raise $2.4 million by November 17.
Oviedo fans display a banner in the Estadio Carlos Tartiere reading: "Happen what may, Oviedistas until death."
World Cup winner Juan Mata is one of the stars produced by Oviedo's youth system. He now plays for England's European champions Chelsea.
Arsenal's midfield maestro Santi Cazorla is another big-name player from Oviedo's academy who is helping to save his former club.
Michu was a Real Oviedo player for four years and has been campaigning on Twitter to save the club. He now plays in the English Premier League with Welsh club Swansea.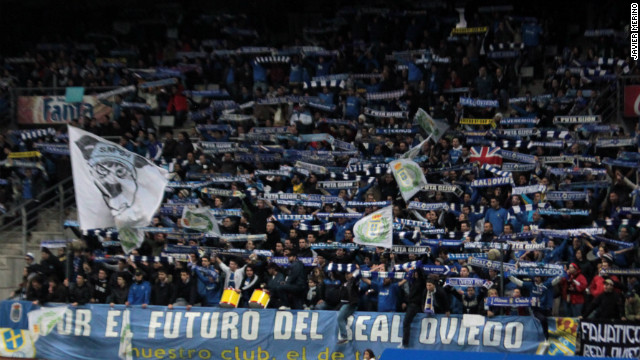 Real Oviedo's fight for survival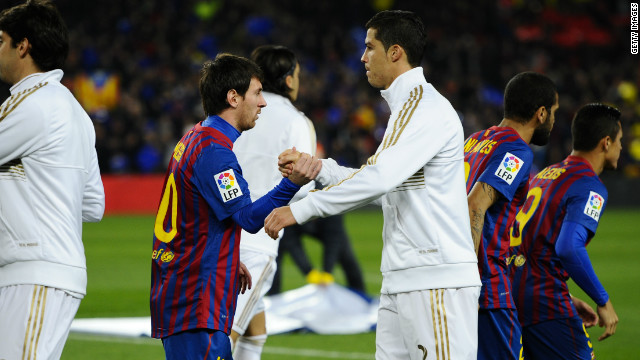 Barcelona's Lionel Messi (left) and Real Madrid's Cristiano Ronaldo (right) -- widely considered the two best players in the world -- shake hands before the 'El Classico' derby between Spain's two biggest clubs. But is the huge wealth of Barca and Real damaging the rest of Spanish football?
Real Madrid manager Jose Mourinho (left) and Barcelona manager Tito Vilanova (right) shake hands at the derby between the two clubs. Real's revenue is $695 million, $42 million more than Barca and $526 million more than that of Valencia.
Barcelona's Andres Iniesta, Lionel Messi and Real Madrid's Cristiano Ronaldo were all nominated for the prestigious Balon d'Or award this year. The last time the Barca-Real league monopoly was broken was in 2004 when Rafael Benitez's Valencia won La Liga.
Atletico Madrid striker Radamel Falcao is arguably the best striker in the world, but the Colombian is likely to be sold at the end of the season.
Real Oviedo fans show their support for the club in the Estadio Carlos Tartiere with a banner reading "For the future of Real Oviedo". The third-tier club's financial problems are so great that they have turned to their fans for help, offering them the right to buy shares in Oviedo.
The Real Oviedo team huddle on the pitch before taking on Real Madrid's reserve team in Asturias. Oviedo need to raise $2.4 million to save the club.
Real Oviedo fans hold up banner as they march through the city on their way to the league match to protest against the possible closure of the club due to financial difficulties.
The Spanish financial crisis has led to a raft of anti-austerity measures. Protests against cuts have been seen on the streets of Madrid, where a minority of protesters have been involved in violent clashes with the police.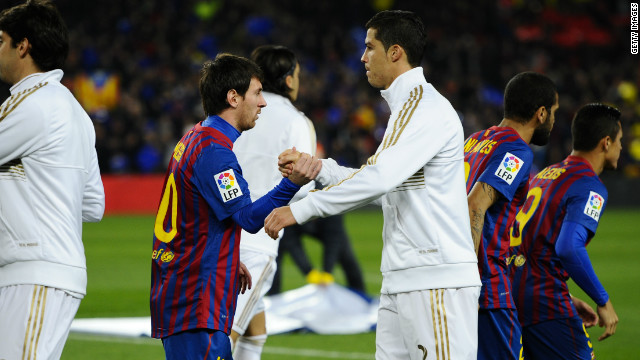 Spanish football hit by sponsorship cutbacks
Interestingly, almost every online bookmaker is extending the capabilities of these reports and alerts in order to make their software and, by extension their operators, more "clever".
But it is not because they are falling victim to increasing numbers of betting rings and scams, it is because their users are mushrooming at an alarming rate.
Gambling has been big business since Moses wore short trousers and, in these times of austerity and economic hardship, it is no great surprise that many people are once again turning to the vices that give them a modicum of pleasure at the minimum of cost.
Yet, as with all vices, there will be those who are unable to recognize and control the pitfalls.
There is a gambler in all of us, like it or not.
Very often, the biggest gamble in life comes in the working environment -- deciding when to stick and when to twist, when to realise that our own contentedness is determined not by the material things that we surround ourselves with but by the things that money can't buy, such as family.
Sometimes, however, like me, the wood is very much masked by the trees and what seems like the right career move ends up having terrible consequences for the people that you love the most.
My biggest gamble was to move my family hundreds of miles from their support network and, with hardly any warning, plunge them into a totally alien environment.
The impact that decision had on us as a family was immediate and only resolved itself a few years later after a gargantuan effort on our part to get things back to the way they had once been.
I gambled all the good things that I had in my life for a little bit more of the things that I had always been taught to strive for but which, in reality, mattered least of all. There is no prize on earth that would have ever made that gamble worthwhile, especially in football.