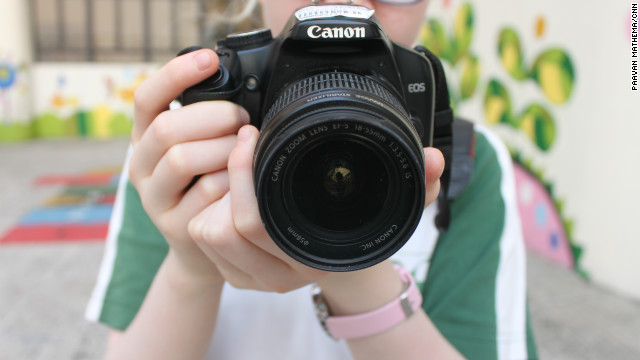 Eli Tang, a visually-impaired student, prepares to take a picture.
Wing Ng checks her photos. Wing is also partially blind.
Peter Yim, who is partially blind, shows a photo he took on Hong Kong's Lamma Island, which was part of the "Luminance Touched" exhibition in early November 2012.
Photo captions were displayed in print and in Braille at the exhibition organised in November 2012 to showcase the students' work.
Ben Fong, a photography instructor at Ebenezer School, guides his student Eli Tang.
Students share their work with each other after a session at the school.
Yuen Wing Sz, who has partial vision, stands with a picture she took during the Mid- Autumn festival in Hong Kong.
A collage produced by Choi Lok Sze for which she took a picture of each classroom in her school. Lok Sze is completely blind.
STORY HIGHLIGHTS
Choi Lok Sze one of 13 visually impaired students learning to become photographers
Gust of the wind or the smell of a rose replaces the view finder of the camera
The students are taught to use auto focus to ensure clarity in their picture
Hong Kong (CNN) -- Choi Lok Sze carefully holds her DSLR and plans the shot she has in mind.
For her, taking a photo is not just a simple process of pointing a camera and pressing the shutter release. Most of us capture what our eyes see, but when Lok Sze works her other senses take charge.
Lok Sze is an aspiring blind photographer.
"People think that blind people cannot take pictures," she says. "I want to show that them that blind people can."
Lok Sze is part of a group of 13 students from the Ebenezer School of the Visually Impaired in Hong Kong learning photography. Two are completely blind, while the remaining students are partially sighted.
"The term blind photography is new in Hong Kong but the idea is accepted in several countries," says KK Lam, the coordinator of the class.
Manufacturers have yet to produce cameras attuned to needs of blind or visually impaired users. However, the concept is slowly gaining popularity and there are established blind photographers in Japan, Thailand and Britain.
Photography classes for the students began as a project to mark the school's 115th anniversary this year. The school wanted to showcase the creativity of the students and Lam suggested photography. He researched and met other photography enthusiasts who were interested in the project. Once the idea took shape, Lam was able to find volunteers willing to teach, as well as sponsors for the equipment.
The workshops began in April this year.
These students are very gifted and they have trained their hands to use the camera.
Hina Ng, instructor
"When I first held the camera, it felt very funny," says Purple Chui, who has partial vision. Ben Fong, an instructor, explains that it was important that they found it fun because it meant they were interested to learn.
"Some of them had never touched a camera before this," he says. "We had to begin from the very basics; from how to hold a camera to shooting what is in front of you."
For these students the warmth of the sun, the gust of the wind or the smell of a rose replaces the view finder of the camera. The students are taught to use auto focus to ensure clarity in their pictures. The instructors guide them and check their photos.
Hina Ng, also an instructor, explains that although it was easier for the partially sighted students to learn the basics but it was a challenge to teach the completely blind students. "But these students are very gifted and they have trained their hands to use the camera," she says.
The results of the workshop have amazed the instructors -- every student has developed his or her own style with a volume of impressive work.
Students say that the camera has now become a medium for them to communicate with the world.
"It helps me to remember the happy or unforgettable things and help[s] me to tell people my feelings," says Eli Tang. "And the feeling is so difficult to say so I take photos to tell people how I feel."
The irony in blind photography is that the authors of these photos are not able to see their creations. But Metal Cheng, an instructor, believes it serves a higher purpose. He recalls the touching story of Man Chun Ho, a blind student, who took a series of photos in his cooking class.
"When I asked him why, he said he wanted to show his father, who is a chef, that he can cook as well. He is a shy boy and photography has helped him connect with his family."
The students' work was exhibited in Hong Kong early this month, part of the Hong Kong International Photo Festival. The school hopes that this will help break people's perception of the blind and respect them as able individuals.
"I couldn't believe these were taken by visually impaired photographers," says Lily Yu, a Hong Kong resident who visited the exhibition. "They are very talented and are an inspiration."
The instructors plan to continue mentoring the students and will extend the workshop to others interested. "I want to become a professional photographer. Taking photos makes me happy," says student, James Chung.