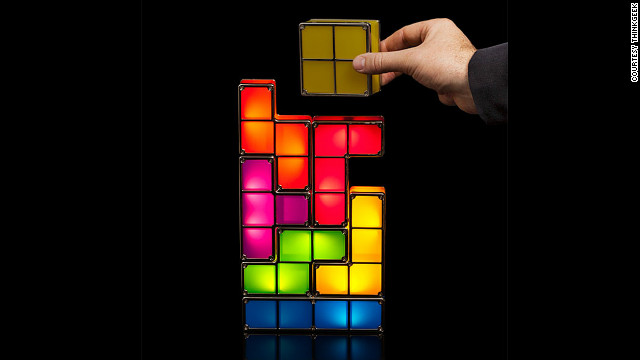 Tetris lovers of all ages will dig this stackable LED desk lamp, and its seven pieces -- like the video game -- can be stacked in nearly endless combinations. The light flicks on when the pieces are stacked together and stays off when they're dissembled. The whole thing plugs into a wall outlet and is available for $39.99 from
ThinkGeek
.
Horizon's model car
($80) is powered by a reversible polymer electrolyte membrane fuel cell. Assemble the car while learning about renewable energy, then turn it loose. The car drives itself, automatically turning 90 degrees when it hits a barrier.
Atari Flashback 4
is loaded with 75 timeless games such as "Centipede" and "Space Invaders." It plugs right into the TV, has two wireless controllers and costs $50.
If your child has been begging for a Wii U or an Xbox, mix it up by giving them one of the all-time greatest gaming consoles instead. The
Thames & Kosmos
has a broad selection of science sets that teach kids the basics with fun, hands-on experiments. There are
classic chemistry sets
for all levels, including one that doubles as a
candy-making kit
. Our other favorites include the
fingerprint lab
, the
volcano and earthquake kit
, and the
physics workshop
.
Star Theater Pro
from Uncle Milton is like a mini-planetarium. It comes with two disks full of images of the night sky -- one is all stars, and the other has the sun, moon and Earth (more skies are
available here
). You can set it to rotate slowly, just like the real night sky does.
It's hard to see stars in the sky when you live in populated areas. This gadget brings 10,000 stars into your kid's room. The $100
Estes model rocket
, then you shoot it hundreds of feet into the air and oooh and aaaah. If all goes according to plan, the rocket will kick out a little parachute and float safely back down to Earth. If not, you get to make a new one. Estes rockets start at $6, but nicer versions can cost as much as $70.
These are great for a little parent-child bonding time. First you make and customize the
FirstScope Telescope
($50) from Celestron is easy to use and portable, so you can take it out on camping trips for the best views of the night sky.
More stars! Budding astronomers can get their first up-close peeks of the Milky Way with this starter telescope. The
LittleBits
are like electronic Legos. Kids can build little machines with the various circut boards. The pieces snap together and have different functions, such as making sounds, lighting up and acting as motors. The company has a special $49
holiday kit
for making ornaments and other decorations.
Nook HD
, you can create individual profiles for the different members of your family. It also has parental controls, so you can keep your kids safe and prevent them from spending all your money in the Barnes & Noble store. The Nook HD starts at $199.
Tablets are flexible devices. You can load them up with games, movies, TV shows and, of course, books. With the Android-based, 7-inch
panda-shaped speaker
, which connects to a phone, laptop, tablet or MP3 player to power your tunes on the go. Available for $24.99 from Amazon and other retailers.
Kids (and more than a few adults) will get a musical kick out of this little
Tetris stackable LED lamp
Experimental fuel cell car science kit
Atari Flashback 4 retro gaming console
Chemistry sets
Star Theater Pro
Model rockets
Starter telescope
LittleBits Kit
Nook HD tablet
GoGroove portable speaker